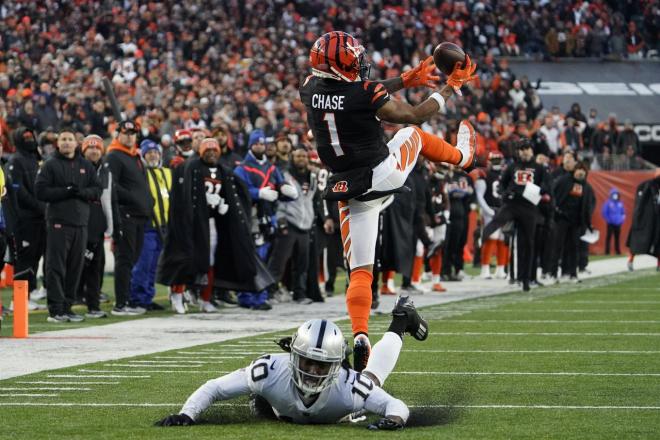 R.C. Fischer
FFM
17 January 2022
‍
2021 Dynasty/Fantasy Analysis Wild Card Playoffs: Bengals 26, Raiders 19
When the Bengals jumped out to a two-score lead in the 2nd-quarter and kept maintaining a lead after every Raiders threat …I was pretty satisfied with myself/with one of my best bets for the wild card round (CIN -5.5) as I watched it unfold. Cincy leading 26-16 with 6+ minutes left seemed like the game was at hand and the cover was just about locked in. When the Bengals held the ensuing LV drive to a field goal, cutting the lead to 26-19 with 3+ minutes left…then just a 1st-down by Cincy on the next drive would pretty much lockdown the win/cover.
But this is the NFL… The team with the lead puckers up late, and then opposing offenses are at their best freewheeling with 1-2 minutes remaining. So, Cincy three-and-outs fast and gives Vegas the ball back in good field position with 1:51 left, Raiders down 7 points…plenty of time for LV to go down and score the game tying TD. As is typical of NFL games, the team desperately trying to catch-up flies right down the field, in part aided by a nonsense penalty. Suddenly Las Vegas is in the red zone with 0:56 left. It's looking like we're heading to OT.
Fortunately, Derek Carr completed just one of his final 6 passes…the last throw a 4th-down, goal line interception to close out the game. Whew, we got the cover. It wasn't really as close as it ended…Cincy was the better team all game, but the Raiders put up a good fight under the circumstances. The Raiders should feel no shame here.
I pray that Rich Bisaccia gets the Las Vegas head coaching job officially. He's a really good coach, a great communicator/leader, and he did a fantastic job of getting the fractured Raiders to go (7-5) in his regular season tenure and then a near-miss loss on the road in the playoffs. It's the most obvious hire in the world, but that means it's probably less than 50% to happen with NFL logic applied.
The media, and thus the fans, want to hire 'names' they are bandying about because it's fun…the mystery of the 'what if?' first-time coaches…the media pushes the coaching carousel like an on-going soap opera and then the fans buy into these drumbeat names as some kind of saviors. Rich Bisaccia is not a 'hot name' for the media, so the fans are looking right past him. That's now the NFL works on coaching changes and NFL Draft prospect rankings – you laugh at people for being sheep/brainwashed at your school or workplace, but the NFL machine is attempting to have a version of brainwashing thrust onto the willing/slavish 'fans', and it works on us a lot more than we think…whether we admit it or not. We treat anyone associated with the NFL like gods. We tend to believe them when they speak. They would never mislead us…? They could not be 'bad' at their jobs. They work in football…they're special with special access to things!
A massive business entity (the NFL) that has its own news network, covering itself with 'journalists' paid by the very same system – nothing could ever go wrong with that. It's how you get the best, most honest coverage of things, it's how you get to the truth -- by paying/employing people that know if they're critical of said entity that they're done in the business forever, and any competition voices who are negative about said entity…you threaten to pull your TV contracts and deny some news access for them (as the NFL has done with ESPN multiple times in the past, until they're now 'in line'/subdued/on the payroll).
We don't know who the 'real' best coaching candidates are yet, because the media can't tell us fully yet…we have to wait to see what teams make it through the postseason tournament so the media can assume that those Super Bowl team's assistants are somehow great head coaching prospects because they were in the same lunchroom as the success. Maybe the media will just push some current Patriots assistants to replace all the ex-Patriot assistants-turned-head coaches who just got fired…because irony is so ironic.
And on the Cincinnati side…the one head coach the entire media and fandom and myself thought was the worst head coaching hire of them all a few years ago, Zac Taylor, is now undefeated as a head coach in the playoffs. Taylor now has more playoff wins than Mike Tomlin does in the past five years. Taylor has as many playoff wins as John Harbaugh does in the past seven years. Is anyone talking about poaching Taylor's assistants? Not yet…but if they win the Super Bowl, suddenly all the assistants are on the radar.
It is on to Tennessee for Cincy, a game they can win…and a game they would be favored in if Derrick Henry was not coming back.
Fantasy Player Notes…
 -- With the world having gone all 'Ja'Marr Chase mania', and with Ja'Marr Chase (9-116-0/12, 3-23-0) having just come off his last real game play as him almost single handedly delivering the Bengals a huge upset win over Kansas City, complete with 200+ yards and 3 TDs…with all the attention, with all the production…you would have thought the Raiders would have thrown the kitchen sink of coverage at Chase.
They did not.
The first four passes of the game (for Cincy) were to Chase, and the first three completed passes were to Chase. The Raiders really never adjusted.
How is it that Tyreek Hill is so easily taken out of games so easily, but Ja'Marr Chase (with white hot media heat/awareness) is not?
Is Chase better than Tyreek going forward for FF?
Is Burrow better than Mahomes causing this?
Is Chase that generational WR prospect THEY all said, and that I all mocked, this offseason?
Is Chase just 'lucky'/on a hot streak?
Will teams adjust ahead and bring Ja'Marr back to 'normal'?
I don't know what to say. A few weeks ago, Chase was falling down in production (Weeks 11-15 were pretty dreadful), but his last three games have been beautiful production.
Before Chase took off again (Week 16), Tee Higgins (1-10-0/4) had just racked four 110+ yard games in five weeks. Chase takes off, Higgins comes down.
Is Chase 'the man'? Is Higgins 'the man'? Are both 'the man'? Is neither really the man as Burrow just exposes what you allow him to utilize?
I really don't know the full answer. I do (think I) know this…Chase is better than my scouting, my 2021 FF/NFL projections. You could say it's all because of the connection he has with Burrow, and maybe that's true – but who cares now…for Fantasy Football purposes? It's working…at a high-level…as a rookie…with a situation that isn't going to change by design any time soon (same QB and coach in place for a while it appears).
At this stage, the best FF WR from the 2020 draft was Justin Jefferson. The best FF WR from the 2021 draft was Ja'Marr Chase. I predicted neither of them to do so, using my vast scouting talents…didn't even have them in my top three for FF production going forward out of their class. The NFL is changing. Landing spots matter more than raw talent grades or measurables…more than ever – including surface they play on/geography (weather) of their games, division, depth chart upon arrival on top of the QB talent/play and head coaching philosophy.
I'll take Chase Claypool over Ja'Marr Chase as an NFL evaluator.
I'll take Ja'Marr with Burrow over Claypool with Tomlin for FF going forward…which is convenient to say with hindsight now. I get paid to know better ahead of time. I've blown it with Chase projecting…so far.
My current Dynasty Rookie Draft redo draft using 2020 and 2021 prospects only…the NFL playoff results will cause shifting. Chase may have just made another move higher on the next update…I'm still deliberating it. I mean, who is set up for the future better – Ja'Marr or Jefferson?
 -- Speaking of the shifting sands of evaluating WRs… Hunter Renfrow (8-58-0/11) is now the best WR to own for FF off the Raiders. As long as Derek Carr is there…this 2021 season can carry over to 2022, as Renfrow tries to be a poor man's Cooper Kupp.
No one would have predicted Renfrow to be a Fantasy star, when evaluating him coming out of Clemson…the debate was whether he warranted even being drafted at the time. Landing spot, depth chart, injuries to other WRs, head coach, style of offense, QB…it all matters more than 'talent' for projecting WRs.
Zay Jones (5-61-0/8) has homed in on the Raiders target party the 2nd-half of the season into the playoffs, but I'd rather have Renfrow ahead…and Zay may be long gone in free agency. Zay was a top WR prospect…then buried for dead…now resurrecting – it wasn't because of his talent, it was situation/circumstance/coach, etc.
Bryan Edwards (3-41-0/6), who I thought would be the WR who would emerge from the Raiders pile…he's the low man on this trio. I see no signs of Edwards improving in status or on tape in general. So many preseason accolades for two years now, but it never translates to the actual game/any consistency of output or targets. I'm not going to fight it. I take the reality for what it is…the reality. I think his window may have come and gone, but I thought that with Zay Jones too the past two years.
 -- Darren Waller (7-76-0/12) had that 10 catch, 105 yards, 1 TD on 19 targets game in Week 1…and then scored just one other TD the rest of the season. He just doesn't look the same. I mean, he has the I.T. Band issue recently but his whole vibe seemed down this year.
From Week 2 on, Waller was the #10 PPG PPR WR in Fantasy, a hiccup away from being outside the top 12 in that span. He'll be a projection dilemma for FF 2022. You got established vets working at a high-level: Andrews-Kittle-Kelce-Gronk (if he and Brady back). You got Goedert-Knox-Pitts-Freiermuth on the rise. Hockenson exists. Ertz…we'll see where he lands. Where do you confidently put Waller in the mix among them?
TE valuation turmoil in 2022…not just for Waller. It's not going to be the simple Kelce or Waller debate it was this past offseason. It's not going to be, "I'm OK with Kelce or Waller or Kittle…and then I don't care after that."
FYI, C.J. Uzomah (6-64-1/6) has 6 TDs this season (incl. playoffs)…to Waller's two TDs.
 -- The legend of Joe Burrow (24-34 for 244 yards, 2 TDs/0 INT) continues to grow. Had his season ended Week 14, he would have been the #12 FF PPG QB (4pts per TD) and heading to the offseason he would have had people debating if he was a worthy top 10 for 2022…or even a QB1 for 2022.
Then came the Kansas City explosion for 525 yards and 4 TDs, followed by 446 yards and 4 TDs vs. Baltimore, a playoff win here with 2 more TDs and now he'll be a top 5 Fantasy QB debate for 2022. What a difference a few games make.
It's definitely 'how you finish' for FF valuations carrying over into the next season.
Is he a top five FF QB for 2022 for FFM? We'll see.
Here's him at the post-game press conference try to sport the look of a top five QB1 for Fantasy 2022: https://youtu.be/GuM5uHOR88o
 -- I keep seeing Bengals CB Mike Hilton (4 tackles, 2 PDs) making great coverage plays the last few weeks, but his NFL 'stats' for coverage aren't all that great according to the NFL database. But he looks damn good to me – and he's part of that remade defense via free agency that is helping boost Cincy. The Cincy D has held opponents to 21 or fewer points in four of their last 5 games, and in six of their last 9 games. It's a very solid, underrated-constantly defense…and with Logan Wilson (12 tackles, 1 PD) back it's even better.
Cincy is (9-4) with Wilson playing the full game (left Week 13 very early), including the playoffs…and (2-3) when he was out.
Fantasy Preview thoughts on CIN v. TEN
 -- The Raiders had better 2021 season pass defense ratings/rankings than the Titans. And the Titans best pass defense moments came against Tyrod Taylor, Big Ben and Tua (in the rain/downpour)…while Jimmy G. ran through them Week 16. Davis Mills was not bothered by them in Week 18. Mac Jones was pretty good against them Week 12. However, they did fluster Mahomes and Stafford midseason. In general, in 2021, you could throw on the Titans
Where the Titans defense flourishes is against the run. I suspect Joe Burrow will come out throwing and possibly throw 50+ times this game – which means good FF-things for Chase-Higgins-Boyd. Not as much a C.J. Uzomah game.
I'd play (for FF thoughts) this game as the Bengals passing game vs. the Titans trying to control it through Derrick Henry (obviously), but if Cincy gets up it could draw Tennessee into the shooting match that they're ill-equipped for. The Titans must get ahead and play from ahead. If the Bengals start moving the ball all over, if the Titans single cover Chase – this game could get out of hand fast and cause Tennessee to play a style they don't want to play.
If Derrick Henry has any ill-effects of his leg injury, if he's slowed or 'rusty'…then the Titans are really going to be the underdog here (in reality)…if they shouldn't already deserve to be the dog in this game – as I keep saying, the Bengals are the best team in the very flawed AFC. It may be 'too soon' for Cincy, but talent-wise they might subdue Tennessee, before going on to lose to the more playoff experienced Buffalo or KC.