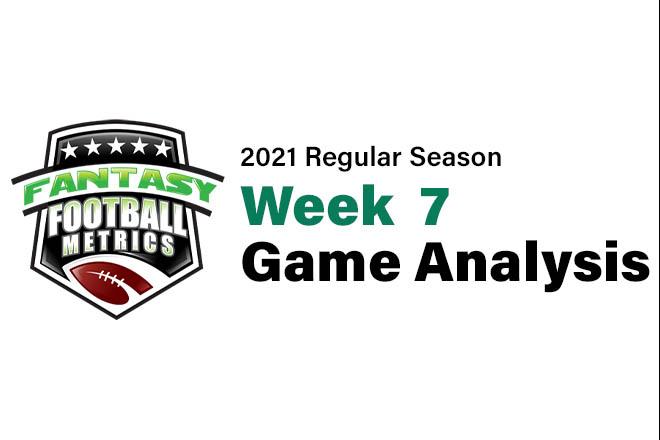 R.C. Fischer
FFM
27 October 2021
2021 Dynasty/Fantasy Game Analysis Week 7: Cardinals 31, Texans 5
Pretty much what we all expected…a 20+ point Cardinals win. The end was what we expected, but when Houston got out to a quick 5-0 lead…it was a bit strange. But then Arizona went into lockdown mode and scored the next 31 points to cruise to victory.
Not a ton of breaking news here, since the game went near as expected – but the Texans are changing QBs, might be trading Watson, and Arizona has a short week to face Green Bay. So, a few items to note. And then the late-breaking Mark Ingram trade now to discuss.
Arizona is now (7-0), and if they defeat Davante-less Green Bay this week…then they go to (8-0 and possibly a red carpet rolled out to (12-0) ready to host the Rams Week 14. I don't think the Cards will go undefeated for 17 games…but if Russell Wilson doesn't make it back for their Week 11 game…it's going to be a watch party week-to-week after the Cards Week 12 BYE for the remaining old Miami Dolphins undefeated team members still with us.
Houston is now (1-6)…a season gone awry. With Tyrod back, perhaps they sneak another win or two but that's about it.
Fantasy Player Notes…
 -- As I was getting ready to finish this report, news broke on the Mark Ingram trade by Houston to New Orleans. Something that I thought the Saints should have done the moment Tony Jones went down…but, I guess, the Texans still had playoff aspirations, so…
Ingram to the Saints makes sense – they were wearing out Alvin Kamara…he's not built for that workload. Rare few are. Jameis Winston is terrible, so the Saints need to win via run game/RB-based offense and defense. The old RB-duo from a few years ago will slide back into their familiar roles ahead. A slight bump for Ingram (less touches, better O-Line), a slight tick down (on touch count) for AK…and you have to hope Winston doesn't forget him for PPR work. Before the big catch party on MNF, AK was averaging just 3.0 catches per game with Winston for 22.6 rec. yards per game.
What happens to the Texans backfield?
Mark Ingram was getting 6-18 carries in games for 3.2 yards per carry (due to the fact they have the worst O-Line in football) and 1 whole TD all season. So, split up like 12 carries a game between Phillip Lindsay (2-8-0/4) and maybe a few for David Johnson (7-25-0, 5-27-0/6).
Lindsay will get the bulk of the carries, I suspect…but 'who FF-cares'? Lindsay goes from 2-4 carries for nothing per game to 10-15 carries for 50-60 yards and rare TDs. I mean, it's something but there are backup RBs functioning higher than the Texans #1 RB (for FF, especially PPR) – Pollard, Brandon Bolden when he gets the work, and all the Booker-Collins-Hubbard momentary RBs are in better places than Lindsay.
David Johnson may pick up a few extra carries, but again…who FF-cares? He was already the '3rd-down back' and was doing FF-nothing really. In this Arizona game, with the revenge factor – same old DJnoK…slamming into the middle with no space open, working behind the worst offensive line in the league. Wherever DJ goes, the worst O-Line in the league is going to happen. And if I'm a DJ homer, and it's really all DJ's fault…then 'who FF-cares?', because the bottom line is the Houston RBs are near worthless in that offense for whatever reason you want to assign.
I'd take Lindsay as the flyer right now because that guy is a grinder and often pops occasional plays in the worst situations. I think Lindsay sees the biggest bump in activity from all this.
…and it wouldn't surprise me if Johnson was traded to KC or Carolina before the deadline.
Lindsay inherits the most work here, but I really don't FF-care all that much about any HOU RB. Lindsay, after a DJ trade (if), intrigues me more…a bit…not a lot.
AND THEN…
This may be just opening up Rex Burkhead (0-0-0) for more touches…they love ex-Patriots…
 -- Tyrod Taylor (DNP) changes the game a bit in that he doesn't throw to the RBs as often/well. I'd rather have Davis Mills (23-32 for 135 yards, 0 TDs/0 INTs) from the PPR aspect for the remaining two RBs…but I don't FF-care either way, really.
 -- Two worrisome Kyler Murray (20-28 for 261 yards, 3 TDs/1 INT, 6-10-0) items and two positive ones…
But first…notice Kyler had a lower yardage total here in a big win – the Texans pass D has been fairly stingy allowing yards this season. It's not an auto 300+ for any QB. This pass defense is OK…and you can rather run all over their defense, as is what most opponents do.
Two negatives…
1) Kyler hasn't thrown for 270+ yards in a game in four straight games.
2) The worst thing…Kyler has run for 1-6-10 yards in games since he tweaked his shoulder three weeks ago. When Kyler is not running for FF-gold, he's a regular old 'good' QB1…not the dominant guy.
20 carries for 17 yards the past three games combined. This follows a similar run decline when he got dinged up late last season.
Two positives…
1) Kyler is on fire as a passer, however. 7 passing TDs the past two games. 17 passing TDs on the season…the 4th most by any QB this season to date…one behind Mahomes, two behind Stafford (Brady leads with 21).
2) Remember when many scouts/analysts said Kyler was too small to be an effective passer in the NFL? He's currently #1 in the NFL in Completion Percentage at 73.5%.
Kyler is becoming mini-Mahomes, as we discussed/comped way back in his draft year/scouting report on CFM.
 -- Chase Edmonds (15-81-0, 1-9-0/3) got those extra carries I was predicting for this specific game script. Which means it's a good time to explore trading him off as people crave any RB with good touches (see: the frenzy over P Lindsay on waivers post-Ingram trade).  
Edmonds is talented, but he is shutout of the short TDs by James Conner and blocked from excessive PPR work because Arizona is rarely losing and in hurry up…and Kyler's high comp. rate is even more amazing because he's doing it throwing downfield, not dumping to the backfield guys.
 -- DeAndre Hopkins (7-53-1/9) is supposedly questionable this week. If he's out, who benefits?
A.J. Green (3-66-0/3) has been doing solid Emmanuel Sanders type work…good/experienced hand on a high functioning offense. Lower targets in games for AJG scare you, but while everyone is chasing target counts – the Cardinals WRs don't need big target numbers because of Kyler's amazing Comp. Pct.
Christian Kirk (4-50-1/5) has been with AJG…riding the Kyler wave. Hopkins rules and then AJG-Kirk performs well in his wake.
Rondale Moore (2-17-0/3) would be the biggest winner, likely…going from #4 situational WR to the higher snap count #3 WR.
GB rookie ace CB Eric Stokes could take out Green or Kirk (but probably neither, fully, as he doesn't shadow as much). Stokes will likely rarely be on Moore.
Zach Ertz (3-66-1/5) scored a TD here, but he's really no different than C.J. Uzomah, etc. Solid enough TE, a little slow afoot, but working on a good offense/with a good+ QB, so solid numbers can happen.
 -- I don't know what got into Texans DL Jonathan Greenard (3 tackles, 2 sacks, 2 TFLs, 1 PD) but it's white hot for IDP…
At least one sack in every game he's played (4) this season. 2.0 sacks in each of his last two games, 6.0 sacks on the season…playing 50%+ of the snaps in games.
 -- Not to be outdone, Markus Golden (2 tackles, 2 sacks, 1 FF, 3 QB hits) has started in place of Chandler Jones the past two games and has racked up 4.0 sacks in those two games….6.0 sacks this season. He's #1 in the NFL in forced fumbles (4).
 -- The Arizona-DST is still trucking along. They are catching GB with their best two WRs out…and a problematic O-Line Week 8.
They might get Jimmy G. Week 9. Darnold Week 10. Maybe Geno Week 11.
This defense is so good, you can fairly confidently use vs. GB…and might get a run from here where only Week 12 (bye) and Week 14 (Stafford) are scary situations before Week 17 at Dallas. If so, you may not need to sit on LAC for the next 2-3 weeks waiting for the good pairing situations. It all depends on how fast Russell Wilson returns to alter the schedule for the Arizona-DST.  
Snap Counts of Interest:
60 = AJ Green
59 = Hopkins
51 = Kirk
37 = Rondale
49 = Edmonds
21 = Conner
35 = Ertz
21 = Dem Harris
53 = Cooks
35 = Collins
27 = Conley
24 = Amendola
13 = C Moore
30 = D Johnson
21 = Ingram
04 = Burkhead
04 = Lindsay