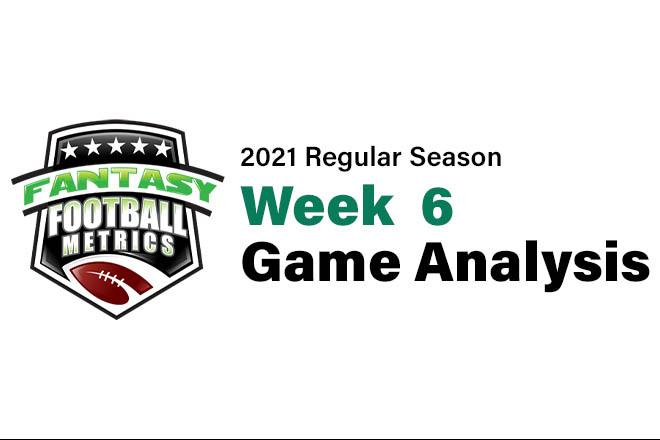 Ross Jacobs
FFM
21 October 2021
2021 Dynasty/Fantasy Game Analysis Week 6: Titans 34, Bills 31
RC and I seem to have somewhat differing opinions about how this game went and the state of the two teams. RC believes that Tennessee came in and really took it to the Bills. He thinks they played a great game and really grabbed hold of the AFC South with an impressive, season-defining win.
It's hard to argue with that...but I'm going to try.
Let me start by saying the game I saw went a bit differently. I saw the Bills look mostly unstoppable on offense all night. And I saw a Titans group that kept getting lucky break after lucky break to keep them in it. A 76 yard run straight up the gut by Derrick Henry where he was virtually untouched, a deep pass that bounced off a defender's helmet that Julio somehow adjusted to and caught on the sidelines, untimely penalties on the Bills, a 4th and goal stop by the Titans defense on a Josh Allen sneak...there were multiple lucky breaks for the Titans that all piled up and allowed them to win this game.
I'm not saying they didn't play well. They did. What I'm saying is I believe if you played this game 10 times the Titans win maybe 3-4 of them. I think this was one of those somewhat fluky wins that decent teams sometimes get over elite teams. It happens every year multiple times. Not every win has to "mean" something or announce some new reality for a team.
I don't think the evaluation of either team changes all that much. To my eyes Buffalo is still one of the 2-3 best teams in the league, in competition with the Cardinals primarily. Tennessee seems like the same solid but unspectacular team they've been for the past couple years. I think they win 10 or 11 games, the AFC South, and then get busted in the playoffs by a better team...possibly Buffalo. At the end of the day they are still a decent but not great offense (8th in points and 11th in yards) based around a power running attack and a mediocre to terrible defense (24th in points and yards). That's not the makeup of a great team.
I still don't even think the AFC South is a for sure lock for Tennessee. They have to be the favorites, but they've been the favorites all along. They still have several difficult games coming up, and the Colts are improving rapidly. This was a massive boost to Tennessee's chances, winning arguably their toughest matchup all year, but it was still just one game, and I don't believe it heralds a changing of the guard.
*RC NOTE: I think this Titans win is huge, even if lucky in some respects, for the AFC South big picture...this was a suspected loss that the Titans stole to stay 2-games ahead of wobbly Indy. Had the Titans lost, the Colts are a game back. Tennessee keeps a two-game lead here, which is an obvious edge. When the Colts play Buffalo it will be at Buffalo Week 11...you know they'll lose that...another reason this win was so key for TENN. 
Fantasy Notes
--Derrick Henry (20-143-3, 2-13-0/3) is an institution..just note half his yards came on a single weird carry after he was touched at the line and then the safeties took a bad angle on him. On his other 19 carries he got a grand total of 67 yards. That's not a knock on Henry so much as a compliment to the Buffalo defense and a commentary on how lucky Tennessee got here.
--As I said last week AJ Brown (7-91-0/9) looks fine, but now your buy low window is closed.
*RC NOTE: I was anti-AJB last week. Didn't like the way he looked, etc, didn;t like his 2021 output. All was well 2nd-half here. No more Brown worries for me. 
--Brown certainly looks better than Julio Jones (3-59-0/5) who was nearly shut out but for a miracle catch after an underthrown Tannehill pass hit a defender in the back of his helmet. Not sure what's going on with Julio, but he just doesn't look like he's moving like he usually does. I'm guessing he's still not 100% recovered from his injuries. 
As long as he doesn't aggravate them he might be the new buy low on this team. At full strength he's going to pull in 7-8 targets a game, about 5 catches for 70 yards, and a shot at a TD. That's solid work. I have no idea how available he might be right now since his name holds so much value, but if you can get him in a cheap deal I think it could be a nice upgrade depending on what else you have.
--Ryan Tannehill (18-29 for 216 yards, 0 TD/1 INT, 2-3-1) continues to put up boring numbers in fantasy, BUT this was against a very good Buffalo defense. I think this might actually be a sign that he could be making a return to his very solid numbers from 2019-2020. Now that Brown seems to be fully healthy and Julio is on the mend, the team won't have to lean quite so hard into Henry. If you need a bye week QB or a good #2 Tannehill could be your guy. Love his chances to explode this week against a pitiful Kansas City defense.
--There's nothing more to add on Josh Allen (35-47 for 353 yards, 3 TD/1 INT, 9-26-0). He wasn't perfect here and easily could have had another 50 yards and 1-2 TD's with a few more accurate passes, but it's just nitpicking (like how everyone is taking a rare chance to jab Mahomes right now). These guys are the elite of the elite, and in my opinion, nearly beyond reproach. Allen is currently leading all QB's in fantasy and will be in the running for top guy all year. Hope you bought him on our suggestion when the national media was bashing him the first couple weeks of the season.
--It was just a matter of time until Stefon Diggs (5-89-1/11) had a big game. It could have been a lot bigger. He and Justin Jefferson have been on the verge of huge games all year and just haven't been able to connect so far. They will soon.
--The biggest fantasy news from this game though was that Dawson Knox hurt his hand and will be out for a few weeks. I hate that for all the Knox owners as RC and I have been pushing his arrival recently, but sometimes these things happen.
*RC NOTE: I am led to believe this Knox injury will have out 4+ weeks...possibly 6+. Broken hand for a receiver is no small thing. Buffalo has no reason to rush him back, and then if you see BUF trade for like Evan Engram...you know they're taking their time PLUS it will be competition for Knox upon his return. 
--In Knox's absence there are two players that are really helped. Emmanuel Sanders (5-91-0/8) and Cole Beasley (7-81-1/9) get a bump up for now. Both guys have been on and off usable, but it's been hard to pin them down. The Bills have been blowing teams out so badly that they don't always need to throw. These shootout games are best for Sanders and Beasley. I like both to be a bit more consistent while Knox is out. Of the two I'd rather have Sanders. He is more consistently involved. Beasley is more matchup dependent.
IDP Notes
--David Long (14 tackles) has started the last two games after Jayon Brown got hurt, and in those two games he's racked up 26 tackles. The two obvious questions are: who is David Long and can he keep getting numbers like this?
Long was a 6th round pick out of West Virginia in the 2019 draft. He was extremely productive as a 3-year starter, amassing 252 tackles, 14 sacks, and 40 tfl's. So why did such a productive player fall to the 6th round? He's pretty small, checking in at 5'11" 227 lbs.
In 2020 he started 5 games at the end of the year, and in those games he had 6, 5, 12, 9, and 8 tackles (40 total, 8/g). This streak is no accident. Keep an eye on Brown's return though because that could signal the end of the line for Long. He definitely deserves more playing time after this though. We'll have to see what the team decides to do.
Snap Counts of Interest
71 = Emmanuel Sanders
67 = Cole Beasley
62 = Stefon Diggs
42 = Zach Moss
35 = Devin Singletary
42 = AJ Brown
35 = Julio Jones
29 = Nick Westbrook-Ikhine