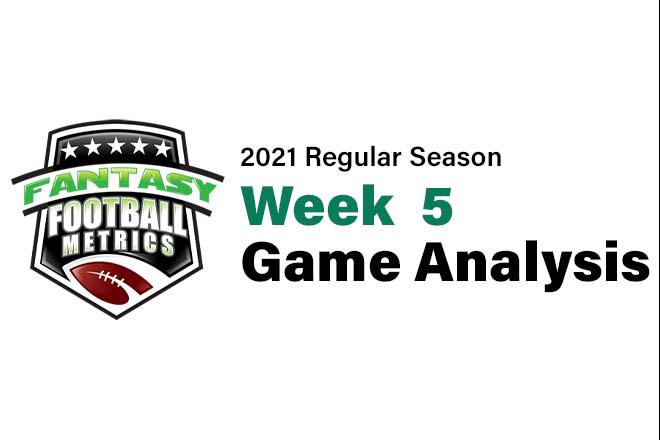 R.C. Fischer
FFM
12 October 2021
2021 Dynasty/Fantasy Game Analysis Week 5: Cowboys 44, Giants 20
It's not worth reading a ton into this game, the performance/outputs…because this started out a fistfight but one-by-one the Giants key players suffered fluke injuries and pretty quickly into the game…Jones-Barkley-Golladay was replaced by Glennon-Booker-Collin Johnson. Hard to win with that drop off. This report will mainly focus on the FF fallout of the NYG injuries ahead.
But I want to credit the Giants for fighting with all they had, despite the circumstances. Midway through the 3rd-quarter it was only 17-13 Dallas…but the in-game injuries proved too much to overcome, the dam broke, and it turned into a Dallas blowout – but that's not where this was headed initially.
If I were a Giants fan, I would be mad at my injury luck…but I would not blame or look to change Joe Judge. He nearly pulled off a miracle division title last year, without Saquon (which is now normal) and then bad-Daniel Jones and no O-Line…and no WRs. Doug Pederson screwed them…or they would have had it (remember that Week 17 event?). I think NYG was in line to pull off the upset here too, but the injury gods screwed them.
Daniel Jones has improved. The O-Line is improved. The WR group is VASTLY improved. The defense is very good…if Blake Martinez hadn't gotten hurt, it's a top 10 type defense in the NFL. Injury has stripped away all Joe Judge's top guys. They should not change Judge or O-C Garrett (hey, Jones is better as a QB now than prior…I don't like Garrett myself, but he doesn't deserve firing due to any negligence with the offense) nor should they fire GM Gettleman. They have a really nice core of talent, and it was coming together. They deserve to see this through. With this loss (and mass injury) their season is effectively over, but it should not be blamed on the coaching staff.
Dallas might have won anyway, but they got a gift here with all NYG's bad luck. Dallas is going to win the NFC East by a mile if Dak stays healthy. Dallas is one cornerback, and a healthy return of Demarcus Lawrence away from being the best team in the NFC East. Mike McCarthy is up for Coach of the Year right now…and it might be just that his staff is very good, but McCarthy is the head guy, so he gets the rewards. Jerry Jones as Executive of the Year is on the table as well.
Now, if I know Jerry Jones…he's going to inject himself into this and ruin it. The first thought I had on how he would do it – he'll trade for Odell Beckham Jr., and give him a contract extension. Right now, Jones does not get my vote for Exec. of the Year, because where was he getting any of these ace CBs on the loose? Carolina keeps getting them all. Regardless, Dallas is a Super Bowl threat…1-2 things away…things they can trade for. Jerry has to make his move right here, right now. He needs to empty his chamber to trade for Xavien Howard.
Fantasy Player Notes…
 -- Saquon Barkley's (2-9-0) ankle sprain looked terrible, but apparently isn't as bad as they thought…a low ankle sprain. They are saying that he'll miss this week, but I suspect he's out two weeks minimum. No need to rush him back…he has no need to rush back until he's 100%.
When Barkley went down, Devontae Booker (16-42-1, 3-16-1/4) put up nice numbers…but really it was due to the TDs. 2.6 ypc…16 yards receiving, really? That's exciting? He just happened to get the TDs.
Earlier in the year, when Barkley was out…Booker barely touched the ball as the lead back. It's Booker's show with the emergency need for NYG, but it may not be all that exciting. And if Daniel Jones is out, then it's going to be even worse.
I thought Barkley would be out for 4+ weeks at first glance at that injury…and that made Booker an interesting/desperate waiver guy this week. Now, the Barkley injury may not be as bad…and the NYG situation at QB may be off too…this may not be as attractive as it seems. It's something, it's touches…but likely disappointing.
 -- Speaking of the NYG QB situation…
Daniel Jones's (5-13 for 98 yards, 0 TDs/0 INTs, 3-9-0) concussion/playing status won't be known until later in the week. It's up in the air. Mike Glennon (16-25 for 196 yards, 1 TDs/2 INTs) is not the worst backup QB, but he's pretty bad. NYG has nothing on the practice squad (Brian Lewerke), so Glennon it is if Jones is out…and all the offense suffers for it.
The Rams-DST gets this NYG team Week 6…no Barkley-Jones (maybe)-Golladay…or Toney (maybe). It could be an epic DST scoring event.
Glennon drags down all things at WR…maybe he hits a deep ball pop by surprise to John Ross (1-13-0/5) is about all the hope there is if Toney is out.
 -- Let's finish out the NYG injury report with the NYG WRs…
Kenny Golladay (0-0-0/3) has looked terrific, to me, this season…but now he's hurt again and out for at least a week. Side note: Trevon Diggs (5 tackles, 2 PDs) has become 'that guy'…the shutdown guy to be feared by opposing WRs. He rattled Golladay here. Diggs has become more feared than James Bradberry (2 tackles, 1 PD).
With Golladay out and Sterling Shepard and Darius Slayton potentially out again…NYG is left with John Ross, Collins Johnson, and hopefully Kadarius Toney (10-189-0/13).
Ahh, Kadarius Toney…
I would now say that he's the best-looking WR from the 2021 NFL Draft class.
Pre-Draft, for CFM, I noticed the physical gifts…everyone noted the physical gifts. But I also laid out the case for his off-field risk/issues – lazy, underperforming most of his college career, and more into his music career than football…all that being a risk factor to ply his immature self with millions of dollars.
Then what happened this summer? Missing practices. Making coaches mad. Shooting his mouth off in the press. On cue.
What happened in this game – he was amazing…stunning…beautiful…and then the dark side reared its head – punched a player in the helmet. Dumb to throw a punch in a football game as it is, but dumber to throw a punch putting his moneymaking hand at risk by trying to punch a solid plastic object.
Toney is magnificently gifted and is also an immature, deranged person living in a make-believe world where he's an old school gangster rapper.
You have no idea which side is going to win. In the end, I'm sure the 'kills his career' part will win out. However, it could be a sweet ride before the race car hits the wall…like an OBJ 2.0.
Enter at your own risk.
I would not try to buy in after his Week 5…the stove is too hot. Toney has an ankle injury…and a possible team sanctioned 'suspended for a game or a half', etc., to deal with….and Mike Glennon possibly to work with. Let Toney have a down Week 6, then look at dealing for him if you want in. If he has a nice Week 6…then his price is still high, and you didn't really lose anything waiting…but his price may go down with 1-2 weaker games. I want in on something special like this, but I'm willing to wait.
Remember how awesome Rondale Moore was in his first two games? Now what's his vibe? You don't even know if you should redraft-roster him any longer. It happens that fast with rookies. Have patience.
As far as this game…a few notes:
*Stunning body control. Stunning ability to stop-start and change directions and accelerate. He's like a bigger Tyreek Hill…but no one is Tyreek…
*The idiot O-C of KC can't figure out how to get Tyreek Hill the ball, but Jason Garrett found every way possible to get Toney the ball in his first real start.
*Toney caught bubble screens, medium #1 WR timing routes, slants, and deep balls. He caught a medium route pass and ran right through defenders like they were standing still, getting tackled by his shoestrings to fall a yard short of a TD.
*Toney ran a wildcat play and fell a yard short of a rushing TD.
*Toney had a pass play called for him as well…a WR option pass.
*When Golladay went down, Toney started drawing Trevon Diggs some…and Diggs couldn't really handle him.
*Brilliant play design by Garrett and Judge. It makes you pissed off at Reid-Bieniemy for constantly wasting Tyreek Hill, imprisoning him as a 'deep ball guy' when he could get 10+ catches per game around the line of scrimmage to then try and make plays after the catch. Instead, they did that with Mecole Hardman last week…and, surprise, they lost again and are in last place.
*Perhaps the most amazing thing about Toney's game here…10 catches, 13 targets, 1 carry, 1 pass attempt…and he only played 54% of the snaps (37) in the game. Hats off to Judge-Garrett.
To that I say, Eric Bieniemy and Andy Reid…go piss off. You guys are morons with the way you use Tyreek Hill. Andy Reid…all your O-C's turned HCs are utter garbage from your 'tree'…Doug Pederson, Matt Nagy, and whenever the joke of Eric Bieniemy gets a gig. Oh, but you won a Super Bowl…thank Patrick Mahomes. You should be winning multiple ones with Mahomes…but now you're in last place. Congrats.
Toney's workday: https://youtu.be/QuD4z9FltWE
 -- Dalton Schultz (6-79-0/8) is the Dallas #1 WR…as a TE…he is the BFF of Dak, not Amari right now…and certainly not Lamb.
Season to date catches:
26 = Schultz
25 = Cooper
24 = Lamb
FF PPR PPG since Week 2 (Wks2-5):
15.4 = Schultz
12.3 = CeeDee
10.5 = Amari
07.8 = C Wilson
Amari's last four games catch counts in each game: 3-3-3-3.
CeeDee Lamb catches in the last three games: 3-2-4
Schultz catches in his last three games: 6-6-6
Rec. TDs since Week 2 (Wks2-5):
3 = Schultz
2 = Ced Wilson
2 = Amari
1 = CeeDee
Schultz is the #5 FF PPG PPR TE for the season…just ahead of #6 Darren Waller, but Schultz is still seen as a randomly lucky TE who is a random TE1 that will fall at any time. People with Schultz are emailing me saying, "I need to improve my TEs…what should I do to trade for Waller or Kittle?"
Waller and Kittle are not upgrades from Schultz…get that into your brain.
 -- I hope you're preparing to cash in on Bet The Close's Chris Bilello's Defensive Rookie of the Year preseason bet on Micah Parsons (8 tackles, 3 QB hits)…taking advantage of the favorable preseason odds on that prop bet.
Parsons has 9 QB hits the past 4 games as he transitioned to DE while Demarcus Lawrence is out. He's playing terrific football and is on the high-profile team that is very likely to win their division and make a Super Bowl run – he has everything going for him to walk away with that DROY award with ease.
The Rams have Donald-Ramsey that the media likes to boast about. It might be Parsons-Diggs they blather about in the near future…that Dallas has two of the great young defenders in the game.
 -- Tony Pollard (14-75-0, 4-28-0/4) is getting a ton of touches for a backup. Pollard has more carries this season than…Chase Edmonds and Miles Sanders, among other 'starters'.
Carries + catches, Pollard has one more than Javonte Williams this season.
And Pollard is only rising in touches. Since Week 2 (Wks2-5), Pollard has more carries than Conner-Fournette-Mk Davis, Moss, Jamaal Williams, M. Carter, Javonte, Latavius, D. Swift among others.
Snap Counts of Interest:
57 = Schultz
31 = Jarwin
47 = Elliott
31 = Pollard
50 = Engram
41 = Rudolph
41 = Ross
37 = Toney
30 = Collin Johnson