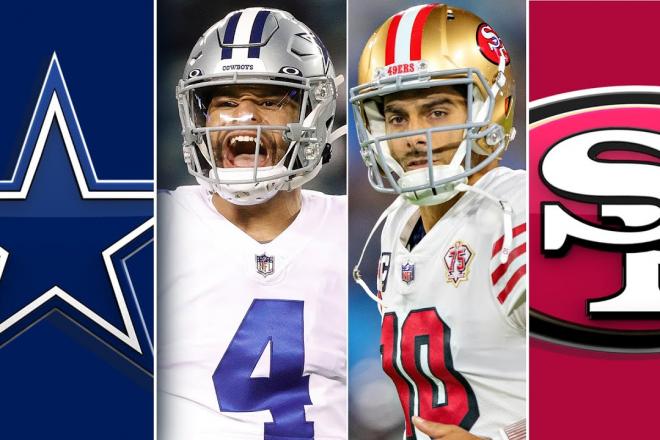 R.C. Fischer
FFM
22 January 2022
‍
2021 Dynasty/Fantasy Game Analysis Wild Card Playoffs: 49'ers 23, Cowboys 17 (by Ross Jacobs)
The 49'ers came out the first three series and looked like they might blow the Cowboys out. It was 13-0 in a blink and they were rolling.
And then Dallas seemed to gather themselves on defense. They gave up only one more score the rest of the game, but it came on a short field after an interception by Dak. I was highly impressed by how the Cowboys responded to getting their butts whipped early on. They clamped down hard on the 49'ers and gave their team a chance to win.
Unfortunately the offense couldn't do the same. They scored 10 points by themselves and got a short field TD of their own after Garoppolo threw an interception later in the game. It was 23-17 for most of the 4th quarter as the two teams frantically tried to get something going on offense.
Dallas gave the ball back with very little time left and it looked like SF would be able to run out the clock, but a booth review brought back a 1st down and on the 4th and inches play the 49'ers were called for a false start to back them up. They punted it back to Dallas with 30 seconds left.
Everyone has probably seen that final drive by now. It's all the media can talk about. How stupid could the Cowboys coaches be for calling a QB draw with just a few seconds left?!
Actually, I thought the call was fine, definitely a little risky but if it had worked they would have looked brilliant. The defense obviously never expected that play and Dallas got a good chunk of yards from the play. What screwed them was the ref running back late to get the ball set and bumping into the Dallas players. If he had done his job right they would have had 1 second remaining.
It's an unfortunate end for the Cowboys, but they had multiple opportunities to score points throughout the game and couldn't get it done.
So what happened to the vaunted Dallas offense that was setting records early in the season? Well, the offensive line does not look good for one, and they were going against a very deep, very talented 49'ers defensive line. Dak was under siege for much of the night and thus his passes were always just a little bit off it seemed. That's really the only issue I can see obviously wrong. Even Tyron Smith was struggling. It seems age and injuries may be catching up to him. Dallas definitely needs to draft at least 2 offensive linemen this year.
There were some rumors that McCarthy could get fired (and possibly be replaced by Kellen Moore), but it seems like he's staved that off for at least one more year. Moore is interviewing around the league for a HC job, as is Dan Quinn. My best guess is that Quinn gets a job, possibly with Denver, but that Moore stays another year. Maybe he waits for a more desirable job or maybe he hopes to take over for McCarthy the same way that Jason Garrett took over for Wade Phillips.
Good win for the 49'ers. They move on to play the Packers in Lambeau. I'm not going to say they have no chance, but it's an uphill battle. The defense is playing well and if they can hold Rodgers to 20 points or so they might have a chance. All their key guys are playing so it's possible. They'll need to pound Elijah Mitchell though because I don't think the pass game will be working much against the GB defense. Garoppolo just isn't a very good QB at this stage and it's very likely he'll turn the ball over once or twice.
I bet the 49'ers keep it competitive for a while but the Packers ultimately pull away with a stronger all-around team.
Fantasy Notes
--I've said for a few weeks now that I'm getting worried about Trey Lance in 2022 and I stand by that. We've been naively operating on the idea that Jimmy would be traded or released without question in the off-season to make way for Lance, but I believe now that couldn't be further from the truth.
Shanahan is going to hang onto Jimmy for as long as he can, until he believes 1000% that Lance is ready. And since Lance does not look ready even with a year of practice under his belt, I'm not sure what changes radically enough between now and next September for him to take over the job.
I thought at first that it was Lance's job once Jimmy lost it. That was wrong. It's not Lance's job until he takes it and takes it convincingly. Buckle up for a bumpy ride....
--The most baffling thing to watch the second half of this season has been Deebo Samuel running virtually untouched through defenses. It's so odd as a scout because he's not really an impressive runner. I mean he's fine obviously, but RC's description is spot on...it's like the defense just freezes and stands around like they can't believe Deebo is getting the ball. He rarely has anyone touch him until he's 5+ yards down the field.
Some of that is Shanahan's scheme because Mitchell gets it a lot too, but Deebo never has anyone near him. I have no idea why it's working but I'm not fighting it. Deebo is apparently the greatest RB in the league...
--Since Week 15 CeeDee Lamb has gone 16-233-0/25.
Since Week 15 Dalton Schultz has gone 32-294-4/38.
The correct answer to the question "Is Amari Cooper or CeeDee Lamb the top receiver in Dallas?" might be Dalton Schultz now. I can only speculate why this drastic shift has occurred, but my best guess is that Dak has lost a little trust in Lamb due to the drops issue. Lamb can't be counted on to come through with the tough catches. Schultz can.
Does this carry over to next season? Possibly. I think Lamb does bounce back because he's not a bad player and the perception is that he's a great player. Dallas will try to force him the ball. The volume alone should make him a WR1 hopeful in 2022.
But I could also see Schultz making another jump next year as well. He put up a heck of a season out of nowhere this year, and if he can keep the trend going from these last 5 games he'll be in the mix for top TE in the league next season.
--Cedric Wilson also appears to be filling the gap that Lamb used to occupy, possibly for the same reason. It's working. Wilson is getting open and catching the ball well. You can hardly tell him apart from any of the other Dallas receivers. Whoever is scouting WR's for Dallas has been killing it lately. They have arguably the best 5 deep WR corps in the league, certainly right up there with the Bucs.
--I still don't see anything wrong with Zeke. Everyone is bashing the guy like he's doing something wrong or he's hurt, but I just don't see it. He definitely doesn't have the long speed or burst he used to, but he's still more than capable of being a competent power RB.
The issue I see is a failing offensive line. Connor Williams is downright bad and has been since he was drafted. Tyron Smith is starting to get beat more often presumably due to age and injuries. Tyler Biadasz has never been able to live up to the success of his predecessor Travis Frederick. La'el Collins is just ok at RT.
They have to draft some linemen this year. This isn't the first time we've seen this issue before either. During the Romo era Dallas always had promising teams that would get held back by injuries to their starting five linemen, and the Cowboys would never do anything about it and just pray for good health which they never got.
The same issues are starting to pop up, and if they aren't addressed quickly this team is going to waste years constantly coming up short despite how talented the team is. Offensive line is the most important unit after the QB. Dallas is playing with fire if they don't do something to fix this issue now.
Snap Counts of Interest
45 = Zeke
25 = Pollard
64 = Cooper
61 = Wilson
60 = Lamb
54 = Aiyuk
47 = Deebo
33 = Jennings