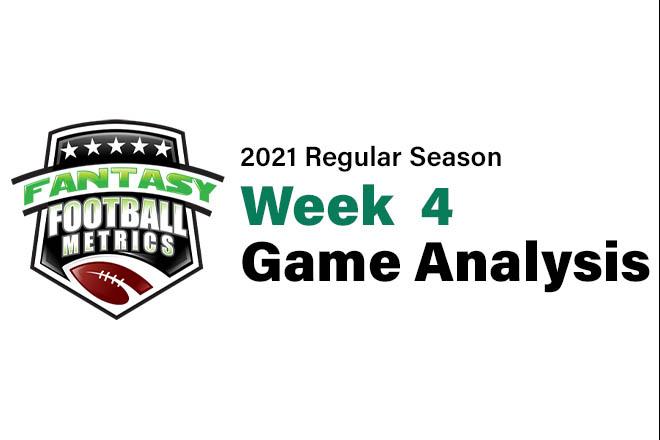 R.C. Fischer
FFM
07 October 2021
2021 Dynasty/Fantasy Game Analysis Week 4: Giants 27, Saints 21
With 12 minutes to go, the Saints pulled ahead 21-10 and it looked like the -7.0 underdog Giants were going down and not getting within the spread. Then the Giants stepped on the gas and scored 11 points to tie it at the end of regulation, then won the coin toss and stormed down the field and scored a TD…and that's all she wrote.
Great win for the Giants. Honestly, this was an equally matched game…or I'd vote the Giants were the better team, not just this moment…just the better team in general. This was a gutsy, hard-fought win…a come from behind at a tough road place to play.
The Giants are now (1-3), and really they should be (2-2) with that lame ending to their Washington game/loss. They could be (3-1) had they not played flat against terrible Atlanta. I can't tell if the Giants are just a decent but erratic team that had a great game here…or if they are really a good team/low-end playoff contender. They really are not a bad team. Not a great team, but not a joke either. If they go and beat Dallas this week – they're right back into the NFC East race. Lose, and the season might be slipping away. It's a Super Bowl for NYG this week. I have a funny feeling they are going to win it…just my gut. Not the data.
The Saints are good, but they have a major problem making them 'mediocre'…and that's Jameis Winston. He's the worst starting QB in the NFL (not counting Davis Mills as a starter). If the Saints want to save the season, they need to swap out Winston…but I don't know that Taysom Hill is any great answer either (better for FF). I would not be surprised if the Saints are the one who makes the bold move for Deshaun Watson.
If I were the Saints, I'd make this Watson move now in the light of the Urban Meyer stuff…it's a little cover to do what nonsense Urban is doing – a lame apology and take a few public relation hits and move on. They aren't winning a division or going to the playoffs with Jameis, so they might as well take the heat and try to sneak Watson through the front door.
Fantasy Player Notes…
 -- First things first…
And I can't believe I'm typing this (for the 2nd or 3rd time this season), but I need to acknowledge it…
Daniel Jones (28-40 for 402 yards, 2 TDs/1 INT) looks damn good. Not great, but good. Not mediocre…or just 'improved'…he looks bona fide the word 'good'.
I've been against Dan Dimes from day one. Didn't like his vision for reading the field. I thought he buckled under pressure too quickly and was prone to make terrible throws. And I wasn't wrong with that assessment for his first two seasons. But there's been a change in 2021.
Sam Darnold is still pretty weak, but he has improved…no longer horrible but maybe mediocre…Taylor Heinicke level acceptable work. This is not that with Daniel Jones. It's not a full Josh Allen leave my jaw dropped on the floor turn either. This is Jones going from a 'D' student to a solid C+ student. The parallel that comes to mind…he's turning into a Ryan Tannehill…good enough to win…good enough to put up numbers. Not just a game manager. But not elite either.
NFL QBs are getting better and better as the league becomes a 7-on-7 affair most weeks because QBs aren't rocked by tacklers/sackers as much anymore and many drives are extended due to pass interference plays. It seems like every QB is throwing for 70%+ completion percentage now…where no one used to 5-10 years ago, or maybe one QB did and it was a big deal.
It was a shock in 2011 when Drew Brees completed 71.2% of his passes…a first of its kind.
Five years later, Brees would get there again…but so did Sam Bradford.
Brees did it again in 2017…the king of NFL accuracy.
Then Brees hit a high of 74.4% in 2018, while Kirk Cousins joined the 70% club in 2018.
A new landmark…three QBs, including Brees, hit 70%+ in 2019.
Three more did it again in 2020 (including Brees) in 2020.
This year, Brees is no longer playing but currently seven QBs are about 70% comp. pct. Led by Kyler Murray's astounding 76.1%.
Soon enough, we will see the first 80% passer in the NFL at this rate.
The game is changing. The QBs are getting better and better, and you can't touch them nor touch their receivers. And quick passing games and tunnel screens, etc., rule.
A rookie, Mac Jones, is at 70.0% comp. pct. today. Taylor Heinicke is surviving in the NFL. Sam Darnold is getting better. Daniel Jones has gotten a lot better. It doesn't look like a fluke to me or a 'system' with Jones – it's more that he has just gotten better/more comfortable and he's off to the races.
Jones is still struggling a bit near the red zone or end zone, but outside of that he's zinging the ball all over the field making tight window bullet throws over the middle like I've never seen him do before…plus he runs for FF points. What's not to like here for FF?
 -- Jones's great connection is no longer with Sterling Shepard (DNP), although they're fine…the sweet music is Jones-to-Kenny Golladay (6-116-0/7).
I'm a buyer of Golladay on the real cheap. He's a WR2.5 like valuation because people don't fully embrace the Jones turn, and don't see Golladay as that guy yet (no TDs and WR3 numbers so far)…but Golladay is a beast and is definitely the Giants #1 WR. As their connection grows the TDs will come.
Golladay is a WR1-1.5 in WR2-2.5 hiding right now…he trades nowhere near his upside as Jones is emerging. Golladay and Michael Pittman are the two WRs laying in the weeds that could shoot to WR1-1.5 in PPR, but trade as 'meh' on the market right now.
 -- Further helping Jones…Kadarius Toney (6-78-0/9) is a real talent. He's a real head case too, but he's definitely a physical specimen/talent.
I believe Toney will shoot the foot off of his career in time, but that doesn't mean he can't work before that. Derrius Guice was once a coveted, productive FF being.
I've been 'shoulder shrug' at the thought of Toney because Dan Jones didn't excite me and Shepard-Golladay are the main targets and Darrius Slayton (DNP) is really good too. But with Shepard-Slayton out, Toney played 78% of the snaps and saw a team high 9 targets…on a lot of purposed throws and some just nice finds by Jones. Toney dropped a quick slant that might have been a catch-and-run 50+ yard TD to really light up his FF heat.
If Shepard and Slayton are out again this week…Toney is a legit Flex option Week 5. You might get a pop Week 5 and then trade off in redraft as Shepard returns.
I take back my dismissal of him to begin the week (I thought Shepard would be back, but now I don't think so).
 -- Who is not good at QB in this era of all QBs are good: Jameis Winston (17-23 for 226 yards, 1 TD/0 INTs). I would tell you if he was, just like I see Jones's improvements and am willing to admit it despite me being anti-dimes prior.
Winston is god awful…good for little safe dump passes and he occasionally connects a bomb. He's not a real QB. He is only better than Tua Tagovailoa among the on-purpose starting QBs in the NFL.
Winston's lack of a medium game is killing an excellent-looking Marquez Callaway (2-74-0/2). Callaway's FF doldrums are not on him, it's Winston's fault.
However, in Winston's short passing game efforts…Deonte Harris (5-42-0/8) is emerging a little bit. Several designed tunnel screens for him and a near miss or two 30+ yarders. I walk away from this game wondering if Winston has finally discovered Deonte…and Deonte is built for FF. He's the Saints store brand version of Tyreek Hill, but that ain't so bad.
Harris is quicker and a better receiver than NYG speedster Josh Ross (3-77-1/4)…who will be an odd-man out when Shepard-Slayton returns.
 -- Tony Jones got hurt and will be out for 4-6 weeks. Who is the new #2 RB? Good question.
I believe it is WR turned RB turned back to WR but now back at RB some, Ty Montgomery (2-7-0, 3-42-0/3). A few weird notes here…
1) Montgomery was getting his passing game as a pure WR here. Dwayne Washington (1-5-0, 1-6-0/1) was actually running as the #2 back at first. It wasn't later into the game that Montgomery took a few carries when the Saints were trying to run the game out.
2) Montgomery is listed as an RB or RB/WR in most FF leagues, and he could be a discount version of Cordarrelle Patterson while Tony Jones is out – KR, WR turned RB who plays more WR but classified as an RB.
Montgomery could do nothing Week 5…or be a discount CP, as he was in small parts he was in for this game. He booked 50% of the snaps this game, most as a WR. He played one more snap than Deonte Harris did.
 -- Side note: Part of the reason Daniel Jones is improving is his O-Line is improving. He has more time to work. With that, things are looking a bit better for Saquon Barkley (13-52-1, 5-74-1/6) – the numbers aren't fully there yet, but I think Saquon is about to explode even with teams super-stacking him. Jones's improvement and the suddenly abundant WR group (when Shepard and Slayton return with Golladay-Toney-Ross-Engram)…this is an on the rise offense that's starting to get Barkley in place for TDs…big yards soon to follow.
You wanna buy a top 2-3 FF RB for the price of maybe a top 6-12 type of RB, maybe if the current owner is nervous about their season and you make the right offer – Saquon is the target…not Mixon or Edmonds or Moss or Gibson, etc. Shoot for a real deal shot like Barkley.
Snap Counts of Interest:
56 = Callaway
34 = Ty Montgomery
33 = Deonte H
17 = Stills
05 = Dw Washington
39 = Trautman
17 = R Griffin
58 = Golladay
49 = Toney
28 = Ross
19 = Board
43 = Engram
37 = Rudolph