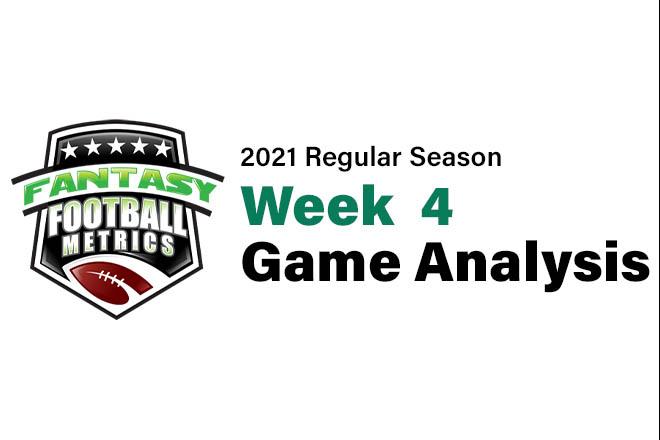 R.C. Fischer
FFM
06 October 2021
2021 Dynasty/Fantasy Game Analysis Week 4: Ravens 23, Broncos 7
On the first drive of the game, the Broncos were moving the ball and they ran a nice TE wheel route type of play to spring Albert Okwuegbunam open on an easy 50+ yard bomb TD…but Teddy Bridgewater overthrew the pass. It was kinda all downhill from there for Denver.
The Broncos did take a 7-0 lead as the 2nd-quarter opened up, but then were thumped by Baltimore 23-0 nothing from there for a 23-7 loss. Some people will think…if Teddy Bridgewater didn't get hurt. No…Teddy was killing this offense. Well, Teddy plus a suddenly terrible offensive line. Well…Teddy plus a terrible O-Line plus the worst offensive minds in the NFL for a coaching staff this side of the Pittsburgh Steelers.
I talked about it on the Video Q&As last week…there's something wrong with Denver. My internal indicators were flashing the warning as they got out to a (3-0) start that we projected – and the warnings came to life here, once Denver stopped playing teams who had not won a game in the NFL through the first 3 weeks.
11 QB hits allowed, and 5 sacks given up by the Denver O-Line. When Teddy wasn't under pressure, he had time but was very inaccurate (was 7-of-16 on the game). This was one of the worst QB passing game performances I've seen all year. Not only bad protection, not only Teddy all over the place, but whether with Teddy or Lock – absolutely no life in this offense. Routes are being run with little energy. Players are walking back slowly to the huddle. There's no positive body language or energy or enthusiasm – and that's coaching as much as anything else. The head coach is WAY into his defense and his offense is a side nuisance that runs a 1980s-style controlled game with their game manager Teddy Bridgewater…the 'coach on the field', because offense is annoying for Vic Fangio, so a game manager is his wet dream. In an ever-increasing passing league, the Broncos are one of the worst passing teams, worst offensive playbook teams in the league – if not the worst. That fact covered up by the easy first 3 weeks schedule. O-C Pat Shurmur's time has long since passed.
The Broncos are about to go into a tailspin, and it may get the offensive coordinator fired by midseason…and Fangio will be done at the end of the year…unless Aaron Rodgers really wants to play for him, and I can't see why he would. Denver is going to finish between 7-9 wins…they might sneak into the playoffs, but I now even doubt that.
The Ravens are leading a charmed life. They were better than Denver here, for sure, but that's not a huge compliment. The Ravens are (3-1) and are lucky they are not (1-3). They want to run the ball, but they can't, so now they're trying to be a passing team…which worked a little bit here because Denver was so focused on Lamar running that enough things opened up otherwise. Denver's defense is good-not-great but they were not good enough to stop Lamar when it counted…with Lamar doing so without his usual big running plays…which is further insult to the Denver defense.
Baltimore is a solid wild card team at best. We project them for 7-9 wins as well with a tough schedule after their Week 9 bye. Baltimore is a better team than Denver, but it's possible Denver winds up with a better record…but they'll be close, and this Ravens win could come back to haunt the Broncos in wild card tiebreakers.
…and then there was that minor, meaningless rushing record thing – John Harbaugh is an ass, and everyone inside the league knows it…both Harbaugh kids/coaches are jackasses. Both multi-millionaires and solid enough football coaches, but total tools personality-wise most of the time…in football circles. They may be terrific neighbors, uncles, dads and husbands otherwise, but they do some whacky-S in the football world. I guess most of the people have to have a screw loose in that coaching profession, and we'd all love to have their job I suspect. The whole record thing was dumb, no one cares about the record…even Lamar saying so after the game. If Lamar tore his ACL on the play (he ran it) John Harbaugh would be grilled for it through eternity. But we'll forget about this in a week and outraged about something else stupid some coach did.
Fantasy Player Notes…
 -- Speaking of this Ravens run game…embarrassing. Latavius Murray (18-59-1) is doing fine running straight ahead for 3.4 yards per carry…and was stopped on a few 3rd & shorts to ruin drives in this game. Harbaugh is doing this to himself, so I hope he burns for it. Murray has scored a TD in three of his 4 games as a Raven…but his Fantasy PPR points in each game this season is still just: 9-10-3-12. He has yet to receive a target from Lamar Jackson. You go ahead and FF-enjoy that…no thanks, for me for my FF teams.
Le'Veon Bell (4-11-0, 0-0-0/1) is the new '3rd-down back', which is a laugh. He still has some minor juice running straight but the moment he has to go side-to-side, it's over.
The Ravens best running back is Ty'Son Williams, and he was inactive for this game…this game where the Ravens ran 30 times for 102 yards…3.4 ypc. And if it wasn't for Lamar, it would be even worse.
I still believe Ty'Son can make a comeback/take back this main carry role, because Murray-Bell are so shot…but it's John Harbaugh, so you never know what he's going to do. I'd like to hold Ty'Son for another week or two to see if they drop Devonta Freeman (1-4-0) and get Ty'Son back in the mix so he can show how much better he is…again. BUT my FF-teams are cooking right now and I don't have time for nonsense. I need to play to win, so if I see something better or I'm playing a week or two ahead for byes on DSTs, etc., and I pick up something operational instead and drop Ty'Son, I'll do it. I want to hold, but I don't have to hold. Ty'Son is likely dead, but I'm not ready to dig the grave yet. I want the lead back for the Ravens…if they have some talent…like Ty'Son.
 -- As the run game has sunk to the pits, the Ravens are trying to turn Lamar Jackson (22-37 for 316 yards, 1 TD/0 INT) into a passer…and, well, that's not his thing really.
The last two games they've elevated his passing attempts and his passing yards have gone up, but his passing TDs stay the same (1 per game) and his comp. pct. tumbles. He started out rolling 65%+ completion percentage average the first two games but has been 55%+ average the last two games. He's also gone from 14.0 rush attempts per game Weeks 1-2 to 7.0 the last two games. Not what you want to see from Lamar for FF.
 -- I'm now worried about Courtland Sutton (3-47-0/8), for multiple reasons…
1) The passing game is falling down as they face better defenses. Really, Sutton has one good FF-game in 4 games this season. Sutton looks great/fine, but they can't get him the ball.
2) What really struck me from this rewatch…the body language from Sutton is mounting frustration…like he knows he's going to waste, and that it's gonna cost him free agent money. Sutton is walking slowly to the huddle after the frustrating miss targets and non-targets mount. He's saying a ton with his body right now…and he's a team leader, so I think this Denver locker room is about to blow if the Broncos lose their next three games, which they very well might.
Sutton has played 21 games in the Vic Fangio era, over the past 3 seasons, and he has just three 100+ yard receiving games and just 6 TDs. They are taking shots with him/at him for scores…it's just not connecting. It's always jump balls that never land, like Mike Williams circa 2019-2020.
I am not a buyer or seller, I'm a hold hoping he pops a little and we can reassess our position.
Sutton = WR1 talent…WR2.5 activity and surroundings, unfortunately…and the WR2.5 side is winning out too much this season. I have more hope for him if Drew Lock is at QB.
 -- Speaking of Drew Lock (12-21 for 113 yards, 0 TDs/1 INT)…
I heard two different commentators recap this game by saying (paraphrasing): Well, Denver was gonna win this, but Teddy got hurt and then you got no shot with Drew Lock.
That's a highlight watcher who has their mind made up already, giving us analysis. I am guilty of such things as well from time-to-time, which is why you gotta study the tape…all the tape…everyday…even in the offseason, as I do. Teddy played like total garbage here. You can blame it on the O-Line perhaps, but Teddy was downright awful -- he was completing 76%+ of his passes coming into this game…and completed 44% here. Drew Lock came in cold and faced some of the same pressure issues, but Lock is more talented…so, he threw some better passes under duress, but the pressure got to him too often as well.
I don't like much of what I see from Denver, but if the Broncos have to go with Lock vs. PIT Week 5…the Vegas line will go from -1.0 PIT to like -3.0 PIT. I might be interested in betting against the grain here and going with Lock, because Lock looked good here when he had time…like his 2021 preseason work. He still makes mistakes and he's not a leader, but that guy has Josh Allen ability, but hasn't made the full Allen turn yet…and he may never, but he's better than the analysts/fans think. He's gotten better in each of his last three seasons…but has a way to go.
 -- Noah Fant (6-46-1/10) seems to be flowing with the strength of the opposition. The Ravens are getting gashed by TEs, and Fant had a nice game. When he faced the Jets the prior week, a top team against the TE…2 catches for 15 yards. Fant faces a top against the TE defense (Schobert) Week 5 against PIT…that's why he's down in our rankings.
 -- James Proche (5-74-0/6) came out of nowhere this week. Nice numbers for any Ravens WR in the Lamar era…especially by a perpetual backup. Was it a breakout? No. He was just ignored/left alone a couple times and made numbers. Devin Duvernay (3-31-0/6) is 10x the WR. And Rashod Bateman is going to return soon.
 -- Two rookie IDPs…
Odafe Oweh (1 tackles, 1.0 sack) got his first sack in a football game since 2019! Congrats. He's doing solid enough work in the NFL for a rookie, but nothing much for IDP yet.
Caden Sterns (3 tackles, 2.0 sacks, 2 TFLs, 1 PD) got all the numbers you see…in just 7 snaps played!! To put it in perspective, Odafe Oweh is considered a top pass rush prospect in football and has been rushing the passer every play for years and he has one sack in his last 22 months of always playing football (college and pro). Sterns is a safety who just doubled Oweh's last 22 months' worth of sacks in just 7 snaps in this one game.
Until Sterns is playing more, I can't take him seriously for IDP…but I do love him so, as a football scout.
 -- I see Denver's defense is good, but their lofty 2021 ratings/metrics so far are built on schedule. They haven't faced a real elite QB yet this season…and they won't until Week 9 at DAL.
I look at this sad Denver defense, and then I see the Cardinals and Chargers and Browns and Panthers have rebuilt their defenses in a year+ and become high end defenses in a blink…while Denver is still just OK/'good'. It has me 'out' on thinking Vic Fangio is some defensive guru…or in thinking he is a good coach at all. He's as good as gone this offseason.
I see more DST talent with Denver, but I see more execution with Baltimore's defense. The Broncos ownership should fire Fangio and hire the real D-guru, Ravens D-C Don Martindale.
Snap Counts of Interest:
31 = Javonte
30 = M Gordon
53 = Watkins
45 = Mq Brown
33 = Duvernay
24 = Proche
45 = Latavius
20 = Le'Veon
06 = Devonta