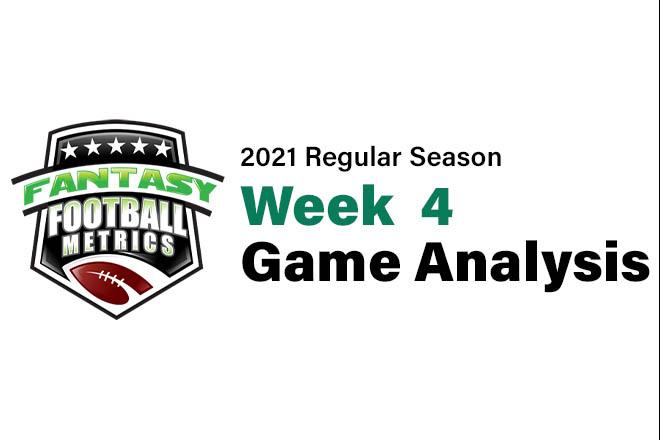 R.C. Fischer
FFM
05 October 2021
2021 Dynasty/Fantasy Game Analysis Week 4: Cowboys 36, Panthers 28
After rewatching this game, if I say that I think Dallas might be one of the few teams to consider as the best team in the NFC – you would not be surprised. But when I say that Carolina isn't far behind the pack as an NFC top team…that might get a raised eyebrow.
Let me begin with Carolina: That's a top 5 or so defense in the NFL, maybe top 3 and…gulp…Sam Darnold is playing pretty good football. He's not as good as the analysts think but he's not as bad (in 2021) as I had already banished him to be. I always see him as an 'F'. THEY think he's a B+. He's probably in the C-/D+ range…but that's not an 'F'. Big difference for Carolina in NFL terms.
The reason Carolina took the early lead (14-13 at the half) was because Darnold was playing solid football. The reason Carolina gave up 20 points in the 3rd-quarter and started getting blown out was because of Darnold…when the pressure is on, Darnold starts misfiring and is prone to turnover…and that's what happened here. But then it was Darnold helping lead a 4th-quarter charge to try and get back into it.
Darnold is making progress, but he's never going to be as good as they all thought. He's about a step ahead of Taylor Heinicke's style/ability. But that's better than Darnold has been before. This is a good-to-great coaching staff with a getting servable O-Line…and a top-notch defense. It's a good team that was minus their best offensive player and came out of the gates taking control of the game over Dallas (by a little bit).
Dallas had to play some ball to stay with Carolina at first, and then to put the hammer down in the 3rd-quarter. And then got a bit sloppy/lazy, thinking they had it in the bag up 22 just into the 4th-quarter…and Carolina slipped back in and cut it to a one score game…but then Dallas put Carolina to sleep and ran out the clock.
It was two 'wins' here…two 'tells' to me.
Dallas won the game and won over my heart some more -- further convincing me they are one of the top 3 teams in the NFC…if not the best team in the NFC…and in the running for the best team in football with a little more development. O-C Kellen Moore is calling (arguably) the best offensive games in the league, and D-C Dan Quinn has changed this defense – a collection of young talent that is only going to get better is finally living up to the collection of talent they had. Obviously, they have a Super Bowl caliber QB.
Carolina got a 'win' here as well… I thought they'd get smashed when the schedule turned difficult, starting Week 4, especially without CMC. But they held their own. They played just as tough as Dallas…but the Cowboys are just better because they are better at QB. Carolina 'won' me over – they have turned a corner. They are a playoff level team. They can hang with Sam Darnold. They aren't going to be elite with Darnold, but they can win some games with Darnold and all the other quality surroundings…especially a defense that can possibly be a best-in-football type unit.
Dallas taking punches early and then stepping on Carolina to take control of the game – it was a real picture of good-to-great football by a well-coached/executing team. Credit Mike McCarthy, even if he's just riding the O-C and D-C coattails.
Fantasy Player Notes…
 -- Sam Darnold (26-39 for 301 yards, 2 TDs/2 INTs, 6-35-2) is putting up nice FF numbers. I mocked them and ignored them as 'matchup based' fluff the first 3 weeks, but he's taking a bit of a turn to not-incompetent. I still think he's one of the 5 or so worst QBs in the NFL, but no longer do I feel he's the possible worst.
And this cat is running too… Five rushing TDs so far this season? I mean, that can be just dumb luck…and it is to some degree, so many TDs in such a short span – but I was surprised just how quick Darnold is. The classic 'sneaky quick'. He looks leaned up and unafraid to run.  
Kudos to Sam.
Is he viable for FF? I guess, kinda…if he's going to run for a TD and throw for 300+ yards every game (has three 300+ passing games in a row). No. But I do think he'll fall back to earth some, as defenses get used to him in his new environment.
If no rushing TDs…then no interest in Sam unless it's a perfect matchup and I'm desperate.
 -- As Darnold settles in, it's been clear D.J. Moore (8-113-2/12) is his main target…no one else is even close. Moore got two, let's say 'lucky' TDs in the garbage-ish time comeback but Moore also almost had a TD the first scoring drive of the game.
I worry Darnold will tail off ahead in output…he almost has to. His numbers are ahead of his skills, improved as they may be. Teams are going to try and clamp down on Moore…it's the way you have to play this passing game, so if the QB tails off and the coverage amps up…I don't think Moore can sustain as a WR1, but I'm not radically against it like I would have been a few weeks ago.
Moore's numbers jumped another notch when CMC went out…when he returns, we'll see if DJM holds up at the high level. If you fear Darnold…the coverage…and CMC returning as pressure on DJM's current output – this week is the time to sell high. Not dump at all costs, but make it pay off. Moore won't become a WR3 all of a sudden, but I think he's a #15-20 WR1.5-2.0 here more than a top 5 WR1. Don't sell it cheap, if you do/try.
 -- OK, I've turned more positive on Darnold and Moore. My first time ever for both. I have been against them for FF for years -- Darnold on my CFM scouting, and Moore on the situation tied to Darnold or Cam). I want to go back to being cranky and celebrating calling players shortfalls against the mainstream notion. So, let's discuss Chuba Hubbard (13-57-0)…
Dang it!! I mocked him this week too (and I was right to say he would not produce like everyone thought), but he actually played pretty well here. Definitely the best of the three RBs for Carolina. Hubbard was very quick and shifty with the ball. Best I've seen him look as a pro in his short stint to date.
I thought Royce Freeman (3-15-0) would show Chuba up with his experience, but Royce looks like he got shot with a tranquilizer dart…he was slow and plodding. Definitely not the Freeman I remember, or thought would outshine Hubbard. My bad. Royce looks cooked for the NFL. No more 'deep sleeper' discussion on him until further notice.
Rodney Smith (5-48-0/5) played the 3rd-down back role, and he was in the game quickly. Note to self/everyone…when CMC is out, Carolina's plan is Hubbard as the lead, and Smith as the 3rd-down back and hurry up offense guy. Meaning they both have little value for FF splitting touches as mediocre talents. Neither is the next CMC.
 -- OK, the 3 first notes were about me being wrong about 2021 stuff. I need to get a 'win' myself and get back on track. So, Dalton Schultz (6-58-1/8) is now a solid TE1. Dammit…foiled again!!
In the preseason, I thought Blake Jarwin (1-18-0/1) would be the lead in a split with Schultz. Instead, Schultz is the lead in a split and Schultz is pulling away as the main target for Dak…
The last three weeks of targeting for Dallas:
17 = Schultz
17 = Lamb
12 = Amari
Schultz has more catches and rec. TDs than any Cowboy the past 3 weeks…and nearly the most rec. yards.
Can it keep up?
I don't see why not…three of his first 4 games, Schultz has 6 catches in a game…it's consistently happening. He also had his hands on a TD early but it got knocked away by the DB. I'm a believer until he shows me that I shouldn't be. Fading off from here wouldn't shock me, but I'll ride the ride 'til it's over.
 -- One of the mild concerns for Schultz (and all the receivers) is Dak Prescott (14-22 for 188 yards, 4 TDs/0 INT, 4-35-0) is not throwing a lot at all…doesn't need to. The offense is efficiently running and sometimes passing over opponents. 27-26-22 for pass attempts the last 3 games for Dak. 237-238-188 passing yards in those three games. Not a QB1.
Dak's drop in passing needs is going to hurt Amari and CeeDee's FF-upside. And I don't know why Dallas would switch off it…they are winning by controlling the ground and smart passing game.
Three out of 4 weeks/cards dealt so far this season and Dak has been way down in passing volume, and taken Amari/Lamb with him…while Schultz is the winner/rising amidst it all. That's the trend.
But good news – Dak looked very good as a runner here. 35 yards rushing this game and he looked strong and quick.
 -- Two minor Carolina offensive notes…
1) Ross Jacobs was right a couple of weeks ago: Brandon Zylstra (2-63-0/2) is better than Terrace Marshall (1-2-0/3). It doesn't matter much for FF, because this is the D.J. Moore show…but so many are seeing Marshall as some great sleeper. Ahh, no. Not in 2021…not yet for sure…no signs of it.
2) Dan Arnold traded away sprung Ian Thomas (3-15-0/3) to more snaps/touches had ditto Tommy Tremble (0-0-0/1) but there's nothing here for FF. Tremble someday will be FF-sneaky but no signs yet.
 -- This Carolina defense…so good. Getting C.J. Henderson (3 tackles) from JAX was huge. But I forgot A.J. Bouye (3 tackles) is back as well. Henderson-Bouye-Donte Jackson (1 tackle, 1 PD) is one of the best CB trios in football.
Carolina's front seven is really good/potentially great too. This defense has the makings of not only a top 3-5…but THE BEST in football. It's a better version of the Saints, and I'm not disrespecting the Saints-D.
The schedule ahead is choppy for CAR-DST but that's true of most every DST. Weeks 7-12 could be hot: NYG-ATL-NE-ARI-WSH-MIA (except ARI).
 -- Theis Dallas defense is not joke either. A few more flaws than Carolina (like their CBs aside from Trevon Diggs) but when they get Demarcus Lawrence back in the 2nd-half of the season…this is a tough defense. If they can find another upgrade at corner as well, it could be a top 10 NFL defense.
Demarcus Lawrence could be back for the nice schedule pop late in the season for Dallas: Weeks 13-16 with NO-WSH-NYG-WSH.
Snap Counts of Interest:
49 = Lamb
48 = Schultz
35 = C Wilson
33 = Jarwin
29 = Amari
46 = Zeke
18 = Pollard
44 = Ian T.
27 = Tremble
50 = Terrace Marshall
13 = Zylstra
33 = Hubbard
26 = Rodney Smith
12 = Royce Freeman