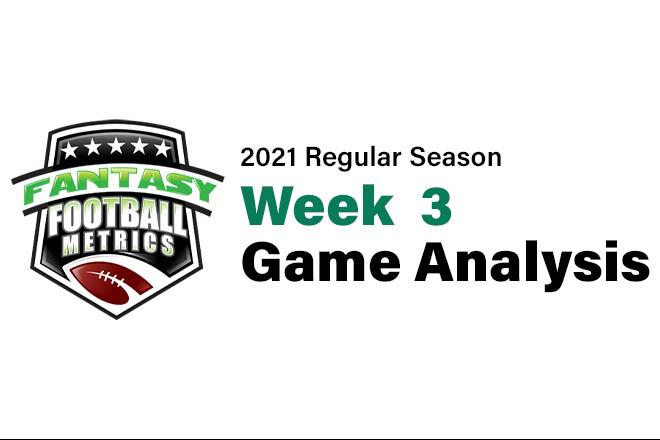 R.C. Fischer
FFM
01 October 2021
2021 Dynasty/Fantasy Game Analysis Week 3: Rams 34, Bucs 24
I will give credit where credit is due – the Rams won this game/earned it…they were the better team. No nuisance about it.
Of all the storylines in the NFL in 2021, the Sean McVay-Matt Stafford 50 Shades of Gray torrid love story is currently my single least favorite. I'm not 100% sure why, but it has completely turned me off on McVay and not got me onboard with Stafford – but credit to them, three weeks in, they are right and I am wrong (so far)…and they are adding extra hot sauce by every announcer regaling us with the story of them meeting on vacation and falling instantly in love, and now here they are with their figurative tongues down each other's throats every Sunday on my television.
It may be that I just hate love. It may be that I want to watch the world burn, but I think it's more these announcers/analyst's telling the story with such whimsy…that they're so delighted at the McVay-Stafford union – never mind everyone in the league ignored and dismissed Matt Stafford for a decade…now, it's a quick revision of history/a 180 that they always really loved Stafford…and now Sean McVay is the genius wizard who got to the top of Mt. Stafford first before his buddy Kyle Shanahan did.
Hope Jared Goff and Jimmy Garoppolo feel like total $#!%, because McVay and Shanahan spend their offseason trying to chase a new QB, and then telling us all about it. Next year's Shanahan-Aaron Rodgers reunion story will be sickening, I'm sure.
And let me say this about the golden boy, Sean McVay -- if you want me to eat healthy on my lunch break, I can respect that. But if you're pushing me shitty canned soup as the answer – it's why I can't fully trust you on this Matt Stafford thing. Don't yell at me about eating fries if your solution is processed mystery meat and noodles in a saline solution that is still 'fresh' 20 years after being canned. Sean McVay, I want you to stop lying to me about food and stop showing up to my party with your arm around Matt Stafford…I get it, you're (3-0) with him. You're winning. You're a genius.
Oh, how I wish McVay sprinted off at halftime in his enthusiasm and tripped over someone and face planted halfway to the locker room.
But that's just me. https://youtu.be/BbPiIwFOQtU
Stafford was good here. The Rams played with intensity. The Rams D pressured Brady all game and the O-Line kept the pressure off Stafford. The Bucs were OK, but they couldn't match the intensity and focus and execution of the Rams. I'm sure Bruce Arians has been a joy in this week's practices…
The Rams face Arizona this week, the winner goes to (4-0) and potentially lays claim to 'best team in the NFC'. If the Rams win, that's all we'll hear…and the season is over (for the analysts), might as well skip to the Rams in the Super Bowl. If the Cardinals win, then it will be still debatable for the media…they are SO locked in on the Rams. Dallas is 'America's Team'. The 2021 Rams are 'The Media's Team'…and thus I hate them, naturally, for it.
I think the Rams might be the best team in the NFC, but Tampa, Dallas, Arizona, Green Bay and maybe Minnesota (when playing at home) are in that discussion as well. It's the Rams v. Cardinals for the NFC West title, to be determined in January/Weeks 17-18, not October.
Tampa Bay will be fine, but probably not going back to the Super Bowl…it's hard to repeat for any team. I'd pick the Bucs over the Rams if a rematch magically happened in a few weeks. This might be the chip the Bucs needed…the wake-up call to spur the defending champs. Tampa Bay is not the clear best team in the NFC, and now they know at least one NFC team isn't afraid of them when/if they meet again. If the Bucs lose to the Patriots in that emotional game this week…then I think the Bucs mini-tailspin has begun. If they smash NE, then all is well.
Fantasy Player Notes…
 -- Sony Michel (20-78-0, 3-12-0/4) laid down a gauntlet in this game. A gauntlet to Darrell Henderson that Michel might be the better back for L.A.
Now, you can debate that last statement…but if it's close to true, then you know who is going to have a Goomah on the side from Stafford? Sean McVay…with Michel. Sean McVay has never met a camera or microphone he didn't love to blather on about football. Trading for Michel…that's a McVay approved move, and he is going to be in love with it working out in the public eye. Plus, McVay hates Darrell Henderson.
However, I've not really seen McVay go wild talking about Sony Michel post this game. I thought McVay would be talking up a storm on him post-game/this week…but he has not, so I am not ready to say a Michel takeover is underway.
Henderson supposedly is going to play Week 4, per McVay…but McVay said it's not 100% (at this point), so we have to assume Henderson is still banged up to some degree. If they hold Henderson out, it's another opportunity for Michel to put down tape to seize the role.
Michel looked more like Cam Akers (the last two games) than Henderson, to me…but I don't see evidence that McVay's heart has landed there/with Michel…yet. Considering this was Michel working against the NFL's elite run defense…I thought Michel was very good, and worthy of being the lead back going forward…and I don't believe McVay is totally sold out to Henderson, but we'll see soon enough.
 -- Five things about Rams receivers…
1) Everyone knows Cooper Kupp (9-96-2/12) is getting the ball from Stafford, but no one can stop it. The West Coast Rodgers-to-Davante is Stafford-to-Kupp. It's a guaranteed top 3-5 PPR WR output for FF 2021, and beyond.
You want to take advantage of a Kupp holder (get it) who is (1-2) or (0-3)/a team with issues where you take your really good WR off a good Week 3/good 2021 run so far (like the #8 PPR WR in the game right now, Deebo Samuel) and add a 2nd decent thing the trade partner needs (usually some 'RB depth', because their 'RBs are killing them')…like Miles Sanders or David Montgomery maybe to try and pry Kupp loose.
Kupp is worth the investment…worth the you trading up for.
2) Robert Woods (3-33-0/6) is thus screwed here…Stafford barely looks for him. Don't be surprised if he's traded at some point if he becomes a malcontent. Do not think of buying Woods low here.
3) Van Jefferson (4-42-0/6) has become a starter in the WR trio. It's only a matter of time before he's FF scoring past Woods. But that means WR3-4 type work right now because it is congested for targets after Kupp…if Woods gets moved, then  it's Van time as a solid WR2.5 in PPR. You're better off with Jakobi Meyers on that same vibe today, potentially.
4) DeSean Jackson (3-120-1/5) is running as the #4 WR…only played 32% of the snaps. That seems to be his role…limited snaps, but a purposed weapon. If you play in leagues with distance TD bonuses…he's not a crazy flex thought in the bye weeks ahead.
If you are running with Stafford as your #1 QB…there might be weeks you want to stack Stafford-DJax, because you're way down after TNF or 1pmET games, and need to deploy this West Coast stack for upside point hopes.
5) I was all about Tyler Higbee (5-40-1/5) in 2020 (because of that magical late 2019 showing) and got burned by it.
I was anti-Higbee to start FF 2021 because – why would the Rams use Higbee now with all the WR firepower back and then some? Well, they're using him decently…not great, but decently. And Higbee is so talented…it's going to work to be a TE1 in that #6-12 TE range this season. I bet like every other week he pops, then is lowly targeted and then back-and-forth he goes depending on the opponent.
 -- Let's finally talk about the Bucs here…
Just a blanket statement – Tom Brady (41-55 for 432 yards, 1 TD/0 INT, 3-14-1) played near picture perfect QB play here. He was under assault for the first time in a long time, but he hung in the pocket…he made excellent anticipation throws under pressure…his mechanics are impeccable…his vision is still at his peak.
Brady has no run game and doesn't care because he wants to set all the passing records. And he probably will. Brady might beat Mahomes-Rodgers-Allen-Herbert in stat output this season…beat them in pass attempts, yards, and TDs. He's throwing at will and without conscious or coaching restriction.
All three Bucs starting WRs are going to produce, and Rob Gronkowski (4-55-0/8) might lead all TEs in TDs this season and be a guy who challenges the top 3 TEs for FF. This down game is probably your last chance to get in on him at a reasonable price…mild injury plus down FF week…this is your last chance, probably. If you want it…and unless you have Kelce-Waller, you want it.
 -- All the Bucs RBs are terrible running the ball…but note Gio Bernard (9-51-1/10) isn't running the ball. Gio was finally the guy (in this game) I was looking for back in the preseason…three weeks after I hoped for it, two weeks since I dropped him most places.
Gio can be the new James White for FF, now that White is gone for 2021…but game flow rules. White was an every game plan…Gio is a certain situations plan, at this point.
However, because RoJo and Fournette are struggling – there might be a window for Gio to get more involved in general ahead, maybe taking 5+ carries a game and on the field more for dump pass work. Worth a last PPR FF-roster spot on the bench look to see if it happens, maybe?
 -- Let's talk Rams defense…
LB Kenny Young (10 tackles, 1 sack, 3 TFLs) was straight fire in this game. Really excellent work here from their new main man in the middle. An LB1 ROS, potentially.
I don't know what position Jalen Ramsey (8 tackles) plays anymore, but it's not shutdown corner.  
The three most predominant places/positions/alignments that I saw Ramsey playing in this game (which follows it happening last week as well), listed in order of where I saw him most:
(1) Linebacker, whether in a 3-man, or 2-man linebacking set. I'm not kidding.
(2) DB…kinda safety…occasionally a corner, but no on anyone specifically just playing a section of the field.
(3) Rush end…lined up off the EDGE as an OLB floater and blitzing the backfield a couple of times.
Nowhere in there did I list 'shutdown corner'.
This change means two things…
1) No elevated risk for the opposing #1 WR of being shutdown like the past, I guess (unless they deploy Ramsey on special/certain WRs). I suppose DeAndre Hopkins is fine this week?
2) Ramsey is listed a CB…or DB for IDP, but is playing like a 'joker' linebacker/safety combo – which means he has the capability and situation to be the #1 IDP CB (not DB, but top CB) scorer for Fantasy this year, because he's really not a corner…he's a linebacker? Say it out loud, it's weird – Jalen Ramsey is more a linebacker, than a shutdown corner.
He's averaging 6.7 tackles, 0.67 TFLs, and 0.67 PDs per game through 3 weeks.
Last season, in its entirety, Ramsey had 44 total tackles. He has 20 so far in three games.
Side DST note: The Rams-DST has tough matchups with ARI and SEA the next two weeks, and then DET-HOU-TEN -SF after that is a nice run.
 -- But the defense with the most excellent FF matchups coming up is – the Buccaneers-DST.
Weeks 4-8, they face: Mac J., Brissett, Hurts, Dalton?, and Winston.
A Week 9 BYE, then Heinicke, Dan Jones, Wentz, Ryan, Josh Allen, Winston, Darnold, Z. Wilson.
You can run with the Bucs-DST from Weeks 4 to the end of the season, except for Week 9 bye and Week 14 vs. BUF. Arguably the best DST schedule the rest of the season.
Snap Counts of Interest:
57 = Woods
53 = Kupp
50 = Van J
21 = DJax
48 = Michel
14 = Funk
33 = Gio
26 = Fournette
12 = RoJo