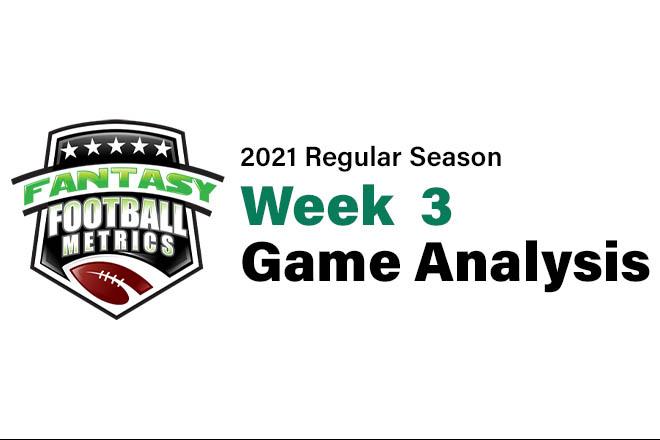 R.C. Fischer
FFM
29 September 2021
2021 Dynasty/Fantasy Game Analysis Week 3: Falcons 17, Giants 14
No need for any intense game summary here. All you need to know (you already know) -- both these teams are bad…not the absolute worst, but bottom 10 in the NFL. They are going nowhere in 2021, thus it was a back-and-forth affair…and Atlanta won with a last second FG.
The Giants won by gaining an advantage for 2022 NFL Draft position this offseason with this important loss.
Fantasy Player Notes…
 -- OK…OK…OK, I'll start to go all-in on Cordarrelle Patterson (7-20-0, 6-82-0/7) starter every week at RB for Fantasy. I'd been spot starting him and been hesitant to go too heavy in places because he was still operating as a backup. But now this is consecutive game tapes where we see he's the best player the Falcons have…and even better – the Falcons/Matt Ryan actually knows this and uses it.
There's an ACTUAL plan to get CP the ball. He gets carries. He's in the game quickly after Mike Davis starts. We see Patterson lined up as a tailback, and he's the best RB they have. We see him lined up as a WR, and he's the best WR they have…the best mismatch. Ryan often takes the easy out dump pass to Patterson…which is great for FF.
Week 1 with Patterson was 'meh', and then it's been a nice ride the past two weeks…and growing.
The last three weeks % of snaps played (in Weeks 1-2-3 order)…
75-64-60% = Mike Davis
33-33-42% = C Patterson
The gap is closing.
Patterson has the 8th most catches of any RB this season…oddly, Mike Davis is #6 (14 to 13 Mike D over CPatt YTD)…Matt Ryan lives to check down for personal safety.
I'm taking the FF-shackles off…let's see CPatt as a PPR RB1.5 until further notice. So, when you say 'I am hurting at RB' and you list Patterson as your 4th or 5th RB (in PPR)…I'm not listening to it.
Non-FFM CPatt owners see him more as a backup, an OK PPR back who is peaking/lucky/James White-Nyhiem Hines-esque. You're chasing all kinds of 'name' RBs to pacify your RB lust, and all your trades are rejected or too heavy to get boring RB2s. Why not trade easy for Patterson? You have to change your view/vision on him. Your RB issue is likely your own mental block…and looking right past Patterson as legit.
We need to change ourselves, in many cases, to solve this heinous, perpetual, supposed RB issue our Fantasy teams have EVERY SINGLE YEAR. And we really have to get it straight that Patterson is a legit RB2 now…with upside. We need to look at it through a different lens/pair of glasses: https://youtu.be/yjw_DuNkOUw, wake up!
 -- The Falcons have a plan for Cordarrelle…and they have none for Kyle Pitts (2-35-0/3).
When was Pitts' first actual target in this game, you ask? Thank you for asking – with 11+ minutes left in the 4th-quarter. The first non-QB taken in the 2021 NFL Draft, five months of offseason preparation, and 5,000 interviews discussing all the ways you could use Pitts…and with all that, Pitts has no plan offered from the offensive genius Arthur Smith. https://youtu.be/FBgFHVELjGk
To be fair, Pitts is rarely/never open.
To be fair, he's running generic ancient tight end routes.
You have this weapon of mass TE destruction going out five yards and turning around/sitting down over the middle. Great. How many hours do coaches work a day again, I forget? Aren't they the first one in the building at 2am…and then the last one to leave at 1:55am? What are they doing with all that time? Not thinking up simple ways to get Pitts involved into the action.
In the 4th-quarter, Pitts got a nice, simple medium route throw to break the ice. Then two desperate, unplanned 'up for grabs' throws in the end zone, which I want…except the first was 10 feet over his head…the next off his hands but he was interfered with, and still almost made the TD grab.
I'll just keep rolling with Pitts. He's too good. He is waiting to be unshackled.
What, you think Dalton Schultz is the answer to your TE woes? There's like two good tight ends in Fantasy…and 20 'hope they catch a TD to make this week worth it' guys. There's still hope Pitts is at least a random TE1. He's the 7th most targeted TE on the season…so, that's something anyway.
 -- I was hoping Evan Engram (2-21-0/6) could splash in his debut, but he didn't. Watching him here – he looks great, but Dan Jones is more apt to dump it off to Barkley…or heave it to the tallest WR he can see (with Shepard taken away by injury). Engram working in the middle is kryptonite to scared QBs…they hate throwing over the middle.
Dan Jones is a faster-footed Matt Ryan…both dumping it off to stay safe or leaning on one WR they lock onto. A tight window route running TE does not fit with their scared-style. But to be fair, Jones looks a lot better doing it this year…and better than Matt Ryan in the year of Our Lord 2021.
 -- That being said about Dan Jones and tall WRs, man did Collin Johnson (5-51-0/7) look like a boss! The former super-tall Jags WR (I guess he's still tall, but not with the Jags) now Giants scrap heap pickup was the best WR on the field this day…coming in when Shephard-Slayton got hurt.
With Shepard-Slayton out this week, I could buy Johnson having another solid game as the Golladay-alternative tall-guy throw for Jones…but the Saints secondary is a boss, so I bet all the NYG WRs have issues this week for FF.
If Shepard-Slayton out long term…then Johnson has hope ahead. WR3/Flex hope.
 -- Kadarius Toney (2-16-0/3) is not likely to step up with the Shepard-Slayton injuries. Toney is a fraud. I can't be any clearer. Athletic, but a jerk and overrated, a non-hard working WR. A spoiled brat WR.
 -- When Blake Martinez went down and out for the year from this game…it ended any NYG hope of winning this game, or competing in 2021, or having a desired/useable DST in good matchups. Losing Martinez rips the heart and soul out of a team that had just about lost all its heart and soul due to this oppressive head coach already.
Tae Crowder (11 tackles, 1 PD) replaces Martinez…but that's nowhere near as IDP exciting as Martinez, but teams will likely attack the NYG linebackers now…so lots of tackle opps for Crowder.
Snap Counts of Interest:
48 = Golladay
46 = Toney
34 = C Johnson
24 = Shepard
22 = Board
39 = Engram
29 = Rudolph
28 = K Smith
37 = Mk Davis
26 = CPatt
52 = Pitts
26 = Lee Smith
24 = Hurst