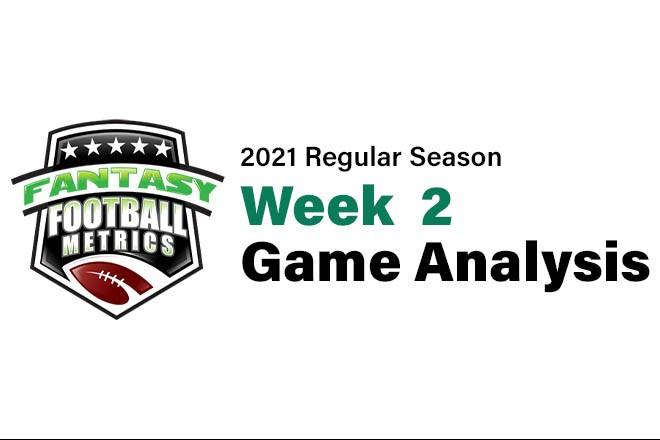 R.C. Fischer
FFM
23 September 2021
2021 Dynasty/Fantasy Game Analysis Week 2: Bears 20, Bengals 17
The Bears got four turnovers in the 2nd-half…including a pick-six, and they still had to hold off Cincinnati at the end for the narrow victory.
Cincy didn't play their best game, but they were better than the Bears here but then the string of turnovers (Burrow threw three picks on 3 successive throws…two kinda fluky) helped Chicago overcome and hold on at the end.
Neither team deserved to win, but the Bears snuck by Cincy in the end.
Fantasy Player Notes…
 -- My main interest in re-watching/studying this game was to see 'What's up with Joe Burrow?' Was it as weak/troubling as I thought it was watching live?
Yes and no.
It's hard to get my arms and mind wrapped around. Joe Burrow (19-30 for 207 yards, 2 TDs/3 INTs), this game…this season, will have one throw like the old Burrow and then the next one is a weird, flat-footed, low energy pass into danger.
I keep wondering – is the leg injury from last year haunting him? Perhaps, but the dreadful offensive line isn't helping, whether he still has hesitancy from his injury…or he's just human and hates getting hit every other drop back (it seems). The most sacked QB by percentage of his throws in the NFL so far…Joe Burrow.
Last season, Joe Burrow was pressured on 24.1% of his pass attempts…this year that number is at 30.3%, which is insane. Tom Brady is pressured 10% of his drop backs, by comparison.
It's so bad that Burrow seems like he's looking for the hit before it happens…he's ready to just fall down versus taking the full hit. That's not like him. Burrow used to escape the pocket deftly and make plays by extending the life of the play. Last year, Burrow ran 3.7 times per game. This year…just 1 rushing attempt in 2 games.
He just doesn't seem like himself.
Burrow has no life or vibrance dropping back like he used to. He used to be a miracle worker, always smiling and hustling. Now he seems like a guy heading to his execution on every drop back…happy to get rid of it quickly or cower into an oncoming hit.
The drafting of Ja'Marr Chase instead of Penei Sewell will go down as one of the worst football decisions of the decade, because Chase isn't very good PLUS the lack of protection is destroying the main piece of the franchise.
I can't seriously invest in Burrow right now. In redraft, I am WAY the hell out with any other viable options. In Dynasty, I'll wait for the price to keep dropping and perhaps buy for cheap and just stick him on the bench/#3 QB type role and see if he can snap out of it.
This O-Line isn't getting any better, so unless the old magical Burrow reappears – he's dead for FF 2021, and the Bengals real shot at the AFC North slides down the drain.
 -- On the other side of the field, Justin Fields (6-13 for 60 yards, 0 TDs/1 INT, 10-31-0) began his career for real…off of the Andy Dalton injury.
Overall, I thought Fields did OK. Some good, zippy throws…NFL throws. Some panic forced throws into trouble (a horrible pick late that let Cincy back in the game). He ran the ball a lot, which is a great sign. He's got the job for the next 3-4 weeks with Dalton out…which means he has the job forever.
 -- Fields spread this targeting around but he seemed to favor/have a connection with Darnell Mooney (6-66-0/8) more than any other receiver option. They looked good together.
It seemed like Fields was more forcing the ball to Allen Robinson (2-24-1/4) by comparison…not as natural as his connection with Mooney.
But it's only one game, in relief. After more time practicing with the 1st-team it may change ahead.
 -- David Montgomery (20-61-0, 3-18-0/4) looks the best I've seen him, as I've been saying…but he's also fighting an O-Line problem. Regardless, Montgomery is going to get huge touch counts and should be a solid RB2 with some RB1 hopes as we go here.
Montgomery isn't a bad acquisition as the price drops, as people think he's dull…and his numbers here were mostly just that. Rare few guys are 'all the carries' guy in the NFL anymore, Montgomery is one of them…and now he's running better than ever. Still, it's a bad O-Line and wobbly offense with a rookie-running QB.
The lack of TD opportunities could make this way more RB2 than RB1.
 -- The most impressive 'thing' I saw in this game? The Cincinnati defense, for the second week in a row.
The Bengals defense is #10 in yards per game allowed and points per game allowed…shocking for their track record. We started seeing the change in the preseason, and it's playing out in the regular season. If Burrow was his old self, I'd tell you the Bengals are winning the AFC North. If they had any semblance of an O-Line…
The player that keeps standing out on defense is free agent acquisition CB Chidobe Awuzie (2 tackles, 1 PD). He made some terrific plays on Allen Robinson to halt two TD passes potentially. He really shut down ARob…and last week he gave Justin Jefferson fits when he was on him.
He might take on Diontae Johnson Week 3 (if DJ is active), but probably goes after Chase Claypool if Diontae is out hurt.
Snap Counts of Interest:
47 = Kmet
22 = J Graham
51 = Ja'Marr
50 = Higgins
48 = Boyd
40 = Uzomah
21 = Sample