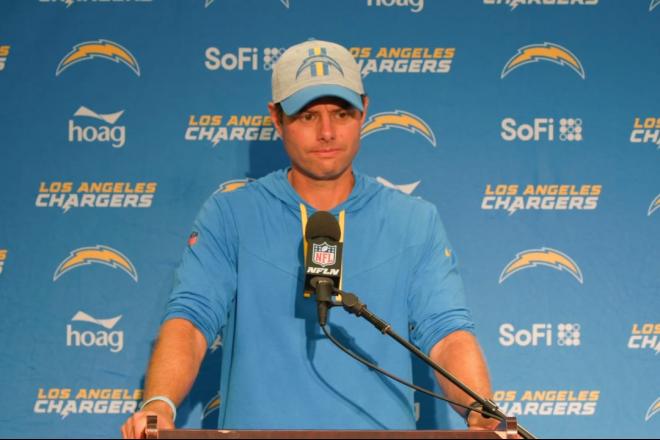 R.C. Fischer
FFM
23 June 2022
‍
2022 REWIND: 2021 Dynasty/Fantasy Game Analysis Week 3: Chargers 30, Chiefs 24
I've started re-reading back through my 2021 game reports looking for good and bad scouting instincts on things I might have lost track of, whether for Fantasy or just the team in general. I especially wanted to focus on the L.A. Chargers' 2021 season…because my first computer simulation of the season showed them as the 2022 Super Bowl champs. From not making the playoffs in 2021 to the Super Bowl in 2022.
The Chargers didn't change their coaching staff this offseason and they didn't overhaul much of their offensive core, but they have dramatically boosted their defense this offseason. So, in theory, this team should be gelling and taking a step forward from a 9-win team last season to what I think will be a division winner and serious Super Bowl contender this season. At a minimum, it's a playoff team (if Herbert stays healthy). 
For some summer reading material, I'll be looking back at my Chargers' game reports from last season week-by-week and writing/typing some instant reaction notes (forgive any typos) to what I'm re-reading and then publishing that full 2021 game recap for LAC from each week of 2021 season WITH the 2022 reaction notes. 
We'll start with Week 1 and go through each game week, one game post per day for the next 16-17 days.
‍
‍
‍
The Los Angeles Chargers are better than the Kansas City Chiefs…and they know it. 'They' is both L.A. and KC. The L.A. Chargers are now the favorites to win the AFC West…or they should be.
This isn't a 'what happened last week means that's the law going forward' overreaction. You know I don't fall for that. It's not that the Chiefs are bad…it's just the Chargers are better.
LAC has the better O-Line (and they were missing their top OL for this game). LAC has the better WR group…group/starting trio. The combo WR/TE group…it's about even. RB is the same…each has a small guy RB who is good, but I'd rather have Ekeler than CEH…but either works. The Chargers are WAY better coached. KC has a good defense…but LAC's is better 1 thru 11.
KC has a better kicker, tight end, and I'd judge slightly better at QB…but in a couple weeks or months…it could be a draw there. KC has that QB-TE-PK edge…the Chargers better everywhere else. KC has a home field advantage – if/when they play in December, and they do this year.
Worst case, they are both top five or so teams in the NFL…possibly two of the top 3 best teams in the league.
I push LAC as the better team now, and for the future because of the coaching and roster top-to-bottom. But I also feel comfortable saying it because the mystique of 'the Chiefs'…'Mahomes'…'Tyreek', for the Chargers, it's gone/done.
Justin Herbert is now (2-1) versus the Chiefs in his career…the lone loss was his Tyrod lung puncture, last second debut where the Chiefs luckily won in OT…a total shock at the time, that the rookie QB of a bad team could go and lay the smackdown on the holy Chiefs. Granted one win was a Week 17 last year vs. Chad Henne.
The Chargers have zero fear of the Chiefs going forward…the weight of that 'fear' is put over to KC, they should fear that they are not-as-good-as-the-Chargers...but they're so arrogant in believing they can beat anyone with Mahomes (logical), it's probably not dawned on them yet. When they are on the road as a wild card this season, maybe it will dawn on them – that's if they even make the playoffs or don't finish last in the AFC West. Kidding…
The Chargers baited KC into running the ball more and not throwing to Tyreek, because Eric Bieniemy is such a genius and thinks not getting Tyreek manufactured touches is not important to victory, so KC took the bait and turned themselves into a small ball team playing a more dynamic one…and the dynamic one won. When they needed a big play, LAC dared KC to beat them with Marcus Kemp, Jody Fortson, and Mecole Hardman – and KC took that bait and lost.
I'm not saying the Chiefs are terrible – they are still a top 5 team as likely to win the division and win the Super Bowl as any top team. They are not unworthy, I'm just saying – they're not as good as they think and the Chargers are that good, and are not living in fear of KC.
This whole current week, every football analyst will smugly chuckle that us moronic fans are so stupid…likely panicking over KC's (1-2) start…because THEY know KC will be fine. THEY think that because THEY (healthy) fear Mahomes…THEIR football game analysis goes as far as the QB who has the most highlights/that they like. You know who doesn't fear KC/Mahomes – the Chargers, who've beaten them 2 of out the last three (should've been 3-0). The Raiders who beat them in their first matchup last year, and then got robbed with a late TD from sweeping them last year. And Denver, who usually flusters Mahomes above all defenses. Unfortunately for KC, those are the three intradivision teams…who are all now above KC in the standings.
We project KC to 11-12 wins right now. We project LAC to 12-13 wins and the AFC West title, today as we know these teams. Kansas City is still a top five team (because of Mahomes)…and still can win the Super Bowl (because of Mahomes), but it's time to recognize that KC has issues and are getting bypassed or caught up to by several teams now. It's not a layup for KC in 2021-22.
The Chiefs are now (1-3) in their last 4 games (including the Super Bowl)…a lucky come from behind win vs. CLE Week 1 from losing four straight.
The Chargers are (6-1) in their last 7 games…a last second FG loss vs. Dallas away from being (3-0) and winners of seven-straight.
*2022 JUNE NOTE: A lot to unpack here...
-- Remember when KC was (1-2) and lucky to not be (0-3) to start? They started (3-4) and then won nine of their last 10 games in the regular-season, but unfortunately (for them) ran into the Bengals buzz saw down the stretch and in the playoffs.
-- KC would muddle their way through an upcoming win streak...barely beating the injured/hapless Giants then getting Jordan Love for their Week 9 GB game, which they really should've lost. They then won their rematch with LAC Week 15, which they definitely should've lost. As long as KC has Mahomes...nothing is impossible, but they lived with the angels in 2021 most of the season.
-- LAC entered that Week 15 matchup with a chance to win and seize the division, and they lost in OT...despite being the better team. LAC stumbled to the finish from there, losing three of their last 4 games and missing the playoffs. LAC was so close to being a 12 win team...and KC so close to being a 10 win or fewer team. But it's all long forgotten.
‍
Fantasy Player Notes…
 -- Is Justin Herbert (26-38 for 281 yards, 4 TDs/0 INT) better than Patrick Mahomes (27-44 for 260 yards, 3 TDs/2 INTs)? For Fantasy? For the NFL?
For the NFL? Maybe. Not yet, but soon…possibly. Can't they both just be great? Mahomes is more flashy-great, more memorable…Herbert is a bit smarter/more technically surgical…but both are tremendous. Which makes the point – if they are in a close debate about which one is better – then shouldn't the Chargers be the favorite to win the AFC West?
On FanDuel, the Chargers are currently +390 to win the West…behind -115 KC…and +340 Denver.
Every analyst says…oh, you know the Chiefs will get it together, don't worry about (1-2). Why don't we say…oh, the Chargers are in 3rd-place in the AFC West, but you know they'll get past Denver and Vegas and challenge for the West title? We only say that about the Chiefs because it's been indoctrinated into us. I think the Chiefs will be fine (hot take), but we're missing out on that so too will the Chargers be fine/are fine+…as they go on to win the AFC West…maybe.
*2022 JUNE NOTE: Well, I guess THEY were right in the end!
‍
Better for Fantasy?
Draw…or lean Mahomes. If you swapped the two QBs on their respective teams, then definitely Mahomes for FF. Here's a real hot take – I think Mahomes would be at a whole other level with Brandon Staley his whole career, and that Andy Reid/Eric Bieniemy and the lack of decent WRs outside of Tyreek Hill is actually harnessing Mahomes…and he's still the best QB in football – that's how great Mahomes is…he's overcoming Reid/Nagy/Bieniemy. Kinda like how good Brady is away from Belichick, but he won several Super Bowl with Belichick.
*2022 JUNE NOTE: By season's end, Herbert surpassed/beat Mahomes in FF scoring per game.
‍
‍
 -- Tyreek Hill (5-56-0/7) two crap FF-games in a row now. That's something I'd like to just put the broad 'You know KC will be fine' label on…'You know Tyreek will be fine'. I'm assuming he will be, but no one has a worse scheme for an ace weapon than the illustrious Eric Bieniemy (so really, it's Andy Reid's issue…he's the front man for these perpetual bad O-Cs…Pederson, Nagy, Bieniemy) has for Tyreek Hill.
Davante Adams always gets the ball…even though everyone knows it's coming.
Cooper Kupp keeps blowing up single coverage all 2021, even though any idiot D-C knows it's coming, it can't be stopped.
Tyreek Hill? He's open literally every play if he ran different routes adjusting to the defense. Defenses play way back on him, so instead of adjusting and getting Tyreek short/quick touches to counter…the Chiefs brain trust just keeps sending Hill medium and deep into the web waiting for him. But, hey…Eric Bieniemy is the next great NFL head coach and it's racism is why he hasn't been hired yet, after going 0-fer-10/20 on head job attempts the past two years.
The NFL isn't racist on Bieniemy, they're just smart enough to know the KC O-C con. The O-Cs are not MAKING Patrick Mahomes…see: Matt Nagy's Chicago career of QB destruction. No more than Byron Leftwich is now a great O-C because Brady walked in the building.
Tyreek should be fine; we go through this at least once a year. Honestly, in a league without bonuses – I'd rather have Cooper Kupp…and probably Mike Williams and/or Keenan Allen for PPR redraft right now. Those QBs and HCs and O-Cs know to get those guys the ball without fail.
*2022 JUNE NOTE: Obviously, Tyreek knew this too...and bailed on them in 2022.
‍
 -- Yes, Mike Williams (7-122-2/9) ahead of Tyreek…I said it. I can't believe it myself, but it's working better than we theorized in the summer of 2021. Williams looks better than I've ever seen him – he's in top shape, faster/moving quicker than I've ever seen him…and obviously it is showing on the field and in the box score. Amazing what an ace QB, new (good) coaching staff, and a contract year does for a player.
You know I'm kidding about Tyreek…I would never trade him in a basic WR deal. Just venting.
Williams is going to be a WR1 all year, as long as Herbert is alive.
Between Keenan and Mike…I think I'd take Mike for FF right now; he's been that good.
And, as I spoke of on the Video Q&A Tuesday…remarkably Williams is not being ranked by websites as a WR1 this week…he's more WR2 than WR1 nationally. I'm seeing trades for Williams right now, despite his heat…because current owners (not FFMers) think this jig may be up and they need to sell it hot.
Ja'Marr Chase is a sell hot…not Mike Williams. If I can use like a Deebo + ____ to leverage into Mike Williams, I am all over it.
*2022 JUNE NOTE: All kinds of wrong here...
Mike Williams would be blazing hot for 3-4 games, then got hurt and the spiral began and where I sold him in deals for Deebo...I got my arse handed to me. It happens.
Occasionally.
‍
 -- Clyde Edwards-Helaire (17-100-0, 2-9-1/2) is fine, nice game…but this isn't a breakout FF performance. No more than Peyton Barber hitting 100+ yards rushing is a sign. If CEH had 90 yards here…no one cares as much. But THREE digits…100 rushing yards, why it's GAME ON!! The same reason people are way into Damien Harris (vs. MIA) and Elijah Mitchell (vs. DET) so much…they had that ONE 100-yard rushing game recently, so they're Jim Brown now.
CEH has now played in 16 career regular season games. He has rushed for 4 TDs and three 100+ yard games. 992 yards rushing total. 6 total TDs. Wow, wonderful! A solid RB2. You'd rather have James Robinson among others.
 -- One of the flaws of the L.A. Chargers is their RB group. For some reason, Larry Roundtree (4-3-0, 0-0-0/1) is seeing key touches.
There's literally a billion RBs better than Roundtree…why won't the Chargers go get one? Roundtree is averaging 2.2 yards per carry and has 1 catch for -1 yards so far this season…what an impact to the offense! Go get Marlon Mack…or something…anything. They need a hammer RB working with Ekeler…and Roundtree is not it.
 *2022 JUNE NOTE: One of the reasons LAC's offense underperformed in 2021, despite still being really good -- the sheer football stupidity of Larry Roundtree usage.
...oh, and D'Onta Foreman couldn't get a phone call from any team in the league at this point -- but Larry Roundtree was getting a push for LAC.
‍
‍
 -- Not for nothing, Joe Fortson (2-7-1/2) is looking better and better for KC. He's showing that he's a good receiver with great catch radius as a tall TE/WR type, and fortunately all the other KC WRs outside of Tyreek shouldn't be on NFL rosters…so Fortson has some chance to stand out here.
Which means newly signed Josh Gordon has some chance here – but note Gordon was last good last decade for about 10 games…and he's been a flop since. You have to hope Gordon staying off drugs, improves with age, the the drugs not taking a toll to his body due the past 5-10 years of abuse, and that he gets integrated into the KC offense…all within the next week or two to go on to become a WR2 (in your dreams) – for this waiver claim to make any sense in normal sized roster leagues.
You are living a legit Fantasy if you think you've got something hot with Gordon. Sit on him and wait and see in deeper roster leagues, if you'd like…but in normal sized leagues, you are wasting time as you turned your nose up at Christian Kirk and Sterling Shepard (pre-injury) among others off waivers the past few weeks. We always want that Disney story…investing too heavy on rookies and taking nostalgic flyers on washed-up veteran reclamation projects like Gordon.
I could probably guess your Fantasy record in 10-12 team FF leagues by the amount of rookies you start each week?
One rookie consistently starting…you're probably 2-1/1-2.
Two rookies starting every week, you're (1-2)/(0-3) probably.
No rookies have started for you this year, you're probably (3-0)/(2-1).
Those magical rookies suck all of us in every time and are a letdown early in their rookie journey. In 2022, in prep for redrafts, I am making it a Ten Commandment NOT to take one rookie before rounds like 8-10 of a typical redraft. Najee-Pitts-Javonte-CEH-JTaylor…they've all been over-spends off the jump/in their rookie seasons in redraft the past two years.
 -- I want to like the Chargers-DST, because I think they are a really good defensive unit (maybe a top 5 in the league)…but I hate their schedule start. LV-CLE-BAL ahead is not great for DST scoring. Then a Week 7 bye – but it's Week 7 that I might pounce in anticipation – NE-PHI-MIN-PIT-DEN-CIN-NYG-KC-HOU-DEN. Find a stream for the MIN and KC games and you're golden otherwise in that post-Week 7 stretch.
Brandon Staley might be the best defensive mind this side of Sean McDermott in the NFL.
 *2022 JUNE NOTE: The Chargers DST never bumped up...Staley showed anything but genius. Injuries and schedule hurt, but there was no genius moments in there that I detected. I am still hopeful for Staley 2022. If he fails again, 'I'm out'. I predicted them to win this upcoming Super Bowl, so I'm 'all-in' right now.
‍
‍
Snap Counts of Interest:
49 = CEH
27 = D Williams
03 = McKinnon
46 = J Cook
31 = Parham
49 = Ekeler
11 = Roundtree
07 = J Jackson 
‍
‍