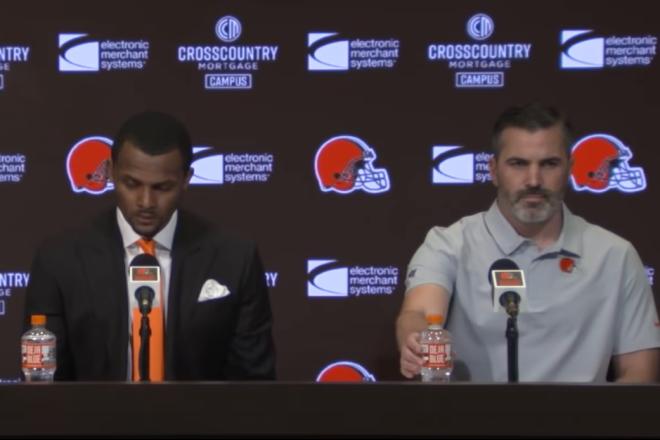 R.C. Fischer
Weekly Report
06 June 2023
The Cleveland Browns paid a high price for Watson, but will they get what they paid for? R.C. looks closely at his 2022 film for signs of life.
Deshaun Watson has had an interesting twist of a career… The highest paid QB/the mega contract of 2022…the biggest trade of 2022 offseason…the 12-game suspension…the constant court-related events, the 'meh' Browns debut/reveal. I remember Watson being very skittish and underwhelming his 2022 return…and his numbers certainly help confirm that memory -- 58.2% Comp. Pct., 7 TDs/5 INTs, 183.7 pass yards per game in six games.
The data is on the side of my memories, but in order to feel better about my Watson…and thus feel better about my Amari, DPJ, Njoku, etc., projections (and Browns win-loss projections)…and with some concern that I dislike Deshaun so much for various reasons that my judgment could be clouded…all that led me to set out to rewatch/scout all of his 2022 games to see 'how bad was it?'…or was there an initial rust and then improvement shown that could lead to a further leap in 2023? So, that's what I did -- watched every one of his 2022 games (but one) and took scouting notes.
Here are my 2022 season/game-by-game rewatch and scouting of Deshaun Watson…
Again, for context, I was going into this wanting to confirm or even more push back on my simple/quick mindset that Deshaun was pretty bad in 2022 and he may be losing it under the bizarre circumstances that his career has taken. However, after watching all his games, I wound up with some different impressions/thoughts/projections that were a bit of a surprise to me. But the surprise finding is a twist that I didn't see coming. I'll explain when we get there.
Watson returned Week 13 vs. Houston, of all opponents to return back for, and after watching all his 2022 games (but one) in chronological order, I would tell you we should ignore this game. It was his debut, and it was bad (12-22 for 131 yards, 0 TD/1 INT)…but all the games after this were much better than this (because this was so awful). I was noting simple notes of 'positive' and 'negative' and 'neutral' on each play/snap-by-snap in all these games, and this debut game was the one filled with negatives. The rest of his games were not like this at all. So, I throw it out and blame 'rust'.
Week 14, facing a top 10 defense in Cincinnati, Watson was much better/not a disaster (26-42 for 276 yards, 1 TD/1 INT). In his prior game, Watson was short arming the ball, looking skittish/indecisive…the following week here he cut down on all that sloppiness. Week 15 vs. Baltimore was more of the same -- looking more comfortable but not really tearing things up either…18-28 for 161 yards, 1 TD/0 INT.
Week 16 game hosting the Saints was that game in freezing temps and 30-40+ MPH winds…so, it was not normal by any means, and I just ignored it.
Week 17 vs. Washington started a bit shaky (an attacking WSH defense/got sacked 5 times) but Watson pulled it together for a weird 9-18 for 169 yards effort but had 3 TDs/0 INTs. Week 18 vs. the Steelers was played to win by both sides, Pitt having things to play for, and Watson got sacked 7 times but had his best Comp. Pct. game (65.5%) of his return -- 19-29 for 230 yards, 2 TDs/2 INTs.
After watching all the games, the quick summary notes of my Watson 2022 scouting…
 -- Watson improved some each week…or, at least, improved from his shaky debut.
It's Free!
However, to access the rest of this article sign-up for Weekly Report.
Continue Reading