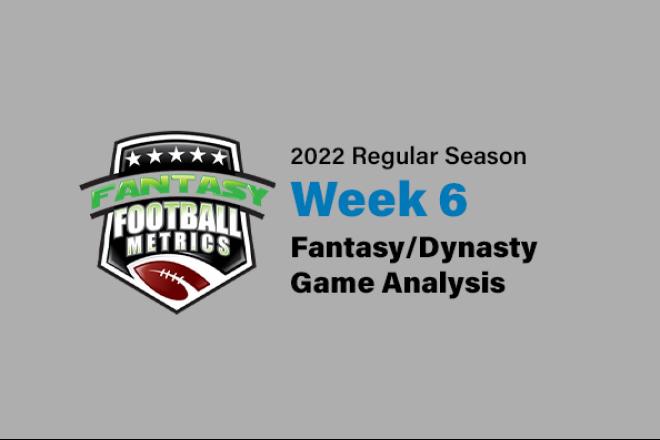 R.C. Fischer
Weekly Game Analysis
30 December 2022
2022 Week 16: Rams 51, Broncos 14 (Dynasty/Fantasy Analysis Game Report)
*Weeks 16-17 game week, the game reports will be shortened a bit on some of them to discussing/quick hitting on just the critical facts from the rewatch studies so we can spend more time on looking at the tape of last week's games for projections prep and sleeper finds this critical FF playoff week/s.
I remember watching this game live along with the other afternoon (eastern) games, but not really focused on this game as much because there was little FF action or general interest in this contest…but I kept looking over and every so often and seeing the Rams scoring and scoring and the margin in the game kept expanding and I could, and could not believe that the Broncos sunk to such a new low. It was 41-6 at one point mid-4th-quarter and players were fighting on the sidelines for Denver. Just when you thought you'd seen it all…
Denver's new management had definitely seen enough, they fired Nathaniel Hackett after the game…one-and-done. Not even 'one'. He made it through 15 games. Urban Meyer was a few games and done last year too, but he had several scandals erupt to help push him out. Hackett was purely so bad at his job they pulled the plug and ate millions of dollars in the process.
How the head coach could be so bad and get fired short of one season…AND the GM who hired him get no blame for any of this is remarkable. The Russell Wilson trade looks like it will go down as one of the worst in league history…and his hand-picked new head coach will go down as historically one of the worst hires ever. How does the GM just skate by?
The NFL never ceases to amaze with the way it is run. Books will be written about how bad this year/season was (Denver Broncos 2022), and I could write one as well here…but we need to get on to the 'just the facts' (if any) from this game to take forward into Week 17 FF things.
And the biggest thing from all this, for Week 17, is that Denver has a new head coach…and thus all new play calling, and possible different personnel featured in some spots. We don't know exactly what Denver's approach or game script is gonna be. We have to assume: 'More of the same' but they'll probably 'go for it' on 4th-down more, fake punts, onside kicks…the new head coach has nothing to lose and interim head coaches with no chance to ever get the job for real can have fun with the play calling because it doesn't matter.
Not only do we not know what the new head coach's approach/plan/trends will be…neither does the Kansas City Chiefs defense. This should be a great matchup for KC-DST Week 17, but there will be some kind of cloud of confusion for the KC staff in trying to prepare for this game -- and maybe Denver cannot execute anything anyway, but I do not love it (for my opposing DST) when there is an O-C or H-C or any kind of change in the play calling from the opposition…as there will be here.
*Note any fractional numbers in parentheses (4/2) or (2/3), etc., are a 'split' stat on our definition of a 'quality start' (or not) marker on a player -- using 14 PPR points in a game for RB-WR-TE and 21 for a QB…point levels that are good/productive/well above average starts for a Fantasy week. Trying to identify trends, consistency (or not) in players we might not normally realize.
A (3/2), for example, means: 3 times the player hit at/above the mark, and 2 times they did not.
Fantasy Player Notes…
 -- Week 14, Denver facing KC…and Russell Wilson (15-27 for 214 yards, 1 TD/3 INTs) had his best statistical output of the 2022 season with 3 TD passes. He also got knocked out of that game with a concussion and missed Week 15. He came back Week 16 and put up this mess…his worst game of the 2022 season.
What Wilson will we get Week 17 vs. KC? I don't know what the new coach will draw up, but I do know Russ has been sacked 6 times in each of his last two games, getting hit 11 and 12 times in those games. The game in-between Russ's last two starts, Brett Rypien started and got sacked 7 times and hit 9 times.
No matter what the new coach does, Denver has huge O-Line issues…and that's going to be hard for the new coach to sweep under the rug in a week. The new coach could change everything to rollouts and short/quick passing to counteract the problem, but that seems too 'common sense' for NFL coaches.
I wish, for my KC-DST play, that predictable Hackett was still the coach…but I'm still willing to bet against the Broncos offense/bet on the KC-DST Week 17…and let the chips fall where they may.
 -- Later in this game, Chase Edmonds (6-31-0, 2-22-0/2) ripped off a 25-yard run and a 19-yard catch-and-run. He looked good. He looked urgent. Of all the RBs Denver has, Edmonds is the one they should want to see more of going into offseason 2023 where they might sign him for cheap before free agency…if they like what they see.
That's why I have him as an 'outta nowhere' candidate this week at RB…new coach, new direction, late season, could take more of a look at Edmonds Week 17 and 18. It's just a theory, not a for sure thing developing.
 -- Greg Dulcich (4-39-1/8) was having a decent FF game here but pulled up hurt late and is very questionable for Week 17. It's hard enough to get excited about Dulcich for an FF week…his backups are all less exciting.
*We have some upcoming website changes/upgrades coming in 2023. More news on that in a few days. Your saved URL/link for quick FFM access may not work with the upgrade (might have to get to the new page and resave as your quick access URL)…just noting this on the off-chance you get do get disconnected with your old link in the days to come -- that it is likely due to the site update. You can always find us via our (free) App or messages on Twitter or I'll put a message out on Video if needed. Again, more news on the 2023 website updates/upgrades as we get to 2023.*
 -- It's not like Baker Mayfield (24-28 for 230 yards, 2 TDs/0 INT) is suddenly 'fixed' or 'great'. I watched his cut-up tape from this game, just watching all his passes…all a bunch of short passes to a mostly wide-open Tyler Higbee (9-94-0/11) or short tosses to the RBs. TEs and RBs accounted for 16 of Baker's 24 completions and both TDs. Denver never adjusted…Denver never did much of anything besides watch the Rams play with spirit as Denver died/quit on the coach/staff. Thus, the firing after.
Higbee is beyond Baker's favorite throw. We have to assume more of the same Week 17…wondering if LAC will adjust/double Higbee -- probably not. Higbee has 3 TDs in his last two games, with Baker starting. Higbee had zero TDs all season prior.
Van Jefferson (3-19-0/5) and Tutu Atwell (2-14-0/2) are nearly FF-useless in this offense designed to help Baker not get crushed by the poor O-Line play.
 -- Cam Akers (23-118-3, 2-29-0/2) had a game. I'm still in disbelief that a guy who was so bad he was benched…then quasi-quit the team, had to be talked back -- and then he killed (or helped) some people in the Week 16 FF playoffs. Fantasy Football is a wild thing. Good matchup Week 17 for Akers v. LAC. Baker has dealt him 3 and 2 targets in games his last two games, another little boost.
 -- Denver LB Alex Singleton (14 tackles, 1 TFL) logged his second 20+ tackle game of the season. Three double digit tackle games in his last 4 games.
Snap Counts of Interest:
61 = Jefferson
59 = Higbee
45 = Atwell
40 = Powell
31 = L Murray
28 = Ch Edmonds
10 = M Mack