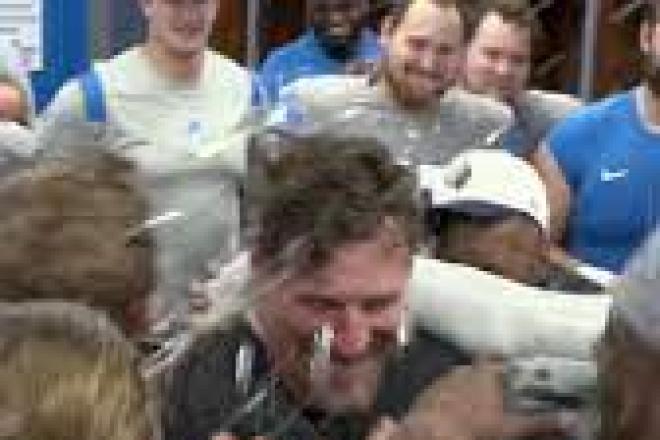 R.C. Fischer
Weekly Game Analysis
23 November 2022
2022 Week 11: Lions 31, Giants 18 (Dynasty/Fantasy Analysis Game Report)
This was a back-and-forth battle…for a quarter, a 6-3 NYG lead but from then on Detroit handled the Giants, outscoring them 28-12 to the finish for a never-in-doubt Lions victory…their third in-a-row. The Giants not only lost the game, but they lost important pieces of their team that might cause them to flush right out of the playoffs in the end.
As soon as I endorsed the Giants last week, then this was bound to happen…their everything falls apart. The Giants lost to fall to (7-3) but they also lost their top cover corner Adoree Jackson and oncoming weapon WR Wan'Dale Robinson to injury that likely ends both their regular seasons. NYG is about to face the other three powers in the NFC East four times the next 4 weeks, and they could lose every one of those games and fall to (7-7) and full-fledged panic sets in. The schedule is not favorable from here and missing key players…the G-Men project to (9-8) now and are fighting for wild card life. How fast things change in the NFL.
Detroit rises to (4-6)…suddenly with a chance to get to 9 wins in the end, and this victory over NYG could really matter come tiebreaker time. I'm happy for Dan Campbell. He and his staff deserve this turn of good fortune. It's an improving-every-week team with a strong backbone, just like Campbell wanted to install in them all along. We see 8-9 wins now as their finish…9 wins very possible as they embark on a three game homestand with BUF-JAX-MIN, and if they somehow win two of those 3 games -- the Lions might make the playoffs after all.
*Note any fractional numbers in parentheses (4/2) or (2/3), etc., are a 'split' stat on our definition of a 'quality start' (or not) marker on a player -- using 14 PPR points in a game for RB-WR-TE and 21 for a QB…point levels that are good/productive/well above average starts for a Fantasy week. Trying to identify trends, consistency (or not) in players we might not normally realize.
A (3/2), for example, means: 3 times the player hit at/above the mark, and 2 times they did not.
Fantasy Player Notes…
 -- As the Lions backfield turns…
D'Andre Swift (5-20-1, 3-12-0/3), who is totally fine (health-wise)…not really dealing with anything catastrophic (as he says he is), who is healthy enough to play every week (if there were a real issue, why not hold him out or put him on IR?)…has now fallen behind Justin Jackson (9-66-0, 1-11-0/1) in the pecking order of the Detroit backfield.
The Lions have all but given up on Swift…they are making him a limited touch satellite back to try and get some use out of him.
This staff is totally behind and embodied by the tough running of Jamaal Williams (17-64-3, 0-0-0/0) and then they like Jackson in support, and then they dip their toe in on Swift. Jamaal is a (5/5) this season with 11 rushing TDs to his credit, so far.
If Williams goes down, Jackson looks like the one to own (he'd probably split with Swift)…or someone to own on an offense dealing out rushing TDs like crazy.
RB Snap Counts this game…
32 = Jamaal
25 = J Jackson
21 = Swift
 -- Saquon Barkley (15-22-0, 2-13-0/5) had a disappointing game…credit the Lions defense that was simple and masterful at committing to shutting down Barkley and forcing Daniel Jones to beat them…which he didn't. Smart, simple strategy by Detroit…one I'm sure we'll see Dal-WSH-PHI-WSH employ the next 4 weeks and it could be much frustration with Barkley for FF down the stretch.
 -- Wan'Dale Robinson (9-100-0/13) had his quasi-breakout game for his rookie season. I've been waiting for NYG to use Robinson like this…keep it simple and get the ball into his hands and then let him make moves after the catch. This would help pause defenses from committing everything to stopping Saquon…but now this weapon is gone for the season with a knee injury. There is no one like him to step up.
Darius Slayton (5-86-0/10) will likely see a few more targets from the Robinson loss. Slayton continues to work as the NYG #1 WR, and he looks good. This is gonna keep working the rest of the season, but tough matchups with DAL Week 12 and PHI Week 14, so we'll see how he pushes through those two matchups.
 -- Lawrence Cager (2-20-0/3) was once again the clear TE snap leader…75% of the snaps vs. Tanner Hudson at 16% of the snaps. Cager has seized the starting role at TE for this team…until Daniel Bellinger returns, if he returns this season (fractured an orbital bone). And Cager is a talent/weapon at TE…and with Wan'Dale out it might mean another 1-2-3 targets in a game, hopefully. He's only averaging 2.5 targets per game in his two weeks of starting. If we can get that up to 4-6 targets per game, we might have something. With Wan'Dale out, it might get Cager a few more opportunities as he is one of their best athletes on offense among the WRs/TEs.
 -- Big game for Daniel Jones (27-44 for 341 yards, 1 TD/2 INTs, 7-50-1)…they cut Saquon off and the Giants had to play from behind, so Jones had to make plays and that's not his thing…so, he dinked and dunked and tossed downfield OK enough against a prevent-ish type defense still wary of Barkley. A perfect FF performance for those who needed to use DJ for a bye week option.
Jones is a (3/7) this season…the three coming the three times he ran for a TD this season. That's the Jones hope -- that he rushes his way to FF glory in a given week.
Jared Goff (17-26 for 165 yards, 0 TD/0 INT), on the other hand, had a terrible FF game…but a solid NFL game just guiding the ship into scoring position but the run game was killing it, so they just ran it down NYG's throats -- 37 carries, 160 yards rushing and 4 rushing TDs total.
 -- We're downgrading the NYG-DST…one that's been so good but has lost Adoree Jackson (2 tackles). A big blow. Bad matchups with DAL Week 12 and PHI Week 14 ahead and the two WSH matchups Weeks 13 and 15 don't look so easy anymore. Detroit mowed through them here, from about the time Adoree went down and out.
 -- Jameson Williams started practicing this week for Detroit. They may move the timetable up on him given Detroit is on a three-game win streak and if they can win two of their next 3, they might be in the playoff hunt. No one really knows when Jameson will be ready, but it's likely Week 13 (a long week) with a shot at it being Week 12 at Detroit on Thanksgiving.
We all have no clue how fast he'll hit…but it usually takes rookie WRs now 4-8 games to get a feel for things and start breaking out, which if true with Jameson…he's not going to be useful for FF this season -- but there's hope he becomes the #2 target (to ARSB) right away and becomes a star and we're all dazzled…that hope keeps us all dangling on the hook.
 -- I warned of the good kickers playing in the northeast Week 11, playing in higher winds and cold temps on our Sunday Video Q&A morning show…and Graham Gano (0/2 XP, 0/0 FG) was a prime example of the risk. If you stuck by Gano, you yielded 4-8-10+ points to your opponent's kicker and that one decision may have cost you the week.
There is no redraft kicker in 2022 above the law…above being cut and replaced except maybe Daniel Carlson (LV) these days. If you gotta live week-to-week playing off the weather or dome in the winter…you have to do it.
Gano is at Dallas/dome Week 12…then outside in the northeast the next three December games. Cold and some wind is not a death sentence, but it is not optimal. And there are plenty of good kickers on waivers every week.
 -- That terrible Lions defense has suddenly held two of its last 3 opponents to 18 points or fewer in the game. They held NYG pretty good here, giving up a late garbage score and 3 games ago they stifled Aaron Rodgers like I'd not seen in a while. This defense is improving, but hard to play for FF yet…or even think about.
Snap Counts of Interest:
66 = Slayton
55 = Wan'Dale
45 = Hodgins (looks good, could see more targets ahead)
33 = Golladay
60 = St. Brown
57 = Raymond
19 = Kennedy
11 = Chark (yikes)