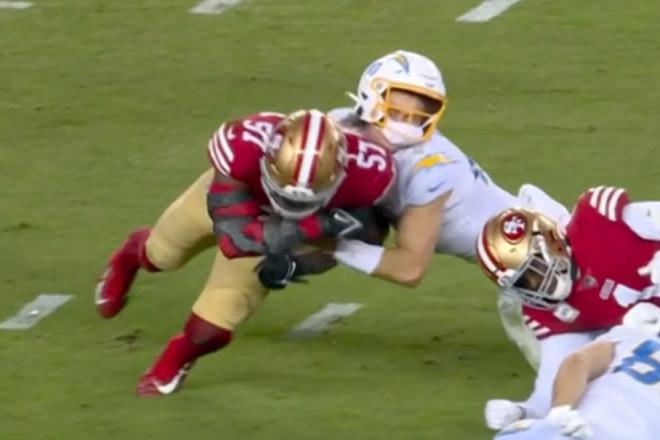 R.C. Fischer
Weekly Game Analysis
18 November 2022
2022 Week 10: 49ers 22, Chargers 16 (Dynasty/Fantasy Analysis Game Report)
I have no idea how this was just a one score win for the 49ers. Statistically, the 49ers killed the Chargers…because the Chargers suck and are all banged up…and the 49ers are the best team in the NFC. It was just one of those things, I guess. The 49ers won/dominated virtually every key metric you could want from a football game (36-24 time of possession, 387 to 238 total yards, much better rate of 3rd-down conversions, etc.). Yet, LAC was hanging around late trying to win it.
The Chargers had a 16-10 lead at the half, but the 49ers put down the hammer and shut out LAC the rest of the way.
The 49ers are now (5-4) and are probably about to embark on a (6-2) run to finish the season at (11-6) and likely snag the NFC West title away from current leader Seattle. They have little room for error since they started themselves in a hole this season. They'll be the NFC favorites for the Super Bowl…if they make it to the playoffs.
The Chargers are now (5-4) as well, and they are playing for their very playoff existence and the coaching staff's future employment Week 11 hosting Kansas City. If LAC loses to KC, again, they will likely spiral down to 8-9 wins to the finish and another disappointing season and the entire coaching staff getting fired. They may fire Staley after the KC loss…or if they lose their next two in a row -- so that they can get underway with trying to secure Sean Payton. If LAC beats KC next week, then things get a little interesting as the Chargers would be a game out of first and with some momentum and getting key players back healthy. They're so bad, I cannot imagine them taking care of KC then competing to the end for the AFC West title…but Justin Herbert can turn miracles.
*Note any fractional numbers in parentheses (4/2) or (2/3), etc., are a 'split' stat on our definition of a 'quality start' (or not) marker on a player -- using 14 PPR points in a game for RB-WR-TE and 21 for a QB…point levels that are good/productive/well above average starts for a Fantasy week. Trying to identify trends, consistency (or not) in players we might not normally realize.
A (3/2), for example, means: 3 times the player hit at/above the mark, and 2 times they did not.
Fantasy Player Notes…
 -- What's wrong with Justin Herbert? Nothing.
He just played a game against arguably the top defense in the NFL…at minimum, currently, the top 1-2-3 defense in the league…coming off their bye and he went to war against them with D'Andre Carter and Josh Palmer (Allen-Williams out again) as his lead WRs, he lost Gerald Everett 10 snaps into the game, 40% of his O-Line was backups, and his team lost the time of possession battle 37-23.
Within all that, he had his team out to a 16-10 halftime lead, but the 49ers clamped down in the second half while LAC tried to play it safe to run out the clock on the lead but couldn't. It was a bad matchup going in and Herbert had another mild output…but he's playing fine, as well as he can, within all this mess.
Those who banked on Herbert for FF 2022, like I did…and if there are no other viable alternatives at this stage -- all you can do is keep trotting him out there and hope he strikes lightning in these games without his WRs…really praying he gets Allen-Williams back this week/any week. Herbert is an elite QB, held back by circumstances out of his control, and you never know when he might fight through the brick wall and put-up crazy numbers, because he can/is capable.
Herbert started out as a (3/1) this season and then things started falling apart with his surroundings and he's been an (0/5) since…his recent low games coming against heavy run teams (CLE, ATL, SF) and/or top pass defenses (SF, DEN).
His schedule is about to loosen, and he should get one or both of Allen-Williams back Week 11 or 12. Herbert's next five games:
Week 11 home/dome vs. KC, the #25 pass defense in the NFL
Week 12 at road/dome v. ARI, #23
Week 13 at road/dome v. LV, #26
Week 14 home/dome v. MIA, #22
Week 15 home/dome v. TEN, #31
If you FF-have Justin Herbert, you have had to take the punches…you'll live or die on whether their offense pumps back up/the WRs return, or not. There's no obvious, better QB alternative on waivers…not one capable of what Herbert is capable of…and Herbert may get boxed in again Week 11 without his WRs, but are you going to do? Ride Carr-Mills-Heinicke (all of whom could have 'a game' and beat Herbert in a given week…randomly) or do you just run with Herbert and hope to catch is lightning potential. Herbert is not just good…he's elite…better than every QB in the league, on par/debatable with Mahomes-Allen-Burrow. All you can do is hope and pray for the turn and worst case…FF-die with him.
 -- Jimmy Garoppolo (19-28 for 240 yards, 0 TD/0 INT, 5-3-1) was a higher rated alternative for this Week 10/game because of the matchup and his rising output in this suddenly loaded offense. JG has all the toys, Herbert has none.
JG was rolling with Deebo-Aiyuk-Kittle while Hebert was taking on a top SF defense with Carter-Palmer-McKitty.
Jimmy G. had four games in a row with 2 TD passes coming into this game, so of course he had zero TD passes here. He did rush for one to save his FF day, and Aiyuk dropped one in the end zone that hit him right in the numbers. JG is as good a QB2 bye week fill-in as you'll find because of his surrounding talent available. He's just not that great a QB/passer to have full hopes he's going to cash in on it…and if it were up to his coach, they'd run the ball every play.
 -- The 49ers have maneuvered themselves into a Kyle Shanahan dream scenario…two high end #1 RBs working at the same time.
Elijah Mitchell (18-89-0, 1-0-0/2) returned from an extended time on IR to 18 carries in a tight game…this wasn't Mitchell taking mop up work late to keep CMC fresh. This was a Mitchell co-led run game.
Christian McCaffrey (14-38-1, 4-39-0/6) is still the prized possession, but they are not going to overburden him, especially to keep him fresh for the playoffs.
CMC is always an RB1 projection every week. Mitchell will be an RB2/3 projection based on matchup and game script.
 -- The Chargers had to run with the backup/less important WRs in this game…
Josh Palmer (3-44-0/8) was the top target here, but he showed (again) he is not really ready for primetime, and never will be…he's just a useful hand, a solid start against a weaker opponent with Allen-Williams out. He's not the future for LAC. The new staff in 2023 will draft and sign 1-2 fresh WRs to grow with Herbert into the future.
If Mike Williams returns Week 11, then Palmer has some WR3 FF hope as the WR getting the least attention…Williams scorched KC in their last meeting.
If Keenan Allen and Mike Williams return…Palmer is a WR4 for Week 11.
D'Andre Carter (4-64-1/4) is just a random event #4 WR…solid but no future.
I thought Michael Bandy (0-0-0/1) would see 6+ targets this game, coming off his (5-26-0/8) Week 9…but the Chargers O-C is in contention for the worst coordinator in the game, so they didn't explore Bandy in this major matchup/game to throw a wrinkle into the 49ers coverage.
Instead of designing wrinkles not seen before with Bandy, to confuse SF, get this…instead the Chargers leaned on Tre McKitty (3-21-0/6) for more action…and McKitty responded with a key drop on a 3rd-down conversion and 1-2 times he got the ball trying to make a 1st-down but failed…because he's not a real receiver. The 49ers, who have been great against TEs for three years now -- that's what LAC decided to attack, with 3rd/4th-string TEs when Gerald Everett got hurt 10 plays into the game. Three TEs for LAC combined for 9 targets. Simply, unbelievable…but totally in character for the Chargers O-C.
How do you ruin Justin Herbert? How is that possible?
 -- You do know that Brandon Aiyuk (6-84-0/7) is the 49ers #1 WR now, right? Not Deebo Samuel (4-27-0, 2-24-0/6).
4.3 rec. (7.5 rec./a 51.4% catch rate), 51.4 yards, 0.25 TDs per game = Deebo 2022
4.9 rec. (6.9 targets/a 71.0% catch rate, 63.0 yards, 0.44 TDs per game = Aiyuk 2022
And the gap between the two has only been widening as the season wears on. I'm telling you, there's something to my theory (going forward/starting 2022) that once you pay these WRs big money…you should FF-RUN from them. The exception being Tyreek because he's a god among men in the NFL.
Aiyuk is a (3/6) this season…(3/1) his last 4 games.
Deebo is a (3/5) this season…(1/3) his last 4 games.
Deebo isn't making up ground on the ground either…he's averaging 15.5 yards rushing per game with just one rushing TD this season.
 -- The 49ers-DST had a weird stretch of mass defensive injuries around Week's 6-7 and they got smoked by ATL and KC. Outside of that, they've not allowed any other opponent to score over 19 points in any other game this season.
At full strength, they are arguably the best defense in the league…but they can rarely stay at full strength for long. Still, their outlook is…you can start them every week the rest of the season…except maybe Week 13 v. MIA.
 -- Chargers LB Drue Tranquill (15 tackles) continues his hot IDP run…10.0 tackles per game since Week 3 with 5 TFLs and 3 sacks. Since Week 3, Tranquill is the #4 scoring IDL LB in FF.
Since Week 3:
1) Oluokun, JAX
2) Jewell, DEN
3) Roquan Smith, DET-BAL
4t) Tranquill, LAC
4t) Rashaan Evans, ATL
Snap Counts of Interest:
69 = Aiyuk
62 = Deebo
23 = Jennings
46 = CMC
25 = E Mitchell
55 = Palmer
50 = Carter
49 = Bandy
40 = Ekeler
10 = Spiller
08 = Michel