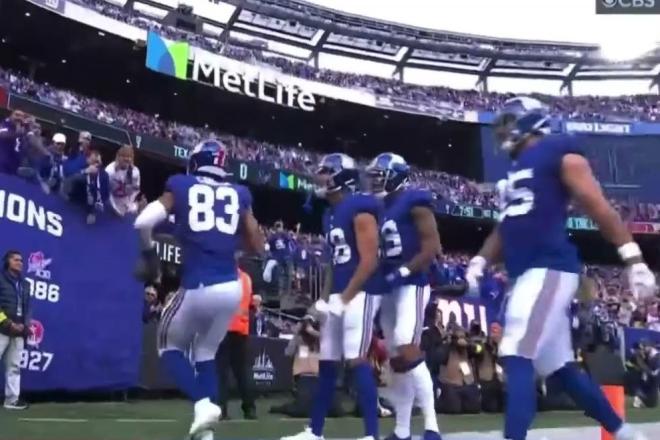 R.C. Fischer
Weekly Game Analysis
17 November 2022
2022 Week 10: Giants 24, Texans 16 (Dynasty/Fantasy Analysis Game Report)
I gotta admit…the New York Giants are a pretty damn good football team. I've not wanted to believe it. It was easy to keep saying, "they'll fall back to earth" or "sure, a bunch of lucky wins," but they keep winning.
My last couple weeks of tape watching, I keep being super impressed with this NYG team. It's a team not chocked full of stars and glitz and glamor…it's Tennessee Titans good -- so well coached, so well/simply planned, and the players are buying into it all…there's an energy on the sidelines…there's a confidence.
Brian Daboll is on the short list for Coach of the Year, for sure. D-C Wink Martindale has that defense playing about as good as there is in the NFL, seriously. The Giants are weaving journeyman players and last month's waiver wire pickups into their lineup every week it seems, and they are winning. Every week, NYG has another blast from my past/past studies player that pops up making plays…where I go, "When did they get them?" It will be players I thought had something years ago, but they just never clicked and kinda disappeared -- the Giants are finding them, polishing them up, and winning games with them.
My respect for the Giants has been building for weeks, but Week 10…my week after studies/tape watching…this is the first time where my mind is saying/asking -- is this the best team in the NFC East? I'm not joking. The Eagles looked pathetic Monday night vs. Washington…and Philly was lucky the Texans didn't get them the TNF the week before. Dallas was pretty lame Sunday at Green Bay. The Giants just keep anaconda slow suffocating, subduing their opponents every week. The Giants have the best defense in the NFC East. And, now, I have to say they have the best coaching/planning in the division as well. Where they lack is at QB…Daniel Jones is not on the level Hurts-Dak are. BUT Tennessee is a dominant franchise with Ryan Tannehill. If 2022 is teaching us anything, it's the rise of journeyman players and quality fresh coaching can hang with the glitzy glamorous teams with their flashy QBs and cool rookies.
The Giants might be a top 10 NFL team, right now. I'll explore that in a moment…not just making a throw away statement. NYG is (7-2) and should finish with 10-11 wins and a wild card at a minimum and 11-13 wins and a division title at the maximum. Now that I'm on board…they'll likely lose their next 8 games and finish (7-10).
Houston also played in this game, and credit the Texans…they keep playing really good teams and hanging with them. They played somewhat toe-to-toe with TEN-PHI-NYG the past three weeks. Houston is an upset alert facing Washington Week 11.
So, are the Giants a top 10 NFL team…per my eyeballs watching/studying teams every week? Well, let me go through the process, for fun.
Let me gather the list of potential top 10 teams first, then we'll sort them out. Going through this as I type, on the fly, for 'fun'…going through looking at the standings by division, here are top 10 NFL team candidates to consider:
MIA, NYJ, BUF
BAL, CIN
TEN
KC
PHI-NYG-DAL
MIN
None from the NFC South
SEA-SF
13 teams, so worse case the G-Men are top 13.
Let me break this group of 13 into 'elite' and 'bubble/out' candidates….
High end (can win a Super Bowl): MIA, BUF, BAL, CIN, TEN, KC, PHI, SF
Potential 'out' of the top 10 (of these 13): NYJ, SEA, NYG
That's 11 teams just accounted for…MIN and DAL are in the in-between.
So, NYG did not make the top 10 but I'd say they are #11 and very close to being listed with the middle teams of MIN and DAL.
I'd wrap this up by saying: NYG is somewhere between the 9th and 11th best team in the NFL. Not a serious Super Bowl contender but not a team anyone wants to play. A playoff team for sure.
Eight teams listed to win the Super Bowl, but CIN and maybe MIA are a stretch…Cincy would be no question if not having their secondary stripped due to injury recently. But with Burrow, anything is possible.
My current top five in order of winning the Super Bowl: KC, TEN, SF, BUF…then a drop-off to BAL, PHI, CIN, MIA.
*Note any fractional numbers in parentheses (4/2) or (2/3), etc., are a 'split' stat on our definition of a 'quality start' (or not) marker on a player -- using 14 PPR points in a game for RB-WR-TE and 21 for a QB…point levels that are good/productive/well above average starts for a Fantasy week. Trying to identify trends, consistency (or not) in players we might not normally realize.
A (3/2), for example, means: 3 times the player hit at/above the mark, and 2 times they did not.
Fantasy Player Notes…
   -- "Is this the best defense I watch every week?" Is a question that popped into my head while watching this game, about the NY Giants, on the back of thinking the same the past 3-4 games.
This defense is so fast to the ball. So tight in coverage. Gives a good pressure front. Their fatal flaw is at linebacker and getting clipped against the run…but Philly and Dallas, among other high-profile teams, have the same issue. The G-Men do more with less (talent) on defense, and offense, then just about any team in the league outside of Tennessee.
They don't score big for FF but are nice for the NFL. The schedule ahead is OK for FF, but not overly favorable.
 -- The NYG WR report…
Darius Slayton (3-95-1/4) kept up his recent run of nice FF output with a slick catch-and-run TD in this game. Otherwise, he was held somewhat in check. Houston's defense has allowed the 2nd fewest passing TDs against and have allowed the least amount of pass attempts and completions against this season. They achieve this partly because they have a good coverage secondary but just as much that they cannot stop the run at all…the #32 run defense in the league -- so teams just run it at them to win, like NYG did here…47 runs and just 13 completed passes here.
Slayton has now hit double digit PPR games in four of his last 5 games and is a (2/1) his last three games and a (3/2) in his last 5 games.
Wan'Dale Robinson (2-20-0/2, 1-0-0) has drifted off, hard, in FF results the past two weeks (2.0 rec., 17.5 yards, 0.0 TDs) but I can see he is gaining confidence and is running around at a different/faster speed on his routes…like a little Tyreek-ish type player. Don't be surprised if he has a big game Week 11 out of nowhere, if Slayton gets held down by Jeff Okudah…it could be Robinson going off for the bigger WR numbers on simple short passes and letting Wan'Dale go after the catch.
All that love, but late reports have Wan'Dale with a sudden hamstring issue and now questionable for Week 11.
Kenny Golladay (0-0-0/2) was back, and…well…you see how that mattered. Unreal fall from grace…at a super-high cost.
 -- Lawrence Cager (2-9-1/2) caught a TD pass early in the game…a simple TE counter, catch-and-run TD. Cager is a former fast WR now bulked up to play TE and he is a real weapon.
Cager was elevated from the practice squad Week 8 and played just 12 snaps and had a near miss long TD in his one target that game. Week 9 was a bye. Then this game, Cager played 65% of the snaps to Tanner Hudson's 16%...a shocking turn of events. I didn't even realize it. I thought Cager was just 10-20 snaps from memory/live watch.
I am going to boost Cager's projections much higher than the high we had him prior. This looks like a real sleeper weapon TE developing here…outta nowhere. Kudos to NYG for grabbing him, and Daboll for seeing the talent and rushing him into real playtime. Usually, these types of guys get 10-20 snaps and are quickly forgotten (like I fear Tyree Jackson will have happen). Not Cager with NYG right now. If he has another heavy snap count game Week 11…it's game on as a fringe TE1/2 kinda guy in development.
When Daniel Bellinger returns (if) then I'm not sure what will happen to Cager's playing time.
 -- Texans WR report…
I really wanted to watch this tape to see if Nico Collins (5-49-1/10) was getting a #1 WR treatment…or was this just a desperation/intermittent heavy targeting game. Nope…it's real. Collins was the guy Davis Mills was working, as it should be. Brandin Cooks (4-37-0/7) has played his way out of the #1 role, it appears. Game on with Nico.
Collins is a (1/6) this season…the one Q-start happening this game. It's a mild passing game, so Nico is a WR2/3 based on matchup and game flow but has some WR1 games to come probably.
 -- Two of the best-looking RBs in the NFL played in this game, and two of a rare few RBs that is the unquestioned touch count RB. No real sharing or rotations.
You beat Houston by running it at them, so Saquon Barkley (35-152-1, 1-8-0/1) getting 35 carries made all the sense in the world. Simple and smart by Daboll. Barkley is an (8/1) this season with 7 straight quality starts.
You beat NYG by running it at them too, but Houston got down and had to start throwing. Thus, Dameon Pierce (17-94-0, 2-28-0/3) had about half of Barkley's carries. Pierce really looks good as a runner. Pierce is a (6/3) this season…(6/1) his last 7 games, the one non-Q-start was this game, just barely missed.
 -- Daniel Jones (13-17 for 197 yards, 2 TDs/0 INT, 5-24-0) isn't getting any/much better…and cannot win games from behind as a passer, but NYG is keeping everything protected and simple for him and he's doing just fine managing the game. Jones is a (2/7) this season.
Davis Mills (22-37 for 311 yards, 1 TD/1 INT) doesn't have the same luxury…little protection and a terrible offensive concept/mind with their O-C and HC. But Mills is starting to put up some bigger passer numbers because he is constantly playing from behind and trying to catch up later in games. Mills isn't improving either…he's just serviceable right now. He might have another level, but this coaching staff isn't going to be the ones to flip that switch. Mills is a (1/8) this season.
Snap Counts of Interest:
55 = Slayton
52 = Wan'Dale
43 = Hodgins
26 = Golladay
45 = Cager
16 = Myarick
11 = Hudson
50 = Nico
41 = Cooks
34 = C moore
33 = Akins
33 = OJ Howard
27 = Quitoriano