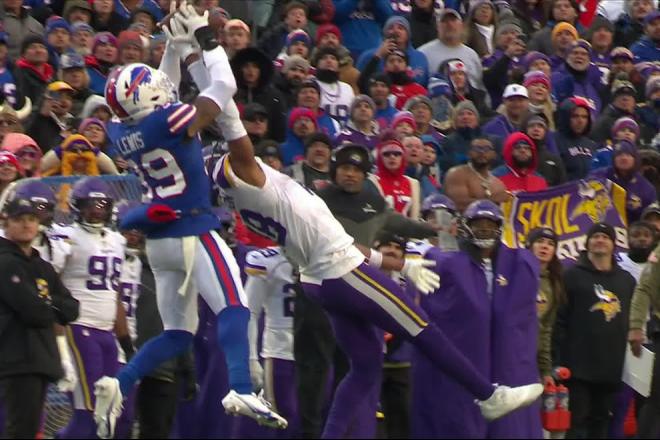 R.C. Fischer
Weekly Game Analysis
17 November 2022
2022 Week 10: Vikings 33, Bills 30 (Dynasty/Fantasy Analysis Game Report)
All the hysteria over the Bills losing this game…it's ridiculous. It was a fun watch of a game -- but having just rewatched this game, the Bills should've won this game 50 times over. The most low/no probability events had to happen multiple times to keep the Vikings in this game and to win this game. A goal line/QB sneak attempt to run out the clock turned fumble where the defensive recovered in the end zone for a TD…I've been watching football for decades and have never seen that happen. A 4th & 18 pass thrown to a covered Justin Jefferson who leaps up and makes a spectacular catch to keep a drive going? Basically, the Vikings could hardly do anything in the game except for a couple miracle throws to and catches by Jefferson…and hand it to him, JJ caught a lot of them.
The Bills led 27-10 very late into the 3rd-quarter…they were on the verge of blowing the Vikings out. It's inexplicable that Minnesota won this game. But they did.
The Vikings get another win that should've been a loss to rise to (8-1)…this win being the bullet that kills off worry that Green Bay could make a late run to catch them for the division title. Minnesota should've lost their last three games, but they've won them all. If they can get the #1 seed for home field in that stadium…it would be a huge advantage.
Buffalo falls to (6-3)…and, again, they should've won this game no doubt. Had they won it, they'd be (7-2) and arguably (9-0). The Bills are showing cracks in their ship, but this is still a really good/top team…a team I'm more confident in than I was after rewatching this game. The Bills are fine, and they will go to a next level IF Tre'Davious White ever gets cleared.
*Note any fractional numbers in parentheses (4/2) or (2/3), etc., are a 'split' stat on our definition of a 'quality start' (or not) marker on a player -- using 14 PPR points in a game for RB-WR-TE and 21 for a QB…point levels that are good/productive/well above average starts for a Fantasy week. Trying to identify trends, consistency (or not) in players we might not normally realize.
A (3/2), for example, means: 3 times the player hit at/above the mark, and 2 times they did not.
Fantasy Player Notes…
   -- Josh Allen's (29-43 for 330 yards, 1 TD/2 INT, 6-84-0) passer numbers haven't been great lately…3 TDs/6 INTs the last 3 games with two of the 3 games under 220 yards passing. Very strange.
I rewatched this game with a closer eye to see what might be happening but I didn't see anything shocking or revealing. I'd say that Allen played some tough pass defenses Week's 8-9 (GB, when they had all their secondary and were #1 against the pass and the emerging NYJ pass defense) and he does not have the greatest weapons to work with outside of Stefon Diggs.
I think Allen is mostly fine, not as great as 2020 or 2021 but still a top guy and now running more to try and win games as the team has some pass game struggles/doing what Mahomes is doing more too -- if the defenses are going to drop a ton of guys into coverage, Allen is going to take them up for the free 10+ yard runs to keep them honest.
No real cause for concern on Allen…just not as great as 2020-2021, but still great.
 -- With Allen trying to preserve his arm (injury) early, Devin Singletary (13-47-2, 1-0-0/2) was relied on for a rushing TD early and then another a few minutes later. The second one was super lucky that the play before missed a score by an inch to then set up Singletary to follow it up with an easy score. The first two rushing TDs for Singletary this season -- a perfect time to sell DS as an RB2 this week to someone in RB need, if the perfect storm opportunity presents.
Singletary is really good but does little for FF in this offense because the focus is Josh Allen based (as it should be). It's why Isiah Pacheco doesn't do much for FF…the QB is in control of the goal line, the better option.
Rookie RB James Cook (5-22-0, 0-0-0/2) was that player who missed the TD by a replay review, which then allowed Singletary to score the next play for his 2nd TD of the game. Cook keeps looking better and better each week but is always limited in touches to like 3-6…and why he is not involved in the passing game is one of the great mysteries of 2022. Allen could get a ton of help if they forced Cook to be a WR playing RB 30%+ of the snaps as a weapon to dump passes to, etc. -- instead they got waste-of-time Nyheim Hines to do similar, but they don't use him either.
The way this Bills offense is being run with Brian Daboll gone is very suspect. Sean McDermott is way better on the defensive side.
 -- I know they gave up 33 points and lost, but the Bills-DST was a lot better in this game (tape) than I thought going in after looking at the points/yards. Really, 3 points came from OT…7 points off that stupid late game end zone fumble -- so, only 23 real game offensive points allowed, and those 23 points were boosted from Justin Jefferson making ridiculous catches in tight/good coverage.
The Eagles and Cowboys defenses got figured out/exposed Week 10, not the Bills defense. And I will keep saying it -- when they get Tre'Davious White back (not for weeks), they go to another level of good.
Good to FF-start the rest of the way…but Week 15 v. MIA isn't great, nor Week 17 at CIN…but Buffalo-DST is pretty strong in any matchup.
 -- Kirk Cousins (30-50 for 357 yards, 1 TD/2 INTs) had a string of three in-a-row games with 2 TD passes in a game broken here. Cousins is getting a nice level of pass attempts every week and decent, not great numbers to go with it. He is the #10 FF QB in PPG right now, so he can't be that bad…and he's on a lot of waiver wires right now. A nice 2nd QB for insurance for those in need.
I just want to note, From here on FF-in, the next 6 weeks…all dome games, home and away for Cousins…and for kicker Greg Joseph…and all the Minny weapons. That's a good thing. By comparison, Buffalo is talking about up to six feet of snow over the next few days, FYI.
Snap Counts of Interest:
70 = Gabe Davis
69 = Diggs
52 = McKenzie
15 = Shakir
54 = Singletary
13 = J Cook
06 = Hines
05 = Duke J
70 = Cook
13 = Mattison