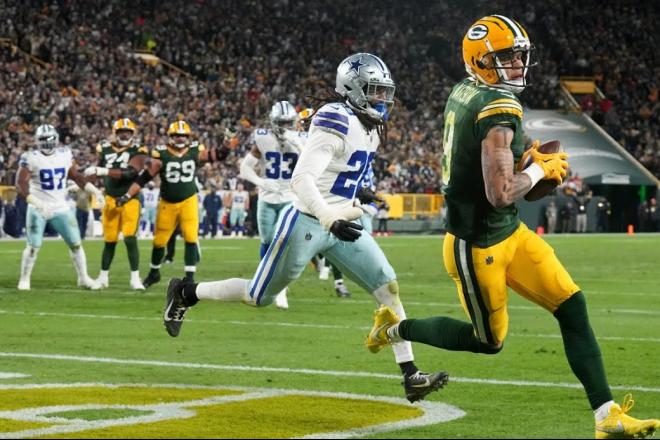 R.C. Fischer
Weekly Game Analysis
16 November 2022
2022 Week 10: Packers 31, Cowboys 28 OT (Dynasty/Fantasy Analysis Game Report)
Two of the worst head coaches in the NFL (especially Matt LaFleur) possess two of the top QB talents in the league…and they played a game, and neither team played very well but in the shootout the Packers pulled it out. Could've gone either way but Green Bay was due some luck and Dallas due some un-luck, and at Lambeau…Green Bay might have saved their season with this win, for the moment.
Really, this game came down to who made the biggest game plan coverage gaffe of the game/ which D-C deserves to be written up and have this game put in his corporate file…
Dallas decided to shadow Allen Lazard and let everyone else beat them, especially King of Pass Drops, Christian Watson -- but then Watson caught some passes, after dropping his first two targets and Watson did beat them. Can't blame Dallas for not planning to stop Watson, who hadn't done a thing all year…but as Watson got going, Dallas didn't adjust, and it burned them in the end.
Green Bay decided that CeeDee Lamb was not as important to cover, so Lamb had a career day and Dallas should have beaten GB with this monstrous D-C planned faux pas, but the Pack got lucky. It was one of the worst defensive decisions/plans of the 2022 season.
Dallas falls to (6-3) with a tough game at Minnesota ahead…they could fall to (6-4) next week and real panic sets in. The Cowboys are gonna have to fight for this division, or just a wild card…they could win the division…or finish last, with Washington coming on. Honestly, I don't have a clue where they are headed. My current projection is 10-11 wins and a wild card…but 9 wins possible and scrapping for a wild card spot.
Green Bay stops a five-game skid and is now (4-6) with a very tough schedule ahead. They need to flip the board back in their favor with a win on TNF this week hosting the Titans, but that's a tall task where the Pack is not the better team…but home field, the cold, and Tennessee injuries may throw a chance to GB. We see Green Bay at 8 wins and out of the playoffs in the end, but 9 wins possible with an outside shot at a wild card.
*Note any fractional numbers in parentheses (4/2) or (2/3), etc., are a 'split' stat on our definition of a 'quality start' (or not) marker on a player -- using 14 PPR points in a game for RB-WR-TE and 21 for a QB…point levels that are good/productive/well above average starts for a Fantasy week. Trying to identify trends, consistency (or not) in players we might not normally realize.
A (3/2), for example, means: 3 times the player hit at/above the mark, and 2 times they did not.
Fantasy Player Notes…
   -- Just a quick note on the QBs…
Aaron Rodgers (14-20 for 224 yards, 3 TDs/0 INT) has been efficient but lower yardage all year as Green Bay is an Aaron Jones enslaved offense (when it should be an ARodg offense, like what KC does). Perhaps, Christian Watson getting unlocked will take Rodgers back to the back end of the QB1 group. Rodgers is a shocking (0/10) for quality starts this season.
Dak Prescott (27-46 for 265 yards, 2 TDs/2 INT) is improving his numbers every week since his return…he's a (2/2) this season, but a (2/0) the last two weeks. His next 6 games are 5 dome games and one at Florida (JAX).
 -- The teams in this game possessing two very good/great NFL QB talents means…naturally these two teams decided to try and beat each other running the ball…
Tony Pollard (22-115-1, 3-13-0/6) has back-to-back 110+ yard rushing games and is averaging 6.0 yards per carry, so naturally once Zeke returns (hobbled) Elliott will get the push and Pollard will split touches with him…because of Jerry Jones…which is why Dallas could finish in last in this division now.
Aaron Jones (24-138-1, 2-18-0/2) continues to separate from A.J. Dillon (13-65-0). This is not a 1a/1b situation…this is 'the Aaron Jones show'. I can't make a case for anyone to keep Dillon rostered except hoping for Jones to get hurt and get out.
 -- OK, let's get into the biggest thing from this game…the Christian Watson (4-107-3/8) breakout performance.
Dallas decided to shadow Allen Lazard (3-45-0/4), with good reason…he's their clear #1 all season. And with that, I'm sure they also thought…'who cares about Christian Watson?' With good reason…the guy either drops the targets thrown to him, runs the wrong routes, or if he makes a catch, he gets hurt on the tackle…we've seen it for the first 9 weeks of the season, except for the weeks he was fully out hurt. So, it was an understandable gamble…lesser coverage with no safety help over on Watson.
Watson dropped the first two passes thrown to him…then makes the Willie Mays over-the-shoulder catch on a bomb for a long TD, out of nowhere. Then missed the next bomb TD because he didn't know the ball was headed his way…then ran the wrong route for an incompletion after that. Later, Watson would beat coverage twice for nice TD strikes to complete a hat trick of TDs.
Unless you watched the game live or on tape, you only saw the highlights of Watson catching TDs…Chris Berman didn't have time in his fastest 3 minutes to show you the drops and route gaffes. So, has Watson arrived…or is this just a blip (for now)? I can't say. Most of Watson's season has been a huge disappointment…drops after drops, error after error, nagging injury after injury…all that is forgotten in the wake of 3 TDs in a game.
Watson is a talent, but I have no idea what Week 11 brings. I don't see #1 work from Watson, yet…I see Marquez Valdes-Scantling activity, but faster running…the homerun hitter, a great homerun hitter…if he can hold onto the ball. I could see another big play week on TNF Week 11…or I could see a disappointing 2-23-0/5 game.
Which side of that coin you decide could make or break your Week 11, if you possess him.
Is Allen Lazard (3-45-0/4) lost in the wake of Christian Watson? I don't think so. In this game, Dallas focused on Lazard…the GB #1…the guy Mike McCarthy knows well, so Trevon Diggs traveled with Lazard most of the game and Rodgers was wise not to try and push the issue when Christian Watson was finally making plays and taking on lesser coverage. And it worked for Green Bay/Rodgers.
This week vs. TEN…the Titans will have to account for Watson now. Probably with a safety over, which then helps Lazard get less attention and more 1-on-1s. Kristian Fulton is a VERY good cover corner, so it won't be easy but do-able, especially if they put Lazard into the slot some more, away from Fulton. Fulton fully healthy and on Lazard is likely going to suppress Lazard's FF-output this week. But will Fulton go onto Lazard…or Watson? My guess is Lazard…with double coverage with a safety over on Watson.
 -- CeeDee Lamb (11-150-2/15) had a career day. Why? Because the idiotic Packers D-C (who will likely be fired after this season), decided to move ace slot cover corner Rasul Douglas out of the slot and to the outside to fill-in for the injury-gone Eric Stokes, to cover Noah Brown (1-3-0/3). So, Dallas's top WR target was then abandoned by the Pack's top slot coverer and in his place blocky, slow safety Darnell Savage took up arms against Lamb…and thus Lamb had a career day. The single stupidest concept all Week 10…moving Douglas from the slot and on Lamb, to Savage on Lamb. And they never changed off of it throw-after-throw to Lamb…they just watched it happen with Douglas on the outside with Noah Brown. Green Bay really deserved to lose so bad for this.
 -- Two solid defenses got rocked here…
Green Bay-DST is done, over, fini. They were already wobbly the half+ of their season-to-date but when they lost CB Eric Stokes and EDGE Rashaan Gary the last two weeks, it was nails in the coffin time. Dallas had no issue moving the ball on this defense…and the choice to put Darnell Savage on CeeDee Lamb highlights how awful their D-C really is.
Dallas-DST had been flying high for weeks, and then gave up 31 points to the #29 offense in the league (prior). How? Green Bay ran for 207 yards and at a 5.3 ypc clip and whoever Trevon Diggs wasn't covering gets weak coverage from Anthony Brown, Kelvin Joseph, or DaRon Bland.
Bland is a UDFA rookie who has a 100.0 QB rating against so far this season. Anthony Brown 96.5 QB rating against. Diggs 76.7. Kelvin Joseph plays snaps as the #4 CB and is allowing a whopping 132.5 QB rating against (on limited targets against so far). Diggs chased Lazard…and Watson got to roll against the rest of them, mostly one-on-one with no help.
The Dallas defense has allowed 200+ yards rushing in back-to-back games now. Dallas is now the #29 run defense in the league this season. This Dallas defense, like the Eagles defense, like the Bills defense…these former top defenses are getting exposed and starting to fall.
Snap Counts of Interest:
63 = Lazard
54 = Watson
21 = Watkins
12 = Toure
45 = A Jones
24 = Dillon
72 = Pollard
11 = Malik Davis