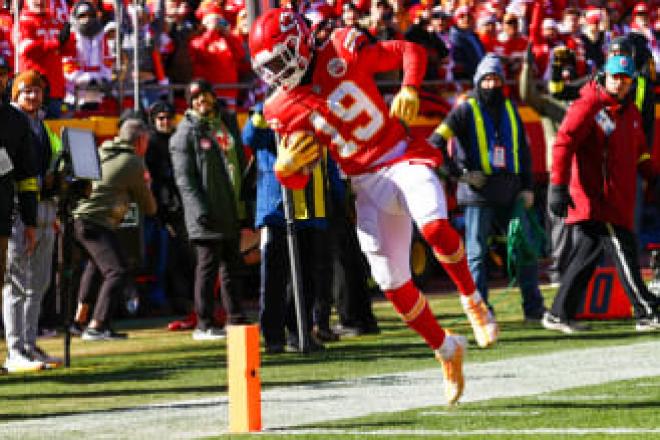 R.C. Fischer
Weekly Game Analysis
15 November 2022
2022 Week 10: Chiefs 27, Jaguars 17 (Dynasty/Fantasy Analysis Game Report)
The Jags got this started with a successful, surprise onsides kick…but then were immediately halted on their drive. KC drove right down, in response, but fumbled it in the red zone back to Jacksonville…who were immediately halted again. KC then did 'KC things' and like a hurricane (of offense) it was 20-0 Chiefs right before the half.
Jacksonville hung around for a bit in the 2nd-half, but the game was never really in doubt. KC was gonna win this 100 times out of 100 times played. Jacksonville was scrappy, but Kansas City is just too good right now…and getting better; that's the scary part -- their defense is going to be really good come playoff time, it's already getting good now.
The Chiefs are now (7-2) and are my confident pick (today) to win the Super Bowl. Only the Titans can stop them. But with Patrick Mahomes being so good, and KC giving into letting him lead the way…not trying to force a run game anymore…and the weapons they got for Mahomes, especially that Kadarius Toney deal, plus the young, rising defense -- the Chiefs are the best team in the NFL with the kicker that they are only going to get better as the season goes with the defense gelling and Toney getting more integrated. I believe KC will finish with 14 wins and the #1 seed in the AFC.
Oh, how I want Miami to play KC in the playoffs at some point…Tyreek facing KC in the playoffs would be my most favorite anticipatory game of the season.
Jacksonville played about as well as they could. They aren't bad…they are one of the better 'bad' teams out there. Unfortunately, for wins, they have a tough schedule ahead or they might steal a few wins before the end of the season. They will likely end with 4-5 wins.
*Note any fractional numbers in parentheses (4/2) or (2/3), etc., are a 'split' stat on our definition of a 'quality start' (or not) marker on a player -- using 14 PPR points in a game for RB-WR-TE and 21 for a QB…point levels that are good/productive/well above average starts for a Fantasy week. Trying to identify trends, consistency (or not) in players we might not normally realize.
A (3/2), for example, means: 3 times the player hit at/above the mark, and 2 times they did not.
Fantasy Player Notes…
   -- The main thing everyone wants to know from this game is: Did Kadarius Toney (2-33-0, 4-57-1/5) arrive…can we start him Week 11+ now?
My initial reaction to this question Monday morning was…probably not.
Why be a buzzkill?
Because I know NFL teams…and I know what this KC staff has done in the past -- they will drag their feet on deploying the obvious weapon, only using the weapon for special occasions until they feel like the player is fully ready/the existing starter moves on via free agency…like Mecole Hardman will do at season's end (move on), and thus launch Toney for 2023.
Mecole Hardman had been hot the prior few weeks but then suddenly a stomach injury for Week 10 opened up a space in the lineup for a #3 WR. Would it be Toney time? I was skeptical on how much KC would give into this week #2 of Toney. They didn't start Toney. KT didn't go into the game until play #4 of the first drive. He was only in on 4 plays of the first 14 plays for KC…that's what I feared…but then a change in the mood happened…then another change event happened…then another and Kadarius played half the remaining snaps of the game after just 4 snaps in the first 14 plays.
I watched and logged every single snap of the 1st-half, from the Toney perspective to see/get a feel for what really happened here and what I saw changed my mind a bit on Toney going forward/into Week 11. Let me share what happened, drive-by-drive the 1st-half…
1st-Drive for KC:
KC came out in a 2-WR set, so JuJu-MVS starting/in…no hidden clues there.
Play #2…Justin Watson (1-12-0/1) into the game as the #3 WR. Watson was in the game for six of the 9 play drive…Toney two, and no touches. KC's plan was to go heavier Watson with Toney sprinkled in, but things were about to change…force them to change.
But let's stick with this 1st-drive, those two Toney snaps, for a moment -- because it was the key, for me, as to the future here. Toney came in on play #4 and #6 of this first drive…and both times, Mahomes was looking for him off the snap on simple short routes…like Mahomes was gearing his shoulder up to throw but Toney was surrounded by coverage and Mahomes thought the wiser, on the 2nd Toney snap Mahomes already started to throw it to Toney but pulled it back due to lurking coverage. Mahomes had eyes for Toney right away…and it wasn't a special design play for KT, it was in the flow of a normal 3-4 guys running routes on the play.
Patrick Mahomes is looking to Toney most every time he's on the field -- and that is huge. Because when Justin Watson is on the field, he might as well be dressed as a six-foot patch of turf. You don't even know he's there. Mahomes never purposefully looks for Watson -- but he did look for Toney as soon as he got sent into the game. Mahomes knows what the coaching staff doesn't…yet. But I'm sure Mahomes is going to force this issue more every week, and it started with this game…on the drives to come.
Drive #2:
Toney in on the first snap of this drive, and there was a run play towards Toney's side of the field -- where KT delivered a nice block to help spring the run play. Andy Reid's comment post game about Toney was typical old school coach talk -- he went right to pointing out Toney's blocking…and that's a good thing to get Toney more playing time, coaches love blocking from WRs more than electric playmaking ability.
After that first play, of course, Toney came out…for the always electric Jody Fortson as a #3 WR. Fortson took two snaps then the electric Justin Watson came in. Play #5, Toney back in for that little toss and Toney catch and run/hop down the sidelines, touchdown. A simple play…not even meant for Toney…he was left uncovered…no need to hop down the sideline but he did…but somehow this hopping event caught all of FF owner's attention and the KC coaches as well.
Drive #3:
First 4 plays…Toney starts, plays snap #2 as well (his first consecutive snaps in of the game), then out for a 2-WR set, then Toney back in. More trust in Toney…in for three of the first 4 snaps of the drive, that was a short drive.
Drive #4:
A turn away from KT…no Toney for the first 4 plays. We got Watson then Watson-Skyy Moore…then Skyy…the Watson-Skyy again -- but on that 4th play of the drive, that's where JuJu got smacked in the head and out of the game.
Soon after, MVS would get clocked and out of the game (to return 2nd-half). The two injuries pushed Toney and Watson and Skyy into the lineup more. But do not lose sight of the fact that this game started with Watson as the primary plan for Hardman, and the game snap counts let us know that was definitely the plan, NOT Toney…
Snap Counts this game:
46 snaps (of 63) = Watson
28 = Toney (44.4%)
16 = Skyy
When Hardman returns, he's going right back into the lineup…I would almost guarantee it. Toney and Watson will continue to sprinkle in for 15-30 snaps. Toney will gain snaps and touches more and more but I am not sure if Week 11 will be the opportunity we all hope, if Hardman is back.
The downside of this: The KC staff is gonna favor Hardman for now. They are content to play Toney 30-40% of the snaps and get him 3-6 touches per game.
The upside of this is: Toney is already showing he's 'special' and most importantly, Mahomes knows it. I don't think Mahomes will let Toney be forgotten…whether that's targeting him once he enters the game, or behind the scenes demanding Toney be in more.
It's only going to get better from here for Toney playing time and touches, but how fast that happens is still unknown. For Week 11, if Hardman is out…I'm all-good with Toney in my FF-lineup. If Hardman is back…it's a 50-50 call. I've seen this group hold back Tyreek Hill as a rookie…don't think they won't do it again here, working at their own dumb pace with Toney. Eventually, they'll give into it…but it could be Week 11…or Week 14…or the playoffs.
If JuJu is out Week 11…that also helps Toney. If JuJu and Hardman are out, Toney will be a top 10 projection Week 11.
Side Note: Skyy Moore is the biggest loser here so far…he's fading from memory in Toney's wake. Skyy's time will be 2023. When KC has Toney-Skyy + a veteran WR to go with Kelce and Mahomes and Pacheco in 2023, this offense will be unreal.
 -- Patrick Mahomes (26-35 for 331 yards, 4 TDs/1 INT, 7-39-0, 7-39-0) is at the top of his game again…getting better as he goes with this group + he's running the ball more again. As Josh Allen starts to fade off a bit and Justin Herbert is dying off in 2022 with all the LAC issues -- Mahomes once again rules the passing game roost in Fantasy.
He's also rushed for 20+ yards in a game in six of his last 7 games and 51.5 rushing yards per game the last two weeks.
All that to say, given KC is feeding Mahomes WR talent in Toney and Skyy more for the future…the argument can be made that Mahomes is going to be the top-rated Dynasty asset for us in QB-friendly scoring leagues when we debut the new year's Dynasty rankings in February 2023.
 -- The lack of a run game…the lack of a desire for a run game is also a great sign for Mahomes to keep up his FF scoring ways.
Isiah Pacheco (16-82-0) got good 'run the clock out' touches and should see 10 +/- carries each week but low TD odds and no real work in the pass game make him a pretty dull FF-asset right now.
Clyde Edwards-Helaire (0-0-0/2) has been totally left behind…he played 4 snaps and did not touch the ball. FYI, he was a 1st-round NFL Draft pick for some reason. He looks all but done in KC.
Jerick McKinnon (1-2-0, 6-56-0/8) suddenly has PPR life. He is entering the game now almost as a 4th WR for the passing game…6.0 rec. (8.0 targets) for 48.0 yards per game the past two weeks…with exactly 6 catches and exactly 8 targets each game.
 -- Off of KC for a moment, let's talk Jacksonville…
Trevor Lawrence (29-40 for 259 yards, 2 TDs/0 INTs, 4-26-0) played a really solid game here. Back to that quick passing game with WRs running open on crossers that was effective early in the season but helped by KC kinda laying back with big leads on-and-off in the game and thus Trevor making some throws from a comfortable pocket.
When things were tighter and the KC defense was more engaged…they sacked Lawrence 4 times and thwarted him from throwing the medium range WR crossers all the time, but in the more laid back defensive modes Trevor made good throws working Christian Kirk (9-105-2/12) looking like Stafford-Kupp at points.
Trevor isn't terrible…he's climbed up to that status from 'terrible'. He's still really bad when pressure is anywhere close to him but when it's not, he makes some decent medium range throws now…where he used to just about misfire everything medium range. He's working his way to emergency QB2 FF-hope in a bye week need status.
 -- Christian Kirk (9-105-2/12) started the season white hot then fell way off, but is now back on fire again…
6.7 catches, 79.3 yards, 0.75 TDs per game in his last 4 games.
Kirk started out (3/0) this season, then went (0/3) after that…but is (3/1) last 4 games, (6/4) total this season.
Zay Jones (8-68-0/10) had a big game too, but he's been flimsy otherwise the past five weeks. Zay is a (2/7) this season. He's a big PPR gamble in a given week, but he's something in an emergency in PPR.
 -- I keep harping on that KC-DST, and between FFMers picking this D up in advance the past few weeks and them playing JAX this week as a good streamer gobbled up by the masses, they're mostly off the FF-market. They might go back on the market if people drop for their game vs. LAC…but they shouldn't because LAC is suddenly an offense not to fear at all.
But I want to note, again -- this KC defense is young and improving weekly and is going to hit a stride right into that great FF playoff schedule ahead: DEN-HOU-SEA-DEN Weeks 14-17 is about as juicy as it can get with SEA matchup being 'meh' but the other three are two awful offenses…maybe the two worst in the league.
The KC defense held Jacksonville to 240 total yards and got 4 sacks. You can consider starting them every week from here on in…LAC-LAR-CIN, given CIN's O-Line issues should be fine, and maybe stream another for Week 13 at CIN…but hold on for that upcoming schedule into the FF-playoffs.
With the way the Eagles-DST looked Monday night…I think KC is an option to switch to if desired for the ROS.
Snap Counts of Interest:
53 = MVS
46 = Watson
28 = Toney
24 = JuJu
16 = Skyy
35 = Pacheco
24 = McKinnon
04 = CEH
50 = Etienne
14 = Hasty