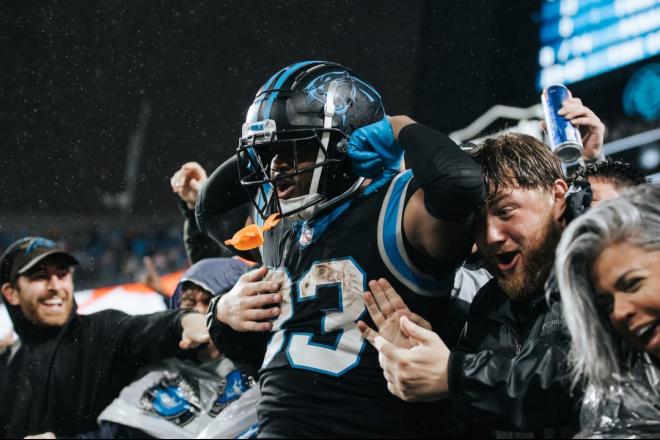 R.C. Fischer
Weekly Game Analysis
14 November 2022
2022 Week 10: Panthers 25, Falcons 15 TNF (Dynasty/Fantasy Analysis Game Report)
This will probably be the most inexplicable game of the 2022 season…at least for this week.
The Falcons, with everything to play for…1st-place in the NFC South in reach, getting to .500 to also be in the wild card race in a strong way -- all they had to do was beat the hapless, dead inside Panthers. And in a big spot against a lowly opponent, the Falcons were incredibly limp into this game and were down 22-9 into the final few minutes of the contest. Atlanta tried to comeback with a few minutes remaining, cutting the lead to 22-15 and needing a stop to get the ball back for a 1-minute drill hope -- but the Falcons rolled over and let the Panthers run for a 1st-down when everyone on the planet knew they would have to run 3 times to try and get a 1st-down to secure the game.
This should go down as one of the worst performances by a team (Atlanta) in 2022 -- a 2022 Denver Broncos-esque disaster…a terrible coaching job in plan, preparation, and motivation. They got what they deserved.
Atlanta falls to (4-6) and should slide from here right out of the playoff picture. They should finish around 6 wins…7 possible, and that might be enough to try and win this uber-sad division if Tampa Bay can't snap out of their funk.
Carolina actually gets some playoff life breathed into them with this win. The Panthers are (3-7), which is pathetic…but they are 'only' 2-games out of 1st-place, and they have recent wins over the teams ahead of them (TB, ATL). However, Carolina will be lucky to get to 5 wins by season's end…but in the NFC South, anything is possible.
This game was played in the remnants of a tropical storm that moved up from Florida and provided steady rain most of the game. So, the team committed to the run won the game (Carolina ran the ball 47 times to Atlanta's 25). There's not a ton to takeaway from this game for FF purposes because of the rain impact, but I have a couple player notes to consider…
*Note any fractional numbers in parentheses (4/2) or (2/3), etc., are a 'split' stat on our definition of a 'quality start' (or not) marker on a player -- using 14 PPR points in a game for RB-WR-TE and 21 for a QB…point levels that are good/productive/well above average starts for a Fantasy week. Trying to identify trends, consistency (or not) in players we might not normally realize.
A (3/2), for example, means: 3 times the player hit at/above the mark, and 2 times they did not.
Fantasy Player Notes…
   -- So, both teams knew you needed to run the ball in this weather…and Atlanta has been running the ball more than any team but Chicago this season -- so, naturally Atlanta let Carolina take them out of the run game and with the Falcons possessing the best RB in this particular game, Cordarrelle Patterson (5-18-0, 1-2-0/1), they ran said best RB just 5 times here. There's no excuse for CPatt to get as many carries as Tyler Huntley (5-32-0) in a critical game…but it just happened.
Also, when Atlanta fell behind and had to pass a lot late to try and get back into it…the former WR Patterson was nowhere to be found, they rotated in four RBs including the all-important, former safety earlier in 2022, Avery Williams (4-25-0) into critical must-have-a-play situations.
Atlanta's gameplan got them a well-deserved loss.
Arthur Smith defies all our logic every week with his player utilizations, but the entire media class constantly calls him a genius…so, he's not listening to you. It's never going to change. We have to really run from anything tied to Arthur Smith.
In Dynasty, I'm holding Tyler Allgeier (8-20-0, 3-0-0/3) for the price…and I want to see if he becomes 'the man' in 2023…but otherwise, everything else Atlanta can go, even my beloved Cordarrelle. Patterson, who is on a simple contract through 2023, but likely this 2-3-4-5 headed monster at RB will persist for the Art Smith era. Note that Allgeier had more carries than any RB for the Falcons this game….and more targets than all the other RBs combined. Allgeier is becoming the trusted back more and more, but that didn't mean anything in this game for production.
Arthur Smith is a terrible virus onto Fantasy Football…we need to run from it, all.
Carolina had a really bizarre, nutty game plan… With the rainy conditions and a $#!&&y passing game in dry conditions, why not run the ball a lot with our best RB? And THEY DID…imagine that? Thus, D'Onta Foreman (31-130-1, 0-0-0/1) ran the ball more times than all the Atlanta RBs combined (31 to 22) for more yards (130 to 95) and more TDs (1 to 0).
Three 110+ yards rushing games in his last 4 games for Foreman, who is suddenly helping many FFMers head to the playoffs for a second season in-a-row. Foreman started out the season (0/6), barely playing…but is now (3/1) as 'the man'. Tougher matchups ahead, but Foreman is a tough matchup himself…he's so good at his job.
 -- Is Marcus Mariota (19-30 for 186 yards, 2 TD/1 INT, 3-43-0) going to get benched for Desmond Ridder? Have you seen any of Arthur Smith's work of the past two seasons? Does he do anything cutting edge or logical or talent-based?
Now, Marcus Mariota should not be an NFL starting QB on purpose…but the issue is that Ridder is worse than Mariota -- more failed Arthur Smith era scouting/personnel decision making. Late season, last 1-2-3 weeks of the season, you might see Ridder if the team is out of the playoffs but the thing is 5-6 wins might win this division, so the Falcons may never be out of it this season and if so they will stick by Mariota. Solid for FF…a nightmare for the NFL.
 -- P.J. Walker (10-16 for 108 yards, 0 TD/0 INT) is dreadful as an NFL QB, but he is also (4-3) as a starter in 3 years…for a very, very crappy Panthers team the past three seasons. He's managing the game…he should stay the starting QB.
But the big Carolina QB news was…Baker Mayfield at the end of this game…the stupid head-butting of his teammates…without a helmet on…butting into their helmeted heads. If his career wasn't over already, this just put a bullet into his zombie brain in the NFL.
Look at the reaction by his teammates to Baker's idiocy each time he hits them (which one of them shoulda punched him in the face for it): https://youtu.be/lfjo56J30hM
100% phony. No one on his own team is that excited about this win. Baker is trying to show how gritty and team-oriented he is, on camera…and maybe that nuttiness will get him a league minimum deal in Detroit with Dan Campbell in 2023, but Baker can make more money going into broadcasting than what he'll be offered to play QB going forward in the NFL.
No team wants Baker. If he does get signed to some low deal, no team will ever give him 1st-team reps/prep or build an offense around him. He's done…it's just when will he admit it. Baker lost me as a supporter for him to get another chance in an offense built for his skills…there's too many other good QBs to mess with than to deal with this mess.
*In a funny plot twist, right before posting this…Baker Mayfield was named the Week 11 starter due to a Walker injury. My feelings on the WRs/targets doesn't change with Baker in…probably a slight upgrade/boost in expected output. 
 -- We downgraded the overall passing game hard going into this game due to the weather, and that was the right thing to do…but we didn't go deep enough.
D.J. Moore (4-29-0/6) still got his lead role with forced targets while double covered and a few dropped picks by Atlanta off it. Same story every week. Moore is going to get his because Carolina thinks he's Tyreek Hill…because they're delusional.
The Panthers best WR, by a mile now, is Terrace Marshall (1-43-0/2), who got all of two targets…because he's not D.J. Moore. He made the pass game play of the night with his one simple catch on a quick slant and then outran the first tackler then bullied through 4-5 other tacklers for a 43-yard play that was nearly half of the entire night's passing game.
Carolina had seen enough after that great play by Marshall…no catches in the 1st-half, and this one play in the 2nd-half…despite being on the field 89% of the time on offense.
Marshall's got some star power ability, but he'll be an up-and-down frustration all 2022 with P.J. Walker forced to throw to DJM and a toughening schedule ahead.
 -- Speaking of Arthur Smith failures…Kyle Pitts (2-28-0/8) had another FF-dud. He's getting better targeting the past several weeks but between the rain and Marcus Mariota not being able to hit any receiver unless they are WIDE open, Pitts didn't/doesn't stand a chance.
Pitts is not going to thrive until Arthur Smith is gone, and Smith will be there at least through 2022 and 2023.
 -- I hope you saw the Younghoe Koo (1-1 FG, 0/2 XP) lowly projection heading into this game and swapped him for any other viable option. Many did. But for those that didn't…Koo had an NFL top streak of over 80 consecutive XPs made going into this game and then missed two XPs in-a-row here. That type of stuff tends to linger in a kicker's mind. You might want to switch out to a decent other option (preferably past their bye) and try to avoid a potential crisis. Koo isn't so good that he's irreplaceable, etc. You can move on freely from him.
Snap Counts of Interest:
45 = Foreman
12 = Hubbard
08 = Blackshear
30 = Allgeier
24 = CPatt
09 = Avery W
09 = Huntley