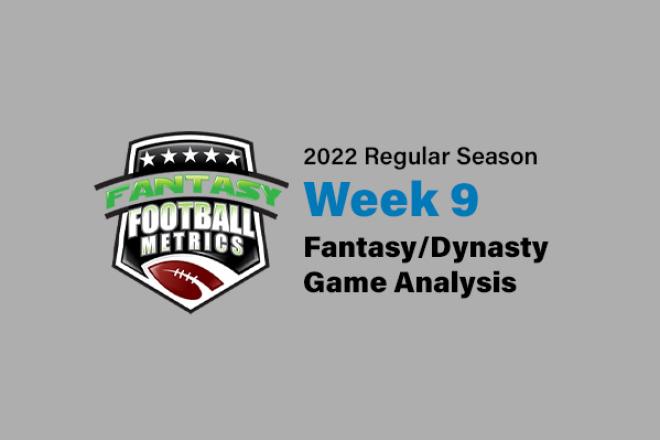 R.C. Fischer
Weekly Game Analysis
10 November 2022
2022 Week 9: Jets 20, Bills 17 (Dynasty/Fantasy Analysis Game Report)
There are games you watch where you can tell the thought-to-be (or is) lesser team/big underdog in a matchup is not afraid of the bully-favorite at all…and the underdog shouldn't be that big of an underdog. We saw that with the Titans vs. the Chiefs this past week…but the Titans eventually lost a game the coulda/shoulda won.
I did not believe the Jets were ready to take on the bully…I thought the Jets would be over their skis against the Bills this week -- but the Jets just went and played punch-for-punch with the Bills, gaining confidence the whole game and eventually put the Bills away. This, above all the other games, was 'the Jets have arrived' moment. It was not a lucky or fluky win…it was a stand-up-to-the-bully moment. Good for the Jets. Tip of the cap to Robert Saleh and GM Joe Douglas…they did it, even with a bad QB and O-Line injuries abounding all season…which makes it that much more impressive.
This also may have been 'the Bills got exposed' moment…a moment were we reached 'peak' Bills -- because now the Jets and Dolphins are arguably as-good or better teams than Buffalo in the AFC East, and the Patriots are the Patriots as long as Belichick is there, under-talented (by comparison to the rest of the AFC East) as they are. The toughest division in football and the Bills lead it by only a half-a-game and are 1.5 games out of last place. And now their franchise/everything QB has hurt his throwing arm and has an unknown prognosis, short and medium-term.
If Josh Allen is fine enough, Buffalo should go on to win the East with around 12 wins…a healthy Allen and if Tre'Davious White gets back, the Bills are still an upper tier team in the AFC East and the schedule sets up perfect for them ahead…the Jets and Dolphins have to go to Buffalo in December for their second meetings. However, if Allen is not fine…the Bills are at risk on losing the division and maybe missing the playoffs/finishing last in the division. Tenuous times.
The Jets made me eat my own foot…I thought they would lose badly here and have a QB controversy, instead…they've arrived. I still think they are the weak hand in the AFC East but if they can go and beat the Patriots in New England Week 11…then they're really for real. Lose that game, and they lose all momentum they have now. I think they lose to NE and go (9-7) and fight for a wild card. Beat NE, and they're going for 10 wins and a definite wild card…but if Josh Allen is lost for the season (doubtful) then maybe 11+ wins and fighting for the AFC East. Huge statement game for them Week 11 at NE.
*Note any fractional numbers in parentheses (4/2) or (2/3), etc., are a 'quality start' (or not) marker on a player -- using 14 PPR points in a game for RB-WR-TE and 21 for a QB…point levels that are good/productive/well above average starts for a Fantasy week. Trying to identify trends, consistency (or not) in players we might not normally realize.
A (3/2), for example, means: 3 times the player hit at/above the mark, and 2 times they did not.
Fantasy Player Notes…
   -- Let's start with Josh Allen and his injury…
Last drive of the game, Allen got his arm bent/torqued all the way back as he was trying to drive forward with a pass…and you could tell he was visibly hurt. He sprained his ulnar collateral ligament…what baseball pitchers tear/need repair for Tommy John surgery. Allen sprained his, we're told, not sure there's any real damage…but he had an issue with it in the past and missed 4 games with it.
I very much expect to him to be held out of Week 10, facing an NFC foe…to get him healed up for Week 11 or Week 12, and fully ready for Weeks 13-15 with NE-NYJ-MIA. There's no reason to push Allen and further aggravate the injury. He's gonna miss 1-2 games most likely, not guaranteed…but as a betting man…I bet he misses one for sure and likely two but not 3-4…if it's just a sprain that needs time off to heal and not real damage.
More input on the issue from the Sports Doctor: https://youtu.be/vF3WHvscBSs
It's a big drop off to Case Keenum and that hurts the entire passing game and probably props up the run game a lot more as the Bills try to ball control and defense their way out of this jam.
 -- This was a really good game performance by Zach Wilson (18-25 for 254 yards, 1 TD/0 INT) here…not FF-good, but technically good. Wilson showed no fear in the pocket…as he does but had actual time in the pocket to make some laser throws on the money, and made some key throws with little time. He was on his game enough to get over on a very good Bills defense, but one that had several key injuries/missing defenders this game.
Wilson, in this game, looked a little more like the guy I wanted to see when we graded him the top QB prospect of the 2021 class. His arm is fantastic, and he put it on display here hitting receivers on the money most throws with little effort/flat-footed or whatever it took…and in this game he was not wildly slinging passes all over the place, he was more controlled.
This game made me at least stop the incessant 'he stinks/he's not getting any better' talk…for a week. He was clutch when he needed to be facing a daunting (but wounded) defense.
Where he was really great was throwing to Garrett Wilson (8-92-0/9)…and they clearly have made a connection now. Garrett is FF-legit now that Zach is providing the fuel properly, finally. Garrett is a (3/6) this season…but (2/0) the last two weeks that he and Zach seem to have 'found each other'.
 -- Couple things I want to note about the Bills run game…
1) If Josh Allen is going to miss time, the Bills will run heavy in his absence…and they will do that primarily through Devin Singletary (8-24-0, 4-24-0/5), who is a really good RB but gets hidden from view by the eclipse that is Josh Allen.
Singletary without Allen is an RB1 hope for a week.
2) James Cook (4-15-0, 2-18-0/4) looks like he has gotten his feet underneath him in the NFL, finally. He ran confident and dominant/fast/quick in this game. The best he has looked by far…so good, I'd say he's naturally better than Singletary…and the two things about that statement is:
(a) if the Bills run heavy without Josh Allen for a week or two, Cook is probably going to get 7-10+ touches and possibly be a legit FF flex performer, but hard to gamble heavily on and…
(b) when Allen returns…what little Singletary was getting as a lead is going to be chopped into by an oncoming James Cook…and a forced (to prove the trade was good) Nyheim Hines.
 -- The Jets attacked Buffalo with a two-headed monster backfield rotating…
Michael Carter (12-76-1, 1-10-0/1) started and is always slippery-solid when given a heavier workload.
James Robinson (13-48-0, 2-5-1/2) was not even supposed to play much but they let him test things in-game and then they just went with it. A nice RB combo here.
It should be like this the rest of the season…a split role/rotation. Two RB2-3s who might score a TD to be RB1-2s.
 -- Catches in games for Gabe Davis this season, starting with Week 1: 4-3-1-3-3-2-2…on a prolific offense/passing game, Davis barely gets to 3 catches in any game. He's catching less than 50% of his targets…because he is a liability not an asset. He's made some long plays but that's more Josh Allen delivering. Most of the game, Davis is a liability -- can't get open well and has bad hands too often. I don't know how much longer the Bills will stand for this.
The Bills are going to go to the playoffs as a favorite, possessing (arguably) the best QB in the game…and they have put Gabe Davis and Isaiah McKenzie as the support WRs outside of Stefon Diggs. Not wise.
I'd be selling off Davis in all formats before the mainstream figures this out.
 -- The Bills-DST was minus three key starters for this game. They should be getting a couple of them back next game and they could activate ace CB Tre'Davious White at any time, further bolstering this already great defense. The weather is about to be their friend as well, especially in their home games.
No worries or downgrades of this defense…it is getting ready to be really-really good/great when they get guys healthy (if).
 -- The Jets-DST goes on a BYE this week but it's getting so good it's worth picking up (if they're dropped) and sitting on if you have a void at DST. The #6 DST in FF and improving every week/month.
The rest of the season schedule is very good except for Week 14 at BUF…but they just handled Buffalo here, so it won't be horrible…but you probably want to use a one-week streamer. Other than that, they are a start every week the ROS. As long as Sauce Gardner is playing this defense is legit.
Snap Counts of Interest:
55 = G Wilson
50 = Mims
27 = E Moore
21 = Berrios
31 = M Carter
24 = J Robinson
07 = TY Johnson
46 = Singletary
14 = J Cook
04 = Hines