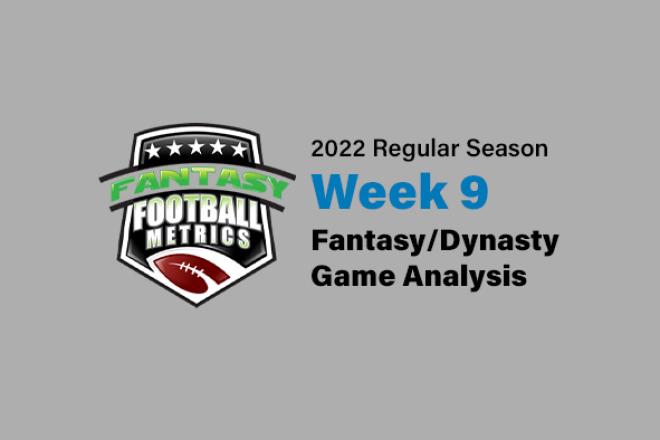 R.C. Fischer
Weekly Game Analysis
07 November 2022
2022 Week 9: Eagles 29, Texans 17 (Dynasty/Fantasy Analysis Game Report)
No one was shocked by the final outcome/score of this game, but I think those that watched were surprised by how sluggish the Eagles played…and how well Houston played for about a half+ (14-14 at the half). The Eagles are much better than the Texans, but they played with the energy of a team who was looking past Houston and thinking they had it in the bag…and they did but they had to gin up some energy in the 2nd-half to get a bigger lead and then they clamped down and held Houston to just a field goal the final two quarters -- and Houston was driving down in the 4th-quarter a couple times with shots to cut the game to one score, but the Eagles woke up and held them off.
Houston falls to (1-6-1)…right at the bottom of the league in record/standings. I don't know what the Texans are doing…they needed to sell off useful-to-the-future pieces at the trade deadline, and they did nothing but piss off Brandin Cooks by not trading him. Houston will probably win another game or two before season's end but will compete for the #1 pick in the draft and probably take a QB in the 2023 NFL Draft to further spin their wheels.
The Eagles are undefeated (8-0) and won't finish that way…they're good but not that good. They'll probably lose 2-3-4 games in the end and battle Dallas to the finish. Their remaining schedule isn't a killer but it's all solid+ teams ahead to the finish, no cupcakes.
*Note any fractional numbers in parentheses (4/2) or (2/3), etc., are a 'quality start' (or not) marker on a player -- using 14 PPR points in a game for RB-WR-TE and 21 for a QB…point levels that are good/productive/well above average starts for a Fantasy week. Trying to identify trends, consistency (or not) in players we might not normally realize.
A (3/2), for example, means: 3 times the player hit at/above the mark, and 2 times they did not.
Fantasy Player Notes…
   -- I have a lot of shares, as do a fair share reading this, in the Eagles-DST…and I was expecting a perfect storm matchup here -- a failing Houston offense now without Cooks-Collins on a solo night game. But the Eagles defense kinda played lazy early on and Houston attacked, and it was an OK DST performance but not a 'wow'. Still, this is a DST to ride the rest of the way. When they needed to, they turned it up in the 2nd-half.
One IDP rising up fast for this DST: Javon Hargrave (7 tackles, 3.0 sacks, 3 TFLs)…5.0 sacks his last two games. He's been a little banged up and not practicing in full much until the last few weeks and it's starting to show.
 -- Part of the Philly-DST slow start was a very good, on point Davis Mills (13-22 for 154 yards, 2 TDs/2 INTs, 3-18-0). Mills did all he could without his starting WR duo and garbage TEs. The Eagles camped down late and the WRs couldn't get open as easily…and ballgame.
The media doesn't respect Davis Mills, so the fans won't either…which will push the team to draft a QB in 2023 with their high draft pick, which is fine, QB is everything -- but Mills is better than given credit, but he's dull, just 'OK/good' and about a 2+ months away from being in a QB controversy with the fanbase and media trying to replace him at every turn.
 -- Dameon Pierce (27-139-0, 0-0-0/0) took a career high 27 carries in this game. Pierce looks great, but from here…why waste a ton of touches/mileage on him in a lost season? Why? Because that's what short sighted, desperate NFL head coaches do. Lovie Smith will burnout Pierce to try and win another game or two, to 'finish strong' (which isn't a thing) going into next season.
Pierce is the team's best receiving back out of the backfield…and he got 0 targets here as they jam Rex Burkhead (1-9-0, 1-6-0/2) into almost every passing game situation…why? Why does a one-win NFL team building toward the future push a 32+ year old generic RB? Why not grab a young RB off some team practice squad and see what happens. Nope.
And you wonder why bad teams stay bad.
 -- So, Brandin Cooks doesn't want to play for this team anymore. And Nico Collins can't play for a few more weeks, potentially. I get rolling out Chris Moore (4-43-1/5) and Philip Dorsett (3-69-0/5) as starters this game…but why not get Jalen Camp (1-7-0/1) more looks to see what he's got. He had flash moments in training camp and had a boss of a catch against James Bradberry in a late game critical moment here, and then came right out of the game…for freaking journeyman Tyron Johnson (1-8-0/1)?
Houston is run so poorly…they deserve a 3/4ths empty stadium at home for a TNF game and the worst record in football…and the growing worst reputation organization. They are earning every bit of it.
They are so opposite my Houston Astros! I'm going to spring training in West Palm again this spring to see my son and daughter in-law and catch a few spring games with my season ticket holding parents -- congrats to them, long-time devout season ticket holders/fans who are having a great week! In related news, they surrendered their Texans season tickets two years ago after being longtime fans/season ticket holders -- that's the state of that sad football team.
Oh, this section was supposed to be about Jalen Camp…who we had graded as a top 10 WR prospect from the 2021 NFL Draft…6'2"/220, 4.48 40-time with a 'wow' 29 bench reps and 39.5" vertical. He'll be a guy the Texans overlook, and he'll quietly be released, or contract lapses and he gets on with some other team and his 3rd-4th-5th year in we'll be talking about him as another non-rookie breakout for FF, probably.
I gotta come up with a clever shorthand/nickname name for this 3rd-5th+ year player phenomena. 1st-year players are called 'rookies'…what do we call the D'Onta Foreman's and Curtis Samuel's and Geno Smith's of the world?
 -- The Texans are at least trying something new at TE…they pushed 5th-round rookie TE Teagan Quitoriano (1-2-1/1) into some snaps, and he got the game's first TD. Just for the record…he's FF-nothing. A 4.94 runner with a 7.33 three-cone. There's 20-40 other more interesting TEs the Texans could have pursued, and 50-100+ other prospects at any other position they should've used a 5th-round pick on, but this is their amazing scouting effort paying off, I guess.
I don't know how they're (1-6-1)…
Snap Counts of Interest:
38 = Brevin Jordan
26 = OJ Howard
18 = Quitoriano
16 = Akins
46 = Dorsett
44 = C Moore
25 = Tyron J
15 = Jalen Camp
42 = Sanders
18 = Gainwell
05 = B Scott