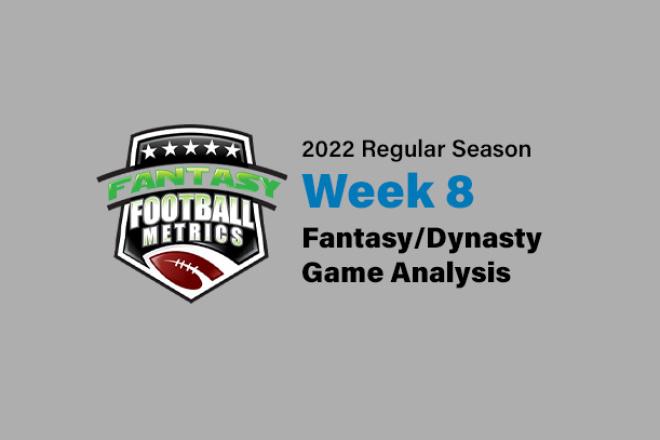 R.C. Fischer
Weekly Game Analysis
04 November 2022
2022 Week 8: Patriots 22, Jets 17 (Dynasty/Fantasy Analysis Game Report)
This was NOT a game between two decent, playoff level teams grinding it out and the Patriots using their Belichickian savvy to defeat the upstart Jets.
No.
This was two $#!tty QBs going at it to see which one would play less worse for the win. Mac Jones was less worse than Zach Wilson, for the win. Really, Mac was terrible too…but Zach Wilson is a whole other type/level bad for the NFL. We'll get into the QBs more in detail ahead.
The Jets were leading 10-3 with under a minute before the half…and Mac Jones threw an inexplicable pick-six to push it to 16-3 Jets and the upset was underway BUT WAIT…there was a flag for a nonsense roughing the passer call and it came back + penalty yards added and that led to a cheap field goal by NE to cut the lead to 10-6 Jets at the half. Had that pick six stood, the Jets might have run away with this thing.
Zach Wilson then started dealing the even more inexplicable picks and the next thing you know the Patriots took a 22-10 lead late, and NYJ got a late game TD to close the gap but couldn't get the onsides and…ballgame.
The Jets fall to (5-3) and their tumble is only beginning. They cannot sustainably win with Zach Wilson at QB. And now, the schedule is going to turn from absolute good fortune to 'real'. Buffalo 2x and at NE and at MIN are at least three, if not four losses waiting to happen in their next 5 games. The Jets have a chance at 9 wins due to their defense, but we project them at 7-8 wins.
New England is now (4-4) with a tough schedule ahead. Week 9 vs. the Colts is a do-or-die for both teams…but I'm not sure the Patriots players think it to be true, but the Colts are definitely feeling it. The Patriots are about to lose a bunch of games and wind-up fight with the Jets to get to 9 wins but the Patriots are likely to be at the 7-8 win mark in the end as well.
Neither of these teams is going to finish ahead of Miami, nor ahead of .500, nor see the playoffs…but they will both change QBs in a QB controversy very soon…and that might change their playoff outlooks, the faster they get to the needed QB change.
*Note any fractional numbers in parentheses (4/2) or (2/3), etc., are a 'quality start' (or not) marker on a player -- using 14 PPR points in a game for RB-WR-TE and 21 for a QB…point levels that are good/productive/well above average starts for a Fantasy week. Trying to identify trends, consistency (or not) in players we might not normally realize.
A (3/2), for example, means: 3 times the player hit at/above the mark, and 2 times they did not.
Fantasy Player Notes…
   -- Again, with these two QBs…they are so bad…
Mac Jones (24-35 for 194 yards, 1 TD/1 INT) is a zero. He's an NFL backup talent. Give him great protection and/or hide him with a lot of play action and then quick throws when the defense is sucked in by the run fake. In 2022, defenses aren't falling for it like they did in 2021…and Mac is under more pressure (weaker O-Line) and he totally caves/blinks anytime pressure abounds.
Some QBs have 'it' and some/most don't…and the telltale sign of those that don't is their fear level in the pocket with pressure -- and Jones fails the test. He's very nervous around any pressure…we ain't in Alabama anymore, with the best O-Line money can buy and an all-star team of weapons to go-with. Mac has 3 TDs/7 INTs this season. 11 TDs/14 INTs in his last 10 games. In 20 NFL games, Jones has thrown 22 picks…and he's getting worse not better.
Bill Belichick knows Bailey Zappe is better…and the MNF stunt a few weeks ago, of pulling Mac for Zappe was the tell that you know Belichick knows, but he's hesitant to pull the trigger just yet for some reason. I think he's letting Mac play his way out of the job, which he's doing a fine job of. If the Pats lose badly to Indy Week 9, and Mac is a dud…I think the change will be instituted during their bye week.
Zach Wilson (20-41 for 355 yards, 2 TDs/3 INTs) is a different kind of terrible. He's turning into Drew Lock…all the physical gifts and zero sense for the position. Wilson is not afraid of the pocket pressure, like Mac is, but it's a negative in this case -- Wilson has no fear of anything…he just throws passes into coverage, off balanced trying to force something big on plays and turns the ball over like mad…and he never learns from any of it. He threw three of the worst interceptions you'll see in the NFL this season…and he's lucky it was just 3 picks.
Wilson has a career tally of 12 TDs/16 INTs in 18 games. He's averaging one TD pass every three NFL games. The schedule is about to get tough. If NYJ loses to the Bills Week 9, and Wilson turns the ball over like usual -- the Jets will use their Week 10 BYE to swap into Mike White. The whole elevation of Mike White last week, to #2 QB ahead of Flacco, was not for nothing.
Superflex/2 QB leagues groping around for QB life…Mike White might be an option very soon. Possibly they go to Joe Flacco, but I think the elevation of White last week was done on purpose.
Wilson threw for 355 yards in this game and made some very talented throws but almost immediately negated a pro throw with some misfire or throw right to the defense as if they were the intended target. This was Wilson's first 300+ yard game in the NFL and a chunk of it came late game off a simple throw turned long gainer against a prevent at the very end. I was surprised he had 300+ yards from watching the tape. Not sure how he did it…it didn't look like it.
 -- Damien Harris (11-37-0, 2-15-0/2) started this game…he looks fine/healthy. He's just fading in this sluggish offense…and Rhamondre Stevenson (16-71-0, 7-72-0/7) packs more punch. Harris is still something and is due for a 100+ yard game with a TD, but it's hard to see it with Harris's 'meh' production and injuries of late.
Stevenson is a (5/3) this season…and a (5/1) his last 6 games.
 -- James Robinson (5-17-0, 0-0-0/1) got some work here but there was no run game established and JRob didn't play much or do much in his week getting acclimated to NYJ. Physically, he looks fine.
I assume JRob will be in a full split with Michael Carter (7-26-0, 4-32-0/7), because Carter will be on the field a lot for the passing game/hurry up.
If I could own one or the other, for FF…I'd lean Carter, in general…Carter definitely for PPR. Carter is a (2/6) this season.
 -- Jakobi Meyers (9-60-1/13) is the Patriots #1…try as hard as we might to see DeVante Parker (hurt in-game, gone for weeks) flashing or that Tyquan Thornton (1-13-0/2) blip. Meyers is a (3/3) this season with no games under double digits for PPR.
 -- Hunter Henry (1-22-0/1) was barely looked at in this juicy matchup against the Jets defense that has lacked/been whipped by opposing TEs. A combination of poor Mac play and Henry staying in more to help block the Jets pressure…which is now a concern ahead in the juicy matchups to come.
 -- The big WR winner from Zach Wilson's unusual 300+ yard passing day was Garrett Wilson (6-115-0/7). This was a game where Garrett started looking a bit more legit…working more Justin Jefferson-like/style…but still far away from ever being JJ-like. Wilson got 'pop' passes and regular passes and tunnel screens -- it's the first time I've ever seen them design things to a WR during the Robert Saleh tenure.
Garrett Wilson will get taken out by the Bills Week 9…then a bye Week 10 -- so in some redraft leagues Garrett might be hitting waivers or available cheap in a deal. If the Jets swap out of Zach Wilson to White or Flacco, then Garrett Wilson might be a very smart, forward-thinking pick up the next week or so, after a bad Bills output. Let him flop against the Bills, and then attack after, if you have the desire.
Elijah Moore (0-0-0/1) used to be the hope in this passing game, but that's all but disappeared. Since he demanded a trade, Moore has been deactivated for a game…and then played 10 snaps here with 1 target. He was visibly not interested in being out there. He's nothing for FF in 2022.
Denzel Mims (2-76-0/3) is now more interesting than Elijah Moore…and Mims knows what Moore is feeling, how you get screwed out of a career in this offense. Mims still looks great. He had the great catch and run that was wonderful in this game, but he just doesn't see the ball enough or play enough. He still looks like a potential legit NFL WR, but he'll never shine in New York…he should sue them for creating a fraud in his career heading to free agency in another season.
 -- The DSTs here…
The Jets-DST is definitely the better of the two here…and they had that pick six stolen from them by penalty that ruined an amazing day. Still, they had a pick and six sacks on scared Mac. This DST will be dropped by many to not face the Bills Week 9 then a BYE Week 10.
Out of the bye, Week 11 at NE is good. Week 12 v. CHI should be good. Week 13 at MIN is a problem…so-to Week 14 at BUF. From Week's 9-14, five weeks…and just two obvious/favorable starts.
The NE-DST got eaten up by the Bears Week 7 but prior to that they shutout DET and held the Browns to 15 points. They held the Jets to 17 here, gave up 7 late/a bit fluky. It's still a solid DST, good matchups with Indy Week 9. A Week 10 bye. Then back at NYJ Week 11…then the schedule is mostly tough Week 12 on. You got two more uses in the next three weeks and then it's over.
Snap Counts of Interest:
52 = G Wilson
44 = Mims
30 = Berrios
13 = Jeff Smith
10 = Elijah Moore
33 = M Carter
19 = Ty J
13 = JRob
63 = Jakobi Meyers
61 = Tyquan
54 = Bourne
50 = Jonnu
50 = Henry
49 = Rhamondre
32 = D Harris