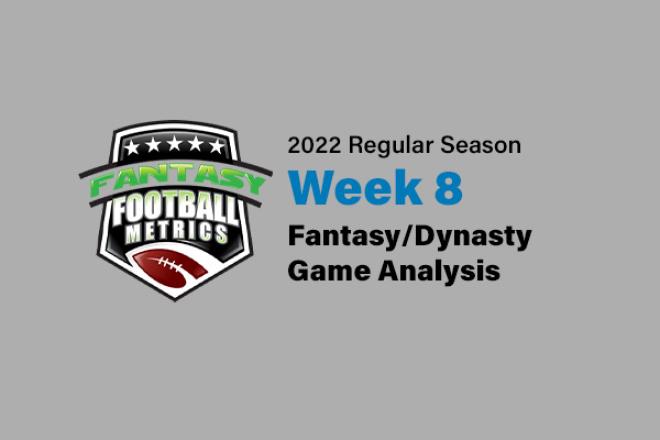 R.C. Fischer
Weekly Game Analysis
02 November 2022
2022 Week 8: Commanders 17, Colts 16 (Dynasty/Fantasy Analysis Game Report) (by Xavier Cromartie)
RC Intro: You are in for a surprise treat with a guest drop-in report by the nation's top Mock NFL Draft expert, our own Xavier Cromartie. 
XC reached out to me this week and offered to report-out on the Indy-Washington game because he scouted it hard for his own FF purposes and his general scouting interest in QB Sam Ehlinger. He saw something that needed to be conveyed, so here is Xavier making his game report debut on Sam Ehlinger's debut with notes about other items included and my (RC) notes on Ehlinger and some important things I saw from one particular player in this game. 
Out of the Batcave, down from the mountain to share his vision on the Colts-Commanders game -- here's Xavier Cromartie… 


I took particular interest in this game because of the presence of Sam Ehlinger. I have no affiliation with the University of Texas (Ehlinger's alma mater); he just has the mystique. His QB comparisons from scouts include Jake Fromm (low end), Taylor Heinicke (mid), and Jalen Hurts (high). Everyone respects Ehlinger as a person—tough, competitive, a great leader. The question is whether he can chuck it. Many mainstream takes assumed that the Colts were embracing the tank to get in position to draft a QB in 2023. Personally, I expected Ehlinger to be somewhere between mid and high level despite being the tenth QB drafted in 2021 (pick 218).
The performance by Ehlinger in this game (17/23 for 201-0-0 passing; 6-15-0 rushing) is one of the best 'bad stats' games I've seen. His numbers were close to being much better despite the conservative gameplan. Ehlinger did almost everything right but rarely got the fantasy payoff. It was an uphill battle, but the 'hill' was everyone else on the Colts—both coaches and players. By the end it seemed like watching a farce to see how the Colts could invent ways to keep down Ehlinger's stats.
The Colts had 11 possessions in the game, and scored on 4 of them (3 FG, 1 TD). Let's examine if or when Ehlinger was at fault for the Colts' failures:
Drive 1 (IND 0, WAS 0): The Colts do a predictable run on first down. Ehlinger completes a pass to make it 3rd-and-short. Ehlinger brilliantly escapes pressure from Montez Sweat and throws it beyond the 1st down marker perfectly to Jonathan Taylor, who drops it (with Bobby McCain in coverage). Not Ehlinger's fault [0-1].
Drive 2 (IND 0, WAS 0): 1st down is a designed quick throw to Kylen Granson behind the line of scrimmage, and he is immediately tackled for a loss. Ehlinger completes another 2nd down pass to make it 3rd-and-manageable. Ehlinger's 3rd-down pass intended for Michael Pittman (again beyond the 1st down marker) is deflected and incomplete. No one's fault—I consider it a "plus" play by David Mayo rather than a "minus" by Ehlinger [0-1-1].
Drive 3 (IND 3, WAS 0): The Colts finally get going. After two runs, Ehlinger moves away from pressure and finds Pittman for a 1st down. On the next play, Ehlinger steps up and hits Pittman again, right on the money, for a 1st down. After a 1st down run, he goes to Parris Campbell outside (slightly high, but caught). Taylor has a big run. Then on 2-and-9 after a Nyheim Hines run, the right side of the Colts line gets confused and doesn't move after the snap, and so 3 defenders immediately swarm and sack Ehlinger, killing the drive. The Colts surrender with a handoff to Hines and then kick the field goal. Not Ehlinger's fault [0-2-1].
Drive 4 (IND 3, WAS 7): Ehlinger starts by finding Granson in the middle of the field, who runs past the sticks. Next play, Ehlinger throws a decent 30-yard ball to the sideline where only Alec Pierce can get it, but it's a little high. Then on 2nd-and-10, the Colts predictably let Hines run for 2 yards and make the 3rd down difficult. Ehlinger goes downfield again to Pierce, and it looks like Kendall Fuller possibly interferes with Pierce, but there's no call. Fuller did stop Pierce from coming back to the ball, but Pierce didn't run the route very well either. So that's either on Pierce or the ref. Not on Ehlinger from what I saw [0-3-1].
Drive 5 (IND 3, WAS 7): The first four plays were successful rushing plays. On the next play, Ehlinger took a designed run outside to the right for no gain, but he drew a facemask call. On the WAS 13, Deon Jackson lost 4 yards. On 2nd-and-14, Ehlinger tucked the football to escape pressure and it slipped out of his hands. That is on him [1-3-1]. But the positive spin is that it was only a physical error, not a mental error. Usually a QB fumbles because he's unaware that a defender is about to blindside him. Awareness wasn't the problem here.
Drive 6 (IND 3, WAS 7): Ehlinger sees space in front of him and scrambles for 7 yards. After Taylor fails to gain the 1st down, Ehlinger takes it outside himself and gets the 1st. On the next play, Ehlinger is hit while throwing, and so the ball falls short of Mo-Alie Cox. Ehlinger then runs for a short gain with no one open. On 3rd-and-8, he throws it outside for Pierce again, and this time Pierce makes a nice catch for the 1st down. After Taylor has a short run, Ehlinger places it for Pittman, who is tackled immediately. On 3rd-and-3, approaching the red zone, the Colts call on Taylor, who goes nowhere, leading to another field goal. Not Ehlinger's fault [1-4-1].
Drive 7 (IND 6, WAS 7): After Taylor goes nowhere again and a false start on the o-line, Ehlinger launches one deep for Pierce, and it's placed perfectly for a big 47-yard gain. Taylor has a nice run to the WAS 26, but then Darrick Forrest causes Taylor to fumble on the next play. Definitely not Ehlinger's fault [1-5-1].
Drive 8 (IND 6, WAS 7): Ehlinger hits a wide open Pierce for 9 yards. On the next play, Ehlinger has a nice scramble for 21 yards, but of course it's called back for holding. Nonetheless, Campbell takes a bubble screen 38 yards on the next play. Ehlinger then floats a beauty to Hines down to the WAS 3. (Hines perhaps could have run it in, but he fell out of bounds.) Ehlinger takes a designed run on the next play, but he gets swarmed. Then Ehlinger throws a forward pitch to Pittman, but Pittman decides to cut upfield straight into a defender and gets tackled on the 1-inch line when he should have scored. Next play, Taylor can't punch it in. And the Colts take the ultra-conservative field goal on 4th down. Are any of those things Ehlinger's fault? No. [1-6-1].
Drive 9 (IND 9, WAS 7): Shaquille Leonard (formerly Darius) gets an INT, and the Colts start on the WAS 26. The drive starts with a designed short pass to Granson for -2 yards. Ehlinger escapes pressure and picks up 6 on a scramble, but once again there is holding to take it back to 2nd-and-22. Yet Ehlinger bails the Colts out with a pass to the end zone to Campbell that draws defensive pass interference (hooked arm). Without the DPI, it would have been a touchdown. But Hines rushes it in on the next play, and so Ehlinger doesn't get the TD. But it was a successful drive [1-7-1]. The Colts had an 85-90% win probability after this TD.
Drive 10 (IND 16, WAS 10): This is a critical clock-killing drive to seal the victory at the end of the game. The first call is Taylor up the middle. The second call is Taylor up the middle. 3rd down is a designed pass, but everyone is covered, and so Ehlinger scrambles, but he's half a yard short. Do the Colts trust their offense to pick up half a yard? No, they punt. Did Ehlinger make those calls? No. He did the best he could on that drive. [1-8-1].
Drive 11 (IND 16, WAS 17): Washington scored a TD. There are only 20 seconds left. The ball is on the IND 25 with one timeout. Ehlinger throws an absolutely perfect ball 25 yards in the air to Pittman that hits him right in the hands, and he drops it. The ball would have been near midfield. They would have been close to field goal range. Ehlinger completes one to outside to Pittman, but he can't get out of bounds, burning the last timeout. On the final play, the rush gets to Ehlinger, but he manages to flip it up, and it's actually caught by Pittman. There was no time left, so Pittman should have lateraled, but he didn't. Ehlinger showed what kind of player he is on that play. He never gave up. He gave them a chance. A lot of QBs would have taken the sack. Great heart and awareness. Again, you can't blame him. [1-9-1]. Pittman messed up three times on three plays. 
To recap Ehlinger's six incompletions on the day: a pass deflected, a drop, a barely high deep pass on the sideline, a missed DPI call, a hit-while-throwing, and another drop. Accuracy was not an issue on any of his throws.
In a bizarro world in which the Colts simply executed plays properly, Ehlinger could have had 90+% completions, 300 yards passing, 2 TDs, and 40+ yards rushing despite a conservative gameplan where he never had a chance to rack up cheap yards. His only mistake was the one fumble that slipped out.
For redraft, I want Ehlinger as my backup QB, especially if Deshaun Watson has already been stashed. Heck, I'd try to stash both of them. The QB position, like TE, has a few guys at the top and then an endless sea of woeful options. If you had Travis Kelce but Darren Waller and Kyle Pitts were on waivers, you'd probably want to stash them so that your opponents would have to start guys from the lowest dregs at TE. The Pitts analogy may be painfully accurate for Ehlinger. They are both dragons that are shackled in a dark cave by their own team. But on Tuesday, the Colts announced that they fired their OC Marcus Brady. Perhaps the Colts realize that they have to unleash Ehlinger. 
For dynasty, you have to assume that Jim Irsay will want to make another big splash at QB, regardless of how Ehlinger plays. You have to worry that Ehlinger will be treated like Chase Daniels or Kellen Moore because of his low draft status—seen as a valuable long-term answer in the backup player/coach hybrid role rather than as the starter, because he understands the game really well. But as of this writing, the Colts are 15th in the 2023 Draft order, and they may not like the QB options after C.J. Stroud and Bryce Young, who will go early.
*RC NOTE: I watched all the Ehlinger plays from this game as well…just focused on his starting debut, and yes Ehlinger played better than his numbers but also had some 'rookie' type mistakes…but overall he wasn't bad. 
I'm going to keep making the Taylor Heinicke comparison with him – smaller, scrappy, not a great arm off script/without feet set, mobile but not that quick just savvy. And it's not a full denigration of Ehlinger to make a Heinicke comparison because Heinicke is a decent QB…he's a scrapper and he's winning in a bad situation in Washington. 
This was Ehlinger's first start, so he will get better from here…but I'd say, for FF 2022, better than Ehlinger is just getting Heinicke…get the more experienced version. In a year where we see the Geno Smith's of the world rising. Ehlinger and Heinicke can follow that path to some kind of FF viability, but Heinicke has more experience so he might be the better emergency QB right now…and was in this game. 
And, Ehlinger will improve and has nice weapons around him (like Heinicke), but Ehlinger has an issue ahead…the schedule. 
At New England Week 9 isn't as bad as it used to be. Week 10 at Las Vegas is favorable…and then we got a problem. The next four games starting Week 11: PHI-PIT-DAL-bye. Four no-go's for FF. 
Xavier is correct…Ehlinger is a viable option among the QB2 rubble, but these types of guys are matchup based plays and Ehlinger has schedule problems ahead that could hold him back. 
Other Fantasy Player Notes…
 – The Colts traded Nyheim Hines (5-20-1, 2-29-0/2) to the Bills in exchange for Zack Moss. Taylor (16-76-0, 0-0-0/1) should remain the workhorse despite having his ankle retaped during the game. Deon Jackson (1-(-4)-0) did nothing here, but presumably he takes on more handcuff value with Hines gone, unless the Colts really like Moss.
It appears that Ehlinger prefers to throw downfield to Michael Pittman (7-53-0/9) and Alec Pierce (3-65-0/5). But Parris Campbell (2-43-0/2, 1-28-0) was making big plays whenever he had a chance. The DPI didn't show up in the stats.
*RC NOTE: The DPI on Parris was key because it was a 40+ yard TD on the money but the defender grabbed Parris's arm to hold him back from catching the TD pass. Had that connected, you would have had a 3-83-1, 1-29-0 game/third quality start in a row. 
To me, Parris has never looked as good as he does now – you're making a mistake firing him after last week's effort – he's a buy low. He has upside from here. I've been anti-Parris for 2+ years after starting out a huge fanboy/chaser of him for FF. What I've seen the past three weeks – you want in on this to see if it does spike up. Every time Parris touches the ball now, he is taking off for chunk plays…he looks faster than ever, thick/muscular, and confident…and finally fully healthy. I'm totally intrigued with Parris now…while others are giving up or giving him away. 
Kylen Granson (3-11-0/3)—who, you may have heard, went to high school with Ehlinger—was the most involved TE, but it's a rotation. Jelani Woods (0-0-0/0) did not show up on the stat sheet.
*RC NOTE: Maybe that's why the O-C got fired…there was noticeable plays setup for Granson, that went nowhere, while I'm not even sure I saw Jelani on the field. 
 – Washington played this game as well. Taylor Heinicke (23/31 for 279-1-1 passing; 6-29-1 rushing) showed a lot of fire at the end to get the win. Maybe he's a streaming option in week 9 (MIN) with six teams on bye.
Terry McLaurin (6-113-0/8) was the star of the game, other than Ehlinger. He was very close to a TD with a huge 33-yard catch to the 1-yard line. Heinicke took it in himself on the next play.
Curtis Samuel (3-50-0/4) also took 4 carries for 29 yards. But he hasn't scored or put up a good fantasy game since week 2.
Cam Sims (1-21-0/2) took the snaps with Jahan Dotson and Dyami Brown out, but he did nothing notable. If you need a very consistent 2 target, 1 catch performance, Sims is your guy.
The Washington RBs are in a three-way timeshare, and they are also competing with Heinicke and Samuel for carries. Nonetheless, Antonio Gibson (7-19-0, 7-58-1/7) managed to put up a useful fantasy performance. He's still returning kickoffs, as well. 
Snap counts:
RB
Jonathan Taylor 69% (40 snaps, 17 routes run)
Nyheim Hines 36% (21, 12)
Deon Jackson 3% (2, 1)
Antonio Gibson 36% (22 snaps, 13 routes run)
J.D. McKissic 36% (22, 19)
Brian Robinson 25% (15, 3)
WR
Michael Pittman 95% (55 snaps, 27 routes run)
Parris Campbell 79% (46, 21)
Alec Pierce 57% (33, 19)
Terry McLaurin 95% (58 snaps, 36 routes run)
Cam Sims 80% (49, 34)
Curtis Samuel 74% (45, 31)
Jahan Dotson 0% (DNP-hamstring)
TE
Kylen Granson 55% (32 snaps, 11 routes run)
Mo Alie-Cox 50% (29, 12)
Jelani Woods 26% (15, 8)
Logan Thomas 56% (34 snaps, 20 routes run)
Armani Rogers 36% (22, 15)
John Bates 33% (20, 3)
LB
Zaire Franklin 100% (61 snaps)
Bobby Okereke 61% (37)
Shaquille Leonard 39% (24)
Jamin Davis 100% (58 snaps)
Cole Holcomb 0% (DNP-foot)
Note: The green dot went to Kamren Curl instead of Davis.