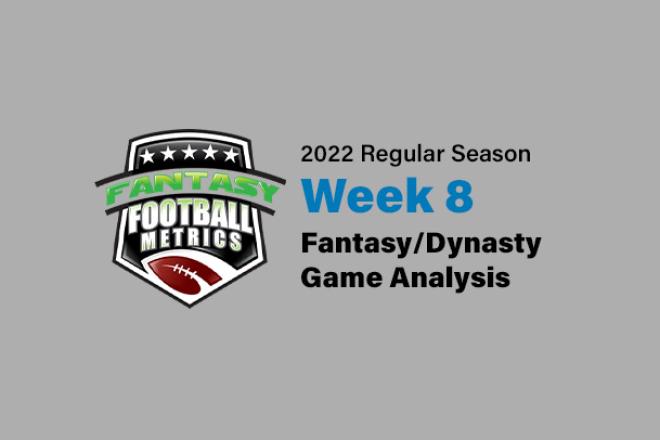 R.C. Fischer
Weekly Game Analysis
01 November 2022
2022 Week 8: Falcons 37, Panthers 34 OT (Dynasty/Fantasy Analysis Game Report)
What might have been the week's best game…the battle for 1st-place in the NFC South. I could go through and chronicle a thousand little moments that could've tipped the scale to either team but in the end, we had a blown coverage Hail Mary TD to D.J. Moore to tie the game with seconds remaining…followed by a penalty on the celebration that led to a longer XP attempt that was missed to send it to OT.
Carolina picked off a pass in OT and returned it into field goal range, and the same kicker that pushed the game-winning XP attempt…pushed the game-winning FG attempt, allowing Atlanta to go down and hit a game-winning field goal to take the win and 1st-place in the AFC South.
If there is a worse division leading team in the history of the NFL at the halfway point than the Atlanta Falcons, I'm not sure who it is. Atlanta wins to move to (4-4)…they should be (2-6) and selling at the trade deadline, instead they are in the playoffs as of today. The schedule ahead is favorable, but I can't foresee/I don't want to live in a world where the Falcons capitalize on it and go to the playoffs. Nine wins is possible, but 7-8 wins, at best, seems more likely.
Maybe had Carolina won and took over 1st-place, they would have been history's worst division leader halfway through a season. They should've won…they were the better team but where the Falcons players acted like they belonged as division leaders…many of the Panthers players seem checked out and ready to move on to next season -- I'm talking in the trenches and on the sidelines. P.J. Walker and D'Onta Foreman are playing like their lives depend on it…but some Panthers are visibly not into this season/coach. The Panthers fall to (2-6) and are still alive in the division…but, come on. They should finish with 4-6 wins and be selling at the trade deadline…and they probably will -- selling Darnold or Baker for peanuts for depth to some team, among other giveaways.
*Note any fractional numbers in parentheses (4/2) or (2/3), etc., are a 'quality start' (or not) marker on a player -- using 14 PPR points in a game for RB-WR-TE and 21 for a QB…point levels that are good/productive/well above average starts for a Fantasy week. Trying to identify trends, consistency (or not) in players we might not normally realize.
A (3/2), for example, means: 3 times the player hit at/above the mark, and 2 times they did not.
Fantasy Player Notes…
   -- A tour de force performance for D'Onta Foreman (28-118-3, 0-0-0/1)…one of the best runners of the ball in the NFL, two years running, but couldn't even get signed to be a backup or on a practice squad in 2021. The 2021 Derrick Henry injury got Foreman to the Titans practice squad in an emergency, and then they tried to not use him…but he was too good and sailed right by all the other contenders and helped the Titans secure the #1 seed in the AFC last year. Honestly, Foreman should've gotten MVP votes in 2022, now that I think back.
All Foreman's great work in the 2022 season got him was a junk backup contract with the pathetic Panthers in 2022, who signed him to take a burned off Christian McCaffrey…then they never did a thing with Foreman, until they traded CMC…then they had to give Foreman some touches. Sure, the new Carolina staff went right to Chuba Hubbard like idiot moths to an obvious flame…but Foreman then outshined Hubbard and is now the Panthers savior -- this should've been another win for an NFL team led by Foreman, but the Panthers blew the golden opportunity.
If you think NFL scouting is some science reserved for insiders and experts and ex-players and long-time coaches…explain to me the D'Onta Foreman career journey for the past two seasons.
…and, how many of us, when the CMC trade news hit and got the alert and went and got Hubbard and/or just shrugged off a free pickup of Foreman ahead of everyone else? That decision may have cost you a free RB1, right in your hands…and what player was so precious that you did not wanna cut to deny Foreman a spot on your roster? When we take our cues from the NFL scouting…we're gonna get burned. We'd rather try and find the rookie breakout story than work with the likes of D'Onta Foreman…just like NFL GMs and head coaches. Fantasy Football really is like the NFL experience.
But for those that took a stab Week 7 lead up, you grabbed a Week 8 win and now have an RB1-2 hopeful you paid nothing for. This could be a season changing event…another subtle move that many are making week after week as you start winning more FF games and move up in the standings. This is why I preach to stay in races after a tough start…and that the bye weeks are our time to shine -- we tend to always be one step ahead on the D'Onta Foreman stories. Congrats to those who prospered from it this past week.
Side note: rookie UDFA Spencer Brown (6-27-0, 0-0-0/1) worked in Chuba's spot…and he was 'meh'. When Hubbard returns, the Panthers will go right back to having him be a 3rd-down/support for Foreman.
If the Rams had half a brain, they'd ignore the Kareem Hunt nonsense and go get D'Onta Foreman for peanuts, by comparison. But I bet by trade deadline end, Foreman is still a Panther. No one will pursue because he's not supposed to be good for some reason…and the Panthers probably think he's untouchable after a great prior week -- which really proves that NFL teams are run exactly like Fantasy Football teams and vice-versa.
Foreman was heavily involved or full starter for 6 games in 2021 season…and was a (4/2). In two games in 2022 as involved/starter, he's (2/0)…Foreman is (6/2) his last 8 serious games of play…and yet we think he's just lucky/gonna fall every 'next week'.
All this Foreman talk and he'll go 11 carries for 30 yards and no TDs Week 9, you just know it…
 -- D.J. Moore (6-152-1/11) was about to wrap a very solid, quality start game and then the miracle Hail Mary landed and DJM was explosive for FF.
Couple things to note here…
1) All this Carolina goodness in the pass game was brought on by Atlanta missing it's two starting corners and a starting safety. P.J. Walker (19-36 for 317 yards, 1 TD/1 INT) is capable, but he shouldn't be throwing for 300+ yards on teams…unless 75% of their key DBs are out, like what ATL dealt with here.
2) Moore was wide open for a 40+ yard play early in the game…overthrown by Walker. Moore also dropped a 4th & 17 strike from Walker late, for what would've been a 20+ yard play. DJM could've been even hotter than it was.
The Falcons DB depression also helped our 'outta nowhere WR of the week', Terrace Marshall (4-87-0/9) have a nice game. Marshall also had three TD shots from within 25 yards of the end zone and caught one but just out of bounds…then had his hands high pointing one but bobbled on the way down and lost…and had a one-handed attempt at another…all the touches were in the end zone. Marshall is working like a real WR for Walker…and his main TD-look receiver for sure. Marshall matters now for FF…like a flex option.
 -- Kyle Pitts (5-80-1/9) finally had a game to pump his value back up…if you want to trade him off.
I watched Pitts specifically in this rewatch…he wasn't doing anything really different…he gets open, Mariota usually ignores him or can't deliver. And, usually, Pitts has tough coverage deployed onto him to some degree. In this game, Carolina let Pitts roam all over unchecked too often…and Mariota found him more often, wide open. When Carolina put like CB Keith Taylor on Pitts…they couldn't connect, Mariota went elsewhere.
I still think Pitts is screwed in this offense…and the schedule of opponents ahead is mostly all unfavorable for Pitts. I'm a seller, hot...not giving away...hot, to that team that's running junk at TE right now and would see Pitts as the savior of saviors. You don't realize how people love and adore Pitts. If you want off the Pitts ride, this is the week to do so.
Pitts was a (3/14) last season…and is a (1/7) this season…just getting his one this game. 21 NFL starts with Arthur Smith, and Pitts is a combined (4/21) for quality starts. I bet I could find some shocking TE names who have 4+ quality starts in the past 1.5 seasons that could match/beat Pitts.
Tyler Conklin and Hunter Henry are both (4/21) in that span as well. David Njoku is (4/19).
Dawson Knox (6/15)…but (0/7) this season.
Pat Freiermuth is (5/18) in that same span…from the same draft class.
Gerald Everett is (5/17) in that span.
 -- Tyler Allgeier (14-39-0, 3-46-1/3) started and was solid but he split with Caleb Huntley (16-91-0, 0-0-0/0)…it's like they swapped series all game to some degree. Allgeier still seems to be preferred but there's a lot of Huntley…and, honestly, Huntley does provide a spark…a quicker, more urgent runner while Allgeier is more patient and clinical running up the middle. Both have a place.
When Cordarrelle Patterson returns, probably Week 9…then it will be CPatt 60%+ touches and Allgeier/Huntley the other 40%.
And Patterson, I believe, will be back Week 9…but let's see what the practice reports look like.
 -- Drake London (4-31-0/5) has been in the single digits, PPR, for five straight games. He's dying off in the Art Smith experience now too. London is a (2/6) this season…with five straight non-Q starts.
Damiere Byrd (3-67-1/6) looked way more impressive…and guess what? He's a (2/0) the last two weeks. A 75-yard TD Week 4…and then a sweet 47-yard catch & run TD here. He's trending better than London…or Pitts. Again, Byrd is like what's happened to D'Onta Foreman…never gets a real chance…produces when given a chance, but even when he produces the team that he's on could care less. Next year, Byrd will be on some other team's practice squad wasting away.
 -- You scoffed when I said Marcus Mariota (20-28 for 253 yards, 3 TD/2 INT, 6-43-0) would be a QB1 threat in 2022. Where do you think he ranks, currently, in PPG/4pts pass TD? Would you be surprised if I said: #13? Ahead of Dan Jones, Trevor, Fields, Brady, Russ, Dak Carr, Rodgers, Stafford, Pickett, Mac Jones?
…but Mariota is an old news player…we'd rather reach for Dan Jones or wonder if Kenny Pickett or Ehlinger/Willis could make a breakthrough for a week…not boring old Mariota, a (2/6), a rounding error to a (3/5)…and (2/1) his last 3 games. Keep chasing the cool rookies!! They are very cool.
Snap Counts of Interest:
59 = London
54 = Zaccheaus
50 = Pitts
34 = Byrd
40 = Allgeier
24 = Huntley
77 = DJM
74 = T Marshall
38 = Shi Smith
23 = Shenault
54 = Foreman
18 = Spencer Brown