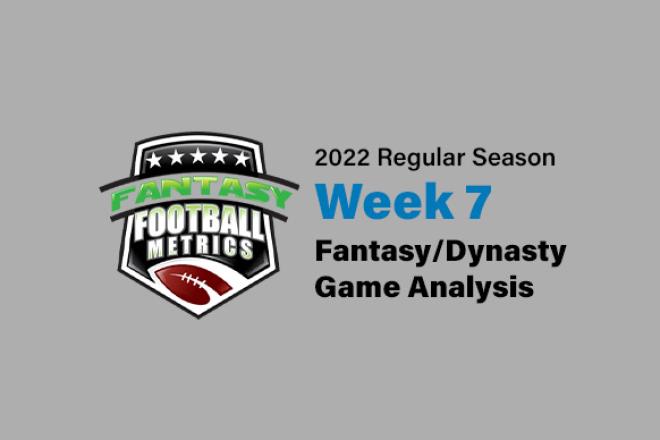 R.C. Fischer
Weekly Game Analysis
27 October 2022
2022 Week 7: Jets 16, Broncos 9 (Dynasty/Fantasy Analysis Game Report)
It wasn't pretty, but that's the way the Jets are gonna be winning this season -- run game, short/limited passes, and defense.
The Jets lost their offense when Breece Hall went down and out…they never scored another TD again in the game after Hall's (another) long TD run, rather adding three field goals the rest of the way while the defense shut out the Broncos for the final 33+ minutes.
The Jets are now (5-2) and on a four-game win streak. They've beaten, in order, for this win streak: Kenny Pickett's relief debut, Skylar Thompson's forced debut, Aaron Rodgers, and Brett Rypien. Their other win this season was a miracle over Jacoby Brissett Week 2. The Jets are not 'there' yet, but they are no longer pushovers. We think they'll start to lose a bunch of tougher opponent games ahead and wind up around 7-8 wins…but if they take down the Patriots in Week 8, then the playoffs are for sure on the table.
Denver is headed the opposite direction…now (2-5) and on a four-game losing streak. Rumor has it if they lose to Jacksonville Week 8, Nate Hackett may be fired…and that seems ludicrous but he's been so bad…so nationally maligned…there's no turning it around with this team/offense and no hope of attracting free agents, etc., so if they're going to fire him at the end of the season anyway…they'll get more credibility doing it now, and they can start negotiating with coaches ahead of everyone else (except Carolina).
One way or the other, whomever the coach is, we project Denver to 4-5-6 wins range by season's end.
*Note any fractional numbers in parentheses (4/2) or (2/3), etc., are a 'quality start' or not marker on a player using 14 PPR points in a game for RB-WR-TE and 21 for a QB…point levels that are good/productive/well above average starts for a Fantasy week. Trying to identify trends, consistency (or not) in players we might not normally realize.
A (3/2), for example, means: 3 times the player hit at/above the mark, and 2 times they did not.
Fantasy Player Notes…
   -- So, with Breece Hall (4-72-0) gone the Jets looked like they were gonna have to go heavy with Michael Carter (13-29-0, 2-45-0/2) the rest of the way…but less than 24 hours later they acquired James Robinson.
So, Carter was the main guy last year…and that was so good that they drafted Breece highly in 2022 and the moment Breece was gone they rushed out to get James Robinson. Message received for Carter?
Carter will be the play Week 8. James Robinson will start splitting Week 9 and be in a 50/50 hot hand with Carter the rest of the season -- both RB2-3s. The Jets offense stinks outside of Breece, and NYJ just lost a top OL for the ROS.
This is assuming something isn't hampering JRob with his achilles. But I didn't see any cause for alarm on tape.
Deep-deep Dynasty side note: Rookie RB Zonovan Knight, my favorite Jets RB now…he was signed to the main roster. He likely will get ZERO chance, but hopefully he gets his chance through some unforeseen way (the way it usually works for UDFAs).
 -- You really don't want anything to do with the Denver backfield…
Latavius Murray (8-24-1, 2-0-0/2) is definitely the lead in this awful offense and bad O-Line.
Mike Boone (4-23-0, 0-0-0/0) got hurt and is now on IR.
Melvin Gordon (11-33-0, 2-17-0/4), I bet will be cut after this week.
Marlon Mack was grabbed off the 49ers practice squad, and he might have a chance at touches if/when Gordon is ditched.
 -- Broncos' receiver notes…
Jerry Jeudy (7-96-0/11) is on the NFL trade block! Why, I'm so surprised…he's so good…the #1 WR taken in his draft class! How could every single football scout walking the planet be wrong here…except for me…alone on the other side of the scouting, like usual…and right, like usual.
Denver should trade this for anything they can get off the best game tally Jeudy has had in like forever. Denver has lived with this for years -- they know he sucks. The rest of the league has no idea. They're still standing by scout's and media reports from three years ago. Economically, Denver needs to get off this now…and I think they will. To what sucker team, I have no idea. My two-cent guess is = Chicago.
Courtland Sutton (3-23-0/9) is a wildly overrated WR in 2022 as well, but he's better than Jeudy. Sutton will stay and be OK with Russ…but when he gets bad matchups, he'll be taken out -- like this game against Sauce Gardner.
Greg Dulcich (6-51-0/9) got everyone's legs tingly with excitement. OH BOY A ROOKIE TIGHT END GOT 9 TARGETS…let's stop everything and get him off waivers because he could be the new Travis Kelce!!! But when Robert Tonyan caught 10 passes the prior week against the Jets, on 14 targets…you yawned. WHY, TONYAN ISN'T A ROOKIE UNICORN THAT COULD BE THE NEXT GRONK-KELCE-GATES COMBO LIKE DULCICH!
Your warped love for rookies and dismissal of 3rd-4th+ year players is going to burn you in redrafts from 2022 onto the future seasons. You gotta rewire your brain…unbrainwash yourself.
You can hardly throw on the Jets corners to WRs, so you're left quick-passing short to the TE…and that's what happened here. Dulcich is a solid prospect but he's not taking off into TE1-dom because of this game.
Hunter Henry up next to get the Jets D…and I told you weeks in advance and I'll bet 80%+ didn't consider it because Henry is old news. Henry is about to get the best TE schedule a TE could ever have the next 7 games. He gets the Jets twice the next 4 weeks. If only he were a rookie…
 -- Jets receiver notes…
They are all not FF-worthy until Zach Wilson is pulled and they go to Joe Flacco…and even then, not that exciting.
Corey Davis (0-0-0/1) is gonna be gone for weeks with an MCL sprain. Elijah Moore comes back this week, maybe, to a few 'shut him up' targets. Garrett Wilson (4-24-0/4) has died due to QB assassination. Denzel Mims (1-4-0/2) got nothing in his starting opportunity here.
About the only interesting Jets WR is Braxton Berrios (2-27-0, 3-15-0/4). An easy throw for Wilson and gets 1-3 carries a game.
 -- QB notes from this game…
Zach Wilson (16-26 for 121 yards, 0 TDs/0 INTs) is gonna get benched ahead, I can feel it. No TD passes for three straight games with his defense getting him the ball plenty? And it's not like it's a blip -- he stunk last year, and he's been back for four games and stinks this year.
The way football analysis works is like if everyone has the awareness and foresight of a toddler. When you're winning, it doesn't matter what the outputs and tape shows…everything is fine. But when you're losing, everything sucks…even if it doesn't. People are seriously saying Brady and Rodgers are done, because they've lost a couple games, they talk about it all day, all week on football shows…and not a peep about how awful Zach Wilson is.
The 2021 QB class is a disaster. Mac Jones benched. Trey Lance was in position to be benched, but he got hurt. Wilson will get benched next. The two worst QBs from the class are the only ones not benched -- Fields and Trevor, but they are definitely not the answer for their franchises.
I'd have more faith, if I were the Jets, in Brett Rypien (24-46 for 225 yards, 0 TD/1 INT) as my QB right now. Rypien, considering his terrible team/coaching and facing the hot Jets defense…he did pretty well all things considered.
 -- DST notes…
The Jets-DST is the #5 scoring DST in FF now…and they are getting better every week. Well coached and Sauce Gardner changes everything. A decent schedule ahead but a problem…they get the Bills Week 9 and Week 14. Week 13 at Minnesota isn't great either. Other than that, the Jets-DST is ready to roll.
The Broncos-DST are the #11 scoring DST on the season. The schedule ahead isn't good, and this offense can't support the defense that well. It's a really good defense too. After Week 8 vs. JAX, there's not a good matchup the rest of the season except Week 12 at Carolina.
Snap Counts of Interest:
47 = Dulcich
35 = Tomlinson
20 = Beck
15 = Saubert
40 = Gordon
31 = Latavius
09 = Boone
43 = Garrett Wilson
35 = Jeff Smith
33 = Berrios
24 = Mims
13 = Corey Davis
43 = Carter
12 = Breece
10 = Ty Johnson