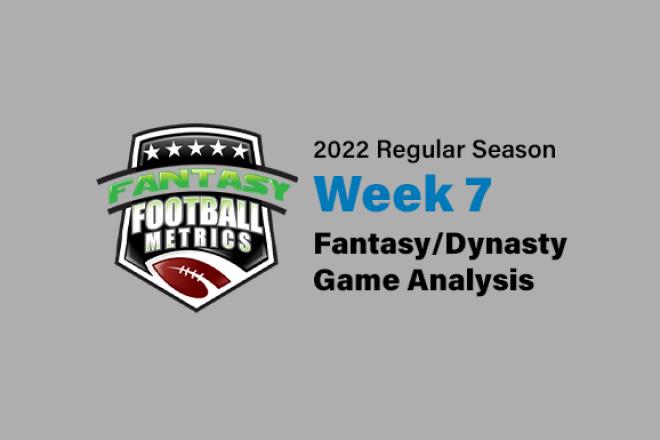 R.C. Fischer
Weekly Game Analysis
25 October 2022
2022 Week 7: Titans 19, Colts 10 (Dynasty/Fantasy Analysis Game Report)
The short summary of this one: The Colts were empty once again in a big spot and things have gotten so bad that the owner forced the coaches to bench their recent expensive acquisition QB and push a 2nd-year suspect/prospect QB into the starting lineup for the rest of the season. An extreme measure for a team still in the general playoff race…but a team that stinks, too…and an owner that is out of his mind constantly.
The reason the team stinks is not only the terrible QB play, but terrible coaching on top of it all…and that will be the next shoe to fall, probably -- Frank Reich is probably 1-2 more losses in-a-row from being fired in-season. He should've been let go after last season, but he's back ruining the franchise in 2022. Honestly, they need to dump the Coaching staff and the GM…but the NFL establishment LOVES the GM who picked Reich and let Matt Eberflus leave and is also the mind behind all these ancient QB changes/failures. The GM also knows all the bizarre owner's secrets so he might be safe for a little longer.
Tennessee doesn't look all that great either, but they are very well coached, so they just jumped out to a 13-0 halftime lead and ran behind Derrick Henry to salt away the victory knowing Matt Ryan wasn't likely to lead a comeback. Tennessee is going to cruise to the AFC South title because they are in the worst division in football…the other three teams are arguably three of the worst 5 teams in the NFL.
The big news from this game/these two teams -- the benching of Matt Ryan, and then more to the point the FF impact of the switch to Sam Ehlinger. We'll start with Ehlinger…
*Note any fractional numbers in parentheses (4/2) or (2/3), etc., are a 'quality start' or not marker on a player using 14 PPR points in a game for RB-WR-TE and 21 for a QB…point levels that are good/productive/well above average starts for a Fantasy week. Trying to identify trends, consistency (or not) in players we might not normally realize.
A (3/2), for example, means: 3 times the player hit at/above the mark, and 2 times they did not.
Fantasy Player Notes…
   -- There's no sense in talking any more about Matt Ryan (33-44 for 243 yards, 1 TD/2 INTs). I've been blasting him since Week 1…I saw the problem early and I was right, the Colts likely saw it too but hoped maybe it would change with more time in Indy -- but it was only getting worse. He is so worried about getting hit he can't operate with normal NFL QB play anymore. He should take his guaranteed contract payout and go retire.
I think he'll wind up as the 49ers' backup this season on a nothing trade or he's cut and signs there to be a backup. Or he just goes away quietly into retirement.
The quick report on Sam Ehlinger is: Gritty performer. Nothing amazing to look at as a physical specimen…and nothing special for an arm strength (isn't a great deep ball thrower), but he has a good sense of timing and touch…or at least he did in college. He's also a pretty mobile QB. He doesn't look like he would be, at a glance, but he rushed for 33 TDs in college in 46 games. He's a savvy runner, not a fast one…a 4.84 40-time with a 7.15 three-cone…but he finds a way to find running lanes, annoyingly so.
Ehlinger's thing is…he's scrappy, he's smart, he's a leader, he's mobile, he's a grinder…all things NFL head coaches LOVE! He's like a little better Taylor Heinicke with a little more running skills/ability. A better Daniel Jones profile.
Ehlinger was incredibly accurate in the 2022 preseason, 80%+ of his passes completed with 4 TDs/0 INTs. He was really solid in the preseason…but that's the preseason. I think the preseason performance has the desperate/loony owner's mind twisted to make such a bold call. I hope Ehlinger grinds his way to success, but…man, I don't know. It's a hard situation to jump into Week 8 of the NFL season with little real NFL time. But anything is better than Matt Ryan right now, so it makes sense.
For Fantasy…Ehlinger has some hope because of his running ability. He's going to run for 20-30-50+ yards in games 5-10 yards at a time and he'll try to run for TDs too; he's not shy about it…taking them away from Jonathan Taylor if need be. Ehlinger might be a 200+ yards passing, 1-2 pass TD hopes, and 20-50 yards rushing per game type output QB out of the gates.
I'm not ready to dive in blind because he's never faced a real live NFL defense. He might do well against weak Washington Week 8, in his debut…and being an unknown commodity -- fresh QBs typically confuse the first defense they face. Week 9 at Bill Belichick could be a different story.
 -- Who will Sam Ehlinger throw to? Hell, if I know. He's never been with the 1st-team in real live action. Let's go down the list and make some projections/guesses…in order of who I think he'll throw to the most…
1) Michael Pittman (6-58-0/9) probably leads the way in targets…he's the team's #1 and Ehlinger can work him on slants and some deep ball 1-on-1s…but I worry Pittman gets iced out some a la Chase Claypool because it's not Ehlinger's favorite type of throw between the hashes on timing routes -- he doesn't have that quick trigger, strong arm.
2) Nyheim Hines (5-41-0/5)…the safe comfortable toss out of the backfield.
3) Parris Campbell (10-70-1/12) could pick up where he left off as the quick pass/dump ball slot receiver. But Ehlinger is not scared like Matt Ryan was…so Sam won't throw everything as a checkdown. He'll wait some to see what develops downfield, while also looking for an escape hatch running lane to keep the defense honest.
4) Alec Pierce (3-37-0/4) will likely get some floaters out his way. Pierce was not running routes that favored scared Matt Ryan…and probably doesn't work well with Ehlinger either but they will connect on some timing deep balls on occasion.
5) Jelani Woods (1-4-0/1)…IF moronic Frank Reich would put him on the field, Ehlinger had some good preseason rapport with the game's largest target, and most underutilized weapon.
6) Mike Strachan (0-0-0/0)…we might see more Strachan on the field with Ehlinger since they've worked together so much. You could see the connection in the preseason. But likely not in the game enough to ever matter much for FF 2022.
 -- Not for nothing, but Ryan Tannehill (13-20 for 132 yards, 0 TD/0 INT) is starting to look a little like fading Matt Ryan too…like a year ago Ryan…more and more ineffective, a little jumpy under pressure…he's thrown for less than 185 yards in a game in four of his 6 games this season. He's an (0/6) for quality starts. Since opening day, he's thrown 4 TDs/3 INTs total in 5 games.
I am so used to Tannehill doing little but handing-off to Derrick Henry and hiding behind play action to Henry that I didn't fully realize how weak his abilities are getting.
The Titans have won 4 games in-a-row but they haven't dominated any game…and are lucky they aren't (2-4) right now with only wins over Indy 2x on the season.
If Tennessee hits a losing streak, one where Tannehill isn't playing well/doing anything…we might start to see rumbling of a QB switch here too…a switch to a not-ready, but playmaking with his feet weapon QB. The Titans cannot compete with Cincy (Burrow) or Buffalo (Allen) or KC (Mahomes), etc., through a gauntlet of them in the playoffs with Ryan Tannehill at QB…they just can't with their O-Line and defensive injuries…but with Malik Willis as a curveball…who knows?
Tennessee has an in-season gauntlet coming up Weeks 9-13 with games against the likes of KC, GB, CIN, PHI. There might be calls for a change to Willis if they start losing these games.
 -- Quick note on Dontrell Hilliard (0-0-0/2)…our Week 7 'out of nowhere' pick at RB. He was open for a pass in the red zone, heading towards the goal line that if Tannehill threw it in-stride, Hilliard probably catches and goes the 3 extra yards for a TD…and at least gave us that. Instead, Tannehill throws it behind him, and the easy toss failed…and Hilliard goes on to put up a total dud game.
 -- Kyle Philips (DNP) was set inactive for this game…he's falling down a well with this staff right now. Even worse, Philips-a-like Mason Kinsey (1-3-0/1) was elevated from the practice squad.
Philips goes from the team's best WR in the summer…to now inactive in games. Tannehill is not getting a lot of help from the staff with their WRs. I bet the Titans makes a move for a WR before the trade deadline…they know they're winning this division, so they know they are going to the playoffs…so, they need weapons to compete. I bet they don't do 'splashy' but instead trade for an ex-Pat cast off like Nelson Agholor or Kendrick Bourne.
 -- FYI, the Titans-DST has held their last three opponents to 17-17-10 points…but two of those opponents were the Colts. Facing Houston Week 8 is a potential DST flier for the week.
The Indy-DST has been pretty solid all season, not allowing a lot of points…but not playing many good offenses either. They did hold KC to 17 points in their Week 3 win, that seems like it happened a hundred years ago.
The Colts-DST is a shaky/flier start vs. Washington Week 8.
Snap Counts of Interest:
44 = Henry
17 = Hilliard
04 = Haskins
64 = Pittman
62 = Parris
62 = Pierce
24 = Alie-Cox
21 = Granson
19 = Jelani (you gotta be kidding me)