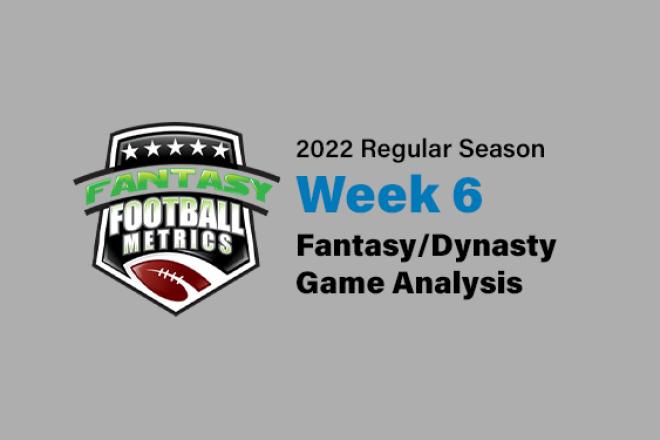 R.C. Fischer
Weekly Game Analysis
20 October 2022
2022 Week 6: Steelers 20, Bucs 18 (Dynasty/Fantasy Analysis Game Report)
I remember thinking from the distracted (8 games at once) live watch -- this Steelers lead/win is impossible, but from the looks of it…it's no fluke. They are playing well, Tampa is not, they are earning this win.
After the rewatch, I think: The Steelers played well, Tampa did not, Pittsburgh earned this win. It was not a fluke.
Things we need to adjust our dials on…
The Chargers are not an 'A' or 'B' team…they are a 'D'.
The Buccaneers are not an 'A' or 'B' team…they are a C+.
Look back over Tampa's 2022 with a more jaded pair of glasses…
Week 1 = handled Dallas OK, but the 'boys lost Dak in-game
Week 2 = muddled by the Saints, but New Orleans is bad too (and no Taysom that game)
Week 3 = lost a close game to the Packers, but GB was nearly about to blow them out of it in the 1st-half. And we now know the Packers aren't that great either, right now.
Week 4 = smacked by KC…kept chasing, but was beaten from the opening bell, allowing 41 points.
Week 5 = a controversial late game roughing the passer call away from a possible loss to the Falcons?!?!?
Week 6 = manhandled by the Steelers, despite Pitt missing half its defense…and losing Pickett in-game.
Week 7 = Thank God they get a team more dysfunctional right now…Carolina.
It wasn't that Brady was out partying at Robert Kraft's wedding or distracted by spending time setting up his Tinder dating profile/account -- it's that we all (football society) have a warped view of this Tampa Bay team. It's just not very good right now.
Perhaps, the veteran Bucs are just coasting now and are about to kick it into another gear to muddle through and win the (easy) division and then really focus come playoff time. But, for right now, this team is flat and has not played a good game yet.
And the reverse for the Steelers. They are not as bad as we (me) might collectively think. Not just because they pulled this upset to break up a four-game losing streak. During that losing streak, they lost to NE by a field goal. The Jets had a semi-miraculous pair of 4th-quarter scoring drives to come from behind to beat Pitt. Even their 38-3 loss at Buffalo…I thought the Steelers were really toe-to-toe trading punches with the Bills but caught/made their own bad breaks against a team you cannot give breaks to.
I'm adjusting my internal dials down on TB, for now…and turning them up for the Steelers. Once Pittsburgh can get past this schedule gauntlet Weeks 5-8, containing at BUF, at MIA, at PHI before a Week 9 bye -- if they could steal a win at Miami, they might have a chance to be in the wild card hunt in the end.
A pre-bet that I love: Week 10 Steelers over/hosting the Saints after Pittsburgh's bye with T.J. Watt and others likely back…and the Steelers possibly coming off losses at MIA, at PHI and sitting (2-6) with several 'quality losses'.
*Note any fractional numbers in parentheses (4/2) or (2/3), etc., are a 'quality start' or not marker on a player using 14 PPR points in a game for RB-WR-TE and 21 for a QB…point levels that are good/productive/well above average starts for a Fantasy week. Trying to identify trends, consistency (or not) in players we might not normally realize.
A (3/2), for example, means: 3 times the player hit at/above the mark, and 2 times they did not.
Fantasy Player Notes…
   -- First, we begin looking at any impressive win over Tampa Bay with…'How did Tom Brady (25-40 for 243 yards, 1 TD/0 INT) lose this game?'
I noted during the rewatch/tape study…this was one of the worst games I can recall Brady playing. He was way off on many throws…and it didn't help that his offense played like zombies around him. No life in this Bucs team…taking on the personality of their room-temperature-tap-water-to-drink head coach. Brady is yelling and showing out often because he has to…he is the de facto coach of this team…the spiritual and football leader.
Brady has looked perfectly fine all season…so, I don't think this game is a sign that the end is near. I think it was just 'one of those games'. But very odd considering the Steelers had a depleted secondary/defense.
Our FFM internal metrics on run and pass blocking…we have the Bucs rated right near the top (with BUF, NE) as the best pass blocking unit in the NFL. Subsequently, oddly, we also have them the single worst run blocking unit. All of which should lead to Brady leading the league, or close to it, in pass attempts this season…good for FF, in theory.
Brady is currently #4 in the NFL in pass attempts…10 behind #1 Justin Herbert.
Tom Brady is (1/5) in quality FF starts this season…but improving as he got Godwin back.
 -- The QBs on the other side of the ball…
Kenny Pickett (11-18 for 67 yards, 1 TD/0 INT) was not really dealing a gem here. He played 58% of the offensive snaps here and had 67 yards passing.
A quick summary of Pickett: He's totally calm-cool-collected in this offense. But he's not slicing and dicing up defenses…he's mostly throwing preordained back shoulder timing passes to the sidelines. He's gonna get himself in trouble if he doesn't start expanding his game…defenses are gonna start jumping these things.
I think he's got it in him to go inside, I know he does -- but he's not going there much so far…thus the reason Chase Claypool is a ghost with Pickett too often. Everything is wing-and-a-prayer Pickett to Pickens-Diontae. It doesn't get any easier with at MIA, at PHI the next two weeks…and then a bye…and then a GREAT schedule to finish out against.
Pickett got concussed in this game, and Mitch Trubisky (9-12 for 144 yards, 1 TD/0 INT) came in and played the best ball of his 2022. Trubisky played like he was semi-possessed AND worked Claypool like a #1 and CC delivered. If Trubisky drew the start Week 7…Claypool might be a WR1 this week. But likely Pickett will be cleared and Trubisky's story re-ends.
 -- Let's talk about those Steelers' WRs…
George Pickens (3-22-0/60 is Kenny Pickett's #1. It's not a debate any longer, to my eyes. Pickett is not only flinging hope passes out his way -- but they are starting to work some pitch & catch, some back-shoulder timing throws. The future is Pickett-to-Pickens, and the future is starting now. It will be choppy because of the next two week's schedule and Pickett still trying to figure things out -- but it's happening, Pickens is Pickett's #1.
Pickens is a (2/4)…(2/1) with Pickett in any game, and the '1' was this game where Pickett left early.
Chase Claypool (7-96-1/7) played, maybe, the best game of his career here. He had th at 4 TD game back his rookie season, which was a 'wow' event for sure…but in this game it was Claypool working like a legit alpha #1 in crunch time, making money catches in critical spots. On the Steelers final drive, with 4+ minutes left, leading (by the final score) 20-18…if Pitt could just get a few 1st-downs and keep it away from Brady, they would win. I'm watching thinking -- no way. No way, the Steelers, with Trubisky are going to get some 1st-downs and ice this game.
The Steelers quickly got into a 3rd & 16, and then you KNEW there was NO WAY they were going to keep this game from Brady…and then Trubisky fired a bullet to a got-open-by-a-small-window Claypool, who caught it and ran tough/fast the extra few yards to secure the 1st-down…a total shock 3rd & long conversion. But then even more shocking…
The Steelers then quickly found themselves in 3rd & 11, and Trubisky sailed a rocket in-between a couple defenders, offline to Claypool who dove, twisting to the misfire and snatched it for the game winning 1st-down conversions. The Steelers…Chase Claypool, miraculously converted back-to-back 3rd & longs in the most critical of time. Prior to all that, it was Claypool who got open/caught the 4th-quarter (ultimate) game-winning TD.
So, all anyone wants to know is -- is Chase Claypool going to be traded to Green Bay? Short answer: absolutely not. Long answer: It's on part one and two of the Tuesday night Video Q&A.
So, what you also want to know: Is Claypool about to rise for FF, finally? Worthy of a Week 7 start? Probably not. He's not a good mix with Pickett…but CC was so good Sunday that it might change Steelers play calls and Pickett's focus when he saw that Week 6 event with Trubisky. I'd rather, for CC, have Trubisky in.
Claypool is a (1/5) this season…got his '1' here.
You know what WR I think the Steelers really would like to trade? Dionte Johnson (5-28-0/7). Highly paid headache WR, he is becoming. Got into a verbal spat with Mitch Trubisky at halftime Week 4, the game where Mike Tomlin changed to Pickett after halftime.
I'm suspect of these highly paid, mouthy WRs…their production/effort seems to dip as their back account grows. Diontae is the logical one to trade here for the Steelers -- you dump payroll and age…Pickens is your franchise QB's #1 WR already…Claypool just re-showed you he's a top NFL WR…you got rookie Calvin Austin waiting in the wings.
Diontae hasn't scored a TD this season and is a (1/5) on quality starts…(0/3) in games with Pickett. In Dynasty, you shoulda dumped Diontae when I said, why I said in the summer of 2022. In redraft, you shoulda never drafted him. You gotta get out of him before everyone realizes he's the team's new #3. Or hold and hope he goes somewhere (via trade) and relights his fuse…but that's always tricky with WRs changing teams/systems/QBs midstream…and expecting instant FF gratification, but it's possible.
My two pushes this offseason, for Dynasty, for players riding high that were ripe for a fall…they fell. Diontae and Kyler.
Rookie Calvin Austin should be added to the roster soon, from IR. He'll have a bit role until one of the starting trio of WRs is gone via injury or trade…or neither happens, and Austin is just a cute couple touch guy dragging down the trios touches a bit more. Austin is the Steelers' 'Tyreek' hope. He's not Tyreek level talented, but he's not bad/he's promising. He's Rondale Moore-ish hope, trying to think of a quick comp/a-like.
 -- Cam Brate was taken off the field in an emergency vehicle after a bad hit…he looks to be OK, but out for a week or two or more. That opens the door for Cade Otton (2-23-0/3) to have an outside shot at a back end TE1 game with Brady ahead…if he can sneak him a TD.
Otton is playing fine, but he's no looming star…just 'good' in a real good spot with Brate out.
 -- Just a sleeper thought ahead… The Steelers-DST. You remember that all-world DST from Week 1 vs. CIN…then they lost T.J. Watt and collapsed against CLE Week 3? They were solid against NYJ Week 4. They were fighting Buffalo well Week 5, but some fluky plays broke the dam…and killed off their YTD averages for the NFL and FF. They just gave fits to TB with half their defense out.
What if they get healthy right around their BYE Week 9?
After the bye… Winston-Burrow-Ryan-Mariota-LJax-Baker-Carr-LJax…the Weeks 10, 12-13, 15 show some hope if this defense is really good at full strength.
 -- An even better analysis of any Steelers game: https://youtu.be/Pg7mZZKfz1I
Snap Counts of Interest:
61 = Diontae
55 = Claypool
53 = Pickens
44 = Najee
20 = Warren
42 = Gentry
30 = Heyward
40 = Otton
34 = Brate
59 = Fournette
16 = R White