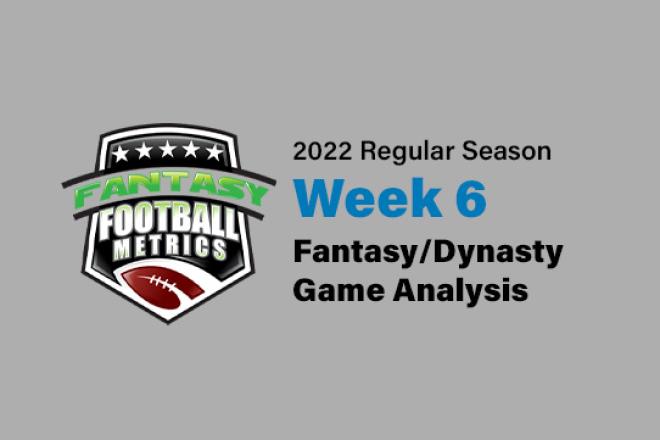 R.C. Fischer
Weekly Game Analysis
20 October 2022
2022 Week 6: Colts 34, Jaguars 27 (Dynasty/Fantasy Analysis Game Report)
Two of the worst teams in the NFL played a game, and one of them won in the end. There…that's the game summary.
Jacksonville took a quick 14-3 lead and were about to put it out of reach early, but then they remembered they were the Jaguars and let the Colts back in…14-13 Jags at the half.
Back-and-forth they went in the 2nd-half…two flimsy offenses trying to score on two poor defenses…and Matt Ryan hit a blind prayer to Alec Pierce with under a minute left for the win.
Jacksonville has totally collapsed. This looks like a 'worst team in football' candidate again. They were so promising for about two games! Now, they're a joke. The defense has totally collapsed, and they have Trevor Lawrence at QB (which is their worse characteristic). They are now (2-4), losers of three in-a-row…and will be lucky to get to 4-5 wins this season.
When we were all excited about them shutting out Indy and then manhandling the Chargers Weeks 2-3…we all read it wrong -- that was a litmus test on how terrible the Colts and Chargers are.
Indy is now (3-2-1)…lucky not to be (0-6-0). They should've lost to an awful Jacksonville team for the second time in this game. When they get smoked by the Titans Week 7 that should start to set them tumbling downhill with a tough schedule from Week 9 on. I don't believe Indy will finish the season with a winning record, nor win the AFC South. This team is a fraud a la the L.A. Chargers…only the Chargers have Justin Herbert. The Colts do not have anything like that at QB.
I'm not picking on the Colts just to pick on them -- I'm telling you they are as bad or worse than the Jags, who are arguably the worst team in the NFL.
That got me thinking…how would I rate the worst teams I see in the NFL right now? From my gut/tape watching…
1) Denver
2) Carolina
3) Washington
4) Jacksonville
5) Indianapolis
I would pick Chicago and Houston to beat Indy, among others. Houston is the 'next' worst team, right there with Indy. The AFC South has three of the 6 worst teams in the NFL, according to my 'gut models'.
*Note any fractional numbers in parentheses (4/2) or (2/3), etc., are a 'quality start' or not marker on a player using 14 PPR points in a game for RB-WR-TE and 21 for a QB…point levels that are good/productive/well above average starts for a Fantasy week. Trying to identify trends, consistency (or not) in players we might not normally realize.
A (3/2), for example, means: 3 times the player hit at/above the mark, and 2 times they did not.
Fantasy Player Notes…
   -- Matt Ryan (42-58 for 389 yards, 3 TDs/0 INT) just had the worst 389 yards passing, 3 TD pass, 72%+ completion game in the history of football. I have no idea how he got to those numbers.
The Jags played way off/back and let Ryan just throw a bunch of short dump passes…with very little pressure. Any time Ryan got pressure here, it's the same story of his every 2022 game -- he gets super jumpy/nervous and just jot potato throws/ditches the ball to whatever he can whether covered or not. Most of this game he was free and clear to dump little passes to Deon Jackson (10 catches on 10 targets, all simple/short)...or wide-open crossers to Michael Pittman (13-134-0/16).
58 throws…42 completed…for a low 6.7 yards per attempt.
Ryan won the game on a 34-yard TD to Alec Pierce…pressure came on a blitz (the Jags figured this out too late), and Ryan literally just threw it blind downfield hoping Pierce could make magic, and he did. Credit to Ryan the throw was where it needed to be -- but my overall point is…Ryan is not slicing and dicing through defenses like an assassin. He's just throwing a lot in some game scripts and letting receivers do things…and you pray he does not have to stay in the pocket long because any pressure makes him operate like the worst QB that I watch every week.
Ryan was sacked 4.5 times per game his prior four games…and that's A LOT…especially in Ryan's jumpy condition. He was not sacked in this game…shockingly…and thus a major output game.
Ryan is going to face higher pressure pass rushes ahead…TEN Week 7 is middle of the pack in pressuring (but I know they will dial it up with Vrabel having two weeks to study this), and then WSH Week 8 is the 3rd highest pressure D so far this season. Week 9 vs. NE, the 6th-highest pass rush pressure defense. Jonathan Taylor back will help relieve some of this pressure too…but it will also drop Ryan's pass attempt count, in theory.
Summary: Ryan is not rising into a topflight passer…he's been pushed into high volume situations, and he's gotten good yardage counts off it -- and Tennessee this week comes off a bye and gets Bud Dupree back healthy, among others, to help the cause.
Ryan is a (2/4) so far this season.
 -- Let's touch on some of Ryan's receivers…
The huge Pittman game was totally allowed by the Jags…they let him run loose most of the game, and Ryan found him easily/often. Pittman is (3/2) this season, so far.
Alec Pierce (3-49-1/7) finally played more snaps and got involved/targets earlier -- but there's a huge issue happening here. Ryan is simply terrible throwing downfield. He was way off trying to get the ball to AP 7-10+ yards downfield all game…2 catches on 6 targets for 14 yards before the semi-hail mary game winner at the end. Pierce looks great…but Ryan is absolutely the wrong QB to work with him for Pierce to go to any next level. Pierce is a (1/4) so far this season…falling short of a quality start this game barely.
Parris Campbell (7-57-1/11) got in on some of the wide-open short crossers too. I didn't see a step up here to a new level. Campbell posted a quality start here, his first of the season (1/5).
 -- Jelani Woods (2-27-1/3) is starting to come on. His snap share has risen weekly. His snap share has gone from 9% to 16% to 23% to 23% to 29% to 38 % from Weeks 1-6. He tied Kyler Granson for the most snaps of any Indy TE this game…a first for Woods this season.
But better than rising playing time is -- I saw Woods in purposefully on key passing situations. And even better…Ryan is looking for him, especially as a bailout (because his size/target range is perfect for jumpy Ryan) and especially looking for him in the end zone. 3 TDs for Woods this season…the 3rd most (tied) TD catches among TEs this season.
Jelani looks good. He looks confident. He looks like a star waiting to happen. The only thing that can hold him back is the same thing Kyle Pitts has to deal with…and it probably will hold him back until a new staff comes in for 2023.
 -- Deon Jackson (12-42-1, 10-79-0/10) was really good here…like he needs to play more 'good'. Like, Nyheim Hines should be just a return man and let DJax work with Jonathan Taylor type of good. But Frank Reich believes Hines is their best player, so not likely to happen.
But if you own Jon Taylor -- Deon IS ABSOLUTELY the guy to own as a cuff.
If you used DJax for an emergency Week 6, and now you still have him -- he's tradable to the JT owner for something potentially.
 -- Trevor Lawrence (20-22 for 165 yards, 1 TD/0 INT, 6-23-2) completed all but 2 of his passes in this game, which lets you know he was throwing a bunch of short, safe passes…because that's all he's really capable of. His 'longest' pass play was a 22-yard screen pass to Travis Etienne…where ET did all the work.  
Two rushing TDs, an anomaly, from failed RB attempts, saved his FF scoring.
 -- Evan Engram (5-40-0/6) has 5.5 rec. (8.0 targets) and 55.0 yards per game his last two games. He was dying off before that but has rerisen the last two weeks…as Trevor reels it back in shorter and shorter, Engram is a key/big target to hit for short, quick-hitters.
Week 7, Engram faces NYG…and he has bad feelings about his NYG stint and has gotten chippy with NYG fans over the summer. He's going to be amped up this week, you gotta believe.
 -- Jaguars RB notes…
Travis Etienne (10-86-0, 2-22-0/2) started this game…his first start…it's been trending that way for weeks. Etienne had a 48-yard run and 22-yard screen and run in this game…he burst into the open field on both plays but was caught up to or from behind by defenders on what looked like they could be two house calls. Etienne just isn't that good, but he's working better than James Robinson (12-54-0, 1-1-0.1), who is grinding but looks like he's had the life zapped out of him recently.
JaMycal Hasty (3-57-0) came in on a 3rd & short in the 2nd-half and ripped off a 61-yard TD run. His playing time, his 'making an impression' has been building a tiny bit each week. He's forcing his way into more snaps/touches.  
Honestly, none of these guys looks all that impressive. Capable, but not getting attention…Deon Jackson is better than all three of them.
 -- A couple defensive notes…
The Jacksonville defense looks terrible.
12.7 PPG allowed, 306.7 yards allowed, and 7 turnovers = Jags D Weeks 1-3 (2-1 record)
25.3 PPG allowed, 361.0 yards allowed, and 1 turnover = Jags D Weeks 4-6 (0-3 record)
It's not a schedule thing…it's a reality thing. Five weeks ago, they shutout Indy with Jon Taylor…five weeks later Deon Jackson helped drop 34 points on them.
Rookie #1 pick Travon Walker (4 tackles, 1 QB hit) is NOT Micah Parsons yet. Walker got a sack Week 1 and he hasn't had one since. I don't even see him getting my attention on game rewatches. He's like a ghost suddenly…like he was at Georgia so often.
The Indy-DST isn't all that good, but not terrible…just note that they face Washington Week 8, if you're looking for any a-week-from-now sleeper/desperation DSTs.
Snap Counts of Interest:
81 = Parris
80 = Pittman
53 = Pierce
19 = Strachan
31 = Woods
31 = Granson
28 = Alie-Cox
62 = Zay
58 = Kirk
27 = Tim Jones (he looks good to me…great one catch here, great preseason)
05 = Agnew
29 = Etienne
27 = JRob
10 = Hasty