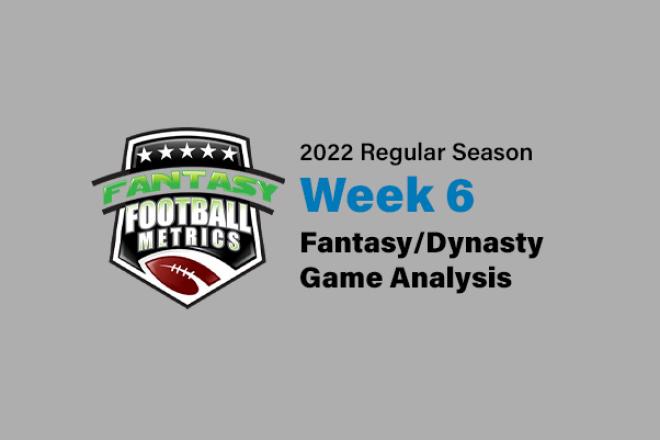 R.C. Fischer
Weekly Game Analysis
19 October 2022
2022 Week 6: Bengals 30, Saints 26 (Dynasty/Fantasy Analysis Game Report)
Not a lot of mystery to this one…
The Saints played their typical conservative/solid-ish game -- they held the time of possession advantage (32/28) and gained more yards than their opponent and converted nearly 50% of their 3rd-down efforts, and yet they lost. Why did they lose? Because they have Andy Dalton…and, more importantly, the other team has the best pocket QB in the NFL…Joe Burrow.
The Saints played about as well as they could, and every time they took a lead…the Bengals flew down the field to keep up and eventually took over. The Saints are a waste of an NFL team…not terrible enough to blow up and rebuild, but not good enough to matter for the playoffs. They are (2-4)…lucky not to be (0-6) and they are headed to another non-playoff season and might have Dennis Allen as a one-and-done head coach.
The Bengals are now (3-3), winners of three of their last 4…almost four of 4. With a little luck, the Bengals could be (6-0). Cincy is being taken very lightly because of their (0-2) start, but they may be gearing up to head back to the Super Bowl. Yes, I know sexy Buffalo and Kansas City exist. But like last season, everyone still does not believe in this team, because…well…they're the Bengals/Bungles…we can't wash that from our memory banks just yet. But they have the modern era Tom Brady and a really solid defense. You can go far with that…they did last year.
*Note any fractional numbers in parentheses (4/2) or (2/3), etc., are a 'quality start' or not marker on a player using 14 PPR points in a game for RB-WR-TE and 21 for a QB…point levels that are good/productive/well above average starts for a Fantasy week. Trying to identify trends, consistency (or not) in players we might not normally realize.
A (3/2), for example, means: 3 times the player hit at/above the mark, and 2 times they did not.
Fantasy Player Notes…
   -- Taysom Hill (5-39-0, 2-4 passing for 16 yards, 0 TD/0 INT) was back in the wildcat 10 times in this game. That's where we need him to be…we'd like more, but we need near 10+ times a game at wildcat.
New Orleans wasn't in the goal-to-go situation ever in this game, so that zaps Taysom's superpower pretty hard. He's money when they get near the goal line. The closest they got was like to the 14-yard line for a red zone play. It was just one of those games. Still, Taysom can thrive without that…but the juice is when the Saints are getting deep inside the red zone.
One of Taysom's incomplete throws was him dropping back to pass from the 50-yard line, and he planted a bomb on the money to his WR, but the DB played it well and knocked it away…6-8 FF points taken away, and likely more passing would have then been tried with that sweet memory given to the Saints' staff.
Taysom has 5 rushing TDs this season…1.0 per game in 2022. He's starting to throw more. He's a legit TE1 hope every week with huge upside every time he takes the field. He is their best player/weapon on offense. But if he doesn't get a TD, especially in PPR leagues…you're gonna get a sucky 3-7 point game…but that pretty much describes most TEs anyway…TD dependent to matter.
TE TDs season-to-date 2022:
7 = Kelce
5 = Taysom, Andrews
3 = four tied…including Jelani Woods
Most non-Kelce/Andrews TE you start each week, you hope they get 8-10+ points in PPR off rec. + yards, and then pray you get a TD to make it a great/quality start. With Taysom, you can legit hope he goes 15-20+ any given week. Hill is a (2/3) so far this season with quality starts.
Travis Kelce is a (5/1) this season, so far.
Mark Andrews (4/2)
Zach Ertz (3/3)…with a 14.0 exact game to get that #3.
Then you have a few TEs (like Njoku, Higbee, Everett) with two quality starts in 6 games, with Taysom having two in 5 games.
Taysom is as good as it gets outside of Kelce-Andrews with way more upside hope than any of the other non-Kelce-Andrews options.
 -- Joe Burrow (28-37 for 300 yards, 3 TD/0 INT, 4-25-1) was sublime here. Having Tee Higgins (6-47-0/10) just makes everything better for this offense/passing game.
Watching Tee play in 2022…I don't know that he isn't a better FF WR to have than Ja'Marr Chase (7-132-2/10), PPR-wise. I do know you can acquire Tee more realistically than Chase. Especially right now with Tee putting up a zero Week 5 (active, played limited, but no targets due to ankle) and then his mild game here. Recent returns have been punishable by current owners.
Two non-amazing games in a row, the 'ankle' issue looming…Tee is more available now than ever this season. I'd dive after him if possible…especially if I see a 'FP' practice tag, letting me know the ankle issue is past.
Great schedule ahead for the Cincy pass game.
 -- Rashid Shaheed (1-44-1, 0-0-0/1) ran a jet sweep for a 44-yard TD in this game, and I'm like…'Who the hell is Rashid Shaheed'. I know every NFL player -- but could recall anything about him. Apparently, I did some basic scouting of him pre-Draft, looking back at my notes, but dismissed him to look any further.
Here's a short scouting report…
Five-year player at FCS Weber State. All-American kick and punt returner.
Seven kick return TDs in his career…and that's attention getting.
Led his team in receiving in 2021: 39-700-4 for the season, but his passing game wasn't very good in college.
No Pro Day completed for speed/agility/vertical.
He's a skinny speedster who looks like a shorter Tyquan Thornton from this week…taking a jet sweep and just slicing by and accelerating past defenders for a long rushing score.
Also, on the second play of the game, he came in and ran a straight deep route and had 2+ steps on his defender but Dalton threw it way off. His only target in 9 snaps of play…elevated from the practice squad for this game. He almost had a splash long TD to start this day.
Looks like he's just a random speedster threat that will be used lightly by the Saints…more lightly as/if the hurt WRs start to return to action. No breakout star situation that I see here.
 -- With all the things swirling around Alvin Kamara (19-99-0, 6-25-0/9), if you have AK…make sure to have Mark Ingram (9-46-0, 1-11-0/2). And for those without AK…Ingram is another name who is an injury to the starter away from being a viable RB2.
 -- Juwan Johnson (4-41-0/6) looked really good here this week…the first time I've seen him work well with Dalton. Note: Juwan gets the Arizona defense Week 7…the one that always gives to the TE. And Adam Trautman is likely out hurt for this game as well.
I'm hoping the Saints will play Hill a few more snaps at true TE in this game and throw him the ball a few times against that D, but that's probably asking too much.
 -- Just FYI…
The Bengals have one of the 10 best defenses in the NFL. Top 10 in many key metrics…except they are not racking a lot of sacks (near bottom of the league). Top 10 to my eyes.
Not top 10 in FF scoring…they are #19 in FF scoring because they are not getting sacks/turnover at a high enough rate.
Not an amazing defense, but better than what people think. In good matchups…they are useable/hopeful.
Snap Counts of Interest:
54 = Callaway
51 = Kirkwood
51 = Tre'Quan
12 = K White
09 = Rashid Shaheed
56 = Juwan Johnson
16 = Trautman
15 = Taysom
41 = Mixon
14 = Perine
03 = Ch Evans