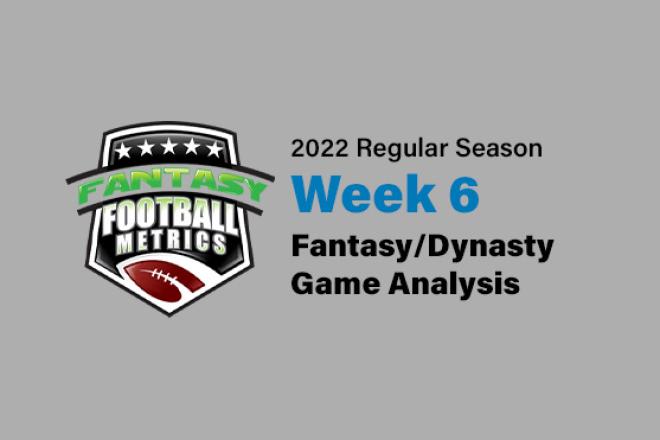 R.C. Fischer
Weekly Game Analysis
19 October 2022
2022 Week 6: Jets 27, Packers 10 (Dynasty/Fantasy Analysis Game Report)
The narrative from this game is: The Jets won…winners of three in-a-row and are rolling, and the Packers, losers of two in-a-row, are dying.
So, no hysterical criticisms of the Jets…everything is wonderful.
…and the Packers must change everything, trade for any WR still alive, and cut/bench several people.
It's kinda the way we run our Fantasy teams. If we just won last week, everything feels fine…the glass looks half-full on everything now and going forward. If we are coming off a loss, then several players must be cut/punished for the crimes against humanity, and everyone else in the league has a better roster, and you cannot believe you drafted these players.
The Packers have issues, but they are not as bad as the sky that's currently falling on them. The Jets have won three in-a-row catching Trubisky/Pickett, Skylar Thompson, and then winning this muddled game played in a mild drizzle…the Jets are not as good as people think, but they are no longer a total bottom feeder team.
This game was a 3-to-3 tie/slog at the half. The Jets defense played well. NYJ made a few plays or two to keep drives alive as the game went on and took a lead and Green Bay could not get in gear to answer. This game, on my rewatch, came off as two stumbling teams playing to a sloppy standoff and one of them played with a little more effort and caught a few more breaks.
The Jets are now (4-2)…lucky not to be (3-3) or (2-4). They are improving, but they have got a long way to go. In the end, I think they will finish last in this division…suddenly, a very good division.
The Packers fall to (3-3)…they can no longer flip a switch and beat teams. The team is taking on Matt LaFleur's empty suit coaching…he has no great answers, and his team is getting away from him/he's losing the locker room type of empty suit…and Aaron Rodgers usually saves the day/coaching careers but he acts like he's a totally separate entity (and he is) doing his own thing, appearing everywhere to talk about whatever he wants to talk about…I like it, but I'm not sure the Packers staff and all his teammates do.
There is still time for the Packers to make some tweaks and get to 10-11 wins and win the division or just make a wild card. This is a sleeping giant-ish team that may never wake up…but the potential they might wake up is there.
*Note any fractional numbers in parentheses (4/2) or (2/3), etc., are a 'quality start' or not marker on a player using 14 PPR points in a game for RB-WR-TE and 21 for a QB…point levels that are good/productive/well above average starts for a Fantasy week. Trying to identify trends, consistency (or not) in players we might not normally realize.
A (3/2), for example, means: 3 times the player hit at/above the mark, and 2 times they did not.
Fantasy Player Notes…
   -- I'm not giving up on Aaron Rodgers (26-41 for 246 yards, 1 TD/0 INT) so easily. He's not the Rodgers of his prime but he's still really good…a QB1 talent in a QB2 offense right now. He had a shot for at least 1-2 more TD passes in this game…and had he got one more, it would've been five games in a row with 2 TD passes in each game. Had he got that one more TD pass, he'd have the 3rd most TD passes (10) among QBs since Week 2 (through 6)…only Allen-Mahomes with more.  
This is happening with Green Bay running too much and some dysfunction among his WR rotation/injuries. What happens if it starts coming together for the GB offense?
Also, this Week 2-6 stretch of hidden goodness happened against the #3 (CHI), #7 (TB), #14 (NE), #8 (NYG), #12 (NYJ) pass defenses in the league. We've been at the lowest point in the GB offense continuity as it's facing a tough schedule -- but things are about to change.
Week 7 = at WSH (#15 pass d and falling fast)
Week 8 = at BUF (#11 pass d, no thanks)
Week 9 = at DET (#26)
Week 10 = v. DAL (#4)
Week 11 = v. TEN (#32)
Three good starts the next 5 weeks over the bye weeks if you need something.
 -- Yes, the Jets defense is getting real-ish. Top 10-12 in most NFL defensive metrics…and that's with starting slow against BAL-CLE-CIN out of the gates and then starting to perk up/go strong against PIT-MIA-GB. DEN-NE the next two weeks are good matchups.
The Jets are a, let's say, 'C+' defense right now…working their way towards a 'B'…getting an 'A' matchup with DEN in Week 7 and 'B/C' matchup with NE Week 8. Good and useful.
Sauce Gardner (3 tackles, 2 PDs) has changed everything, and D.J. Reed (3 tackles) has been a steal from Seattle on the other side. A solid front seven, two ace corners developing. This is a defense getting tougher every week…and led by a very capable, emerging D-C.
In their last 3 games, they've allowed 2 TD passes and gotten 6 picks. How do you think injured/Denver-version Russ or Brett Rypien will fare against them Week 7?
 -- Because the Jets corners are so good, it launched Robert Tonyan (10-90-0/12) to a career day in catches/targets. Tonyan is a viable TE1, back-end…but this game was more 'what you do against the Jets, because they take away WRs'.
Randall Cobb (1-8-0/1) got hurt and is lost for the next 3-6 weeks. Once that happened, and once the Packers got desperate to move the ball, Rodgers was just winging it to Allen Lazard (4-76-1/9) hoping for a prayer to be answered, and Lazard did 1-2x against tight coverage. Rodgers is moving more and more to throwing to Lazard as his BFF. It's happening…it's not going away.
Romeo Doubs (4-21-0/9) is not 'it'.
I do wonder whether Rodgers will give Amari Rodgers (1-14-0/1) the time of day in Cobb's spot or not. Probably not. If Amari gets a decent look this week, it will be 2-5 targets and 2-4 rushing attempts, and he might be a shock WR3-4 this week.
 -- Zach Wilson (10-18 for 110 yards, 0 TD/0 INT) looked as weak as ever. No progress. No nothing from him. He played a game quality that meant the Jets should've lost, but they didn't.
Zach Wilson has 1 TD/2 INTs total in his 3 games back as starting QB…completing 56% of his passes. A QB change is coming, as soon as they start losing…but the Jets have won 3 in-a-row, so everything is A-OK right now. The moment they lose a game or two, the media and fans are going to consume Wilson…and the Jets will realize they have a better team with Joe Flacco right now.
It's coming…I just don't know when. Possibly Week 11 after a Week 10 bye and a Week 9 ass-kicking dealt to the by Buffalo…if they lose Week 7 at DEN and/or Week 8 v. NE…especially if it's a bad loss to NE it could happen sooner.
Zach's issues are dragging down all the Jets WRs to WR3-4 status.
If you sense Flacco is returning in a few weeks…buy low on Garrett Wilson (1-8-0/5) ahead of it, but we're also getting to the colder, windier winter weather period for the Jets' receivers/passing game.
Garrett with Zach (3 games): 2.0 rec. (5.0 targets), 25.3 yards, 0.0 TDs per game.
Garrett is a (1/5) this season, so far…but way better with Flacco.
 -- The GB RB duo has been pretty weak this season…
Aaron Jones (9-19-0, 3-25-0/4) is the #18 PPR RB in PPG this season…and has a (2/4) quality start split.
A.J. Dillon (10-41-0, 4-11-0/6) is outside the top 36 in PPR PPG and has a (1/5) quality start split with 5 straight non-quality starts…bad ones, all under 10 PPR points each game.
 -- But Breece Hall (20-116-1, 2-5-0/2) is on fire…the #8 PPR PPG RB on the season with a (4/2) split…4 quality starts in a row. He doesn't look special on tape, but he's getting the job done and getting a good volume of touches on the ground or air each week.
 -- Stick by the GB-DST? You don't have to. It's not working great for FF. NFL-wise they are OK…FF-wise they aren't doing much of anything. Great matchup with Washington Week 7 might keep you in for another week. I'd rather have the Jets-DST.
Week 6 was the week the Packers 'changed things up' and I didn't see any great difference…they were OK against a bad passing game in the on-and-off rain and got run all over.
Snap Counts of Interest:
41 = A Jones
36 = Dillon
46 = Tonyan
27 = M Lewis
71 = Lazard
70 = Doubs
26 = Cobb
24 = A Rodgers
47 = C Davis
32 = E Moore
24 = G Wilson
16 = Berrios
43 = Uzomah
37 = Conklin
37 = Breece
27 = M Carter