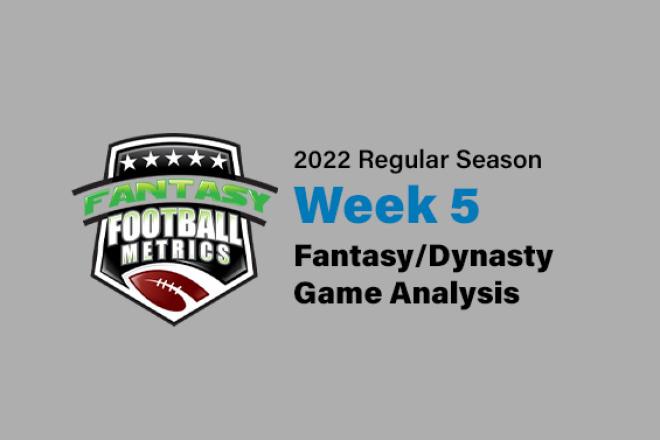 R.C. Fischer
Weekly Game Analysis
15 October 2022
2022 Week 5 Game Recap: Patriots 29, Lions 0 (by Ross Jacobs)
I have very few notes about this one. It was a straight-forward affair. The Patriots didn't do anything special really, just played solid football and let the Lions implode. They aren't a very talented team but Belichick is still running things and he's got his guys prepared. They are always going to kill weaker teams because they are just better coached.
The Lions are at a crossroads. They bought into Dan Campbell's tough guy schtick but now the losses are mounting and so is the frustration. This is what I worried about with them while everyone else was getting so excited during Hard Knocks. It's still not a very good team, I'm sorry. They are likable. They have personality. They are easy to root for. They are getting better...but they started as one of the least talented teams in the league and it takes time to build up from that. A couple of high draft picks didn't suddenly make them a playoff team. I don't think management will pull the plug on Campbell this fast, but surprises happen every year. If they can't start winning at least a few games I could see him being gone at the end of the year.
Fantasy Player Notes:
 – Damien Harris started this game as usual and was rotating every other series with Rhamondre Stevenson but then he got pulled with another hamstring injury and is likely to miss a few weeks. 
In his absence Stevenson got all the remaining work and went off...partly because the Lions suck on defense but also because Stevenson is just a really good RB, much more talented than Harris in my opinion. Harris isn't bad but he's limited to mostly a straight ahead power runner. Stevenson brings so much more to the table in the passing game but he's also a far more elusive runner which he showed off here with multiple long runs and several jump cuts that left my jaw on the floor. 
He's a top 5 option against the Browns this week and a lock RB1 while Harris is out although I'm sure the Patriots will use some combination of Pierre Strong and Kevin Harris to spell him.
 – Bailey Zappe played a nice game managing things. The stage wasn't too big for him and if you didn't know any better, you'd swear it was Mac Jones back there. He's the perfect backup for Mac and can hold down the fort and if he keeps playing well they might stick with him when Mac comes back, at least for a while.
 – Zappe's top receiver was clearly Jakobi Meyers, the easy, safe throw underneath. Meyers is quietly averaging 17.4 ppg in ppr leagues. He's been the #1 here for the last 3 years...not sure why anyone thought that was going to change. He's a good player.
Zappe did chuck a couple fades to DeVante Parker but he was tightly covered both times and drew pass interference. He's clearly the #2 option in a low volume attack. Will that change if/when Mac comes back? Maybe. I didn't see anything amazing here but it was a weird game.
 – The Lions mostly shot themselves in the foot here. Jared Goff was under a lot of pressure and the Patriots clearly were not threatened by Jamaal Williams so they were just sitting back in zone coverage getting pressure on Goff with just four rushers. There was just not a lot of room for him to throw to. Getting Amon Ra St Brown off a pitch count should help, as will getting Jameson Williams on the field. Detroit really needs a deep threat to open things up for everyone underneath.
With Amon Ra rotating in and out it was Josh Reynolds that Goff was looking for most plays. Those two have a nice connection and I expect Reynolds to stay as the #2 option once Ra is 100%...at least until Jameson is ready.
 – Detroit really needs to get the ball to Craig Reynolds more with Swift out. He's clearly their best RB and I think they finally realized it in the 4th quarter because they started trying to get him matched up against LBs coming out of the backfield. Great job guys, it only took you the entire game to get it...but at least they finally did and he led the RBs in snaps. Most teams would get one good play and then bench him the rest of the game.
Snap Counts of Interest:
60 = Josh Reynolds
56 = Raymond
35 = Kennedy
31 = Craig Reynolds
22 = Williams
14 = Jackson
56 = Hockenson
48 = Meyers
31 = Parker
25 = Thornton
54 = Stevenson
59 = Henry