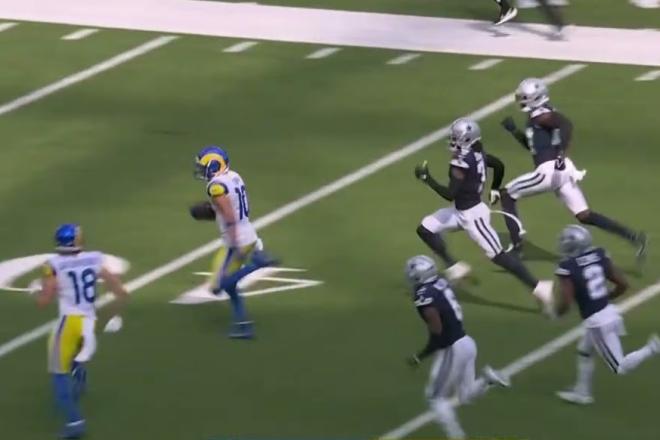 Ross Jacobs
Weekly Game Analysis
14 October 2022
2022 Week 5 Game Recap: Cowboys 22, Rams 10 (by Ross Jacobs)
This game was actually pretty competitive despite the final score. Dallas got a sack fumble for a TD on the third play of the game and then blocked a punt not long after which set them up for an easy field goal. After just six minutes of play it looked like Dallas might blow the doors off of LA. Both offenses went nowhere for a few series until Cooper Kupp caught a simple crossing route and outran the entire Dallas defense for a long score. Suddenly the Rams had the lead. It wouldn't last.
Tony Pollard answered the Kupp TD with a long one of his own and Dallas never relinquished the lead again. They kicked a few field goals while the Rams missed one and blew a couple of good scoring opportunities after some good drives late in the game. A few inches here or there, a different bounce of the ball and the Rams very well could have won this game.
These are two similar teams in a lot of ways and they are just about the same strength overall, both top 10-12 teams on the back of their defense, only Dallas has a top 5 defense and bad offense and the Rams are slightly more balanced. When Dallas gets Dak back we'll see if that propels them up a little more, but I'm already sick of hearing people that know nothing saying Cooper Rush should keep the starting job. No. He's not good, seriously. He's game managing his way to a good record with a ton of defensive help. It's just like the people that loved Tebow so many years ago. Denver wasn't winning because of Tebow, they were winning in spite of Tebow. Same thing with Rush.
Fantasy Player Notes:
 – Well, Dallas suddenly fancies themselves a running team and that led to Rush only throwing 16 passes. No WR can do well for fantasy with that little volume. I suspect it's an aberration and the coaches were simply trying to protect Rush from a very solid Rams defense. And props to Dallas, they ran it right at LA and couldn't be stopped. I do expect a more pass heavy gameplan once Dak is back, specifically a quick strike offense, lots of short passes. That fits Dak's style but also helps the offensive line out.
If Dallas does switch to that style of offense with Dak it could mean Noah Brown might be viable as a WR3 after all, but if they stick with the ground-heavy attack then he's done for. It'll be the Lamb and Gallup show.
 – I hope you quit Allen Robinson weeks ago when RC warned you, but if not, it's seriously time to give it up. I watched ARob a ton here to see what the problem was...it's not Robinson. He looks as good as ever, smooth, fast, hands are fine. Anyone claiming he's dust doesn't know what they are talking about. The issue is either Stafford or McVay. Either Stafford just refuses to look for him or McVay isn't calling plays for him. I suspect it's a little of both but mostly McVay at this point. He's infatuated with trying to get all these cute plays out of the backfield to Ben Skowronek instead of using his all-pro WR.
Whatever the case may be, Robinson is not remotely part of this offense right now. I suspect that will change at some point, but there's no sign of it right now, not even close. Either dump him for something more promising or, if you have the depth for it, stick him on the far end of your bench and pray for something to change.
 – Right now the offense is obviously Cooper Kupp first and foremost, then Tyler Higbee second, then Skowronek. That's the passing game order. They'll take a shot or two deep to Tutu Atwell, which they did here for a big gain, but Atwell isn't doing anything other than run really fast. He's not ready for any sort of breakout.
 – Just like Robinson is dead in this offense, so is Darrell Henderson...sort of. McVay is really irritating me right now. He started the game off going 100% to Cam Akers trying to "fix" him. Guess what? It went nowhere as usual because Akers is toast and the offensive line can't block anyone, certainly not the Dallas defense. Once the game started getting away from him in the middle/late 3rd quarter, out comes Henderson playing almost every snap and working the passing game extremely well...
Why the $%&@*! wouldn't you play the guy you trust in critical situations for the entire game instead of waiting until you're losing?? It makes no sense...except, well, this is what NFL coaches always do. So what to do with Henderson? Hell if I know. Same thing as Robinson I guess. He's no good for fantasy until something happens to Akers or McVay gets tired of this nonsense and just starts riding what's working. Henderson is useless...until he isn't. Fantasy is fun, no?
Snap Counts of Interest:
64 = Kupp
57 = Skowronek
54 = Robinson
Powell = 11
Atwell = 9
37 = Henderson
20 = Akers
63 = Higbee
51 = Lamb
42 = Brown
30 = Gallup
37 = Hendershot
35 = Ferguson
36 = Elliott
23 = Pollard