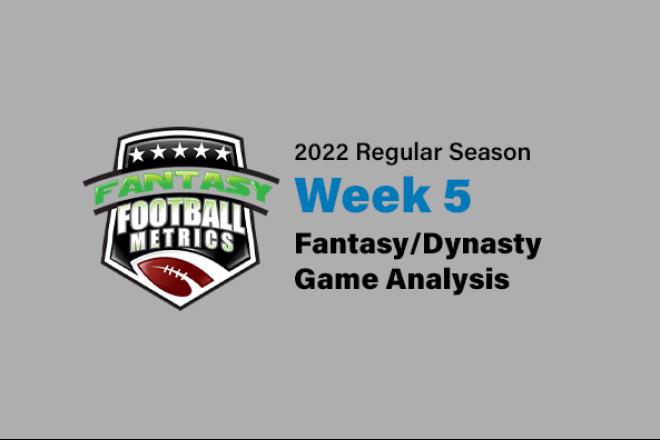 R.C. Fischer
Weekly Game Analysis
13 October 2022
2022 Week 5: Bills 38, Steelers 3 (Dynasty/Fantasy Analysis Game Report)
This really wasn't as bad as the score indicated. I mean, Buffalo is that good and was gonna win but this was a tough little battle from the jump -- but everything fluky that could go wrong did against Pittsburgh (a 98-yard TD pass, followed by a muffed kick return, and so on)…and they still fought past it, trading blows with the Bills but the fluke events wouldn't stop, and it broke the Steelers will eventually.
The Bills are already clearly better, and then they're handed gifts and make surreal plays…so, the Steelers never stood a chance, but when this was a game -- the Steelers were fighting the Bills hard…harder than I realized from the live watch Sunday, harder than I expected.
It made me think maybe -10.0 is too much for the Bucs to be laying to the Steelers this week?
Buffalo is still playing at a high level and now have young players emerging more and more every week -- this team is tough, loaded with talent, and still has Tre'Davious White to return…along with other key defenders to take them to an entire other level.
The Steelers are done for 2022. They are (1-4) and headed to at best (2-6) before their bye…but possible (1-7). So many issues but a few, young bright spots on their roster…but the bright spots are on offense where Mike Tomlin is not going to help it at all. Could be some dark years ahead for Pittsburgh, whose fan base will not stand for it.
There's a ton of young, emerging rookie talent to discuss from this game…in fact, that's all there is to talk about…but there's a lot of it, so let's go…
Fantasy Player Notes…
   -- Let's start at QB…Kenny Pickett (34-52 for 327 yards, 0 TD/1 INT).
He looks fine…especially for a rookie. He was not jumpy at all facing this fire breathing dragon Bills defense. Pickett has a franchise QB mind.
His arm…well, it's good enough but he's gonna need time to work through the fact that he doesn't have the arm of the elites but does have a lot of anticipation/vision, so he'll get there but with some bumps and bruises and bad INTs along the way.
He might have some OK games for FF ahead when he faces a so-so defense, and Pitt is down, and he has to throw 40+ times to keep up…because the Steelers have no run game at all.
He's a QB2 in 2022…occasionally a QB1 in a great game flow/heavy volume…sometimes, more times a bland QB3 in a heavy run game event.
 -- Who is Pickett's favorite receiver?
It looks like George Pickens (6-83-0/8) is starting to enter that race. Six catches on 8 targets exactly in each of his two games with Pickett. When Pickett is trying to move the ball for bigger yardage, he is flinging it to Pickens for a hope…and the hope has been becoming reality.
Pickens looks more purposed with Pickett now…because he knows he's getting the ball, finally. It's not pitch & catch work, so that's a concern that they can have consistency in 2022…but, at least it is now something…Pickens as an FF option each week now -- and can grow from there.
Diontae Johnson (5-60-0/13) got more targets in this game…I'm sure the play calls are more directed at/for Diontae right now, but Pickens will be that guy before long (might not be until 2023). The emergence of Pickens helps Diontae…the switch to Pickett helps Diontae. Once the Steelers get past their Week 10 bye, then the schedule can help Diontae (and all the Steelers options). Still just a WR2-2.5 in 2022.
Chase Claypool (5-50-0/9) made some tough catches on several Pickett misfires…CC is getting the raw end of the deal of the Steelers passing game issues. Pickett is preferring short dump passes to RB or TE or just flinging it down the sidelines to Dionte or Pickens. Establishing a sweet game with CC in the slot working over the middle in shark infested waters…Trubisky was too afraid, and Pickett isn't comfortable there yet either. The rise of Pickens is another nail in the Claypool coffin here. Claypool should be the lead guy but he's not even close.
It won't be long before rookie Calvin Austin enters the fray and helps change the offensive dynamic…and pulls more targets away too…as a 2-5 targets a game homerun hitter guy in 2022. An eventual starter with Pickens and ____ into the future.
 -- The Bills have a lot of young talent emerging as well…
Khalil Shakir (3-75-1/5) is going to be the #2 target for the Bills down the road…the #2 WR in an elite passing game = a good thing for FF. He'll be a #4 for now…cutting into Isaiah McKenzie's (DNP) targets as we go, but eventually he'll be more important than McKenzie or Gabe Davis (3-171-2/6).
A future star…for the NFL and FF, I just can't tell you when. But it may be sooner than we think.
 -- The Dawson Knox (DNP) issue has been and will be is two words: Quintin Morris (3-39-0/5). He's really blossoming, and he might be pulling into a 50-50 or so split with Knox as the season wears on…which is wonderful for the Bills' depth, and terrible for Knox owners.
I was pro-Knox coming into the season…good TE, with production, with an elite QB -- but I did not believe Quintin Morris would change the dynamic. He has, so we deal with it.
Morris is looking like a shrunken Antonio Gates…it's weird…but working better and better as we go.
 -- They'll never admit it, it's too painful…but I think even Mike Tomlin knows Jaylen Warren (5-24-0, 4-39-0/5) is a better back for this current Steelers team (O-Line deficient) than Najee Harris (11-20-0, 3-16-0/4). Every time they give Najee the ball it's like just taking a knee on the play. Najee is built to be the between the tackles power runner behind an elite O-Line…as the Steelers try to get him going on outside runs with their putrid run blocking O-Line.
Warren is working more and more as the 3rd-down back, the hurry up back, the 'game is over' back. He's getting put into the games earlier and earlier. An RB controversy is on the verge of breaking out…but no one wants to admit the Najee pick was a massive mistake. I don't know why…most 1st-round picks are a mistake on some level. Why go down with the ship on this?
But they will.
Nothing but terrible matchups for a solid RB with no O-Line in the weeks ahead. Najee is losing value fast. If you're gonna trade him you gotta hurry. He's fallen from top 5 player in all Fantasy name to 1st-rounder type name…to now 2nd-round (redraft) type name and falling. He's got a name value keeping him propped up because he's an RB3 otherwise.
His PPR tally in his five games this season: 10-14-15-7-7.
 -- Connor Heyward (2-12-0/2) got involved in this game with his first few touches of his career. He was working as a TE. Not enough tape to get a feel but he looked solid enough.
 -- Let's wrap it up with one more rookie talk…
James Cook (4-31-1) ran for his first TD of the season. He still looks a little shell shocked at this point, and the fact they aren't even trying to use him as a receiving back weapon lets you know the team knows Cook is struggling to find his footing. Cook was supposed to be this major receiving weapon out of the backfield…yet he has zero catches in four of 5 games this season.
This would have been a perfect time to start working him in the pass game, during a blowout…but nope…nothing.
If Devin Singletary (6-42-0, 1-4-0/2) goes down then it would be a Moss/Cook split.
A better analysis of the game: https://youtu.be/sBy5wu_4SJw
Snap Counts of Interest:
47 = Gabe Davis
43 = Diggs
39 = Shakir
13 = Hodgins
39 = Q Morris
23 = Sweeney
30 = Singletary
16 = Moss
10 = Cook
70 = Diontae
68 = Claypool
57 = Pickens
10 = Connor Heyward
38 = J Warren
37 = Najee