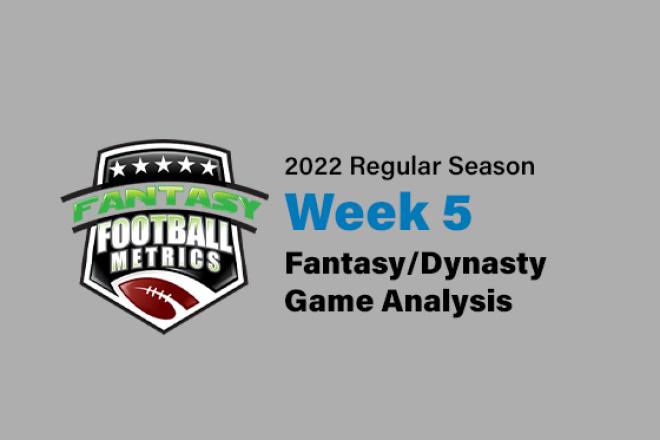 R.C. Fischer
Weekly Game Analysis
11 October 2022
2022 Week 5: Saints 39, Seahawks 32 (Dynasty/Fantasy Analysis Game Report)
How do we want to 'bill' or summarize this game?
The game that spawned the top waivers (if available) grabs of Fantasy Football 2022, to date?
Or…
The game we all predicted months ago would be a gunslinging showdown of Taysom Hill v. Geno Smith…two of the best players at their positions in the NFL?
This game was a fun back-and-forth watch…this was the type of visual pinball the NFL wishes every game was like. Prior to this game, the only Week 5 game I had watched was the TNF 'classic' of 7 field goals in 5 quarters -- so this 70+ point barrage rewatch was pure joy. No trips to the ER for me either…not like the DEN-IND painful memory watch/rewatch to relive the memories!
It looked like, at several points in this game, that one team or the other had seized the upper hand…only for the other team to come back with a more shocking play/turn of events/long score to take back over. Neither team is very 'good', per se…but they are fun.
I think had Seattle won this game they might have had a real shot to win the NFC West, with the way the West teams are dying off. Kyle Shanahan and Sean McVay and Kliff Kingsbury are all friends and supposed offensive geniuses, but all I see is Pete Carroll pulling off the greatest offensive maneuver of all of them at any points in their career -- the best offense by a mile in the NFC West is led by Geno Smith, and Pete Carroll. Welcome to pro football 2022!
Seattle is definitely not done chasing for the NFC West title…they just had a game here they could've won and really been in a great spot 5 games in. I think Seattle, Geno more specifically will get adjusted to/figured out by opposing teams…but it's working great right now. No end in sight. It wouldn't surprise me if Seattle won the West at like (9-8) or if they lost their next 5-10 in a row and fell off the face of the planet. That's a better outlook hope than most losing record YTD teams have right now.
This was a must-win for the Saints…saving the season potentially. A tough schedule ahead + a bad locker room and bad QB play probably dooms the Saints to a bottom 10 team, but with Taysom Hill…who knows what could happen going forward?
So that I don't forget, let me add: Pete Carroll is the new current leader, for me, for Coach of the Year. Not only for seeing/sensing the Russell Wilson looming issues…but then turning Geno Smith into a top 15-20 QB somehow. Stunning job actually. No more Pete Carroll jokes…until Geno gets figured out (if he does) and they start collapsing. I'm a 12th Man kinda guy now. Doug Pederson has fallen from my #1 COY spot…they figured his offense/Trevor tricks out by Week 4-5.
Fantasy Player Notes…
   -- Of course, we were finally getting follow through on Rashaad Penny (8-54-0)…he was the clear lead, not even debatable, on his way to 15-20+ carries and 100+ yards, which would have confirmed/launched him as a back-end RB1 for the rest of the season (because of the sad state of affairs at RB) -- and it was all taken away on one play…another Penny injury…another NFL RB injury. Get used to it…if you haven't been hit yet, you will.
Yeah, it sucks…but at this point…I'm assuming at least one of my RBs will be hit with some kind of injury each week…so I keep on grinding to build up a group of 4 so that I always, hopefully, have two I can work with. It's going to be NUTS during the BYE weeks on what RBs people are going to have to use…and talented players that will get cut for a one-week RB need. The FF 2022 game is going to change radically ahead…the vaunted bye week stretch.
With Penny down, Kenneth Walker (8-88-1) steps into the featured role. Obviously, in our RB-desperate culture…Walker has great value. Just a couple side notes on Walker…
What I've seen so far of Walker…not impressed. Now, it's too early to cement that in…but there are rookies who grab the bull by the horns right away and others who need more time (or might just be overrated) -- Walker is running scared/confused on most of his NFL carries. He ripped off a 65-yard TD run…a wide-open hole for him to make a plant and go untouched sprint through…any RB could've done that. His other carries were 7-24-0…3.4 ypc…and just didn't look good when resistance was happening at the line of scrimmage.
I'm not damning him eternally, he's gonna be fine I suspect…just noting he may not blast off right away in this role…but he might, now that he gets all the time/attention.
DeeJay Dallas 1-4-0, 1-6-0/1) would be the new 'handcuff', I guess. However, the Seahawks just signed Tony Jones freshly off being cut by the Saints. Jones could be in the mix behind Walker, if something were to happen…but I'd assume Dallas as the lead handcuff (with time served there as an advantage) and Travis Homer playing a 3rd-down role once back from IR.
 -- I'm more excited about Taysom Hill's (9-112-3, 1-1 for 110 yards, 1 TD/0 INT) FF 2022 future than I am Kenneth Walker's, honestly. Just because Taysom is such a unique thing.
When everyone was pitching different TE start options for Week 5, on the Sunday Video Q&A, among all the O.J. Howard, Hayden Hurst, Cade Otton type names, I commented that at least with a dice roll on Taysom Hill there was always the chance Andy Dalton got whacked in the head and left the game early and you got a full game or so of Taysom at QB, and if that ever happened he would be the top TE of the week potentially -- that with him, and not any of the others (obviously), it was possible.
I didn't realize/think in my wildest dreams that he'd run for 3 TDs and throw for another.
Some of you took that Video Q&A passing note and started Taysom as a hail mary play…and man did it payoff.
Some of you turned your nose up at it, and then were crying about missing out after.
Some weren't able to attend the live show and it wasn't on their radar. We had him as the #13 TE play of the week, in the end…a high ranking among the FF universe, maybe the highest of any FF analysts -- but we had plenty of other names ahead of him that people used. I used Tonyan and ahead of Taysom in many places. How could anyone know this would be the week Dennis Allen would finally use Taysom like he should…after weeks of neglect? I'm supposed to commit hari-kari because I used Tonyan over Taysom?
For the people that are mad at me for not making a bigger deal of Taysom for Week 5, because you missed out while others took a chance and it hit…go back a few weeks in time: I made a big deal about Taysom going into Week 2 and many of you tried it, and it failed spectacularly and then you hated me for the near-zero you got. Do you think you would have actually pulled the trigger if I cried wolf again on Taysom all last week?
You don't need to answer…I know the answer.
You cannot get everything right every week, on demand, in Fantasy Football week-to-week. But many think they can tame this beast with a snap of a finger…when really what most people do is look back at last week and base everything on that going forward…whether with players or the mood with their entire FF team/s. You're gonna drive yourself to drink, managing your team a week late every week. It's an emotional rollercoaster. You are not going to get a 100% on this test…not in 2022 with every 3rd player in your lineup out with a concussion concern in today's environment.
So, for sure everyone will now pile into Taysom Hill off waivers now (unless you're an FFMer that kept the faith from Week 2 or grabbed last second Week 5) and assume he's the greatest TE for FF ever…a solution to all the disappointing TE problems everyone but Kelce and Andrews owners have had all season. I'm super-excited too.
But I know this…
Kenneth Walker's coach WANTS desperately to see Walker succeed. But Dennis Allen is a moron who saw this Taysom Hill stuff working early in the season, in small doses (that Allen allowed)…and then didn't push it further as they lost game after game after game.
Well, someone got religion in New Orleans Week 5…because Taysom was in early and often and totally won this game for this unbelievably pathetic offense otherwise.
You'd think the Saints will run this forward from here on in…with no hesitation. Oh, but you are a naïve football fanatic if you think so. You see, the NFL LOVES their playbook…the one they stole/modified from their mentor, who stole/modified it from their mentor, and so on…and what Taysom Hill does is not really in their 5th generation playbooks. Cute screen passes to Alvin Kamara are…misdirection waggle passes to the stiff TE are all over the playbook. Using a former QB at TE but playing him as a wildcat QB…they don't have a cool playbook of that. Why, Taysom Hill has the option of doing any number of things after the snap…that's not going to get credited within the O-C community as great play design! We can't have Taysom Hill desecrating the sacred game of football with run-pass options at his will. We can't have the best player on the team be a QB-TE-punt return, punt gunner! We need the best player to be a running back who him and his friends beat the $#!& out of a guy earlier in 2022 for wanting to get on the same elevator as them.
Don't be shocked if Taysom sees 3 carries for 6 yards and no TDs next week…and that he's used as a decoy instead of a wildcat possessor of the ball. Don't be shocked if they don't use this anymore if the great Jameis Winston is back in the saddle. Don't be surprised that if the Taysom wildcat is halted two times in-a-row in this week's game that they then just assume it's all been figured out and abandon ship on it -- that's the NFL that I know. All a successful unplanned thing is, in the NFL, is a future failure that's going to happen, so at the first sign of trouble the radical unplanned thing will get ditched for the comfort of the known playbook.
However, for FF, there is nothing like this -- a guy that COULD be used in such a way that he's the best TE in the game, and never has a target (another example of how stupid Dennis Allen is…Taysom has 1 target all year).
The FF-upside potential here is worth going all-in on…and if they pull the rug out from underneath you, you crash to the ground and get taken to the ER to get pins and screws inserted to fix all your broken bones, then you grab your phone and text or email me what an idiot I am…and then you look for the next option to fix your TE situation. Just keep spinning the Rubik's Cube for solutions. It's the name of the game in 2022.
Does someone else in your league possess Taysom already? It may seem crazy to pursue a trade after a 4 TD week, and it is…but depending upon the nature of the trade, I'll bet these football mainstreamist think this Taysom thing is a blip to sell out of and if you give them a decent traditional TE and have other things going on in the deal…especially if there is a RUNNING BACK that got good carries last week involved, their holy grail get any week…maybe you pay more than you would have last week for Taysom…a lot more…but he is probably available if you have a decent TE offset to give them (Higbee, Waller types, etc.). Maybe not…but maybe. Taysom is always discounted and assumed to not have follow through power -- and it may be true again, but if you want to take a big swing at the pinata, you might catch them 'selling high' to you…but not high enough. Or wait until he goes 3-6-0 rushing this week and then catch the mass discounts.
…if you're even interested.
But FF-teams falling apart at the seams, down to their last couple breaths the next week or two…Taysom is one of the best all-in or die moves of the moment.
 -- Alvin Kamara (23-103-0, 6-91-0/6) FINALLY had a decent game…all good numbers, great touch counts…but no TDs. Why? Taysom Hill took them all.
If you think the Saints start riding the Taysom train more…it's gonna affect Kamara, but if I know Kamara -- that won't stand. He'll complain and get some opportunities where they just take Taysom out of the situation so he can't ruin it for the wonderful human Alvin Kamara.
 -- Will Geno Smith (16-25 for 268 yards, 3 TDs/0 INT, 3-13-0) get figured out by defenses? Probably. Maybe.
What Geno is doing differently than my often referred to (in Geno commentary) Trevor Lawrence (two bad QBs suddenly good Weeks 1-2-3) is when things break down a bit or the pocket gets muddy, Trevor usually craps his diaper and panics and makes a terrible throw. Geno has been adjusting, scrambling, throwing off-script and making some money throws…he did in this game…he made lemonade a few times…I've never seen Trevor Lawrence do anything improvised/creative/shocking…but I am with Geno.
Tougher schedule stretch the next 5 games (if Arizona is changing their ways…and they are), we'll see how he does. Geno has rolled up numbers on pretty bad pass defenses and been held at bay by top 10 ones.
 -- Because I projected Geno to fail, I thought he'd drag D.K. Metcalf (5-88-1/8) and Tyler Lockett (5-104-2/6) down to weak for FF…welp, surprise they're both closing in on WR1s.
I really don't know anything about football anymore. I probably shouldn't admit that out loud.
 -- Chris Olave (4-54-1/6) left halfway through the game with a concussion…he was on his way to a real nice FF game. It was still good even in half a game. It's possible the Saints don't have Thomas-Landry-Olave for Week 6.
The Saints plan at WR, with their WR trio down, this game…was to go with Marquez Callaway (2-5-0/3) and Tre'Quan Smith (1-10-0/4) with Keith Kirkwood (1-4-0/1). None of them got near the attention you'd need to use them confidentially for FF next week. Tre'Quan would be my dart throw of the 3 backups, if pushed to have to use one.
Snap Counts of Interest:
56 = Callaway
52 = Tre'Quan
31 = Olave
30 = Kirkwood
04 = Harty
50 = Trautman
44= Juw Johnson
56 = Kamara
17 = Ingram
33 = Dissly
31 = Fant
15 = Parkinson
30 = Walker
15 = Penny
10 = D Dallas