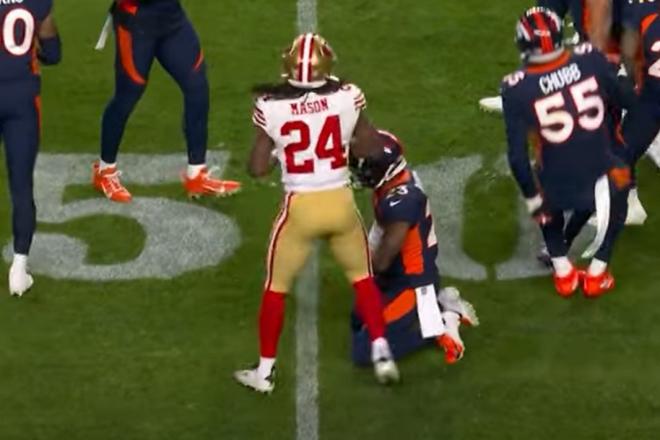 R.C. Fischer
Weekly Game Analysis
17 September 2022
2022 Special Report: RB Jordan Mason (by Ross Jacobs)
‍
Jordan Mason went undrafted in the 2022 NFL draft largely for reasons out of his control. He was signed by the 49ers and quietly ascended up the depth chart throughout training camp and the preseason. Going into camp it was widely assumed that the 49'ers would keep 4 RBs on the final roster. Elijah Mitchell, Jeff Wilson, Ty Davis-Price, and Trey Sermon.
Instead it was Mason that forced the 49ers to keep him on the roster because there was no way he would make it through waivers without getting poached. Instead they decided to cut ties with their 3rd round pick from just one year ago.
Flash forward to week 1 of the regular season and Mason is active on game day ahead of fellow rookie, 3rd round pick Ty Davis-Price.
Now Elijah Mitchell is once again hurt and going to be out for an extended period of time and the question everyone wants to know is: who do I roster? Wilson, TDP, or the unknown rookie Mason?
People that know absolutely nothing will tell you TDP simply because he's a 3rd round pick and these people assume that means he's automatically next in line.
Smart people will tell you Jeff Wilson because they are more informed and Wilson is a favorite of the staff, more reliable than TDP, and he was in taking carries after Mitchell was hurt against the Bears.
And I am going to tell you that Mason is the back to own and it's not particularly close.
Let's dive into why...
Mason was relatively unheralded coming out of high school in 2018. He signed with Georgia Tech and started the season as a backup but quickly ascended to a starting role after the top guy got hurt. Mason was instantly the best player on a bad offense. He would lead all the RBs in carries, yards, and TDs for the next two years.
In 2020 Mason's role was reduced by the acquisition of the highly acclaimed Jahmyr Gibbs. He already played for a bad team and this drop in his statistics contributed to him going undrafted despite a productive and effective career. His pro day wasn't bad but also did nothing to help get him noticed in time for the draft.
Mason is a good sized back at 5'11"/225. He looked even bigger and more yoked up than he did in college but it's not just raw size, he's got a lean and powerful build, easily the most physically impressive of the SF RBs. He ran an official 4.58 at his pro day but I can tell you he's more than fast enough for the NFL. His agility times were rather poor and don't match what he does on the field either. He may not have the long speed but his short area burst is excellent. This guy is going to thrive on 5-15 yard carries.
As a runner Mason's best skill is his vision. I've rarely seen backs with his level of ability to correctly identify the hole and attack it. It doesn't seem to matter whether he needs to stay on his track, hit the cutback into open space, or bounce it to the outside, Mason nearly always makes the right choice and does so instantly. There is very little wasted movement either. He doesn't dance around, it's one cut to create the space he needs and he charges forward. He's never going to rip off long TD runs with consistency but he has plenty of burst to create chunk runs much like Mitchell, the guy he's replacing.
Because of his quick decisions and compact movement, Mason is rarely dropped for a loss. Even if he's contacted in the backfield he's likely to fall forward for 2 yards minimum. He finishes every run violently but not in a reckless way. Arm tackles aren't going to do the job bringing him down. He's incredibly difficult to tackle unless you get a direct shot on him. In college he was charted with a broken tackle on over 40% of his carries multiple times throughout his career and also averaged over 4.5 yards per rush after contact. He routinely was among the national leaders in both categories including finishing 2021 8th in the country in yards after contact and 1st in broken tackle rate.
As a pass catcher Mason isn't the greatest but his hands are quite solid. The 49ers don't throw to their backs much anyways. He is an excellent blocker however, a trait often overlooked by analysts but one that helps players get on the field.
In short, he is the perfect style back for a Shanahan offense. Think of him as a bigger, more powerful (and thus less injury prone) version of Elijah Mitchell. He's not as fast as Mitchell but he makes up for it by shedding indirect tackles at a very high rate. Both players are more effective than the more athletic guys drafted ahead of them because they have superior vision and make quick decisions to square up and get downhill quickly. Another good comparison would be Jordan Howard.
In a vacuum, Mason is not the ideal RB. He doesn't have the raw speed or quickness of better athletes (among the big RBs) like David Johnson or Saquon Barkley…but he is an extremely efficient, smart, and tough runner that is ideally suited to the Shanahan zone run scheme.
I watched every preseason run of Mason and TDP and I can confidently say it's not even close. Mason has already blown by TDP the way Mitchell blew past Trey Sermon last year. Mason is a no nonsense kind of runner and is already the best remaining back on the roster. As a runner he is nearly as good as Mitchell, possibly a bit better, certainly more physical and able to hold up taking 15-20 carries a game.
I'm not 100% certain that Mason will immediately seize the starting job in Week 2. It's possible the team starts with a mix of Jeff Wilson and Deebo Samuel with some Mason sprinkled in, but it's not going to last. TDP isn't decisive enough and Wilson looks like he has no juice left. All three guys might get carries against Seattle but it's going to be obvious very quickly that Mason is the best. Mason will be the starter sooner rather than later and might not relinquish this job for a while. This situation is giving me rookie season Alfred Morris vibes.
Here's what Shanahan had to say about the backs recently:
"And that's what JP Mason showed so much, I thought, in the preseason, that he has the capability, like some of our other guys—like Ty, like Elijah—to be a first- and second-down starting running back. And that's something that we value too much."
"I'm a little scarred from that stuff, so it's really hard for us to lose guys that have first- and second-down running ability. Those are the things that you really value because you can have these traits of guys who are good on third down, do a little bit of everything, but when you lose that first- and second-down running back, for what we do offensively, it's a little tough to function."
No mention of Jeff Wilson and Mason was already active over TDP in week 1.
In addition, noted 49ers insider Grant Cohn is all the way in on Mason. Here's a link to the video of him discussing the RB situation after the Mitchell injury...
https://www.youtube.com/watch?v=dg_l3ZCZl-w
My recommendation is to stash Mason immediately. As of writing this I've already picked him up in every league I'm in. You remember grabbing Elijah Mitchell early last year? Same situation except Mason is unlikely to get hurt the way Mitchell does. Imagine if Mitchell had stayed healthy all of last year. How high would he have gone in fantasy drafts? Late 1st round? 2nd round at latest?
Now I don't know for a fact that Mason is going to seize this job. There is always uncertainty in these situations. Maybe Mason fumbles his first carry. Maybe Wilson shows up more than he has in a while. Maybe Deebo becomes the primary back. Lots of things can happen, but here's what I know for sure...Mason is easily the best back of the 3 possible candidates and should be considered the runaway favorite to win this job. If and when he does we might have a league-winning waiver wire pickup on our hands.
‍