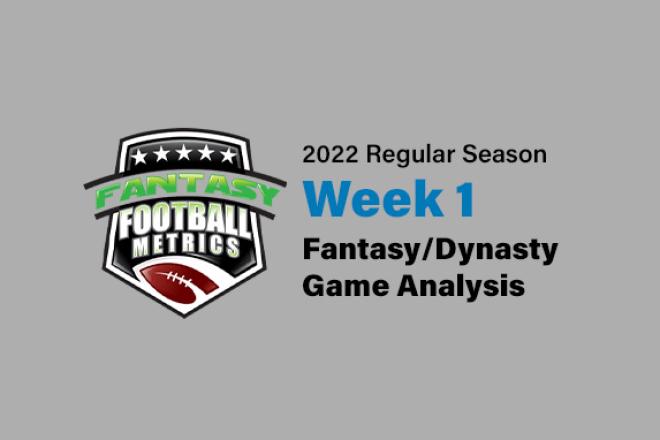 R.C. Fischer
Weekly Game Analysis
15 September 2022
2022 Week 1 Game Recap: Browns 26, Panthers 24 (by Ross Jacobs)
Strange game. For the first half the Browns just dominated the Panthers. It looked like it might turn into a blowout. The Panthers apparently decided to come out passing (likely hoping to play into the Baker Mayfield revenge angle), but, shocker, it backfired and they were barely able to complete a pass. That combined with a bunch of dumb penalties and terrible blocking left them in a big whole. The Browns, meanwhile, weren't really doing anything to win the game. They just let the Panthers self-implode and it worked. 17-7 Browns at the half.
In the late 3rd-quarter things suddenly changed. The Panthers finally realized that they have a player named Christian McCaffrey and he's pretty good. That led to one score and they followed it up with a 75-yard bomb to Robby Anderson to get the game back in reach. They would eventually take the lead with about a minute left, but there was too much time on the clock and the Browns were able to drive far enough for a 58-yard field goal to win the game after the Panthers were called for a roughing the passer penalty.
It was a tough ending for the Panthers but they kind of deserved it with their dumb first half game plan. The saving grace is that they finally figured out the offense in the second half, so we'll see if that carries over to this week against the Giants. Their defense was the exact opposite, stout early on but the Browns running game kept pounding away and eventually the Panthers could no longer stop them at all. Chubb and Hunt started running wild in the 2nd quarter and Carolina never found an answer.
Cleveland looks massively overrated to me this week. I know Flacco is terrible, but the Jets as a whole are not a bad team and Cleveland is not a good team. Their defense didn't do anything great. They just let the Panthers beat themselves in the first half, but when the dumb mistakes stopped the Browns couldn't slow down Baker at all. Yes, the Browns have their ground game to lean on but I think the Jets run defense is very underrated and to nobody's surprise Jacoby Brissett still sucks.
Fantasy Player Notes:
 – Let's start with the golden boy Christian McCaffrey. If you have him please do not panic. He got 15.7 ppr points here and touched the ball about half of what he normally would. I suspect the Panthers were just trying to let Baker outgun the Browns for revenge. They should be back to a normal offense centered around McCaffrey this week. He's fine.
 – DJ Moore will also be fine. He only got 6 targets in a tough matchup with the very good Cleveland corners and the Panthers just didn't have the ball as much because of the Cleveland run game. Look for a big bounce back week against the Giants in week 2.
The guy you should be suspicious of is Robby Anderson. He'll have a few moments this year, but you likely can't start him with any confidence in a given week. Almost all his points in this game came off of a busted coverage for that long TD. He's fine but definitely the #2 in a not great passing attack.
Shi Smith is the new WR3, not that it matters. Terrace Marshall is dead and buried.
 – I don't know why you'd want either of the two Panther TEs but the breakdown is: 2-1 in favor of Ian Thomas over Tommy Tremble. Neither guy stands out in any way and they are 4th and 5th in line for targets. There are better options if you're streaming tight ends.
 – Baker Mayfield looks fine. The media coverage after the game portrayed him as completely inept just like they did last year when he was hurt. There's nothing wrong with Baker. He had several passes batted down early on (which he always does) and the gameplan was stupid. They kept trying to go playaction and throw deep but the Carolina line wasn't holding up long enough. The one thing Baker needs to do is take his checkdowns to McCaffrey quicker. I'm sure he wanted the glory of bombing the Browns too. Expect a less aggressive approach moving forwards.
 – For the Browns it's going to be just like last year. Lots of Chubb. Kareem Hunt is viable because he gets the receiving work out of the backfield and half the TDs. Everything else is going to be hit or miss.
 – It's tempting to want to say Donovan Peoples-Jones is the alpha #1 WR here over Amari Cooper but I think it's too early to proclaim that. It does look like it might be close to a full split between them at least until Watson takes over. DPJ is a good player but I didn't see any dominance here. He got open enough and brought in some tough catches, no more no less. Amari looks fine too. It's just going to be inconsistent for both of these guys with Brissett at QB.
Anthony Schwartz is the 3rd WR in the rotation for whatever that is worth. He'll hit a long TD at some point and get scooped on waivers. Don't be that guy.
 – For anyone in on the David Njoku plan...he did play 89% of the snaps compared to 48% for Harrison Bryant. Hard to say if he's improved his hands at all because he only got 1 target here, but that's the issue with this situation. The player might be fine but he's stuck in a run-heavy offense with Brissett at QB. That's going to drag everyone down.
 – As for Brissett himself...I have nothing to add. He looks the exact same as he always does. Not good. Yes, he can run a safe gameplan, but don't expect him to come up with a play if you need one. When/if Cleveland is favored he'll be ok but it's going to get ugly when they get behind.
IDP Notes:
 – Myles Garrett was having his way with rookie LT Ikem Ekwonu. That's to be expected as Garrett does that to most people, but it was brutal to watch. Ekwonu looks like crap as a pass blocker, confirming my pre-draft fears on him.
 – The Carolina shutdown defense theory against a weak schedule? Eh. They aren't as bad as it seems right now. Early on in this game they were handling the Browns just fine. Eventually the dam broke and they couldn't stop the run but Cleveland does that to lots of teams. Facing Barkley and the Giants will be a nice test. I actually think the Panthers can hold him somewhat in check.
 – What I had hoped to see was the CB duo of Jaycee Horn and CJ Henderson locking down everything in sight. Horn is well on his way to being one of the best corners in the league. Henderson not so much. I'm not sure what happened with him but he's gotten very grabby and penalty-prone. You could do worse for your second corner but it seems like the lockdown dreams are dead for him.
 – Garrett gets all the attention from this game but Brian Burns is one of the more underrated top pass rushers. He's going to have a big year. No sacks here against a very good Cleveland line but he had 8 total tackles and looks to be a much more complete player. He's added some power and physicality to his game that was missing his first couple of years.
Snap Counts of Interest:
53 = Moore
53 = Anderson
41 = Shi Smith
35 = Thomas
18 = Tremble
45 = Hunt
42 = Chubb
11 = Felton
66 = DPJ
66 = Cooper
23 = Schwartz
71 = Njoku
38 = Bryant