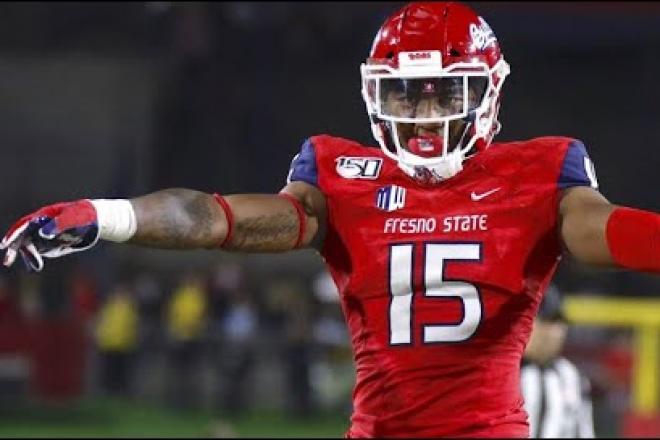 Ross Jacobs
Rookie Scouting Reports
10 June 2022
NFL Draft 2022 Scouting Report: OLB Arron Mosby, Fresno State (by Ross Jacobs)
Arron Mosby came to my attention while sifting through early OTA reports from Carolina Panthers camp. I wasn't familiar with him but he was getting noticed as a standout performer as an UDFA so I decided to dig into him a little to see if there was something here...and was pleasantly surprised with what I found.
Mosby was originally recruited to Fresno State to play safety. He spent his first two years there learning the position while working on his body. In year three he had put on a ton of muscle and transitioned to linebacker where he became a starter. His senior year he got hurt after 6 games and then returned for a 5th year in 2021 but transitioned to an edge rushing role with decent success.
His college stats don't leap off the page but he switched positions so often he never really had a chance to settle down.
As an edge rusher you can see he has some natural ability and he certainly has a knack for getting his hands on the ball as evidenced by his 9 career forced fumbles, including 6 as an edge rusher, and 10 pass defensed. In fact that was what got him noticed in Panthers OTA's when he broke up a Darnold pass. He's just an average athlete but he moves like a safety in a 6'4" 240lb body. He's smooth and fluid if that makes sense, not clunky and slow like some other big guys, and he's excellent in coverage likely due to his time as a safety.
I do think his best position is outside linebacker but he could probably be just fine inside or even on the edge if needed. He's at his best in coverage so weakside linebacker seems optimal. His positional versatility is a bonus though. Mosby himself agrees with this assessment.
https://footballsapient.com/2022/02/03/nflpa-collegiate-bowl-player-interview-arron-mosby-de-lb-fresno-state/
For a guy that went undrafted he sure seems to attract a lot of attention. He was reportedly a standout at the NFLPA Bowl pre-draft and he's already been noticed by Matt Rhule. Check out what Rhule had to say about him at OTA's.
https://www.si.com/nfl/panthers/gm-report/rhule-is-high-on-udfa-lb-arron-mosby-hes-a-guy-thats-got-a-chance
That's a lot of words for a fringe 53 man roster guy and with Carolina short on linebackers right now I think Mosby has a legitimate chance to make the team and possibly grow into a larger role over the next 2-3 years.
Arron Mosby, Through the Lens of Our WR Scouting Algorithm:
--Led the NCAA in forced fumbles in 2021 with 6
--95 yard interception return for a TD as a rotational safety in 2018
--1 year of edge rush experience netted him 15.5 TFL's and 6 sacks
--10 career pass defensed
2022 Pro Day:
6'4"/244
4.71 40-time
4.75 shuttle, 7.50 3-cone
30" vertical, 9'11" broad, 22 bench
The Historical WR Prospects to Whom David Bell Most Compares Within Our System
I can't even give a legitimate comp that any readers would actually know to give a decent idea of Mosby as a player. From a measurables/college stats point of view I would say Azeem Victor but I doubt anyone remembers him. He was at one time a well thought of player out of Washington but injuries and off-field issues derailed his career. He bounced around several practice squads for a few years but never stuck anywhere. But in the 2018 draft class RC had him ranked 197 which is respectable. That's the kind of range we're talking about with Mosby. He's not a star but I do think he's better than your average UDFA, a longshot guy that could actually make it and build a decent career.
‍
NFL Outlook
As an UDFA he's obviously got a lot of work ahead of him, but Mosby just keeps popping up everywhere he goes. He's a hard worker, very coachable, versatile...average athlete on paper but he moves much better than what the numbers say. He looks and moves like a pro. He's the kind of guy I could see slowly working his way into more playing time over the next 4-5 years and all of the sudden he's the captain of a defense and nobody quite remembers how it happened, kind of like a De'Vondre Campbell. Or maybe he makes the team and never quite climbs into the starting group. There's quite a range with Mosby, but I agree with Rhule...he's got a chance.
‍
‍