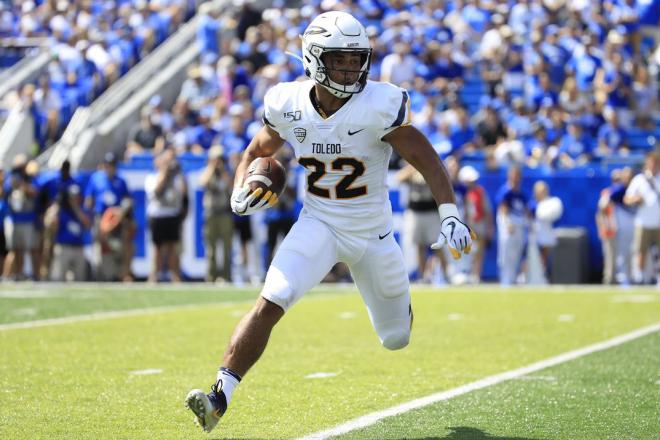 Ross Jacobs
Rookie Scouting Reports
01 May 2022
Would you be interested if I told you there is a RB available in rookie drafts that piled up over 4000 rushing yards, 600 receiving yards, and a combined 52 TD's in 44 career games? What if I told you he was a 97th percentile athlete? How about if I told you he was squeaky clean off the field and a notorious gym rat in the mold of Austin Ekeler? What if I told you he was completely free?
Welcome to the world of Bryant Koback, the RB that not one NFL team deemed worthy of drafting over 7 rounds. 
Koback originally committed to Kentucky as a 3 star prospect out of high school despite being one of the top backs in Ohio. He broke his leg his senior season after only 4 games which likely contributed. In those 4 games he had already run for over 1000 yards... 
At Kentucky Koback redshirted his freshman year and then transferred to Toledo the following year due to family issues. 
His first season at Toledo saw him finish as the team's leading rusher with over 900 yards and 14 TD's despite only starting 2 games. He became the full time starter in 2019 and finished with nearly 1200 yards and another 14 TD's. 
Koback only got to play 6 games during the covid shortened 2020 season but still finished with 500 yards and 6 TD's on the ground in addition to 230 yards and 2 TD's receiving. 
In 2021 he finished strong with 1400 yards and 15 TD's to go along with over 300 yards and another 3 TD's receiving. 
So why is Koback being completely ignored if he has so many positives in his favor? That's easy. 
He's a boringingly efficient runner. 
Here's a video and you'll see what I mean almost immediately. Keep in mind this is not a career highlight tape. It's from one game. Koback has no lack of explosive plays in his career despite his grinding style.
https://www.youtube.com/watch?v=bZW5qiTnx9g
Koback is a bit of an upright runner and he also looks stiff. That is what scouts are knocking him for. 
Seriously. 
It baffles my mind that in a post-Moneyball world we are still judging guys by how they look instead of by what they accomplish. Koback looks stiff. He looks bland. 
His results say he's much better than an undrafted free agent. 
Let me be clear, I'm not arguing that Koback is a hidden star, a RB so supremely talented that he will not be stopped on his ascent to the top of the depth chart. What I am saying is that he definitely should have been drafted and he deserves much more respect than he is currently getting. If he were to work his way into a starting role (a realistic scenario in my opinion), he would produce quite well at the NFL level. 
Pro Day Measurables:
5'11"/209 
4.49 40-time, 1.55 10-yard split 
7.03 3-cone, 4.27 shuttle 
40.5" vert, 10'4" broad 
28 bench reps 

I have two comps for Koback. One was a 6th round pick and the other undrafted just like Koback. 

Elijah Mitchell:
5'10"/201 
4.35 40-time, 1.51 10-yard split 
6.94 3-cone, 4.2 shuttle 
37.5" vert, 10'8" broad 
17 bench reps 


Austin Ekeler: 
5'9"/198 
4.49 40-time 
6.92 3-cone, 4.28 shuttle 
40.5" vert, 10'8" broad 
Mitchell comes in a bit faster than the other two but he did so only after dropping around 15 lbs for his pro day. Koback measures in almost identically to Ekeler but does so while being 10 lbs heavier. Also note the very impressive 28 bench reps. That's a sign of a very hard worker.


Bryant Koback Through the Lens of our Scouting Algorithm:
Scored 45 rushing TD's and 7 receiving TD's in only 44 career games 
Averaged over 1000 yards per season despite only playing 6 games in 2020 
Improved as a receiver over his career going from 5.8 yards per reception as a freshman to 8.6 as a sophomore, 9.5 as a junior, and a remarkable 11.1 his final season 
Averaged nearly 6 yards per carry for his career on nearly 700 combined attempts 

NFL Draft Outlook: 
Signed with the Vikings as an undrafted free agent. He'll start his career as the #4 RB behind Dalvin Cook, Alexander Mattison, and Ty Chandler. 

NFL Outlook:
Koback is already fighting an uphill battle as an undrafted player. He's behind one of the biggest stars at the position, a trusted backup in Mattison, and fellow talented rookie Ty Chandler. His odds are long to say the least. But situations can change fast in the NFL and both Mitchell and Ekeler are perfect examples. Both guys were initially overlooked because they were "buried" on the depth chart despite their athleticism and proven college production. Mitchell specifically was overlooked in the draft because of his boring running style much like Koback. He was known as a consistent grinder and not an explosive runner, but that so-called negative was precisely the skill that helped propel him ahead of the higher drafted Trey Sermon. Koback is a guy I will be keeping a very close eye on for the next few years because if he gets a crack he's liable to take it and run.