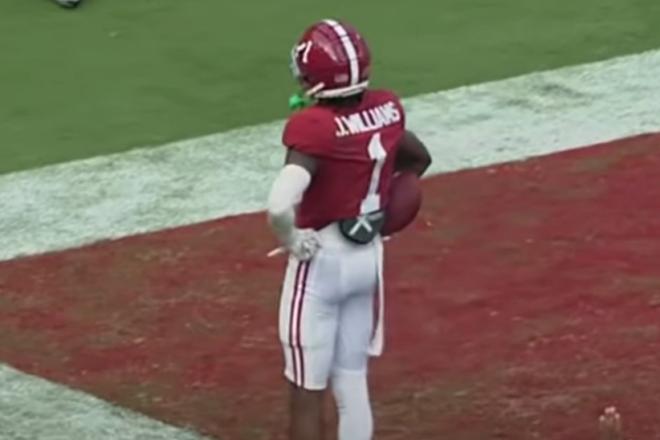 R.C. Fischer
Rookie Scouting Reports
14 March 2022
NFL Draft 2022 Scouting Report: WR Jameson Williams, Alabama
*WR grades can and will change as more information comes in from Pro Day workouts, Wonderlic test results leaked, etc. We will update ratings as new info becomes available.
*WR-B stands for "Big-WR," a classification we use to separate the more physical, downfield/over-the-top, heavy-red-zone-threat-type WRs. Our WR-S/"Small-WRs" are profiled by our computer more as slot and/or possession-type WRs who are typically less physical and rely more on speed/agility to operate underneath the defense and/or use big speed to get open deep...they are not used as weapons in the red zone as much. 
I thought Jameson Williams was a solid enough NFL prospect after some preview tape pre-Combine/2022. He looked like every Alabama WR coming down the pike lately…around 6'0"-6'1", a little slender but very fast. Alabama is like a factory spitting out these talented WRs, but it's hard to tell how much of their pro prospects/grades/rankings among the mainstream are because of all the hype and assumed greatness of all things 'Alabama'.
I always worry the 'Alabama' factor for myself, because I want to go against the crowd and come down on the other side – try as I might, I usually walk into the deeper study 'against' them (Alabama guys)…making them prove me wrong on tape, in the data. Preconceived notions are a dangerous thing to a scout, but it's natural…it's there. Biases are a part of the scouting…it's hard to not just 'see what you want to see' with a prospect study.
So, I liked what I saw in my brief, preview study of Williams…but wasn't jumping up and down about it. I was reserved, worried that he was an overhyped 'next man up' WR from Alabama. And then I researched his background and watched his interviews, and I became even more skittish. I watched as Williams took to the podium at the NFL Combine for his media day interview with the football press, and he was dressed ridiculously like a teenager for the event – backpack still on as he sat for questions with the group of twenty or so. A big diamond pendant that looked like a dollar sign hanging from around his neck. A winter beanie, indoors…which isn't a huge crime, per se, except for the fact that the little plastic 'hanger' thing was still in the hat and sticking straight up from the top/peak of the cap. Williams just looked unprofessional for a media day in the world's largest job interview.
Williams's Combine look and overall bland personality didn't help me NOT believe that this might be another slightly/major overhyped Alabama prospect/clone. I was not 'feeling it' before I got ready to watch a series of game tape.  
So after all that lead-in, after watching the tape – I have to admit, Williams is pretty damn good….
Williams looks like all the top new age WR prospects – good size…not too small, but not a physical specimen or workout warrior…just big enough, very fast, and very capable/trained to be a successful pro. Williams is like a Justin Jefferson and Jaylen Waddle and Calvin Ridley mash-up. Plays like Ridley, similar size, similar movements…but faster. Williams was an Ohio high school track star…a record setting track star. And it translates to the football field…the speed is evident.
Williams runs solid routes. Can stop and start smoothly. He gets off the snap with fast-shuffling feet. He can beat a cornerback in an instant off the snap on a short route or blaze by them on a deep route. Watching him against the better SEC DBs…he handled himself fine. There's nothing about his tape, his play that I can criticize.
My only concerns are off-the-field or mindset – he seems fairly immature (but he's also 'just a kid') compared to other top WR prospects. I don't know what you'll get here once someone hands him 10-20M+ in guaranteed money. It's all speculation – but what's not speculation is, the guy can play. He might be the best WR prospect in the draft in pure, raw talent.
The other off-field negative is that Williams tore his ACL in the CFB title game. He'll be rehabbing and may miss the beginning of the 2022 NFL season…and/or might miss a ton or all of camp. But with today's modern surgery techniques…he'll be fine for a long-term outlook and will play in 2022, at least he should.
Personality and maturity concerns are speculative by me…he has nothing bad/damning on this record. The ACL should be fine. 'Alabama' overhype is no longer as fearsome, in general, because the transfer portal and guys now getting paid (legally) means all the great ones are going to Alabama naturally. All my scouting negatives on Williams are kinda flimsy or insignificant…or just wrong (unless they turn out to be right). If you don't care how personable your main WR is, then Jameson Williams can be your main/star WR for the NFL. He's a better Jaylen Waddle, just as fast/quick, but much taller….
Oh, as to why he played two useless/barely-played seasons at Ohio State before transferring to Alabama in 2021…I have no concrete idea. In the end…does it matter? Alabama was willing to take him on, so you know they vetted him…and then Williams walked onto a new team, into the SEC, and took over as the #1 WR and led the team in yards and TDs with distance.
Jameson Williams, Through the Lens of Our WR Scouting Algorithm:
 -- Led the SEC in TD catches in 2021, 3rd in all the NCAA.
#1 in yards in the SEC, 5th in the NCAA.
#1 in the SEC in yards per catch, 7th in the NCAA.
 -- Returned 10 kicks…returned two of them for TDs, both in the same game…vs. Southern Miss.
 -- 1st game vs. Georgia in 2021…7-184-2. 2nd game/playoff, 4-65-0 before leaving with injury.
 -- 15 total catches in two years at Ohio State…three of the catches for TDs…a TD on every 5.0 receptions in limited action.
 -- 3 tackles in 2021…he played some as a punt team gunner.
2022 NFL Combine/Pro Day estimates (won't work out due to ACL)
6'1.5"/179 from the Combine (but plays +10 pounds heavier). Lost weight recently due to the inability to work out.
9.25" hands, 32.1" arms
20.8 years old
The Historical WR Prospects to Whom Jameson Williams Most Compares Within Our System:
Like I mentioned – a Calvin Ridley clone, only better, I think. Faster, quicker and could add 5+ pounds of muscle. If he adds muscle and keeps his speed, then he moves closer to being a Justin Jefferson physique.
| | | | | | | | | | | |
| --- | --- | --- | --- | --- | --- | --- | --- | --- | --- | --- |
| WR Score | Draft Yr | Last | First | College | H | H | W | Power Strngth Metric | Speed Agility Metric | Hands Metric |
| 8.652 | 2022 | Williams | Jameson | Alabama | 6 | 1.5 | 189 | 5.20 | 11.97 | 8.74 |
| 7.158 | 2018 | Ridley | Calvin | Alabama | 6 | 0.4 | 189 | 5.51 | 8.98 | 8.16 |
| 7.854 | 2020 | Jefferson | Justin | LSU | 6 | 1.2 | 202 | 8.12 | 10.65 | 8.78 |
| 6.897 | 2015 | Agholor | Nelson | USC | 6 | 0.1 | 198 | 7.80 | 10.05 | 8.29 |
| 8.853 | 2021 | Smith | DeVonta | Alabama | 6 | 0.5 | 170 | 1.95 | 9.34 | 9.53 |
| 7.667 | 2007 | Robinson | Laurent | Illinois State | 6 | 2.0 | 199 | 2.71 | 10.57 | 9.38 |
| 8.901 | 2012 | Jenkins | A.J. | Illinois | 6 | 0.2 | 190 | 6.53 | 13.28 | 10.00 |
*A score of 7.0+ is where we start to take a Small-WR prospect more seriously. A score of 8.50+ is where we see a stronger correlation of a Small-WR going on to become NFL good/great/elite. A score of 10.00+ is more rarefied air in our system and indicates a greater probability of becoming an elite NFL Small-WR.
All of the WR ratings are based on a 0–10 scale, but a player can score negative, or above a 10.0 in certain instances.
Overall WR score = A combination of several on-field performance measures, including refinement for strength of opponents faced. Mixed with all the physical measurement metrics, rated historically in our database.
"Power-Strength" = A combination of unique metrics surrounding physical-size profiling, bench press strength, etc.  High scorers here project to be more physical, better blockers, and less injury-prone.
"Speed-Agility" = A combination of unique metrics surrounding speed, agility, physical size, mixed with some on-field performance metrics. High scorers here project to have a better YAC and show characteristics to be used as deep threats/create separation.
"Hands" = A combination of unique metrics surrounding on-field performance in college, considering the strength of opponents played. Furthermore, this data considers some physical profiling for hand size, etc. High scorers here have a better track record of college statistical performance, and overall this projects the combination of performance and physical data for the next level.
2022 NFL Draft Outlook:
I've mock draft projections on Williams from top 10 to early 2nd-round. Some 'best WR in the draft" rankings. Some just a top five or so guy. I can't imagine he makes it past pick #15…unless his in-person interviews were so weak that his personality + the amount of talented WRs available + his ACL/medical check causes a mini-slide.
If I were an NFL GM, I am not against taking Williams top 15…but I'd prefer George Pickens ahead of him for his greater size and better work ethic. My personal preference.
NFL Outlook:   
Williams is built for NFL success. If he gets with a dome team, then he's going to hit as soon as his ACL is ready to go.
I have no question of the NFL talent…just mild worries he may not be able to handle being a pro. Those fears aside, this is a 1st-round WR talent…for sure. Arguably, the best WR prospects (on field) in 2022.