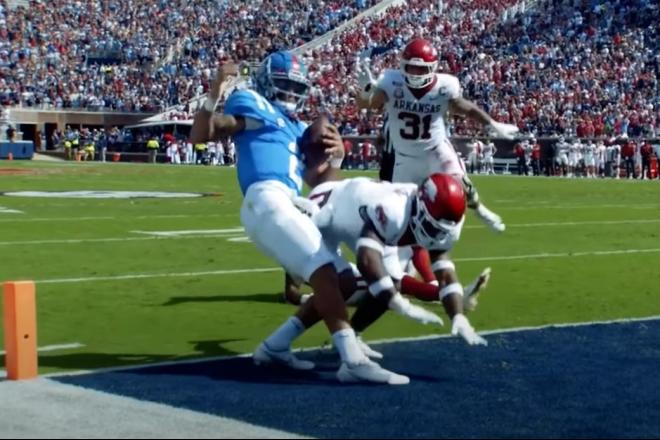 R.C. Fischer
Rookie Scouting Reports
14 February 2022
2022 NFL Draft Scouting Report: QB Matt Corral, Ole Miss
*Our QB grades can and will change as more information comes in from Pro Day workouts, leaked Wonderlic test results, etc. We will update ratings as new info becomes available.
I don't know exactly how to project this new era of QB prospects that all look the same/similar. We got a batch of shorter (6'0"-6'1") spread QBs who have enough speed/elusiveness to scramble for some yards when the defense gives them running/escape lanes, but their primary weapon is the shotgun snap and quick/rapid fire darts all over the field to a spread out group of receiving targets – they just bing-bing-bing the ball down the field, working a high speed rate/non-huddle plan against defenses who get confused figuring out where the next punch is coming from.
It's terrific to watch…in college…as a fan.
But how does it translate to the NFL? Will these shorter QBs with underwhelming physiques and average-good arms make it in the NFL. And more importantly…will this type of QB even get a fair shake?
In the past 3-4 years, with the rise of the shorter spread option quick passer from college – which of them has made it to purposeful starting NFL QB? 2018 NFL Draft Baker Mayfield kinda got the shorter-spread-QB era rolling, but he was a much better downfield passer than the typical dink and dunkers that have come after, and Baker was less apt to use his feet – Mayfield was a pocket passer at heart. Corral does not have the passing ability that Baker does.
2019 Kyler Murray has been a success as a diminutive/spread passing, but he's also a dangerous runner…plus he was also an amazing deep ball thrower. Corral is really nothing like Kyler…at best a very cheap imitation of him.
2019 Gardner Minshew is a kind of a main case study for this issue…overlooked in the draft because 'Aid Raid'/spread offense and his 6'1" size, but then was terrific when forced into being the starter his NFL rookie season – but then it got taken away from him not because of his performance, but because…well, I don't know why. I mean, I know why – the NFL looks right past these guys. The first sign of trouble, they cut and run on them.
2019 Will Grier was a kinda spread option version people liked, initially…but he has become a bust.
2020 didn't give us any real shorter, quick passing spread draft pick QBs.
2021 we saw Zach Wilson, but he was more a downfield passer not a two-step drop and fire all the time guy. Wilson is also 6'2". Sam Ehlinger was a spread + decent runner in college, but he was 6'2"+/225 and he, like Minshew, was a 6th-round pick in his draft.
Where is the rise of the 6'0"-6'1", smaller framed, quick passers? Do we see NFL teams clamoring to find them, to draft them? If Baker Mayfield is their king, with Johnny Manziel their court jester (and even he was near 6'2")…then where is football society at with Baker after four NFL seasons? Viewed as a disappointment. Viewed as 'capable'. Not viewed as 'the answer'. If your favorite team was shopping for a QB and they traded for Baker Mayfield in the 2022 offseason…would you be excited? Maybe in a different offense, with a different coach, and not a damaged shoulder. But mostly Baker has been deemed 'meh' or 'overblown'. He didn't live up to the #1 pick billing/excitement, but he's been pretty good. He's gotten a raw deal because 'Cleveland', but that's for another time…point is, today the NFL society isn't coveting Baker…or Baker-type QBs.
Baker is a bit of an outlier for the short, spread, quick passer…if it's even fair to call him that, although he threw the ball all over the field during his college career – his stellar passer numbers in college dwarf most all the shorter, shotgun spread QBs who have come after him (except for Kyler, who is the supreme runner of the group as well as a high level passer). .
Compare Baker to Matt Corral, and it's no contest – Corral had nice enough output in college, but nothing sensational. A lot of short quick passes…with laser accuracy…a lot of action between the 20s and then trouble when the field couldn't be spread out as wide and long, trouble when the defensive opposition was too athletic to fool with slick multiple routes and short passes that led to big YAC/good QB numbers against lesser opponents.
Baker had 'wow' numbers in most of the games in his college career. Corral has a lot of nice 1-2 TD pass games. Corral has also registered games with 6 interceptions (vs. ARK 2020) and 5 picks (vs. LSU 2020). In one of CFB's most innovative offenses the past two years, Corral has averaged a little over 2 TD passes per game and nearly a pick per game. It's very nice college work…but does the style translate to the NFL?
Corral rushed for 614 and 506 yards respectively the past two seasons, 15 rushing TDs…he's a scrappy runner…but he's likely a 4.75+ 40-time at a very thin-framed 200+ pounds. He's not running in the pros as a weapon like he did in college…no way. And the threat of the run helped make his college offense churn even better. He's not going to be able to use that scrappy runner tool in his toolbox for the next level – at his size, he's going to get beat up if he tries to be a runner.
What NFL team is going to covet a shorter, slower, thin-framed, 4.75+ running, spread-gimmicky/slick offense running QB to be their franchise guy? What NFL coach is going to change his entire offense to fit what Corral does well? The sad truth is – none.
All this lead-up to say…I like Corral OK. He is a better-than-average short, moderate foot speed, good-armed quick passer in the spread offense. He looks electric at times on tape at Ole Miss…in the sense of the quick pace, right decisions, hot throws, elusive/annoying runner. It's fun to watch. He's a great college QB…but he's not a great NFL QB prospect, and even if there is more here to work with and groom and craft him for the NFL's style QB, who wants to invest 3-4 years in a project at QB…one that is 200-pounds soaking wet with average foot speed and 'good-not-great' college passer numbers?
At best, the NFL-world is not ready for Corral's style. NFL offenses are not built/coached/play-booked to support this style (or size), typically. Maybe Sean Payton could do something with Corral?
It's a weird thing to say – Corral has NFL QB skills (mind, quick read ability, accuracy with some grit), but nobody in the NFL really wants Corral because of all the other limitations you bake in. If I were a GM, I wouldn't waste a draft pick on him because I would 'know' that I'm not finding a franchise QB here. I don't draft quarterbacks to be nice backups…any team that does so is poorly run, which means about 25+ of them are. There are capable backup QBs all over the place in this era, and their numbers grow by the year as college football spits us out more Corrals, Howells, Willises, etc. And as solid-good-great QBs last into their 40s only getting better with age.
If Corral is not seen as a franchise, organization changing QB…then why are we even wasting time talking about his NFL fit? He's likely to be on the QB journeyman trail in 4-5 years, along with a number of other guys just like him in the years to come. You don't need to draft this. Can he play QB at an NFL? I think, yes. I'd rather have him than Sam Darnold or Jameis Winston, most likely…but I don't want them or Corral to be my franchise QB lottery ticket, and I don't need to waste high draft capital on backups because, as with Minshew or Darnold and Winston, etc., backups are readily available on the open market. I really like Minshew as an NFL QB talent, but if I were an NFL GM…I wouldn't bet my franchise on him. Love him as a backup.
Matt Corral is no Gardner Minshew…and that about sums this scouting report up on Corral.
Corral, otherwise, is your typical nice guy, grinder QB. Not an alpha leader but will work hard and get to the facility early, yada-yada. He can play, but he's going to face a million speedbumps and brick walls along the way to even getting some kind of chance…and then it's likely not going to be a chance within in an offense built for him…and his body frame is such that he could possibly get a chance by happenstance and get hit and be out with injury just as fast.
There is some QB talent, vision, arm-enough here…but there are so many reasons (size, tied to the spread offense) to not waste time with seeing it through – and that's why you'll see him fall from 1st-round whispers to 2nd-3rd round pre-draft, then possibly 4th-round or later in the end. If he weighs in near 200 pounds, he's essentially done…he's like an Ian Book 2.0.
Matt Corral, Through the Lens of Our QB Scouting Algorithm:
 -- 49 TDs/19 INTs (23 games) the past two seasons in one of the most clever, QB-friendly offenses a QB could ever play in with NFL WRs all over both seasons.
But take away his 2020 game against (0-9) Vanderbilt (6 TDs/0 INTs) and his FCS 2021 Austin Peay (5 TDs/0 INTs) games and you got 38 TDs/19 INTs in 21 games the past two seasons…very generically 'good' college output. Not the sign of a star…not in an open offense.
 -- 3 TDs/0 INT in two games vs. Alabama is impressive, but he was confusing gimmick for Alabama in 2020 and then in 2021 they squashed him, reduced to garbage time running for his life.
 -- 8 TDs/0 INTs vs. Austin Peay and Tulane in 2021…then 12 TDs/5 INTs in his other legit competition 11 games this past season.
 -- Rushed for 195 yards vs. Tennessee in 2021, and 158 yards vs. LSU in 2020…but those are huge outliers -- he's not a real NFL danger on the move…just a slick college escape artist.
His college numbers are just 'OK'…not foretelling of one of the next NFL greats…or even 'goods'.
2021 NFL Combine projections:
6'0"/205, 9.5" hands, 32" arms
4.7-4.8 40-time, 7.00 three-cone
The Historical QB Prospects to Whom Matt Corral Most Compares Within Our System:
A less speedy, but more not-insane version of Johnny Manziel is a thought. But a lesser Minshew or Teddy is an apt comparison. Corral is better than Ben DiNucci. No QB on here is a real perfect fit, in my mind…it's elements of all of them.
| | | | | | | | | | | | |
| --- | --- | --- | --- | --- | --- | --- | --- | --- | --- | --- | --- |
| QB-Grade | LJax Rating | Last | First | Yr | College | H | W | Adj Comp Pct | Adj Yds per Comp | Adj Pass per TD | Adj Pass Per INT |
| 6.281 | 4.46 | Corral | Matt | 2022 | Ole Miss | 72.0 | 205 | 69.0% | 13.1 | 21.3 | 92.6 |
| 5.596 | 4.10 | DiNucci | Ben | 2020 | J. Madison | 74.0 | 210 | 70.8% | 12.5 | 15.4 | 71.3 |
| 7.047 | 6.41 | Manziel | Johnny | 2014 | Texas A&M | 71.6 | 207 | 70.2% | 13.3 | 11.4 | 27.0 |
| 7.813 | 5.67 | Minshew | Gardner | 2019 | Wash State | 72.7 | 225 | 71.6% | 10.2 | 18.4 | 93.3 |
| 6.392 | 4.33 | Callahan | Joe | 2016 | Wesley | 73.1 | 216 | 69.8% | 14.6 | 9.0 | 41.3 |
| 8.230 | 4.90 | Bridgewater | Teddy | 2014 | Louisville | 74.1 | 214 | 71.7% | 12.6 | 14.6 | 81.0 |
*'LJax rating' – new for 2022, as we re-do our grading systems to better identify/reward the spread offense QB prospects…looking for the runner-passer talents.
**"Adj" = A view of adjusted college output in our system…adjusted for strength of opponent.
***A score of 8.5+ is where we see a stronger correlation of QBs going on to become NFL good-to-great. A scouting score of 9.5+ is rarefied air—higher potential for becoming great-to-elite.
QBs scoring 6.0–8.0 are finding more success in the new passing era of the NFL (2014–on). Depending upon the system and surrounding weapons, a 6.0–8.0 rated QB can do fine in today's NFL—with the right circumstances…but they are not 'the next Tom Brady' guys, just NFL-useful guys.
2022 NFL Draft Outlook:
We're seeing 1st and 2nd-round grades on Corral right now, because it's early in the process and the unstudied media who chases QBs above all things, based on their college stats and what conference they played in. Corral played against Alabama on TV, so he has some favorable visions in 'highlight watching' scout's minds. However, as he ends up looking tiny at the NFL Combine next to the bigger QBs (like Pickett especially) and as the real scouting boards leak later in this process, I think Corral will fall out of the top 75-100…he might end up a 4th-round or worse pick in the end. But an NFL team actually took Kellen Mond #66 overall, so 'who knows'?
If I were an NFL GM, I acknowledge that Corral was a slick little college QB who could probably handle himself better than some of the 100 QBs in the league right now – but if I don't see elite potential, I'm not interested in filling 'roles'. He's a do not draft for me at this point.
NFL Outlook:   
Will get drafted, will make a roster, and then be a forgotten backup for a few years and then become a journeyman backup. If he gets forced into play as a rookie, due to injury, then he might surprise with how capable/not-terrible he is for a moment -- but is that what you really want in an NFL QB?