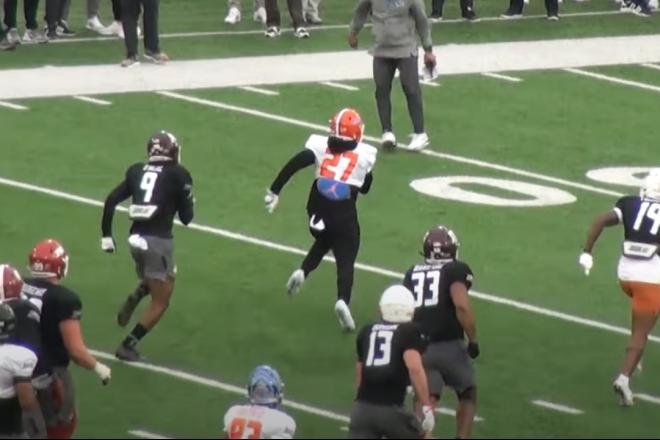 R.C. Fischer
Rookie Scouting Reports
11 February 2022
Here are the other Post-Senior Bowl positional reports: QB | RB | WR | TE
Every pre-Senior Bowl week, I do a preview scouting on each prospect attending. It's a 30–60-minute review on each prospect (except OLs) of some of their background, looking over their college career outputs, and watching 15-20+ minutes of game tape and highlight reels, etc. It's just the early stages of the scouting process. For many of the top names here we'll preview again ahead of the NFL Combine and then do extensive work on many prospects after the Combine all the way through to August…on top of scouting them at the Senior Bowl week.
So, these positional preview scouting bytes…it's a first reaction, a first handshake intro/greeting on them for us, so we can better watch/scout them all Senior Bowl week and beyond. After the Senior Bowl week, we'll re-grade the group/update players who needed it coming out of the Mobile week, heading to the Combine week.
Here's the post-event week grade reactions on these prospects (and some new ones added if they joined the Senior Bowl late/filled-in due to injury, etc.). The next scouting set of clues on these guys is in a few weeks at the NFL Combine.
RB Dameon Pierce, Florida (Post-SB scouting grade: B-/C+)
*Pre-Senior Bowl scouting grade: D
Estimate = 5'9"/205
SB Measurements: 5'9.0"/220, 9.4" hands, 30.7" arms
Post-SB Note: Potentially the biggest grade change (from the preview) I'll have this year. He showed the agility I spoke of in the preview, but then ran with much more power, acceleration, urgency than I caught on the preview tape I watched. He really helped himself here this week. CLEARLY the best RB prospect (of a weak group).
Reminded me more of Joe Mixon or Elijah Mitchell type solid interior runners with the bulk/frame of a lead RB in the NFL. Looking forward to seeing more of him at the Combine and doing more detailed tape study.   
-------------------
Pre-SB Note: Low to the ground, strong legged runner who has some jump-cut ability…but he's too slow, that I see, to be a legit NFL RB of any impact. He's not nothing for the NFL, but more of a practice squad, journeyman type back who could be OK in an emergency start/use.
NFL Comp? = LaMichal Perine or a bad (or a rookie) version of David Montgomery.
RB Connor Heyward, Michigan State (Post-SB scouting grade: B-/C+)
*Pre-Senior Bowl scouting grade: none
Estimate = none
SB Measurements: 5'11.0"/239, 9.7" hands, 31.6" arms
Post-SB Note: I didn't seriously consider Heyward as an RB prospect during the previews, or as a TE (which he played in 2021). He looked like a fullback and that was that, I didn't want to waste time scouting a fullback. However, he's really nimble for a 239-pound man…he's more than a future FB…potentially.
As-is, he's a half-fullback/half-running back potential. A big body, nimble, and has the 'Heyward' family bloodline. 'Baby Ironhead' was his nickname in Mobile. Right now, he's a big dude with a familiar name and that gets people somewhat excited.
Where I see value ahead – if they have him hit the weight room and cut 5-10 pounds and convert to muscle (he looks like he thinks he doesn't need weight training…which is concerning…very undefined/flimsy arms). He's a C/D as-is…but he might be a 'B' with upside if he took his body seriously.
-------------------
Pre-SB Note: none…considered him a fullback, so didn't think he'd matter here.
NFL Comp? = Better, bigger James Conner as a runner/power back weapon. Could body-transform into more of a Rhamondre Stevenson or D'Onta Foreman versus being a sluggish Zack Moss or pigeonholed as a short yardage only guy.
RB Rachaad White, Arizona State (Post-SB scouting grade: C)
*Pre-Senior Bowl scouting grade: C
Estimate = 6'1"/210
SB Measurements: 6'0.4"/210, 9.5" hands, 31.0" arms
Post-SB Note: He got a lot of work/reps all week but didn't do anything that raised his profile all that high. He's capable-ish. Not a future star.    
-------------------
Pre-SB Note: I watched some of his tape right after watching Alabama RB Brian Robinson's tape, and it confirms my instincts on Robinson a bit more…that Robinson doesn't have good instincts and vision for the RB position (but he does have 'size'). Because watching White work was a delight by comparison…he 'gets it'.
White has good instincts and good vision. He is agile, bouncy back with decent size, but he finds holes and catches passes (really sets up nice on screens). He's just 'good' at what he does. 
NFL Comp? = Lesser Elijah Mitchell-ish…low key 'finds a way' guys. Good at their jobs guys.
RB Brian Robinson, Alabama (Post-SB scouting grade: C)
*Pre-Senior Bowl scouting grade: C-/D+
Estimate = 6'1"/225
SB Measurements: 6'1.5"/226, 9.7" hands, 32.2" arms
Post-SB Note: He's always impressive to look at – standing tall, bigger all the way around than all the other RBs…but then he never really does anything in-action. Didn't do anything attention-getting in the practices and was bottled up/a non-factor in the game itself on his 6 carries. I just never see anything to get excited about with BRob. 'Size' keeps him on the radar…we await the Combine to see if he's more of a 'C' or a 'D'.    
-------------------
Pre-SB Note: People will compare him to Derrick Henry and Najee Harris, but he is the lesser Alabama/NFL RB prospect than them. He's an OK enough straight downhill runner but no real electricity…just size/mass moving forward. He's what the NFL likes at a glance, but I don't know that he'll test well for NFL speed/agility to be taken as a serious answer for an NFL team's backfield.
NFL Comp = He's an as-athletic, but less physical, less instinctual Najee Harris. An old (not young) Latavius Murray.
RB Jerome Ford, Cincinnati (Post-SB scouting grade: C)
*Pre-Senior Bowl scouting grade: C+
Preview Estimate = 5'10"/208
SB Measurements: 5'10.6"/209, 8.6" hands, 30.8" arms
Post-SB Note: He was fine during practice week…had a moment or two, caught a nice wheel route bomb early on and got people excited but was mostly solid/quiet.    
-------------------
Pre-SB Note: Very nimble, shifty feet…effortlessly jump stepping and juking from a standstill. He has NFL speed, way above average NFL agility, and moderate NFL size. Former Alabama RB transferred to Cincy for an opportunity, and he got it – 20 TDs in 2021 season. He's legit for the NFL…the measurables will tell us more how legit he is.
NFL Comp? = I think there's a little Aaron Jones potential here.
RB Tyler Badie (Bay-Dee), Missouri (Post-SB scouting grade: C)
*Pre-Senior Bowl scouting grade: C+
Estimate = 5'8"/195
SB Measurements: 5'7.6"/199, 9.2" hands, 29.8" arms
Post-SB Note: Didn't have any special moments this week, which is tough to do anyway here…until you get to the game – but Badie didn't play in the game. He didn't make a move higher here this week. Small body, shorter arm length takes him back a notch.    
-------------------
Pre-SB Note: Five 200+ yard games in 12 games in 2021 season…huge production, but then got shutdown when he went up against the better defenses on their schedule. Is small…but is NFL-fast and tough enough running the interior. He could be a 'change of pace' guy in the NFL…or he might draw Austin Ekeler comps. He's a good all-around back, but smaller than the NFL likes -- we'll have to see if the NFL sees him as a serious option or as just a scatback and return man hopeful.
NFL Comp? = Less muscular, not as fast (maybe) Austin Ekeler.
RB Zaquandre White, South Carolina (Post-SB scouting grade: C)
*Pre-Senior Bowl scouting grade: C+
Estimate = 6'0"/215
SB Measurements: 5'11.4"/212, 9.2" hands, 30.7" arms
Post-SB Note: His style didn't get a chance to shine in the dull (for RBs) practice formats, but the Senior Bowl itself is where he could've showed something…but he didn't make it to the game (not sure where he went later in the week). So, we're stuck with keeping our original scouting.
I did learn he was the top-rated RB in Florida coming out of high school…but he never lived up to that billing in college. He went right to LB for Florida as a freshman then later converted back to RB where he was up-and-down.
 -------------------
Pre-SB Note: A very raw, very promising wild stallion RB. A former LB converted to RB. Got more opportunity in 2021 but was a second fiddle to uber-talented RB Kevin Harris the past two seasons. When White got snaps/work he was impressive. Has decent speed (with too long of strides/striding but that's fixable), but his real gift is his agile feet. He can shift directions and stop-start with the best of them. He's still raw with instincts and has shaky hands in the passing game, somewhat…but it might be him still getting up-to-speed at playing RB.
There's some interesting raw clay to work with, to develop into something here.
NFL Comp? = Less instinctual Kareem Hunt. What they thought David Montgomery was going to be in agility…a true elite agility guy.
RB D'Vonte Price, Fla. Int'l (Post-SB scouting grade: C-/D+)
*Pre-Senior Bowl scouting grade: C+
Estimate = 6'1"/210
SB Measurements: 6'1.1"/198, 9.3" hands, 31.8" arms
Post-SB Note: Wasn't at the Senior Bowl for long. I think he left with an injury at some point. Don't have any real notes on him. Didn't help himself with this appearance, obviously.    
-------------------
Pre-SB Note: Price went nuts in 2020…averaging 116.2 yards rushing per game with 6.8 yards per carry, but that was in the COVID shortened season of just five games for FIU.
He didn't repeat that same success in 2021, but he was still good/formidable…just on a horrific team (1-11).
Great burst, he moves fast and efficient. Good vision through the holes. Pretty tough runner, but not a bruiser. Unknown hands…not thrown to very often and his team was terrible. There's something here, and it may come out more in a better environment at the Senior Bowl…versus defenses stacking him all 2021.
NFL Comp? = A kinda Alvin Kamara-like worker.
RB James Cook, Georgia (Post-SB scouting grade: D+)
*Pre-Senior Bowl scouting grade: D+
Estimate = 5'10"/190
SB Measurements: did not attend
Post-SB Note: Pulled out of attending, with no reason given (that I see), which was frustrating for the NFL people in Mobile because Cook is intriguing. He might have stolen the RB show in the passing game drills/really helped his draft stock, but he seems to be putting his chips on the Combine.     
-------------------
Pre-SB Note: Is more of a receiving back who can take a few carries than he is a legit starting NFL RB. He might get to be a part of an NFL backfield as an NFL duo, but that's about his ceiling. He's not overly fast or has great vision…he's just wiry good, fairly agile and is a solid player. I see him more as just a generically good receiving game back so far.
NFL Comp? = Like a less talented J.D. McKissic.
RB Abram Smith, Baylor (Post-SB scouting grade: D)
*Pre-Senior Bowl scouting grade: C-
Estimate = 5'11"/218
SB Measurements: 5'11.3"/211, 7.6" hands, 29.8" arms
Post-SB Note: He had one of the better, more prominent workload weeks among the RBs…but the hand measurables are a near-death experience. He's an OK enough talent, but he's too big a risk with those hands at that position. The measurables really torpedoed him.    
-------------------
Pre-SB Note: Was an RB his first two years at Baylor, switched to linebacker in 2020…and was pretty solid as an OLB. Moved back to RB for 2021 and led the Big 12 in rushing with 1,601 rushing yards and 12 TDs. He's a decent RB prospect…physical, not too shifty, has OK speed. He's got NFL ability but more in the B-C-D grade range spectrum, not an 'A' or an 'F'. He'll be the most physical runner at the Senior Bowl, among the RBs.
NFL Comp? Slower but tougher Tevin Coleman-ish.
RB Hassan Haskins, Michigan (Post-SB scouting grade: F)
*Pre-Senior Bowl scouting grade: F
Estimate = 6'0"/210
SB Measurements: Did not attend, high ankle sprain
Post-SB Note: Did not attend, high ankle sprain
-------------------
Pre-SB Note: I have no idea how this guy ran for 1,327 yards and 20 TDs in 2021 season. Considering how much stat accumulation he has…he has to be one of the worst RB prospects I've ever seen go to the Senior Bowl. I'm not wasting any more time on this guy. He'll have to prove me wrong in Mobile.
NFL Comp? = Slower Karan Higdon…former Michigan RB from a few years ago. Who? Exactly.