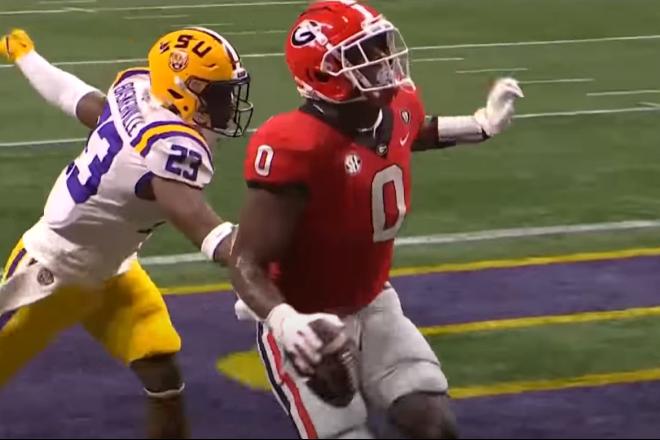 R.C. Fischer
Rookie Scouting Reports
12 May 2023
*Our TE grades can and will change as more information comes in from Pro Day workouts, leaked Wonderlic test results, etc. We will update ratings as new info becomes available.
**Our TE formulas had some slight changes in the 2018 offseason—an adjustment to better identify and value TE prospects that are smaller physically and are primed for the era ahead...the era of Jordan Reed and Delanie Walker-type TEs. Our historical grades will have changed some on various prospects as well, to show their grades by comparison. 
UPDATE TO THE ORIGINAL SCOUTING REPORT:
We decided to take Washington's draft/scouting grade down because of injury concerns…long-term concerns.
His foot and knee issues came up in a medical check at the Combine (apparently), and that data is kept secret from the public but is made known to all 32 teams pre-Draft. Washington has battled injuries for the past few years, not totally debilitating ones…but constant ones. The most recent:
2021 = foot surgery for a fracture
2022 = possible knee surgery (cartilage clean up)…he was rumored to have had a knee surgery, but no one (publicly) knows when but Washington admitted to it in a 2023 interview.
2023 bowl game = left game with ankle injury, missed the title game.
This report from Steelers Depot has more detail on his injury history:  https://steelersdepot.com/2023/05/entrance-physical-te-darnell-washington/
There's been nothing too major on the injury front, but what is of concern is… Washington tested and looks like (on tape) a top TE prospect. So, the fact that he fell all the way to the 3rd-round (almost 4th-round), to a team who didn't even need a tight end, is shocking. He was passed up by a lot of TE needy teams…and several weaker TE prospects went ahead of him. His medical reports must have really scared some people.
When healthy, Washington could be the best all-around TE prospect in the 2023 NFL Draft, in part because he is a BEAST as a blocker but athletic for the passing game as well. With his precipitous draft fall, I have to downgrade his grade to take the medical info/rumors seriously. Sadly. But as a (healthy) player…love him!
========================================================
ORIGINAL SCOUTING REPORT:
I'm not sure why Darnell Washington isn't a universal #1 TE in this draft class. I could see a team preferring/desiring the elite/weaponized receiving skills of Dalton Kincaid for their offense…that I get. But any team looking for a high-end, three-down, future pro bowl tight end -- how any of them could look at the data or the tape and desire/pick current consensus #1 rated TE prospect Michael Mayer over Washington is ludicrous. In the end, I think Washington will get the nod as the top TE off the board.
Washington somehow gets dinged for supposedly being 'the 2nd best tight end on his own team'…because THEY think Georgia TE Brock Bowers (he'll be in the 2024 draft) is the top guy because he gets all the receiving work -- they SEE him on highlights more. And that is true, Bowers does get a lot of passing game work for Georgia -- because he's a tall, 230-pound WR more than legit TE. And he's a good receiver…so, they deploy Bowers more on routes and leave Washington in to block, because he's fantastic at it…a giant monster of a man (Washington) who loves to block and is great at it -- and (obviously, simply stated) because of his blocking prowess, and Georgia having the unique TE weapon in Bowers…Washington got left in to block a lot more. Thus, Washington had lesser receiving numbers…but that doesn't mean he's a lesser tight end, not at all.
Washington is an 'A' grade tight end who will likely have a much better NFL career than Bowers, as a tight end…and maybe better as a receiver/receiving tally tool. Washington is more built for NFL goodness.
I saw the same thing on every game tape with Washington, so I just stopped watching…there was no point trying to find any other nuggets. What I saw…
 -- Washington has huge, terrific hands…giant 11" mitts that just consume the ball. This video of one of his catches is normal fare for Washington: https://youtu.be/_5acJKqSu58
He just snatches the ball like it's a tennis ball into a first-baseman's mitt. He really is a very good receiver in the hands department.
 -- On tape, Washington looks like he's rumbling a bit…maybe a hair slow 'looking', but I don't think he is…he just looks like it; like an optical illusion…because he's such a mountain of a man/TE. The guy ran top five 40-times and top three 10-yard split times at the Combine, among TEs.
And he's agile…he can run routes. He posted a stunning 4.08 short shuttle time…one of the best, if not the best of any player over 250+ pounds in the history of the Combine. He gets open just fine in NFL terms.
…and when he isn't open, good luck to the defender trying to body him -- he's like a solar eclipse of a human. Defenders look like gnats trying to get physical with him or impossibly trying to reach around him to knock a pass away.
 -- 6'6.5" tall with the massive 83.75" wingspan…and a 264-pound mass. Defenders can't reach around him or reach up as high as him…he's open by just being alive. And good luck to DBs trying to tackle this brick wall in the open field.
Washington is quite an NFL specimen…and then top it all off with what he's best known for, what he's best in class at, is blocking…which you know the NFL loves.
There is no one aspect of the game that Washington has a problem with…and there is no aspect of the game, no one, where current consensus #1 TE prospect Michael Mayer is scouted or measured better at than Washington. The only knock anyone could have on Washington is that he's had some minor foot issues -- 2021 fractured foot…dealt with it into 2022 preseason. Sprained ankle going into the 2022-23 CFB title game, but he played through it…and they didn't need him for TCU anyway.
Washington has no issues off the field. He's a serious person in interviews. He just looks and acts intimidating, but he's not a bully…just a beast…and the best all-around TE in this draft.
Darnell Washington, Through the Lens of Our TE Scouting Algorithm:
If you go through Washington's statistical output in college…he looks like a bust, an unproductive receiver. Kinda like Jelani Woods, who was so good at blocking that Oklahoma State used the 6'7"+, elite athlete as a blocking TE and as a FULLBACK (a 6'7" fullback!)…and they rarely had him go out for pass attempts -- a victim of his own success as a blocker. You can't be doing pass protection and catching passes at the same time. Jelani then transferred to Virginia for his final college season…and got a chance to show his receiver skills and caught 8 TD passes in 11 games and got on the NFL Draft map. Washington didn't get that same chance, as Jelani, in college…because Georgia didn't need him to go out for passes, they'd rather have him blocking.
You can't read anything into Washington's college output numbers.
2023 Combine Measurables:
6'6.5"/264
11" hands, 34 3/8" arms (both #1 among all TEs at the Combine)
4.64 40-time (5th fastest among TEs…first fastest among 260+ pound TEs), 1.57 10-yard
4.08 shuttle (best of any TE, at any weight class), n/a = three-cone
21 bench press, 31" vertical, 10'2" broad jump
.
The Historical TE Prospects to Whom Darnell Washington Most Compares Within Our System:
It's an odd group of computer comps, but Jason Witten does have some parallels, in his era…Washington is way more physically imposing, but Witten was no pushover either.
Really…it was near impossible to find a higher correlation match with Washington. He's a bit of a unicorn…with low college output, but a total unknown on how good he could've been if he were 'the guy' at TE for some school…and a guy that size with that short shuttle time -- he's un-comparable.
| | | | | | | | | | | | |
| --- | --- | --- | --- | --- | --- | --- | --- | --- | --- | --- | --- |
| TE Grade | TE-Reed | Last | First | Yr | College | H | H | W | Spd-Agil Metric | Strgth Blxing Metric | Hands Metric |
| 8.461 | 5.53 | Washington | Darnell | 2023 | Georgia | 6 | 6.5 | 264 | 7.35 | 11.58 | 8.40 |
| 7.845 | 2.16 | Witten | Jason | 2003 | Tennessee | 6 | 5.6 | 264 | 6.21 | 10.53 | 8.26 |
| 8.834 | -0.54 | Seferian-Jenkins | Austin | 2014 | Washington | 6 | 5.4 | 270 | 7.00 | 10.07 | 10.07 |
| 5.669 | 2.94 | Kelce | Travis | 2013 | Cincinnati | 6 | 5.2 | 255 | 6.12 | 8.15 | 9.50 |
*A score of 7.0+ is where we start to take a TE prospect more seriously. A score of 8.50+ is where we see a stronger correlation of TEs going on to become NFL good/great/elite. A score of 10.00+ is more rarefied air in our system and indicates a greater probability of becoming an elite NFL TE.
All of the TE ratings are based on a 0–10 scale, but a player can score negative, or above a 10.0 in certain instances.
**The 'TE-Reed' score is in honor of Jordan Reed's 2015 season…looking at TEs in a different manner—the smaller, speedy receiving threats.
"Speed-Agility Metric" = A combination of unique metrics surrounding speed, agility, physical size, mixed with some on-field performance metrics. High scorers here project to have a better YAC and show characteristics to be used as deep threats/create separation.
"Power-Strength Metric" = A combination of unique metrics surrounding physical size profiling, bench press strength, etc.  High scorers here project to be more physical, better blockers, and less injury-prone.
"Hands Metric" = A combination of unique metrics surrounding on-field performance in college, considering the strength of opponents played. Furthermore, this data considers some physical profiling for hand size, etc. High scorers here have a better track record of college statistical performance, and project the combination of data for receiving success at the next level.
2023 NFL Draft Outlook:
He's made it to most everyone's late 1st-round in mock drafts right now. Sometime in April, I believe, he'll surpass Mayer and Dalton Kincaid and be everyone's top mocked TE…I think. Ultimately, I believe (and am willing to bet at +350 odds) that he goes top 15, and is the first TE off the board.
If I were an NFL GM, and I had need of a three-down TE…he's a bargain the further he falls past #10. I'd be willing to chase him…one of the most unique, ahead of his class type players in the draft at any position. Dalton Kincaid is elite too, but as a receiving TE…if that's what I wanted, I'd go Kincaid. But for all-around, blocking matters TE…it's Washington.
NFL Outlook:  
I hope he goes to Cincinnati where he can protect Joe Burrow and thrive in the passing game when he's not saving Joe's life.
Washington is going to be a better pro than college game…and future pro bowl TE. He should start right away for whatever team drafts him.