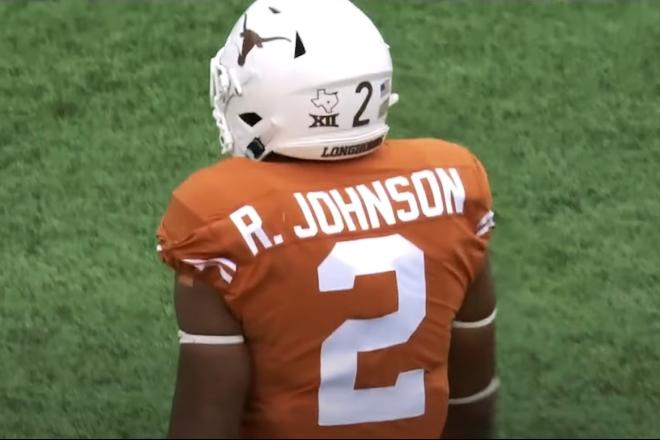 R.C. Fischer
Rookie Scouting Reports
27 April 2023
*Our RB grades can and will change as more information comes in from Pro Day workouts, leaked Wonderlic test results, etc. We will update ratings as new info becomes available.
*We use the term "Power RB" to separate physically bigger, more between-the-tackles–capable RBs from our "Speed RBs" group. "Speed RBs" are physically smaller, but much faster/quicker, and less likely to flourish between the tackles.
UPDATE TO ORIGINAL SCOUTING REPORT:
Because I watched a ton of Bijan Robinson tape, I also saw a ton of Roschon Johnson at work as well. I've mentioned several times in print, and on our video shows, that I don't see a huge difference between Bijan and Roschon…and I mean that as more of a bring-down on Bijan to reality (he's OK/good) than a huge endorsement of Roschon.
They are both 'good'/useful/NFL-worthy in my book. Differently 'good'. 
Bijan is a polished, but somewhat limited runner (all this Barry Sanders talk may be the most ridiculous thing I've ever heard) and he's a very good receiver/has good hands. Roschon is not as polished a runner…he's more of an unbridled runner, a get-it-and-go runner…not reading the holes as much as just sailing through the line whether clogged or not. Not a lot of dancing like Bijan (and it's Bijan's kryptonite). And Roschon is an 'OK'/capable receiver but not as good as Bijan.
I see both RBs as NFL-worthy…capable. Differently capable.
I was really disappointed with Roschon's Combine…a 4.58 40-time and a flimsy 31.5" vertical and doing so at a much lower than expected weight of 219 pounds and not 225+ as hoped (as he weighed in at the Senior Bowl). I have to bring down Roschon's scouting grades and expectations because he did not help himself at the Combine and his career has been that of a backup/second fiddle. There's just nothing heating up for me to get any more excited than saying 'he's capable'.
No NFL team is going out of their way to push Roschon…but they will feature/push/stick by Bijan, a la their years together at Texas. For a while we had Roschon as a top 3 RB-p (power/bigger runner) in this class, pre-Combine and Pro Day, but his grades have slipped and he's falling down the ladder/rankings and out of the top 3. He's becoming just another 'meh' RB prospect from this draft…not a sneaky savior.
Roschon flashes some moments that gets you excited that he may be a top talent from this (weak) RB class, but mostly Roschon is just OK/good, not great, on tape in his time at Texas. He's a hopeful/developmental RB prospect for the next level…not a slam dunk/sure thing prospect. 
===============================================
ORIGINAL SCOUTING REPORT:
When I wrote and published my full scouting report on Bijan Robinson, I threw in a zinger/line about how I didn't think Bijan was the #1 RB for the 2023 NFL Draft, I wasn't even sure he was the best RB on his own team in 2022!  Now obviously, I meant to cast aspersions on the Bijan express hype train (because I think he's overrated compared to the fawning analysis so far), but it wasn't meant as a full slam at Bijan Robinson…  I also meant that Roschon Johnson is a really intriguing NFL RB prospect in his own right. But it wasn't fully clear that the comparison was taken as a compliment to Roschon…it seemed to be taken more as me kicking Bijan while I had him down.
It is a pretty bombastic statement -- comparing Roschon favorably to Bijan. No one in polite football society would think it possible. How could that be true? I started to wonder if I was being too glib, too cute with that line. I was basing the statement off having watched Roschon preview tape ahead of the Senior Bowl, and being surprised by a 'this guy was the backup?' feeling. I watched the tape of Roschon (and thus Bijan) work against Alabama and Iowa State in 2022 (two of their tougher matchups), and I was shocked -- I thought Roschon was the more talented RB….so, the Roschon  > Bijan mindset started there.
BUT that was just 1-2 games. AND if Roschon is so good, then why was he a backup all that time? With all that second guessing, I felt like I needed to get to a full Roschon study and scouting report, if for no other reason than to confirm or refute my Bijan v. Roschon 'feeling' once and for all (at this early stage of the scouting process. I've studied Bijan deeper already…so, let's go deeper on Roschon.
There's a lot of background we need to cover here, to set up the on-field and metrics consideration. So, let's start there…
Roschon went to Texas as a four-star, all-American mobile QB. A cute aside: He once scored 10 TDs (pass and run) in a high school game. He was a 4.0 student in high school. He was a little short for a QB (6'0") but was a highly mobile, very fast runner and thus he had college QB appeal.
In his true freshman season (2019), the Longhorns had injury issues at running back a week before the season was to begin and they asked Roschon to move to RB to help out…and he ended up almost leading the team in rushing as a true freshman. Finishing 204 yards short of current NFL RB Keaontay Ingram (who wisely transferred out away from Roschon and incoming Bijan). Roschon also tied for the team lead in rushing TDs (7) that true freshman season. All this despite never having played RB before, and switching to it a week before the season was to begin.
In 2020, as a sophomore, Roschon stayed at RB…but worked as the backup to Bijan Robinson. And he would remain the backup, but playing and touching the ball quite a bit in tandem with Bijan….Bijan went on to be hailed as a superstar while Roschon is known as 'Bijan's neat backup'.
Late in the 2021 season, Roschon did get a chance to work main carry duties with Bijan injured and out of action. Roschon was the lead back for Texas in their final two games, and Roschon posted a 15-77-1 rushing line against West Virginia in the first of those. Then, with an injured QB and virtually no O-Line, he nearly singlehandedly led a downtrodden team to an upset win over Kansas State, running for 179 yards and a TD on 31 carries. The heroic performance didn't mean much for his 2022 opportunity…Roschon was still the #2 behind Bijan.
Still, Roschon did get a prestigious honor/recognition in the 2022 preseason -- he was listed #26 in the very popular and much paid attention to Bruce Feldman's (physical) 'Freaks' list of 100 college players from all over the U.S. -- and Johnson was the only Big 12 RB to make the list; no Bijan to be found.
Roschon did get an invite to the 2023 Senior Bowl, where he started to shine right away in the very first practice…but then broke his hand in a drill and missed the rest of his showcase.
Roschon Johnson's college career has been marked by random dark clouds hiding him from a true view with the public.
I was introduced to Roschon Johnson through my Senior Bowl preview series ahead of the event week. I saw Roschon on tape and was like 'how is this guy a backup?' The game tape that I watched, was 2022, two games (Alabama and Iowa State), and he wasn't the feature back so it was a limited preview -- but I left the preview very intrigued. Then I saw his first couple reps at the Senior Bowl, and I'm like 'this guy has something…I'm not sure what yet…but how was he only a backup…why didn't he leave/transfer?'
What I saw on the tape, and for a flash at the Senior Bowl, to put it simply -- a 225+ pound athlete moving like a gazelle at times…moving like a 205-pound RB. He has surprising speed for his size. Word has it that he clocked a 22.6 mph Next Gen satellite tracking speed time in the 2022 offseason. What was the fastest clocked time in the NFL in 2022, you ask? 22.11 mph…Parris Campbell. The next fastest times were two rookie RBs…22.09 Kenneth Walker and 21.87 Breece Hall. Roschon supposedly tracked above them all in topline speed in 2022.
I can see it on tape. Roschon has sensational acceleration. He's also tough to bring down because he runs like a bull let out of the gates to do battle…all gas, no brakes as the kids say. He doesn't run 'like a running back', per se. He's more 'an athlete playing running back'. He gets the ball and goes all Forrest Gump…running by, through, over anything in his path. Roschon doesn't display a great sense of RB awareness approaching a hole, and scouts nitpick that…but I'm watching him and thinking -- who cares about what style we're used to, just give him the damn ball and let him go! Every running back prospect doesn't have to have the same style or look, or classical technique about them…if they can just run by and over people! But you can sum up the NFL mindset on scouting/football things by remembering that they still insist on/using that Blackberry rollerball phone from 20 years ago…using it still today and eschewing the new iPhones because they 'like to feel the buttons when you press them' (that was me right before I switched to iPhone many moons ago).
Roschon Johnson has a lot of raw talent, and some refined talent as well. He's a very good blocker and he's a really slick, smooth pass catcher. In a sense, Johnson 'has it all'. It's been hidden from us via the Bijan push and then the unfortunate Senior Bowl event…that will probably lead to him being hidden from us at the Combine, somewhat, as well.
Roschon's origin story is potentially going to make him one of the best 'sleeper' talents in the 2023 NFL Draft.
But I know what you want to know… At the end of this study, do I think he's better than Bijan Robinson? My answer is…if I were an NFL GM, I think I'd rather have Roschon Johnson's build and athletic upside and multi-dimensionality than a very solid Bijan…yes, I go Roschon. And if I were to say 'they're close' (but they are more apples-to-oranges in talent/style, so hard to compare head-to-head somewhat), then I'd take a 4th-round Roschon over a #4 overall pick Bijan a million times out of a million.
Every time I watch Texas Longhorns 2022 tape, I walk away with the same impression -- Roschon grabs my attention more than Bijan. Watching both against Alabama and Iowa State especially, two of the toughest defenses/teams they faced.
And Bijan is an awesome human being. Great character. I hope he goes on to a Hall of Fame career and wins the NFL Man of the Year award multiple times. But Roschon is a great character check too. He was the alpha leader of the Longhorns, per his head coach…and he was an all-Big 12 Academic performer multiple years and made the honor roll most semesters (after a 4.0 GPA in high school). Roschon isn't going to be a character letdown in the NFL.
Roschon Johnson, Through the Lens of Our RB Scouting Algorithm:
 -- Two starts with Bijan out, in 2021, and Roschon averaged: 23.0 carries, 128.0 yards, 1.0 rush TDs per game.
 -- Roschon prides himself on his special teams play…he had 8 tackles in 12 games in the 2022 season.
 -- Roschon's yards per carry rate has risen the past three years, as he gets more comfortable as an RB: 5.2 (2020), 5.9 (2021), 6.0 (2022). Roschon has stated he didn't start feeling comfortable as a running back until later 2021 season (thrown into it to start 2019).
2023 Projected Measurables:
6'0.4", 225 pounds (Senior Bowl)
9.5" hands, 31.75" arms (Senior Bowl)
4.4+…could shock in the 4.3s at 220 pounds (if he cuts weight to run faster) = 40-time
6.9-7.0 +/- = Three-cone
The Historical RB Prospects to Whom Roschon Johnson Most Compares Within Our System:
I wasn't thinking about this particular comp in my studies, but our system pointed Antonio Gibson out -- and it made a lot of sense. Potentially similar physical profiles and guys who were not featured as RBs in college, but then they launched in the pros.
Gibson was a WR who took off with a chance to carry the ball late his senior season, but the Memphis coaches did not put him as the lead back that year…instead Kenneth Gainwell and Patrick Taylor (GB practice squad) were the lead RB duo. It seems silly to think (now, in hindsight) that Gibson was 'right there', but they went with Gainwell-Taylor over him. Well, Roschon was 'right there' for Texas too…
| | | | | | | | | | | | | |
| --- | --- | --- | --- | --- | --- | --- | --- | --- | --- | --- | --- | --- |
| RB Score | RB-Re | RB-ru | Last | First | College | Yr | H | H | W | Speed Metric | Agility Metric | Power Metric |
| 8.077 | 8.05 | 6.89 | Johnson | Roschon | Texas | 2023 | 6 | 0.4 | 225 | 10.02 | 6.84 | 8.40 |
| 7.041 | 8.17 | 7.06 | Cox | Jeremy | Old Domin. | 2019 | 5 | 11.5 | 223 | 8.36 | 7.70 | 8.17 |
| 7.477 | 8.51 | 6.25 | Ballage | Kalen | Arizona St | 2018 | 6 | 1.4 | 228 | 9.04 | 6.80 | 7.56 |
| 7.859 | 7.83 | 7.90 | Jackson | Darius | E. Michigan | 2016 | 6 | 0.0 | 220 | 9.27 | 6.46 | 7.06 |
*A score of 8.50+ is where we see a stronger correlation of RBs going on to become NFL good/great/elite. A score of 10.00+ is more rarefied air in our system and indicates a greater probability of becoming an elite NFL RB.
All of the RB ratings are based on a 0-10 scale, but a player can score negative, or above a 10.0 in certain instances.
Overall rating/score = A combination of several on-field performance measures, including refinement for strength of opponents faced, mixed with all the physical measurement metrics—then compared/rated historically within our database and formulas. More of a traditional three-down search—runner, blocker, and receiver.
*RB-Re score = New/testing starting in 2015. Our formula/rating that attempts to identify and quantify a prospect's receiving skills even deeper than in our original formulas. RB prospects can now make it/thrive in the NFL strictly based on their receiving skills—it is an individual attribute sought out for the NFL, and no longer dismissed or overlooked. Our rating combines a study of their receiving numbers in college in relation to their offense and opponents, as well as profiling size-speed-agility along with hand-size measurables, etc.
*RB-Ru score = New/testing starting in 2015. Our formula/rating that attempts to classify and quantify a RB prospect's ability strictly as a runner of the ball. Our rating combines a study of their rushing numbers in college in relation to their offense and strength of opponents, as well as profiling size-speed-agility along with various size measurables, etc.
Raw Speed Metric = A combination of several speed and size measurements from the NFL Combine, judged along with physical size profile, and then compared/rated historically within our database and scouting formulas. This is a rating strictly for RBs of a similar/bigger size profile.
Agility Metric = A combination of several speed and agility measurements from the NFL Combine, judged along with physical size profile, and then compared/rated historically within our database and scouting formulas. This is a rating strictly for RBs of a similar/bigger size profile.
2023 NFL Draft Outlook:
Roschon is tracking in the top 150 overall, already…that's how good Roschon is, that even as a backup people saw the potential and are giving him respect. If he had been able to work the entire Senior Bowl, he might be the hot story from Mobile along with Tyjae Spears. If he runs in the 4.3s at the NFL Combine, top 100 overall is possible. Likely, he is a 4th-rounder.
If I were an NFL GM, I'd be tracking Roschon to see how far he might fall. I'd like to take a chance on him, but I don't pay much for RBs. But his size-speed combo may warrant paying a little bit for…if he falls to day three.
NFL Outlook:
Will go one of two ways…
1) He impresses with athleticism and speed at the NFL Combine and gets himself into a hot 'sleeper' buzz and is drafted 3rd-round and a team really gives him a fair shake right away because they believe in him (the Antonio Gibson story).
2) He does fine at the Combine, but doesn't do a lot of things in total due to his broken hand and he stays a day three pick, and a team drafts him for special teams and a possible conversion to H-back, fullback and he just drifts out of sight to a solid workman NFL career but never really gets the real RB shot because the NFL is blind or he just doesn't have the 'it' factor to run the ball as a lead guy.