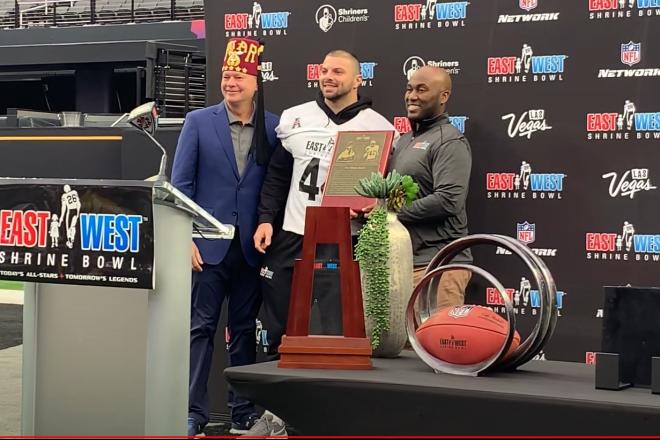 R.C. Fischer
Rookie Scouting Reports
20 April 2023
*Our LB grades can and will change as more information comes in from Pro Day workouts, leaked Wonderlic test results, etc. We will update ratings as new info becomes available.
Hiding in the NFL Draft weeds is Houston's Derek Parish…arguably, the 2022 CFB season's most effective pass rusher, but an injury (torn bicep) cost him his full season and cost him a Combine invite. Those things, fair or unfair, hide prospects from visibility, if they didn't play in the SEC or at Ohio State.  
I just wrote 'most effective pass rusher…', but you may notice I have him labeled as an interior linebacker for the 2023 NFL Draft…it's on purpose…and he may be the best interior linebacker prospect in this draft…one who didn't play ILB at all the past two+ seasons…and one who is tracking as a 7th-round/UDFA type of prospect. He's going to be one of our highest graded ILB prospects in this draft class….and, yet, I haven't seen a mainstream or non-mainstream analyst even mention him as a possible ILB for the NFL. He's only ever mentioned as an OLB/edge guy.
Where to begin…
Through four games in 2022, Parish made 20 tackles with a whopping 8.5 TFLs and 5.0 sacks. He tore his bicep and lost the rest of his season after 4 games played. Houston had 13 games in the 2022 season. Parish's 13-game pace for output was 65 tackles, 28 TFLs, and 16 sacks. And, really, he got hurt in game four…so he had all his numbers in three games, technically. Had he gotten anywhere close to those extrapolated numbers for a season, he would have been the American Athletic Conference Defensive Player of the Year, a 1st-team All-American, a possible Defensive Player of the Year (but not playing the SEC or Big Ten would've killed any hope of that regardless), and a sure-fire Combine invite…and probably a top 100 or so rated prospect.
Not getting a Combine invite really cost him a ton of money -- because his Pro Day was spectacular. 6'0"/241 and ran a 4.62 40-time with an elite (for his size) 6.76 three-cone and 4.07 shuttle throwing down 27 bench reps with a 37" vertical. His Pro Day numbers would've been, arguably, the best of any 240+ pound Combine prospect at EDGE or LB.
What I see on tape -- Parish is the Drew Sanders everyone is looking for.
6'4"/235, 4.66 40-time, 1.61 10-yd, 7.18 three-cone, 4.38 shuttle, 37" vertical = Drew Sanders Pro Day
6'0"/241, 4.62 40-time, 1.60 10-yd, 6.76 three-cone, 4.07 shuttle, 37" vertical = Parish's Pro Day
You'll see that Parish is either slightly better or much better in all the key measurables…except Parish is 4" shorter, which is one of the reasons why I project Parish to ILB.
Parish is all muscle…a way better/sturdier frame than Sanders. Both used size and speed to beat up helpless CFB blockers off the edge but otherwise they don't have classic/natural edge tendencies -- they just out-athlete'd, overpowered many blockers and chased down sacks with their speed.
When I scouted Sanders, I noticed he was a weaker ILB prospect -- pushed around too much by blockers and poor instincts reading the run game. Sanders is an OLB/edge pass rusher hope…and not an elite one. Parish, by contrast, is built and works like an old school ILB, he looks like a version of Iowa's Jack Campbell -- thick, quick, and high motor…and when they hit people, they stay down.
6'5"/249, 4.65 40-time, 1.58 10-yd, 6.74 three-cone, 4.24 shuttle, 37.5" vertical = Jack Campbell Combine
6'0"/241, 4.62 40-time, 1.60 10-yd, 6.76 three-cone, 4.07 shuttle, 37.0" vertical = Parish's Pro Day
Watching his tape, Parish is the real deal -- a bully pass rusher with speed and power. He doesn't give up on plays…he's relentless. He's perfect to take his skillset and move him to the interior…but he could be a 3-4 OLB or 4-3 OLB in the NFL, but I think his upside is pure ILB or 4-3 OLB.
At his Pro Day, Parish worked out as a defensive player AND an offensive player…working out as a fullback complete with running pass routes, though he'd not been on offense at all in college. He could be a #1 ranked fullback prospect in this draft as well, but that would be selling him short for his defensive gifts. He could be a 2-way player in the NFL.
Off the field -- perfection. Team captain…and has all the football captain actions and mannerisms. He won the Pat Tillman Award at the East-West Shrine Bowl for his character and efforts on and off the field.
I don't know what's going to happen to him at the next level…whether he gets a shot to be a starting linebacker or if he gets pigeonholed into a special teams and versatile backup -- but Parish deserves a much better scouting grade and way more draft attention than he's getting.  
Derek Parish, Through the Lens of Our ILB Scouting Algorithm:
 -- 20.5 TFLs in his last 17 games/two seasons of play. 32.5 TFLs in his last 33 games/4 seasons of play.
 -- #16 all-time in the AAC in career TFLs (34.5) and #11 all-time in career sacks (17.5).
 -- 2021 bowl game vs. Auburn: 4 tackles, 2.0 TFLs
 -- 2022 against Texas Tech: 11 tackles, 6.5 TFLs, 4.5 sacks…that's not a typo.
2023 Pro Day numbers:
6'0"/241
9.5" hands, 29.25" arms…shorter arms are another reason ILB suits him better than edge.
4.62 40-time (would've been the fastest among the 240+ pound LBs classified at the Combine)
1.60 10-yd, 2.60 20-yd
4.07 shuttle (would've been the fastest among any LBs classified at the Combine)
6.76 three-cone (would've been the 2nd fastest among the 240+ pound LBs classified at the Combine)
27 bench press reps (would've 2nd-best among the LBs classified at the Combine)
37" vertical
9'10" broad
The Historical ILB Prospects to Whom Derek Parish Most Compares Within Our System:
Paul Worrilow is exactly who I was thinking of while watching Parish tape. Also, Joe Schobert's transition from edge/OLB to a killer ILB. A shorter Jack Campbell is a legit comp as well. 
| | | | | | | | | | | |
| --- | --- | --- | --- | --- | --- | --- | --- | --- | --- | --- |
| ILB Score | Last | First | Yr | College | H | H | W |   | Tackle, Strength Metric | Speed, Agility Metric |
| 7.517 | Parish | Derek | 2023 | Houston | 6 | 0.4 | 241 | | 8.62 | 9.02 |
| 8.816 | Worrilow | Paul | 2013 | Delaware | 6 | 2.0 | 238 | | 8.23 | 9.39 |
| 5.280 | McFadden | Micah | 2022 | Indiana | 6 | 1.0 | 240 | | 6.96 | 8.55 |
| 6.353 | Coyle | Brock | 2014 | Montana | 6 | 0.6 | 235 | | 7.76 | 7.42 |
| 6.789 | Cushing | Brian | 2009 | USC | 6 | 2.7 | 243 | | 6.74 | 8.73 |
| 7.911 | Chenal | Leo | 2022 | Wisconsin | 6 | 2.5 | 250 | | 8.70 | 10.86 |
*A score of 8.00+ is where we see a stronger correlation of LBs going on to become NFL good/great/elite. A score of 10.00+ is more rarefied air in our system, and indicates a greater probability of becoming an NFL elite LB.
All of the LB ratings are based on a 0–10 scale, but a player can score negative, or above a 10.0 in certain instances.
Tackle-Strength Metrics = A combination of several physical and performance measurements. An attempt to classify the LB prospect's ability to stop the run, as well as to gauge how physical the player is, and the likelihood of higher tackle counts in the NFL. All based on profiles of LBs historically.
Speed-Agility Metrics = A combination of several speed, agility, and size measurements...as well as game performance data to profile a LB for speed/agility based on LBs historically. A unique measuring system to look for LBs that profile for quickness, pass-coverage ability, and general ability to cover more ground.
.
2023 NFL Draft Outlook:
Parish is tracking as 7th-round/UDFA #300+ ranked prospect now but that's on mainstream analyst's lack of awareness, scouting, and guts. I think the NFL will draft him 5th-6th-round…he's too good to slide towards undrafted.
If I were an NFL GM, I would make Parish a day three priority because of his versatility and leadership…and potential to be a great transition to be my middle linebacker.
NFL Outlook:  
If Dan Campbell doesn't draft Parish 5th-round, I'll be shocked. Parish is Campbell's spirit animal.
Parish's outlook is fuzzy and exciting. We don't know where he'll play…it depends on who gets their hands on him. He could be a special teamer and backup OLB. He could be a backup pass rusher. He could be a fullback. He could be a two-way player at LB/FB. There's a world of possibilities here with a great athlete and great character player.