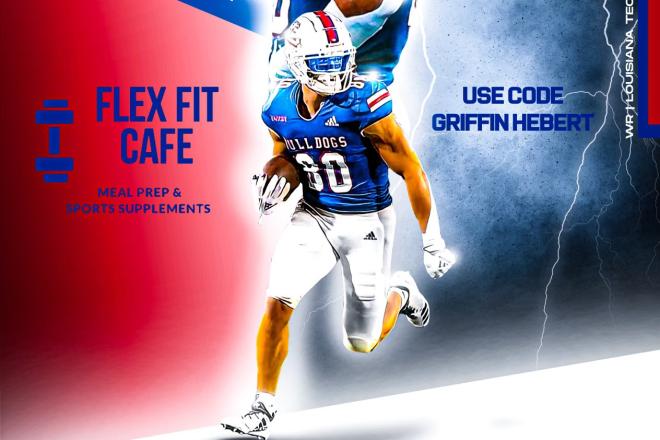 R.C. Fischer
Rookie Scouting Reports
18 April 2023
*Our TE grades can and will change as more information comes in from Pro Day workouts, leaked Wonderlic test results, etc. We will update ratings as new info becomes available.
**Our TE formulas had some slight changes in the 2018 offseason—an adjustment to better identify and value TE prospects that are smaller physically and are primed for the era ahead...the era of Jordan Reed and Delanie Walker-type TEs. Our historical grades will have changed some on various prospects as well, to show their grades by comparison. 
After six games into the 2022 CFB season, Griffin Hebert led all CFB tight ends in receiving yards and yards per catch…over 20+ yards per catch. He was on a roll…and then hurt his ankle (tore some ligaments), missed a few games, lost his statistical lead among TEs, tried to come back and was never 100% his last few games and he drifted off the draft radar screen. A potential award-winning season lost…no Combine invite…just a Hula Bowl all-star game invite.
Hebert had rehabbed and prepped for a hopeful Combine invite, but he was snubbed and went on to prep for his Pro Day. Coming off the ankle rehab…driving in a car all day to get back to La Tech for his Pro Day…he shocked many with a stellar Pro Day, under the circumstances -- a 4.58 40-time at 239 pounds…and a 6.95 three-cone. Terrific times for his size. He hit a 39.5" vertical…which is top tier at that size. The whole Pro Day was great and then when he threw down 27 reps on the bench press -- it became a 'wow' Pro Day from a guy who would've blown up the Combine among the TEs.
So, is this a serious prospect to be drafted now…a sleeper for the NFL?
A firm 'maybe'.
Hebert is an athletic TE prospect to be sure…and that could get him drafted but he is only 6'1.4" tall…not what the NFL is looking for primarily. And he bulked up to 239 pounds to try and get classified for the draft as a legit TE prospect, because he was more WR/TE in college, which is smart of him to do/try (move to TE for the draft) in a sense, and he ran fantastic times/had a great Pro Day at his new size, but he still looks (on tape) like a 'big WR' trying to play TE…his frame and body type looks more like a WR than TE. Even if he gets up to 250 pounds, he's still 6'1" tall -- and the NFL doesn't like that.
Sure, we could all think -- a 240-pound guy running in the 4.5s with a sub-7.0 three-cone, he could be a great 'move' TE, a nice pass game weapon! And that is true, but where in the NFL do you see 6'1" TEs with athleticism being used as real weapons? Chig Okonkwo? He's 6'2"+ and ran well pre-Draft like Hebert…and the 'powers that be' tried to make him an H-back/FB/TE, but he did breakthrough with the Titans a little bit as a rookie -- but, potentially, only breaking through because the Titans lost all their WRs to injury in-season and had no choice/were desperate for pass game options. The one NFL team with the worst WRs/TEs and mass injury in 2022 was Tennessee -- and thus Chig caught a break. So, there's that hope for Hebert…I guess.
I think Hebert might have been  better off going down to 220-225 pounds, hoping to run in the 4.4s with a sub-6.85 three-cone and a 40"+ vertical with all the bench press strength and being a very unique option among all these tiny/speedy WR prospects in 2023…especially in a year of so many great, traditional TE prospects -- I think he picked the wrong year to be a slick WR-to-TE convert.
Can Hebert play, regardless of classification? Yes…he looks OK. Works like a big WR. Ran a lot of routes and didn't do as much blocking but has the size, strength, and nimbleness for it. OK hands. 'Plus' athleticism. He's an interesting prospect to figure out how to utilize, but guys like him, guys without a Combine/big school or conference push -- the NFL game is kinda rigged/biased against them and they're gonna have to grind and force their way onto a roster for eventual opportunity.
There's definitely a raw, athletic prospect to work with here -- but it's an uphill battle. He's clean, as a prospect, otherwise -- he healed up ankle issue and was a five time/year honor roll student who turned down the Ivy leagues to play D1 ball in a hoped-for up-tempo offense to aspire to a better shot at the NFL someday.
Griffin Hebert, Through the Lens of Our TE Scouting Algorithm:
 -- Muted performances, statistically, most of his career in games…a lot to do with poor QB play. Most of his career games were 3 catches or fewer, under 50 yards, and rarely a TD.
 -- His biggest matchup in his career: Clemson 2022…and he had his biggest yardage game with 5 catches for 122 yards.
 -- #3 in the conference in yards per catch in 2022 at 18.7 ypc.
2023 Pro Day Measurables:
6'1.4"/239
9.75" hands, 31.5" arms
4.58 40-time (6th fastest of 44 TE prospects we have as 'draftable'/NFL potential TEs in 2023, who have run times)
1.58 10-yd/2.66 20-yd (11th fastest 10-yd of 44 TE prospects we have as 'draftable'/NFL potential TEs in 2023)
4.27 shuttle (10th fastest among the TE prospects we have as 'draftable'/NFL potential TEs in 2023)
6.95 three-cone (6th fastest among the TE prospects we have as 'draftable'/NFL potential TEs in 2023)
27 bench press (the BEST among the TE prospects we have as 'draftable'/NFL potential TEs in 2023)
39.5" vertical (2nd-best among the TE prospects we have as 'draftable'/NFL potential TEs in 2023)
10'2" broad jump (middle of the pack)
The Historical TE Prospects to Whom Griffin Hebert Most Compares Within Our System:
Hebert comps with the shorter, highly athletic prospects who were called a tight end for their draft…but some also called H-back and/or fullback -- and most of these names (below) never became real passing game weapons as many hoped they would in the NFL.
| | | | | | | | | | | | |
| --- | --- | --- | --- | --- | --- | --- | --- | --- | --- | --- | --- |
| TE Grade | TE-Reed | Last | First | Yr | College | H | H | W | Spd-Agil Metric | Strgth Blxing Metric | Hands Metric |
| 6.192 | 7.91 | Hebert | Griffin | 2023 | La Tech | 6 | 1.4 | 239 | 8.71 | 7.54 | 5.49 |
| 5.220 | 8.85 | Dunsmore | Drake | 2012 | Northwestern | 6 | 2.1 | 241 | 8.14 | 6.17 | 7.43 |
| 6.656 | 7.94 | Cloherty | Colin | 2009 | Brown | 6 | 2.1 | 245 | 8.44 | 7.76 | 6.08 |
| 5.145 | 7.40 | Granson | Kylen | 2021 | SMU | 6 | 1.4 | 241 | 6.53 | 5.20 | 7.14 |
| 8.187 | 11.98 | Keller | Dustin | 2008 | Purdue | 6 | 2.1 | 242 | 9.95 | 7.72 | 9.17 |
*A score of 7.0+ is where we start to take a TE prospect more seriously. A score of 8.50+ is where we see a stronger correlation of TEs going on to become NFL good/great/elite. A score of 10.00+ is more rarefied air in our system and indicates a greater probability of becoming an elite NFL TE.
All of the TE ratings are based on a 0–10 scale, but a player can score negative, or above a 10.0 in certain instances.
**The 'TE-Reed' score is in honor of Jordan Reed's 2015 season…looking at TEs in a different manner—the smaller, speedy receiving threats.
"Speed-Agility Metric" = A combination of unique metrics surrounding speed, agility, physical size, mixed with some on-field performance metrics. High scorers here project to have a better YAC and show characteristics to be used as deep threats/create separation.
"Power-Strength Metric" = A combination of unique metrics surrounding physical size profiling, bench press strength, etc.  High scorers here project to be more physical, better blockers, and less injury-prone.
"Hands Metric" = A combination of unique metrics surrounding on-field performance in college, considering the strength of opponents played. Furthermore, this data considers some physical profiling for hand size, etc. High scorers here have a better track record of college statistical performance, and project the combination of data for receiving success at the next level.
.
2023 NFL Draft Outlook:
Hebert is picking up a little draft heat…due to the analytics community going bonkers for his Pro Day numbers, but mostly he's tracking as a UDFA/top 300+ prospect. I think he could get plucked 7th-round on an athleticism gamble.
If I were an NFL GM, I'd be interested in him as a priority UDFA option. Not necessarily someone I'd chase in the draft, but he'd be on a late-round watch list for sure.
NFL Outlook:  
An uphill battle for opportunity. He's likely going to be a developmental TE and may be on a practice squad circuit the next 2-3 years before we start to see him matter/get an opportunity. There are more and more freak TE athletes hitting the NFL…Hebert could get lost among them because he's shorter than most all of them. But if Hebert can stick with it and develop his craft and the NFL continues to evolve -- there's hope Hebert can become a weapon at TE or WR in the league.