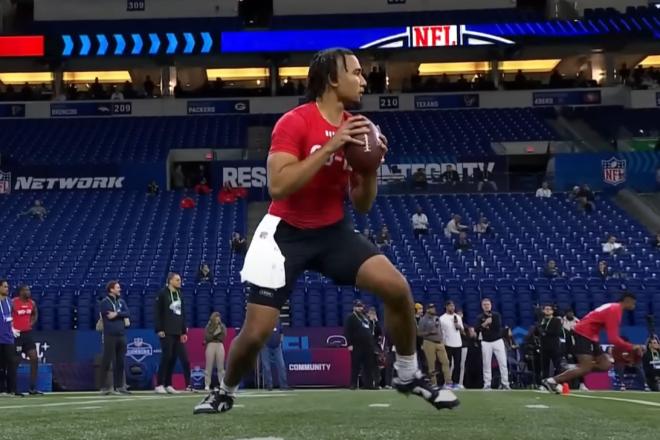 R.C. Fischer
Rookie Scouting Reports
17 April 2023
UPDATE TO ORIGINAL SCOUTING REPORT:
The word/acronym/'thing' of the scouting year, 2023, is…'S2'.
S2 is the new/enhanced Wonderlic type test. An online measurement of how fast you can think and identify things/differences, etc. I have firsthand knowledge of using/administering the Wonderlic test to people. I have a deep database of Wonderlic scores for prospects and I know its value in the overall scouting process by position. What I don't know is -- what the real value and impact of the S2 is…because it is still new/emerging and is steeped in secrecy/privacy.
So, all the S2 information we're getting is leaked and uncorroborated…and we have no idea the long-term correlations and values of the individual scoring because they're all kept private. So, we have to take the S2 rumors going around right now with a grain of salt. BUT what I do know of the S2 testing, I like…I see it's enhanced Wonderlic value in the scouting process -- especially important for QB scouting.
Using my old Wonderlic brain to the S2, as it pertains to QBs -- I don't care about HIGH scores. They are nice and desirable, but my old Wonderlic data says low scores are way more correlation than high scores, to QB outcomes in the NFL. In school terms, I'm OK with an A, B, or C student…but I do not want to mess with a D or F student.
Word on the street, the rumors are -- C.J. Stroud didn't do so well in the S2 testing. All the other top prospect QBs did (allegedly) but not Stroud. And the rumor is not that Stroud lagged the group, but that he bombed the test. I can't substantiate that, but I have to take it somewhat seriously.
I love Stroud's tape. He killed it in production numbers in college. He may very well be the top QB prospect in this draft, but my computer models have to downgrade him some on the potential he scored poorly on that test…because poor Wonderlic scores have been correlative to NFL struggles/reality. The S2 data doesn't kill him off as a prospect -- he still has a bunch of 'A' graded things all over his resume, but it is a red flag, a concern, and takes his grade down some.
If you want to ignore S2 leaks completely, then Stroud is the top QB prospect in this class. If you want to acknowledge/embrace the S2 news -- then Stroud falls back to the pack, still among the top QBs, with Levis-Richardson.
Here's an updated 'comp' board for Stroud with weak Wonderlic/S2 grades considered -- gone is Burrow, Brady, Goff from the list and add Pickett. Kenny Pickett had great college tape too, but then did less than great on his Wonderlic. Stroud comped as a slow-footed Pickett isn't as exciting as being comped as a slow-footed Burrow. 
(original scouting report below)
| | | | | | | | | | | | |
| --- | --- | --- | --- | --- | --- | --- | --- | --- | --- | --- | --- |
| QB-Grade | LJax Rating | Last | First | Yr | College | H | W | Adj Comp Pct | Adj Yds per Comp | Adj Pass per TD | Adj Pass Per INT |
| 8.725 | 2.12 | Stroud | C.J. | 2023 | Ohio State | 74.5 | 215 | 67.7% | 13.1 | 13.0 | 60.3 |
| 8.224 | 5.50 | Pickett | Kenny | 2022 | Pitt | 75.2 | 217 | 63.8% | 12.4 | 16.2 | 66.1 |
| 8.895 | 2.62 | Mayfield | Baker | 2018 | Oklahoma | 73.0 | 215 | 70.6% | 15.5 | 11.2 | 58.4 |
| 9.142 | 6.71 | Trubisky | Mitch | 2017 | UNC | 74.1 | 222 | 73.0% | 12.4 | 14.2 | 76.0 |
| 8.230 | 4.90 | Bridgewater | Teddy | 2014 | Louisville | 74.1 | 214 | 71.7% | 12.6 | 14.6 | 81.0 |
========================================
ORIGINAL SCOUTING REPORT:
2023 NFL Draft Scouting Report: QB C.J. Stroud, Ohio State (v1.0)
*Our QB grades can and will change as more information comes in from Pro Day workouts, leaked Wonderlic test results, etc. We will update ratings as new info becomes available.
Well, I'm an idiot…or at least I feel like one.
I did a brief preview scouting of C.J. Stroud in the summer of 2022 for our FFM Devy series for Dynasty Football, and I found Stroud kinda dull…a C/D grade prospect getting too much attention for being 'Ohio State'.
Well, after completing several key game tapes of Stroud from 2022, and some 2021, diving in deeper -- I have seen the error of my ways. He's not dull. He's not a 'D' or a 'C' grade prospect…in fact, Stroud might be the best QB prospect I've scouted since Joe Burrow (of course, when you look back, you won't find very many great QBs since the 2020 NFL Draft either). I won't say/add 'since Justin Herbert' to this…they're such different types of QBs, but Stroud is also going to prospect grade higher than our initial (good) Herbert grade.
PAUSE
-----------------------------
*For new readers: A quick background note: I do not watch any college football in-season. I do not want to corrupt/distract all the film watching of the NFL games every week, every game. In the summers, I do conduct a scouting series where FFM's Ross Jacobs and I both watch 15-30 minutes of tape on the top 50+ mainstream prospects for the next draft -- just a quick glimpse, fast reaction report out. But when it's the offseason, I start scouting/watching these prospects, this past college season, really for the first time to get a much better feel/discovery.
-----------------------------
What was wrong with me during the scouting preview of summer of 2022? Not sure, but it happens. The scouting previews are brief snapshot looks at a game tape or two (against their toughest opponents) and a quick look at the output raw data. I did not like what I saw from Jared Goff in his 2nd-to-last college season, on my early scouting preview, but after a full scouting study after his final season -- I saw the light. Ross Jacobs also preview-scouted Stroud, and he was more favorable on him…and he was right…but in a sense we're both 'wrong' in that Stroud looks like he's not dull (me) or decent/good (Ross) -- I'm going on record to say Stroud is closer to great than good/OK.
What changed for me, specifically? Well, once I started watching and charting every throw in games against top competition…'it' happened. I saw the subtle brilliance of C.J. Stroud when I walked (scouted) a mile in his shoes play after play. I didn't like what I saw on my Bryce Young scouting preview study in the summer of 2022, and then when I walked/scouted a mile in his shoes (right before my Stroud initial deep study in January 2023), I still didn't love what I was seeing with Young. So, after the Young second-time disappointment, I felt like (going into this Stroud study)…surely, I'll see/feel the same (continued disappointment) with Stroud. Nope. What I saw pretty quickly was -- my 2022 Stroud preview was way off here. What I saw as 'dull' in 2022 I now realize is more subtle, not flashy, brilliance.
I'm going to compare Stroud to Young a lot in this report to help describe Stroud…and because the two are kinda forever linked right now in this process. They've been discussed as #1-2 prospects for two+ years…with everyone endorsing both and acting like 'you can't go wrong with either'…but, OH YES YOU CAN.
I would make this one NFL Draft bet if it pops up as a prop somewhere -- C.J. Stroud is going to be drafted higher than Bryce Young. Whether that's #1 vs. #2…or #2 vs. #20…Stroud is going ahead of Young. It could be the easiest 'call' to make of the 2023 NFL Draft in January.
And, at this early stage, with only two full prospect studies in for 2023, but with a vast history in this business -- I don't know that there will be any QB prospect better, or close…and that should mean Stroud goes #1 overall.
I liked everything I saw about Stroud in my studies, but the one thing that stands out most is just how good/great his vision is. Stroud is a superior mental processor of what is going on with receivers (and defenders) on the field. It's hard for me to describe it briefly, per se, so I'll just go the easy route and say: 'he (Stroud) just gets it'. Along with that vision/field reading ability, a QB needs to have the arm and accuracy to go with that to be big-time in the NFL…and Stroud does -- solid+ arm and great accuracy. And even more impressive on these fronts is Stroud's ability to read and be precise in the face of pressure -- and 'pressure' is usually the downfall of these hot college prospects at big schools with all-star O-Lines who rarely face it.
I would say, if you want to get a feel for Stroud's abilities now, and for the next level, just watch the 2022-23 CFB playoff game of Ohio State vs. Georgia. It is one of the best games that I've seen a QB prospect play in a while/ever given the context of the game pressure (a national TV playoff against the undefeated defending champs) and opponent strength (facing that dominant Georgia defense). I'd have to go back to my Joe Burrow (the all-time gold standard for us) scouting to recall games where I saw a QB prospect perform at such an elite level against elite competition of his time period. And I want to note, about that Georgia game, that Stroud took some big hits, but just got up and answered the bell like nothing happened/fazed him.
And it's not that Stroud is some QB prospect physically built in a lab or only exists in video games, complete with off-the-charts athletic skills and a cannon arm. No. Stroud is a very unassuming great QB prospect -- 'good' arm, not a cannon…good size, not imposing size…not overly fast/not a 'runner' per se, but a savvy runner…great accuracy and anticipation on his throws, he can 'drop it in the bucket' or can fire bullets as needed. You know who that also describes? Joe Burrow…and that's where my mind is at when thinking of Stroud's game -- wondering just how close to Burrow's is Stroud's abilities/game?
When I watched Stroud against Georgia…I was blown away (and they should've won that game and he would have been THE reason a huge upset occurred). I then quickly watched him vs. Michigan in 2022, a loss, to see if the Georgia tape would be confirmed…or maybe the Georgia game was a blip (which, is it possible to have a blip game against Georgia)? Nope, not a blip. Looked the same, good/great, against Michigan…and Notre Dame…and Maryland…and Penn State…and Utah in the prior season's bowl game. Case closed…Stroud is really good, possibly great/elite.
Now, let's further scout Stroud by comparing and contrasting to Bryce Young…and why there is (almost) NO WAY (to me) Young gets drafted over Stroud…
 -- On size alone, I would assume, in the final analysis by the better scouts (not the January scouts), that they will reach a simple conclusion: the masses have been told Young-Stroud are 1-2/joined at the hip/pick your poison franchise QB prospects both. So, if they are everyone's coin-flip 1-2…you have to call the tiebreaker on physical size (and, thus, durability), which is a huge advantage to Stroud.
I mean…Stroud is 6'2"+ and Young might not be 6'0". Size/height isn't the scouting killer it used to be…but if you're looking for tiebreakers you take the 2"+ taller guy. But the real tiebreaker is Young weighing in at the 195-pound range and looks thin/wiry by comparison to most all QB prospects, whereas Stroud is 210-215 with a better frame to take hits.  
I mean, simple logic -- if the masses see them both as GREAT/CAN'T MISS…you/they will go with the taller/bigger framed guy…unless the smaller guy has a howitzer and runs like Michael Vick, but neither is true for Young/the smaller prospect.
 -- Arm strength favors Stroud. And I don't mean shorts and a t-shirt, clean pocket, step in and throw it…they both can do that, but Stroud is still stronger even in that setup. The real difference is when there is pocket pressure…Stroud stands tall, shuffles smartly and can fire the ball pretty well standing flat footed or off script and is deadly accurate even in bad/muddy pockets.
Young is a totally different QB when pressure is detected…he throws a very low velocity pass off script or flatfooted, in fact he leans away from pressure and puts his body weight back and chucks with his arm and it is bad/off the mark a lot.
 -- Stroud's throws against top opponents were a lot of bullets between the hashes and more downfield than short quick hitters or simple bubble screens with him perfectly reading coverage and throwing anticipation passes on the money. He also throws excellent sideline timing passes with good velocity and great accuracy.
Young struggles to throw those sideline timing passes across any length of field unless he has perfect time to step into a throw with his full body weight…which he can/did more with Alabama vs. Austin Peay, or vs. Ole Miss or Vandy, and in practice -- but not as easy against Georgia and LSU and Texas defensive pressure fronts. When Young encounters trouble from pressure, and if he stays in the pocket, he's likely to throw an inaccurate pass…whereas Stroud is going to deftly, subtly shuffle to a safe spot and zing a solid rocket or float a throw very accurately.
 -- Young throws into trouble/coverage more often when he's under the pass rush pressure. Stroud seems, to me, as if he sees things so far ahead of everyone that when he's in trouble or he sees good coverage on his receiver developing in an instant…he smartly throws the ball away or in the narrowest of windows where only his WR can get it. I saw a lot of 'Holy S***' (great) throws with Stroud. I don't recall nearly as many with Young, and none downfield, with Young's best throws being more short zip passes in tight windows near the end zone. Stroud was making Holy-S throws all over the field, against the toughest of opponents.
 -- Neither Young or Stroud are 'runners'. Young can scramble a bit but he's not a big-time athlete/runner. Stroud is not a great runner either, but he has that subtle vision where he just senses his spots to go take a few yards or more…like what Joe Burrow does. You don't think of Burrow's rushing tallies/abilities, but he was #13 in rushing yards among QBs and #6 in rushing TDs among QBs in 2022. Burrow is a savvy runner…so is Stroud.
For me, between Young and Stroud, there is no comparison. And I can see that Young has a good mind and decent skills/grooming for the NFL, so in this golden era of advantageous QB rules/setup -- Young will be able to hang OK in the NFL, but I don't see any real chance of him being a star/superstar. But Stroud? He has star power.
Stroud has a clean background for medical (as we know it now) and a clean character background, a team captain, a soft-spoken leader with a work ethic and a chip on his shoulder from an upbringing in tough surroundings.
I was totally wrong in the summer of 2022…I didn't see 'it', but I do now. 
C.J. Stroud, Through the Lens of Our QB Scouting Algorithm: 
I got nothing really to pick at on Stroud's output…
Back-to-back 40+ TD pass seasons. 186.6 (#2 in NCAA) and 177.7 (#1 in NCAA) passer ratings in his two seasons.
4 or more TD passes in a game in over half his college career starts (14 of 25 starts). *Joe Burrow did so in 10 of his 28 starts (and 10 out of his final 16 games).
Bryce Young did so in eight of his 28 starts.
Kenny Pickett didn't hit 4 or more TDs in a game until his senior year…five out of 13 his senior campaign, five of 48 for his career.
Kyler Murray three times out his 14 starts his one starting season.
Patrick Mahomes did so in 13 out of his 28 starts.
I cannot find any faults or oddities in Stroud's production numbers anyway I slice them.
2023 NFL Combine Projected Measurables:
6'2.5"/215
4.7-4.8+ 40-time, 7.1+ three-cone
The Historical QB Prospects to Whom C.J. Stroud Most Compares Within Our System: 
I knew, when I ran this, that Joe Burrow HAD to be one of the comps for our computer scouting models…and he is. But I would pull up a little bit on that and say Stroud is really good, but Burrow is our system gold standard…and that Stroud is a discount Burrow -- and that's about as high a compliment as I could give a non-Burrow.
The comp list is filled with college football 'natural talents'…mostly guys, as a scout, I would say were the smoothest best of their era -- whether they had the full tools, mindset, NFL coaching, etc., to be stars at the next level, you can see it's mixed bag -- but also some of the future stars/successes as well.
Our system loves Stroud. He might click over to a 10.0+ grade (rarefied air) or tick down when we get Wonderlic and Combine data, but he's going to be rated high either way…and I don't know that there is another QB in this class who can compare…but we're going to go search for them.
| | | | | | | | | | | | |
| --- | --- | --- | --- | --- | --- | --- | --- | --- | --- | --- | --- |
| QB-Grade | LJax Rating | Last | First | Yr | College | H | W | Adj Comp Pct | Adj Yds per Comp | Adj Pass per TD | Adj Pass Per INT |
| 9.951 | 3.84 | Stroud | C.J. | 2023 | Ohio State | 74.5 | 215 | 67.7% | 13.1 | 13.0 | 60.3 |
| 12.736 | 4.09 | Burrow | Joe | 2020 | LSU | 75.4 | 221 | 74.2% | 14.0 | 9.5 | 110.9 |
| 8.895 | 2.62 | Mayfield | Baker | 2018 | Oklahoma | 73.0 | 215 | 70.6% | 15.5 | 11.2 | 58.4 |
| 9.013 | 1.72 | Goff | Jared | 2016 | Cal | 75.5 | 215 | 64.2% | 13.2 | 14.3 | 39.4 |
| 9.142 | 6.71 | Trubisky | Mitch | 2017 | UNC | 74.1 | 222 | 73.0% | 12.4 | 14.2 | 76.0 |
| 8.230 | 4.90 | Bridgewater | Teddy | 2014 | Louisville | 74.1 | 214 | 71.7% | 12.6 | 14.6 | 81.0 |
| 11.158 | 1.03 | Brady | Tom | 2000 | Michigan | 76.3 | 211 | 64.6% | 11.8 | 15.0 | 37.9 |
*'LJax rating' – new for 2023, as we re-do our grading systems to better identify/reward the spread offense QB prospects…looking for the runner-passer talents.
**"Adj" = A view of adjusted college output in our system…adjusted for strength of opponent.
***A score of 8.5+ is where we see a stronger correlation of QBs going on to become NFL good-to-great. A scouting score of 9.5+ is rarefied air—higher potential for becoming great-to-elite.
QBs scoring 6.0–8.0 are finding more success in the new passing era of the NFL (2014–on). Depending upon the system and surrounding weapons, a 6.0–8.0 rated QB can do fine in today's NFL—with the right circumstances…but they are not 'the next Tom Brady' guys, just NFL-useful guys.
-
-----------------------------------
-
2023 NFL Draft Outlook:
A quick mid-January look at Stroud's mainstream draft projections/rankings show Bryce Young as the #1 QB, Stroud as the #2 on eight out of 10 national sites and draft services. Most of these ranking services have Young usually #2 overall…and Stroud #4 overall in the draft, right now (as I type this).
I don't put anything past the NFL, but I would be totally shocked if Young was drafted ahead of Stroud…I think by February, or right after the NFL Combine, the better scouts will come to the obvious 'size' tiebreaker conclusion and start pushing Stroud ahead of Young. And then I think a QB will be #1 overall -- finding a real franchise QB is too critical for a perceived top QB/s not to go #1…in which the Bears either make that pick (and trade Fields) or trade the pick for an absolute haul.
I have already started planning positions in Stroud at (+240) to go #1 overall in the draft on DraftKings. Bryce Young has the top odds to go #1 (-130). After I fully study Will Levis and Anthony Richardson, I may increase my Stroud position plans…because I'm wary of Richardson's athleticism/upside, so I can take small positions in other #1 pick QB options to hedge my bets at such big odds -- Richardson is at (+7500) to go #1.
All that to say, I think Stroud is a strong candidate to go #1 overall in this draft.
If I were an NFL GM, and I needed/wanted a QB…Stroud is a/the guy to pursue in the 2023 crop. Desperate GMs like Chris Ballard may trade the entire franchise's future to save his own job to get a guy like Stroud. It may not be out of bounds to consider drafting Stroud and trading Fields…Fields is sweet for Fantasy, not so hot for NFL purposes big picture…and Fields is already a year away from wanting a new contract after next season. Stroud would be a reset of the Bears QB payroll, pushing it another three years away from having to address the big extension…whereas Fields is a year away.
NFL Outlook:   
The computer scouting models say, my eyes say…Stroud is drafted #1 and starts right away and needs little time to adjust and is good right off the bat and then becoming a star into 2024 and beyond.