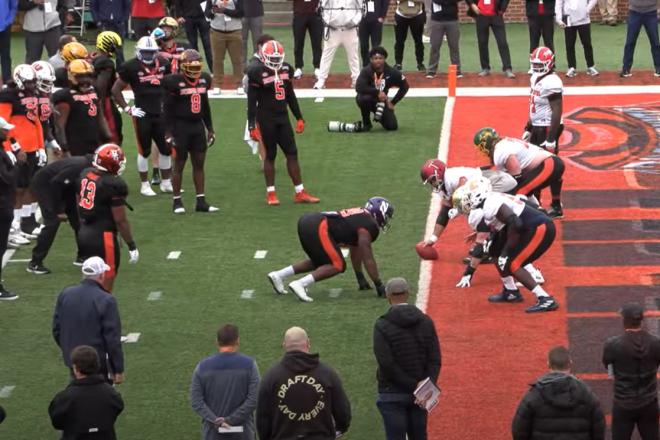 R.C. Fischer
Rookie Scouting Reports
12 April 2023
*Our DL grades can and will change as more information comes in from Pro Day workouts, leaked Wonderlic test results, etc. We will update ratings as new info becomes available.
*Add-a-tommi Add-a-BWAR-ayy
Adetomiwa Adebawore had little draft heat going into the 2023 Senior Bowl. Respected but not loved/not on the tips of people's tongues. He stoked some flames at the Senior Bowl week with a really solid showing -- and was voted his team's practice player of the week at his position group. Still, not a guy people were talking about for the 2023 NFL Draft with any vigor/passion.
Then, Adebawore ran a shocking 4.49 40-time at the NFL Combine at 282 pounds and he quickly went from a #200+ overall ranked prospect to within the top 100 overall in a blink…on his way to the top 50 overall, on average, currently. A 4.49 40-time is stunning for a 280+ pound player…he would've been one of the fastest running backs at the Combine, much less one of the fastest DL and EDGE prospects. He was the fastest 260+ pound player at the 2023 NFL Combine.
I show no 270+ pound DE or OLB/EDGE prospect in the history of the Combine or Pro Days that has ever cracked the 4.50 line running the 40-yard dash…until Adebawore. That gets you instant top 50 overall draft status…regardless of how good/bad your on-field career was judged to be.
And it wasn't just the 40-time… Adebawore may have had, arguably, the greatest set of Combine numbers of any EDGE rusher prospect considering the size he did it at -- a big bench press (27 reps), great vertical, nice broad jump, big hands, long arms. He would also go on to run fast times in the shuttle and three-cone at his Pro Day.
Physically, Adebawore is an 'A+' scouting grade. It's impossible to 'comp' him in history -- he's a groundbreaking athlete. Hard to comp for his athleticism at his size, but also shorter than most top edge athletes at 6'1.5"…the NFL likes their EDGE prospects TALL…it doesn't matter if they are the greatest athlete of all time or were super effective in college…TALL is what primarily gets their attention. What's standing between Adebawore and the 1st-round/top 15-20 overall is his height…from the same people who write poems and pleas about how NOT important height is in Bryce Young's case. When you've been groomed by the football media (as a draft fan/bystander) to love a prospect, everything bad is excused. Adebawore went to a boring, non-SEC or not-Ohio State school, so the height issue is a noted concern for him going forward.
Adebawore is such a historical physical/athletic freak…he should be a 1st-round prospect instantly. His showing at the Senior Bowl week let evaluators know he can hang with the big boys. The fact you can use him as a 4-3 EDGE…a 4-3 DT at times or a 3-4 DE plus all the athletic groundbreaking work -- I don't know how he's not in everyone's 1st-round mock drafts.
The main two knocks are 'height' and 'tape/production'. Let's go through those two knocks…
Height:
Yes, 6'1"+ is not what people dream of in an EDGE rusher…but running a 4.49 40-time at 282 pounds should be dreamed of. It probably wasn't dreamed of because even our collective subconscious knew it would be impossible for a 280+ pound man to run a sub-4.50 40-time -- but it has happened.
Dwight Freeney ran a 4.43 40-time at 266 pounds in 2022…at 6'0.7" tall. But in-between 2002 and 2023, most every 260+ pound EDGE prospect that could run a sub 4.6 40-time are 6'3"+. I get that there is limited history on anything close to what Adebawore ran at his size but why there's such a focus (negative) on the height and not his stunning Combine is ridiculous. But the NFL loves TALL and USELESS defensive ends...it's their favorite thing to draft.
Tape:
This is where I could see people being a bit gun shy on running him into the top 15-20 overall. Watching Adebawore's college tape is somewhat of a letdown. Still, you take the freak athlete and assume you can unleash/teach him at the next level. Adebawore's tape 'crime' -- showing the on-field speed/movement skills but being somewhat underwhelming, statistically, as a pass rusher.
4.5 sacks in 2022 season (12g), 5.0 sacks in 2021 season (12g)…both OK numbers but not top 10 in the Big Ten either season. If a guy is a freak athlete -- how could he not dominate college football? That is a legit question/concern.
Watching his tape, I would say two things that come to mind/to summarize what I saw…
1) I could see his movement skills on tape. Saw it at the Senior Bowl and on preview tape months ago. There's evidence of the Combine speed/athlete on tape.
2) Adebawore does have a tape scouting/on -field negative in my book…but one that can be overcome, you'd think. I'm not sure I can recall too many top prospect EDGE rushers who surged off the snap and ran right square into their blocker…it's so weird -- it's like Adebawore was taught that football points are scored by finding an opposing blocker and running straight into them and locking up. It's bizarre to watch.
When an opposing blocker moved away/the wrong way or stumbled or did anything to create space…then Adebawore was a bullet flying through. But most of his tape I watched was him going right into an opposing blocker perfectly, like he was doing it on purpose. And it didn't matter if he was working as a 4-3 EDGE, a 4-3 surprise DT, or a 3-4 DE…it happened almost all the time.
It's not that he's easily blocked…it's that he allows himself to get tied up by blockers because he runs straight to them and shows no moves/technique to get by them.
The bad news is: he looks ridiculous doing this 'run straight into the blocker' thing and was thus ineffective as a pass rusher in CFB doing so.
The good news, you'd think: It has to be teachable/trainable to get him to stop doing this? Unless he has some invisible gravitational pull to blockers…someone has to be able to fix it/improve it…unleash this massive weapon, no? He looked better as a one-on-one pass rusher at the Senior Bowl week…maybe an NFL coach started working with him?
Adebawore's pass rush issue is 'fixable', you would hope/assume, and his athleticism is historic, and size shouldn't really matter in this particular equation -- given all that you have to 'try'/'reach' for a unique creature like Adebawore in the NFL Draft. They just don't make humans like this…this big and that fast.
Adetomiwa Adebawore, Through the Lens of Our DE Scouting Algorithm:
 -- Underwhelming sacks totals in college, but 21.0 TFLs in his final 27 college games.
 -- Four forced fumbles his final two seasons of college play.
 -- Facing Michigan, Iowa, and Ohio State the past two seasons (4 games total): a weak 1.5 solo tackles, 0.38 TFLs, 0.25 sacks per game output.
 -- 4.5 of his 9.5 sacks the past two seasons came in four non-conference games with Indiana State, Ohio, Duke, and Miami (OH).
2023 NFL Combine/Pro Day Measurables:
6'1.5"/282
10.5" hands, 33 7/8" arms
4.49 40-time (#1 among 260+ pound EDGE prospects)
1.55 10-yd split (#1 among 260+ pound EDGE prospects)
27 bench press (3rd best among any EDGE prospects at the Combine)
37.5" vertical (#1 among 260+ pound EDGE prospects)
10'5" broad jump (tied for #1 among 260+ pound EDGE prospects)
7.13 three-cone (Pro Day)…would've been 2nd best among Combine three-cones among 260+ pound EDGE).
The Historical DE Prospects to Whom Adetomiwa Adebawore Most Compares Within Our System:
The Solomon Thomas comp should scare the heck out of Adetomiwa Adebawore backers. Thomas was a freak athlete for his time at his size -- but that was him running a 4.69 40-time (AA ran a 4.49, 10 pounds heavier). In reality, there is no historical comp for Adetomiwa Adebawore.
| | | | | | | | | | | | |
| --- | --- | --- | --- | --- | --- | --- | --- | --- | --- | --- | --- |
| DE Score | Last | First | Yr | College | H | H | W | Bull Rush | Speed Rush | Pass Rush Metric | Tackle Metric |
| 7.251 | Adebawore | Adetomiwa | 2023 | Northwestern | 6 | 1.5 | 282 | 8.76 | 10.29 | 7.36 | 5.75 |
| 9.308 | Thomas | Solomon | 2017 | Stanford | 6 | 2.5 | 273 | 8.59 | 9.64 | 8.04 | 6.22 |
| 4.815 | Seither | Nick | 2015 | Georgetown | 6 | 2.6 | 273 | 9.24 | 4.06 | 7.51 | 5.29 |
| 2.291 | Odighizuwa | Osa | 2021 | UCLA | 6 | 1.5 | 282 | 5.44 | -1.24 | 3.50 | 4.29 |
| 5.615 | Johnson | Charles | 2007 | Georgia | 6 | 2.2 | 270 | 9.40 | -2.48 | 7.47 | 9.64 |
*A score of 8.00+ is where we see a stronger correlation of DEs going on to become NFL good/great/elite. A score of 10.00+ is more rarefied air in our system and indicates a greater probability of becoming an elite NFL DE.
All of the DE ratings are based on a 0–10 scale, but a player can score negative, or above a 10.0 in certain instances.
Power-Strength Metrics = A combination of several measurements. An attempt to classify the DE prospect as more of a battle-in-the-trenches type of DE, a 'bull-rusher', and/or a DE prospect who has some DT capabilities.
Speed-Agility Metrics = A combination of several speed, agility, size measurements. A unique measuring system to look for DEs who profile more as speed-rush, stand-up DEs, and/or possible OLBs.
Pass-Rusher Rating = A combination of physical measurables, and college performance, graded historically for future NFL profiling. In the simplest of terms, this is an attempt to classify whether a particular DE is likely to achieve high sack totals in the NFL. We know the 'system'/scheme the DE goes on to play in has a part in future success...but so do the player's skills and performance history. "You can't keep a good man/DE down," we'd like to think.
Tackling Rating = A combination of physical measurables, and college performance, graded historically for future NFL profiling. In the simplest of terms, this is an attempt to classify the DE as one more likely to be involved in a heavy amount of tackles, tackles for a loss, and forced fumbles. Lower-scoring DEs in this subcategory tend to be more pure pass-rushers/specialists. This is also our attempt to quantify, if it's possible, the 'toughness' of a player.
.
2023 NFL Draft Outlook:
Adebawore is tracking as a top 50 prospect overall…and I would say that's likely the proper range…top 50 but not 1st-round -- but I would not be shocked if he snuck into the late 1st-round. His athleticism is just so compelling.
If I were an NFL GM, I would have Adebawore among my 1st-round prospects. He's what the NFL Draft is all about…trying to find 'freaks' of nature…trying to find 'special' things. He'd be a later 1st-round consideration…early 1st-round should be reserved for athletic freaks who were highly productive in college.
NFL Outlook:  
If he can't get any better technique-wise, he'll be a good/OK player…not great.
However, if he adds technical skills to his off-the-charts physical ability…he could be a weapon, a star as a versatile DL for a defense.