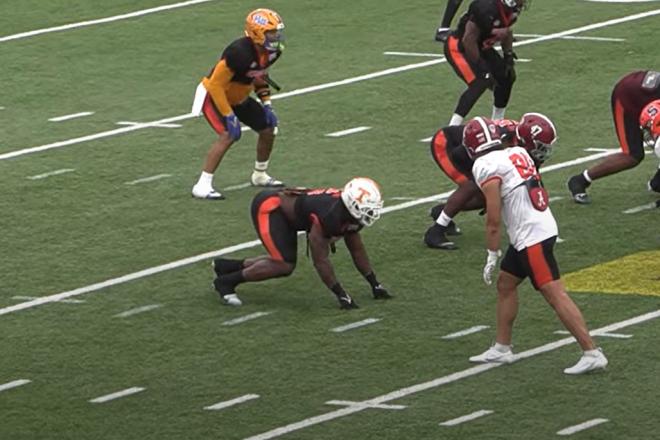 R.C. Fischer
Rookie Scouting Reports
08 April 2023
*Our LB grades can and will change as more information comes in from Pro Day workouts, leaked Wonderlic test results, etc. We will update ratings as new info becomes available.
This is quite the origin story…
Byron Young was a well thought of high school player, but he was given a zero star recruit rating…his grades were so bad in high school, football knew he wasn't going to qualify for D1, so he only received JUCO offers.
Instead of taking the JUCO route, he tried to play at a prep school but didn't finish…so, a frustrated/misguided Young then gave up on football. After high school graduation he took work as an assistant manager of a Dollar General in Georgia. He started missing football soon after and kept working out while working at Dollar General…hoping to stay in shape and was trying to figure out how to enroll in college somewhere. He stumbled upon a tryout application to Georgia Military College, which he pursued. He earned acceptance into the school and got a shot to make the team…quickly made the team…and in 2019, his first season, he played in six games and registered 7.0 sacks.
2020 brought on COVID and all of JUCO shutdown football. More frustrations…but Young was changing from his lazy high school ways. He had become the hardest worker on the team. He started getting some football attention locally. But with the lack of games/game tape to get real/strong D1 attention, Young decided to upload videos of his scrimmages/practices from 2020 along with his 2019 work. It worked. He started getting offers from lower level D1 teams -- and then he became an 'it' JUCO recruit, getting offers from LSU, Georgia, etc.
He went with Tennessee, transferring for the 2021 season. He had to miss the Vols first two games due to some transfer issues/rules violations from his prep school play/attempt -- then it was off to the races, eventually starting and leading the team in sacks (5.5) in just 10 games played. He was so good/natural/feared in his first D1 season (2021) that the following offseason (2022), Young was voted 1st-team SEC in the preseason 2022. He delivered on those expectations by leading Tennessee in sacks again (7.0) and earning 1st-team postseason accolades as well.
His 2022 work earned him a Senior Bowl invite…and then an NFL Combine invite. It was at the Combine where it all came together, the culmination of his determination and effort mixed with his natural gifts -- Young shocked the Combine with a 4.40 40-time…the 2nd-fastest of all EDGE classified prospects, the fastest among 245+ pound EDGE prospects…the fastest of any 245+ prospect regardless of position. He was also first in the vertical jump and broad jump, for EDGE prospects 245+ pounds.
The former Dollar Store assistant manager after high school is now a top 100 overall prospect for the 2023 NFL Draft.
When I preview-scouted him ahead of the Senior Bowl, I noted his quickness and the duress he put blockers under but he looked raw and his output was decent-not-wow and I set a 'C+' preview grade on him before and after the Senior Bowl. After the shocking Combine, I took him up to 'B+' as a prospect to soon study deeper to determine why he looks so good on tape but has OK/so-so output.
My impression after really going through several of his game tapes play-by-play: he is frightening (good). Young really is so fast and fluid, and so strong…he's just a natural high-end/elite athlete still learning how to be an EDGE rusher. You can imagine what a 4.4s running 250-pound human can be like coming off the edge.
The EDGE rusher prospects, in my database, over the past 10+ years, who ran a sub 4.45 40-time at 6'2"+ and 245+ pounds (in chronological order):
Manny Lawson
Von Miller
Martez Wilson
Montez Sweat
Micah Parsons
Jayson Oweh
Amare Barno
Byron Young
If I pair that list down to that group AND those who had 10.0 or more sacks in their college careers…
Manny Lawson
Von Miller
Montez Sweat
Amare Barno
Byron Young
I will add this from my tape studies…
Of the 2023 EDGE prospects that I've watched in some detail, Byron Young has more 'almost sacks' than any of the 2023 edge class aside from maybe Myles Murphy. Young is so fast and so strong that he was getting pressure or near pressure on a majority of his snaps…sometimes in the backfield so fast that he ran past a sack or TFL. Of all the EDGE guys that I've scouted this year, so far there are two I would call elite/possible elite (everyone else is nice/good, but not elite): Myles Murphy and Byron Young (TN), guys who are simply too much, snap-in-and-snap-out, for their opposing blockers…and teams needed to adjust their blocking to account for him. You could see it in Young's tape from his lowest competition up to facing Alabama. If Young learns his craft a little better -- he's going to be an elite/Pro Bowl level pass rusher in the NFL.
Additional notes on Young…
 -- Will likely be classified as an OLB because he's so fast/fluid and drops into pass coverage fairly well. Also, he will chase in the run game.
 -- I'm not sure there is a harder worker/better motor edge rusher on tape in this 2023 class. He's ON all the time.
 -- Nice, humble, smart kid off-the-field…he's put his high school ways away; he's a changed man.
 Byron Young, Through the Lens of Our OLB Scouting Algorithm:
 -- 23.5 TFLs in his final 21 college games, with 12.5 sacks
 -- Two bowl appearances: 5.5 tackles, 2.25 TFLs, 1.0 sacks, 0.50 INTs per game.
 -- Versus Alabama 2x, Georgia 2x, LSU and Clemson (his toughest opponents in his career): 3.3 tackles, 1.2 TFLs, 1.2 sacks per game.
2023 NFL Combine Measurables:
6'2.3"/250 pounds
9.25" hands, 32.5" arms
4.40 40-time, 2.58 20-yd, 1.54 10-yd
7.19 three-cone
22 bench press
38" vertical, 11'0" broad jump
I already mentioned how good these numbers are for an EDGE his size. Here's a quick glimpse at his body in motion: https://youtu.be/fiRu31OH3Fw
Why the NFL Network spent three hours orgasming over Nolan Smith's 4.39 and totally ignored Byron Young's 4.40 at 250 pounds is everything wrong with the Combine coverage. And it pisses me off because now Nolan Smith will likely go higher in the draft than Young, and the lack of hype is gonna cost Young money and give it to Smith unfairly. Young is WAY better of an NFL prospect than Smith.
The Historical OLB Prospects to Whom Byron Young Most Compares Within Our System:
A pretty stout list to be compared to. Just a note on why Von Miller has such better ratings than similar athletes in Parsons and Young, and this goes for all our comps tables -- our computer models are also reading/judging the era of the numbers -- Miller was as athletic as Young a decade+ prior and his measurables were unheard of in his era/Combine years, etc.
We also take production into account for the various metrics, and overall grade…and Von was off the charts for any era. Young and Parsons are not even close in college production. 
| | | | | | | | | | | |
| --- | --- | --- | --- | --- | --- | --- | --- | --- | --- | --- |
| OLB Grade | Last | First | Draft Yr | College | H | H | W | Tackle Strgth Metric | Spd Agil Metric | Pass Rush Metric |
| 8.854 | Young | Byron | 2023 | Tennessee | 6 | 2.3 | 250 | 7.29 | 10.68 | 9.55 |
| 9.017 | Parsons | Micah | 2021 | Penn State | 6 | 3.1 | 246 | 9.06 | 9.63 | 8.48 |
| 7.908 | Moch | Dontay | 2011 | Nevada | 6 | 1.3 | 248 | 7.51 | 10.36 | 8.63 |
| 13.785 | Miller | Von | 2011 | Texas A&M | 6 | 2.5 | 246 | 8.03 | 14.48 | 13.90 |
| 8.000 | Irvin | Bruce | 2012 | West Va | 6 | 2.4 | 245 | 6.39 | 13.79 | 12.51 |
*A score of 8.00+ is where we see a stronger correlation of LBs going on to become NFL good/great/elite. A score of 10.00+ is more rarefied air in our system, and indicates a greater probability of becoming an NFL elite LB.
All of the LB ratings are based on a 0–10 scale, but a player can score negative, or above a 10.0 in certain instances.
Tackle-Strength Metrics = A combination of several physical and performance measurements. An attempt to classify the LB prospect's ability to stop the run, as well as a gauge of how physical the player is and the likelihood of higher tackle counts in the NFL. All based on profiles of LBs historically.
Speed-Agility Metrics = A combination of several speed, agility, and size measurements...as well as game performance data to profile a LB for speed/agility based on LBs historically. A unique measuring system to look for LBs that profile for quickness, pass-coverage ability, and general ability to cover more ground.
Pass Rush Metrics = A combination of the physical measurements, but also proven on-field ability to get to the QB/backfield in college.
2023 NFL Draft Outlook:
Young has been tracking just inside the top 100 overall, but I would bet he goes top 50 and possibly 1st-round. He's just too good, too unique, too much upside at the NFL's favorite position -- pass rusher. Will Anderson cannot hold a candle to the athlete Young is…nor can just about anyone in this draft among the pass rushers.
If I were an NFL GM, Young would be a target…especially because he's likely to be a 2nd/3rd-rounder with top 10 overall skills/upside. He's one of the great values in this draft because he's one of the only prospects I could see 'elite' happening in this class.
NFL Outlook:  
The sky's the limit. If he falls with the right staff and is developed a little more, he could be an NFL sack leader type weapon. Good floor, great ceiling. You want this player for the price.